This Sausage Breakfast Casserole is full of gooey cheese and makes the perfect addition to your brunch menu! This smaller size casserole will serve 4-6!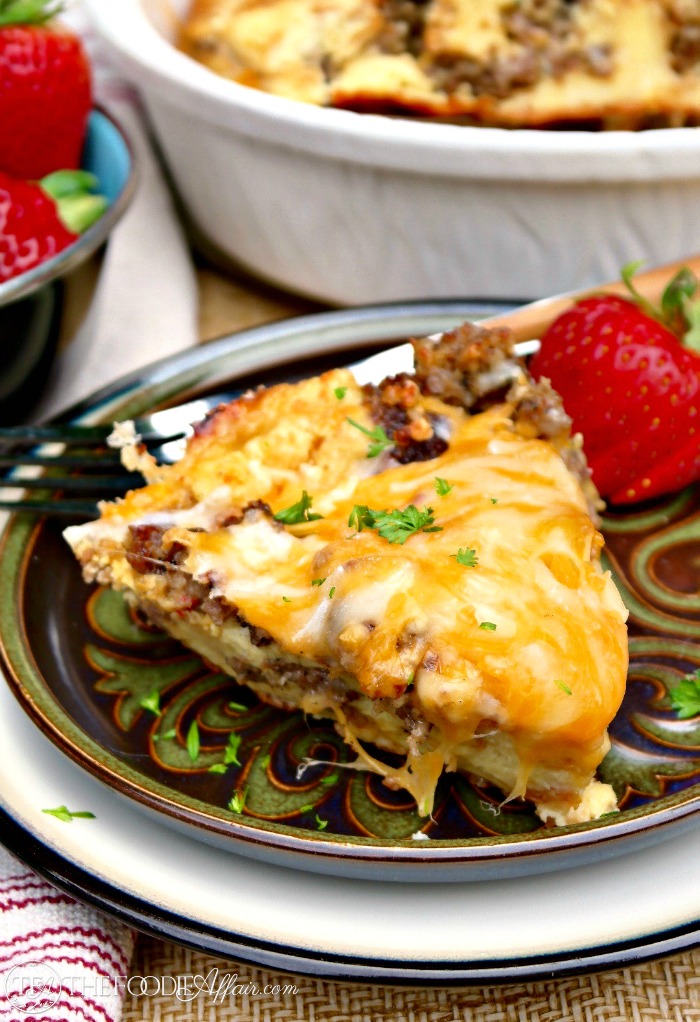 Sausage Breakfast Casserole For A Small Crowd
Memorial Day weekend is the official start of the summer season and I should be whipping up a seasonal dish, but I'm still in breakfast sharing mode!
Most folks will get at least one day to enjoy a morning of leisure relaxation this weekend, so I think this Cheesy Sausage Breakfast Casserole should be on your menu!
I made this casserole at the same time I shared this Mixed Fruit Breakfast Casserole to offer our guests a savory option as well as a sweeter one from the coconut and fruit casserole! I think we all had a slice of each though.
Each dish is good, and this is a heck of a tasty meal that should be revamped for a smaller crowd so we can enjoy it more often!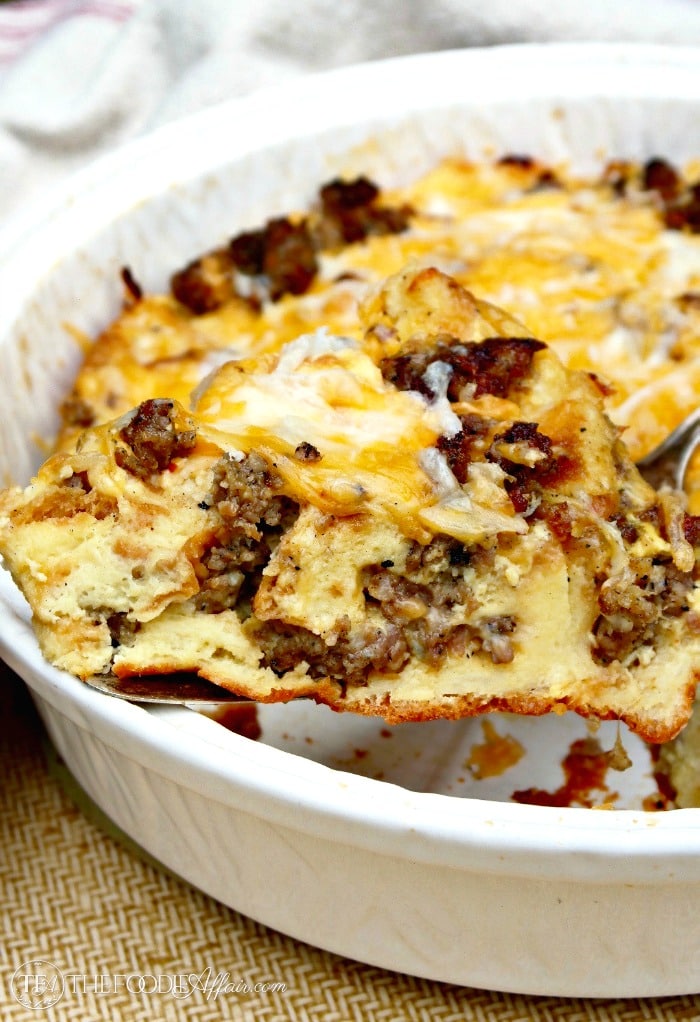 For a small casserole you use about half of the bread you would for a full size dish, so it was easy to use the remaining bread from the Fruit Casserole I made last week! I didn't cut down on the sausage and with a whole pound in this recipe it makes a nice and hearty meal!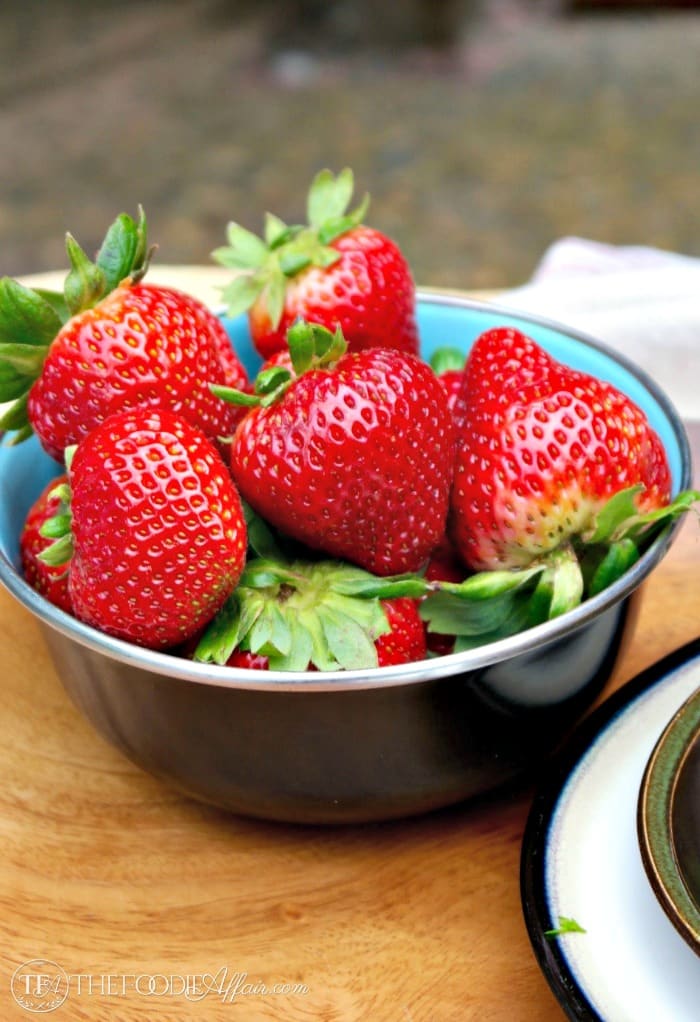 Check out these other overnight breakfast casseroles that are perfect when entertaining!
Keep your menu simple and enjoy with a Fresh Fruit Salad!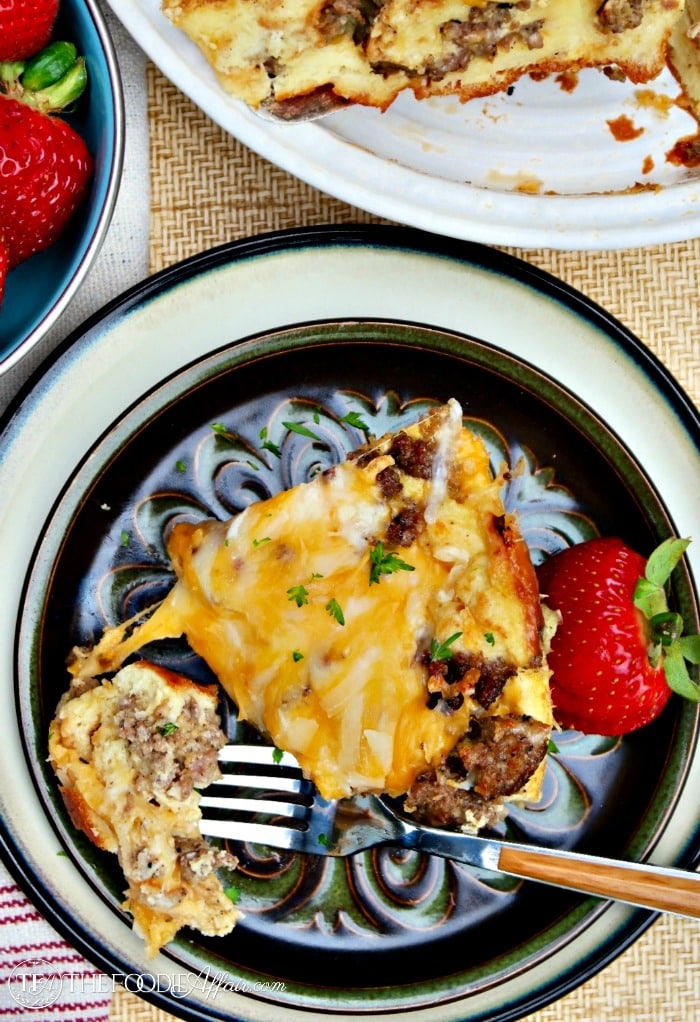 Yield: 4-6
Cheesy Sausage Breakfast Casserole
Ingredients
1 pound seasoned breakfast sausage
12 ounce (aboutut 1 1/2 cups) shredded cheese mix (cheddar, monterey jack)
4-5 cups diced ½ inch cubes white bread (about ½ loaf) I used Sara Lee Artesano Bread
1¾ cups milk
4 eggs
1 teaspoon dry mustard
1/2 teaspoon salt
1/4 teaspoon pepper
Instructions
Preheat oven to 360 degrees. Grease a baking 8 inch round or 8 x8 inch square pan with a 2 inch height.
In a large skillet cook sausage over medium-high heat breaking up pieces into the size you prefer. Once cooked drain excess oil.
In a large bowl whisk together eggs, milk, mustard, salt and pepper.
Place the bread cubes on the bottom of the prepared baking dish. Put drained sausage over the bread. Cover with shredded cheese and then pour the egg mixture over all the ingredients. Gently press the mix down with a spoon ensuring all the pieces are saturated with the egg mix.
Bake for about 30 minutes or until a tooth pick inserted in the middle comes out clean.