Cheesecake stuffed strawberries with coconut and lime flavors adding a tropical twist to a tasty finger dessert!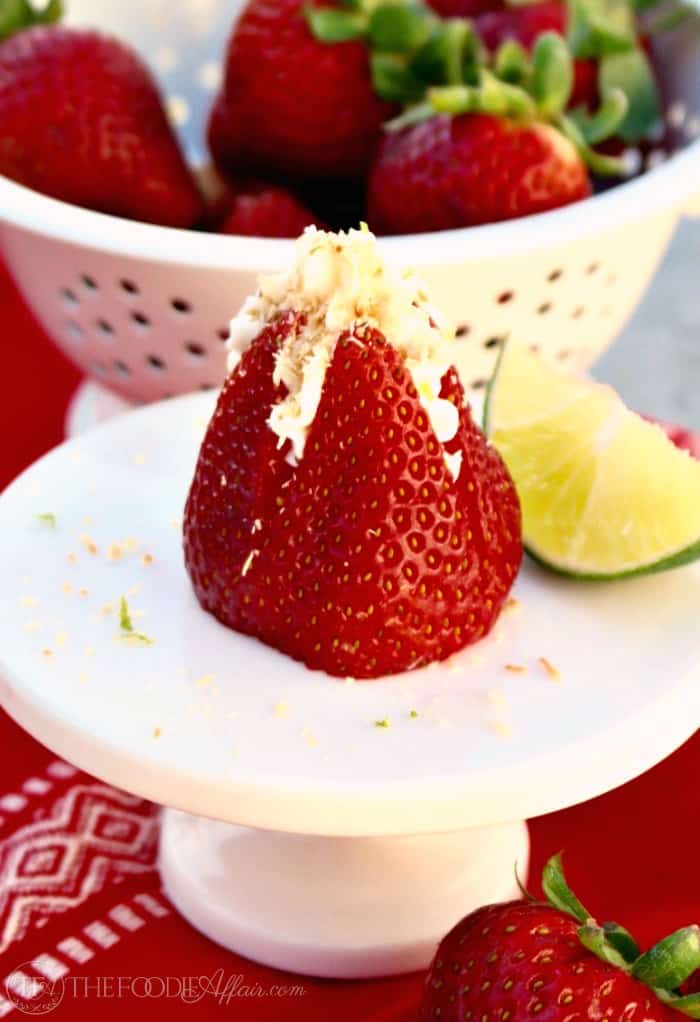 Fresh strawberries with cheesecake filling
Put the lime in the coconut and eat it all up! Do you love cheesecake, but not all the calories that is packed in each slice? The creamy texture of each bite is heavenly and I can never just enjoy a couple of bites!
A whole slice (or two) is devoured in no time!  Well, you can get that same delicious flavor without a lot of work and since the cheesecake is stuffed in each strawberry there is no messing around with a crust!
In fact, you don't even need to break out plates or any utensils!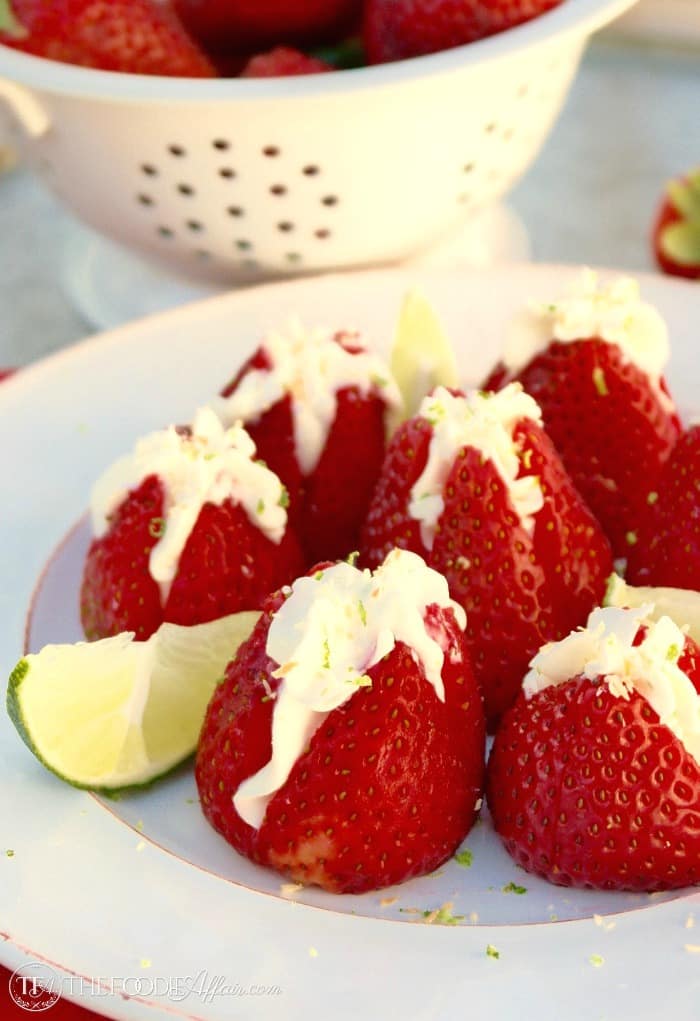 Delicious stuffed strawberries!
These cheesecake bites are packed with cream cheese, cream of coconut (which is found near the cocktail isle), fresh lime and an extra coconuty dash of extract to make sure that coconut flavor shines through!
Strawberry season is still going strong guys! Don't miss your opportunity to buy them fresh! How about trying this Strawberry Spinach Pasta Salad, Strawberry Nutella Stuffed French Toast or Sparkling Strawberry Lemonade!
But first, give these Cheesecake Stuffed Strawberries with coconut and lime a try!
This is a quick and easy dessert to bring to a spring event or a red, white, and blue festive celebration like the Fourth of July!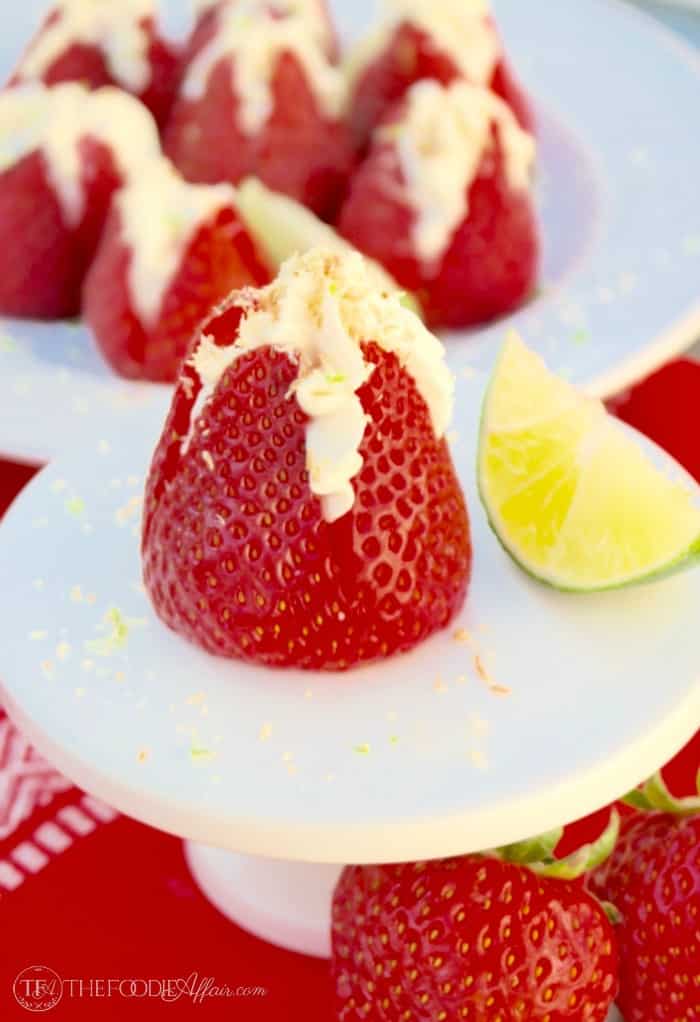 Cheesecake Stuffed Strawberries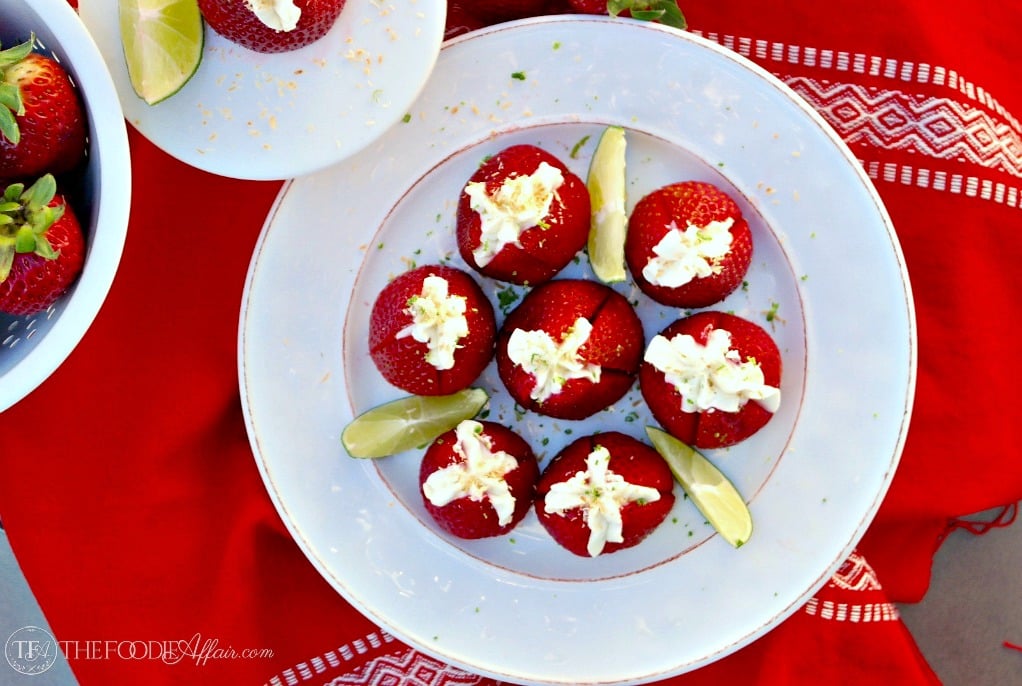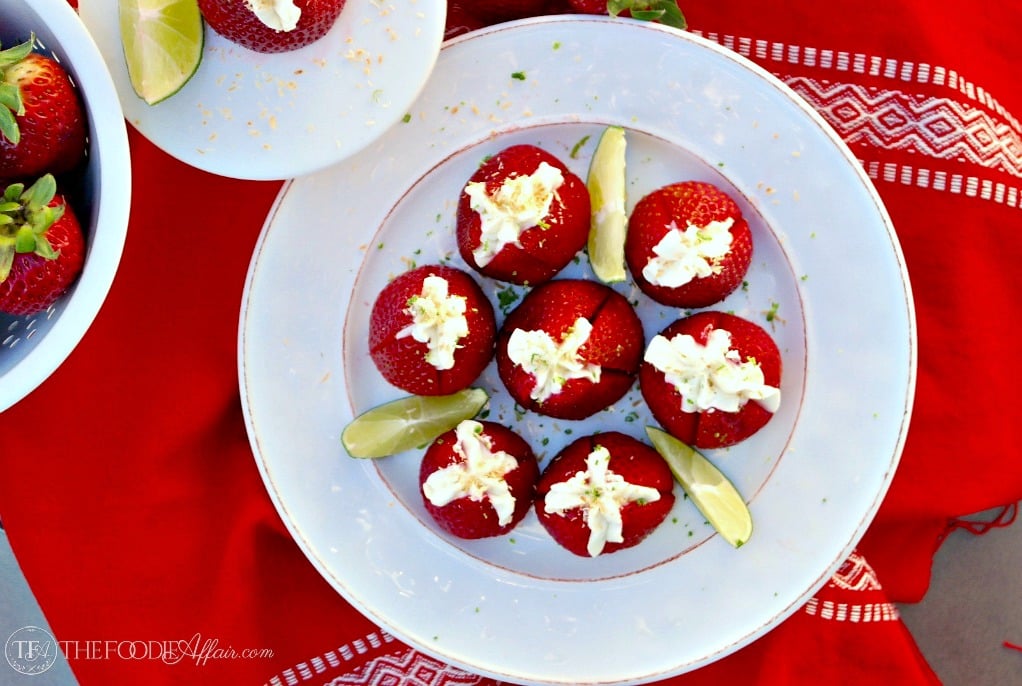 Ingredients
1 8 ounce pkg. Cream Cheese at room temperature
1/4 cup Cream of Coconut (usually near the alcohol for cocktails)
1 teaspoon coconut extract
1 tablespoon fresh lime juice
1 pound fresh strawberries
1 teaspoon lime zest
coconut flakes for garnish and more zest for garnish
Directions
Clean strawberries and cut the leaves forming a flat base. Cut into the strawberry tip in an X shape about ¾" down the berry. Set aside.
In a medium bowl mix with a hand blender the cream cheese, cream of coconut, lime juice and coconut extract. Fold in lime zest.
Put cream cheese mix in a pastry bag with a 1M Wilton decorator tip. Pipe into each strawberry. Garnish with lime and coconut flakes
Loading nutrition data...