If you want to wow your family at breakfast, this Blueberry French Toast Casserole is the perfect recipe. Not only is it a simple meal that anyone can make, it has that special flair that makes it feel gourmet. Fresh blueberry flavor pops in every bite to create a meal you won't soon forget.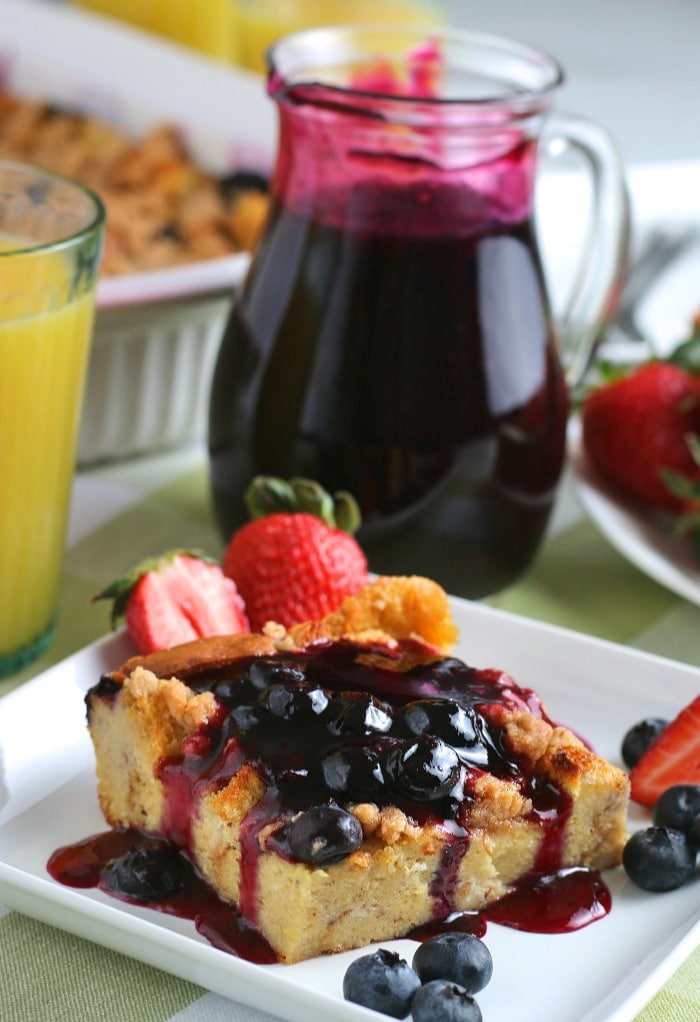 Blueberry French Toast Casserole
If you are a fan of French toast, blueberry muffins, or blueberry pancakes, then you will absolutely adore this easy recipe.
This breakfast casserole is a much easier way to get that texture and flavor you want without standing over the stove flipping bread over and over on your skillet or griddle.
I love that I can prepare most of this blueberry french toast casserole the night before and simply pop it into the oven in the morning for a faster and easier breakfast.
It's also just sweet enough that it serves as a nice coffee cake style treat along with coffee if you have guests coming to visit.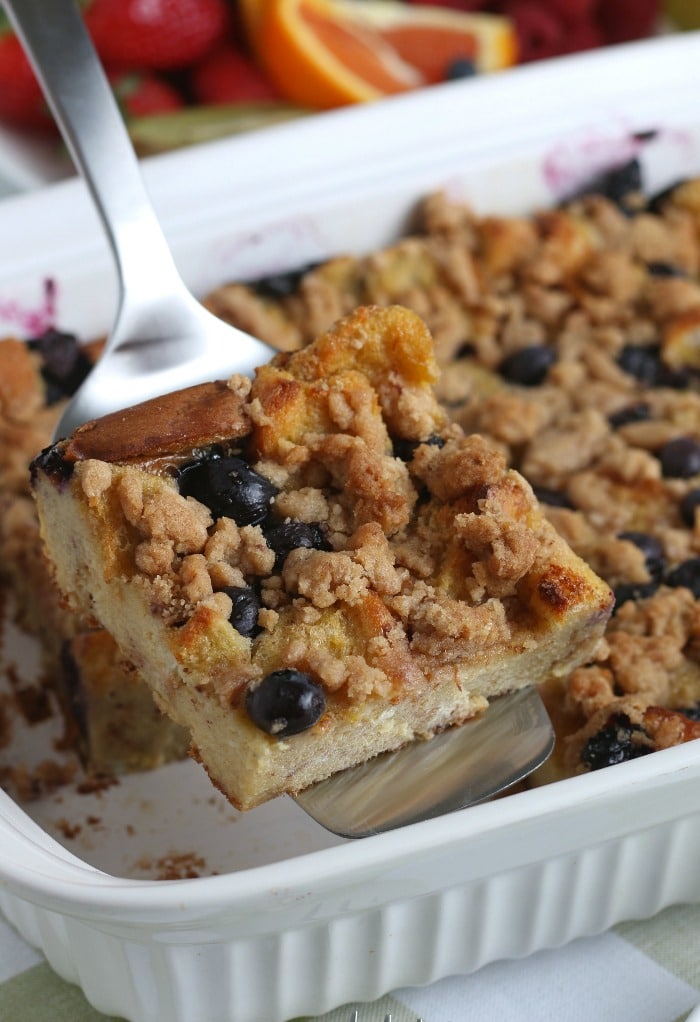 What's the Best Bread to Use for French Toast Casserole?
For any French toast recipe, I always reach for a thicker bread. Since you are soaking up liquid, your classic sandwich bread will often be too thin.
You don't want soggy bread as a result. Instead, you want to use a thicker bread that will soak up the mixture and flavor, but cook through leaving it moist but not soggy.
My favorite is typically a French bread or thick Texas toast when making this casserole.
You might also try variations like a nice thick sliced raisin bread or cinnamon bread.
Both add an extra level of flavor, and typically will give you a nicer texture.
I'm no stranger to making French toast for my family and guests. You'll love my stuffed French toast with strawberry and nutella for a rich and decadent breakfast choice.
One of my favorites though, is this rich caramel banana French toast bake.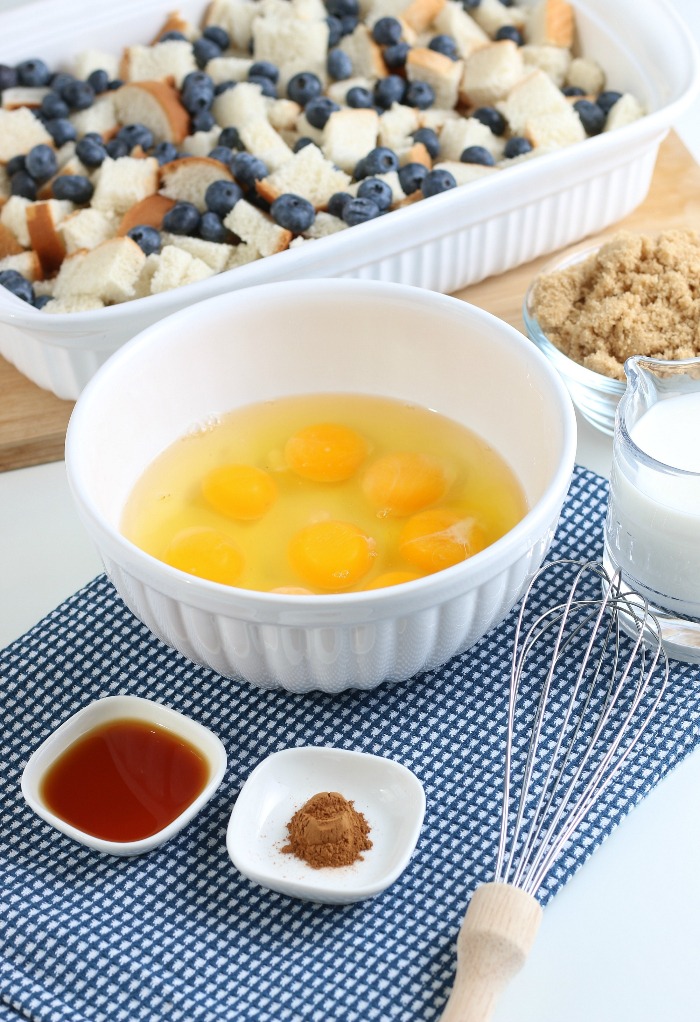 Can I Use Frozen Blueberries for this French Toast?
Yes, this recipe is created to be great for using both frozen and fresh blueberries.
If you are using frozen berries, you will likely want to rinse them, and then pat dry before mixing into this blueberry casserole.
If they are too wet, it can take the casserole longer to cook or leave areas undercooked and unpleasant to eat.
I would not recommend substituting canned blueberry pie filling in this recipe.
The flavors and texture would not work well. If you aren't able to find fresh blueberries, definitely reach for the frozen to get the same flavor for your breakfast bake.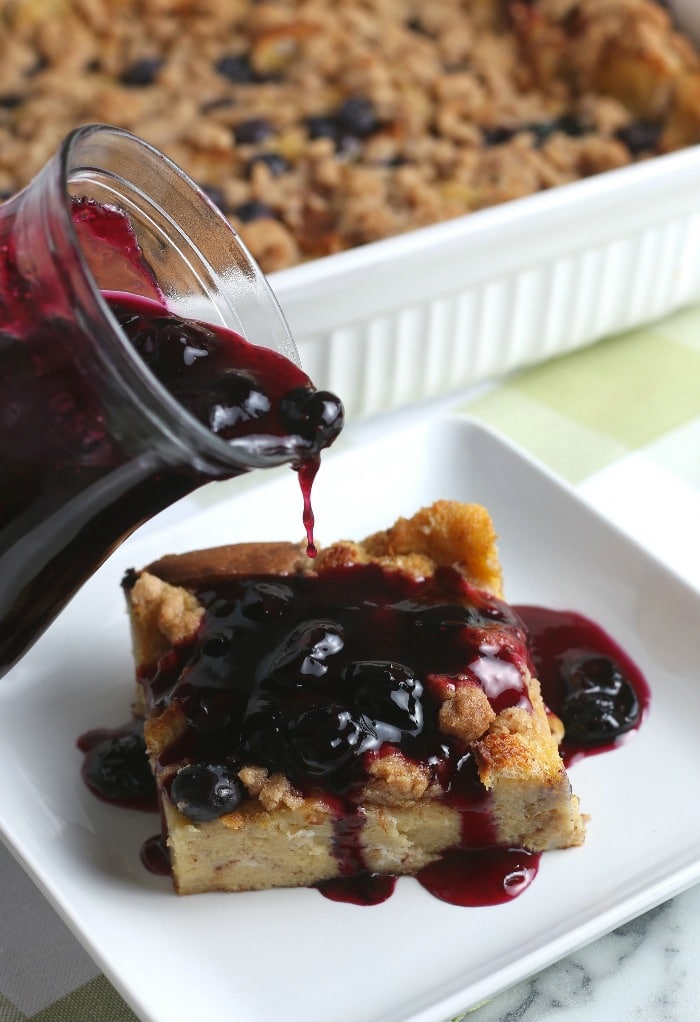 Can I Prep This French Toast Ahead of Time?
While the results are best when made as you are ready to eat the bake, it can be assembled the night before to bake in the morning.
Just make sure to cover it well and follow the remaining directions for baking when ready.
Tip: Feel free to make the blueberry syrup ahead of time and store it in an airtight container in your refrigerator for up to 5 days before serving.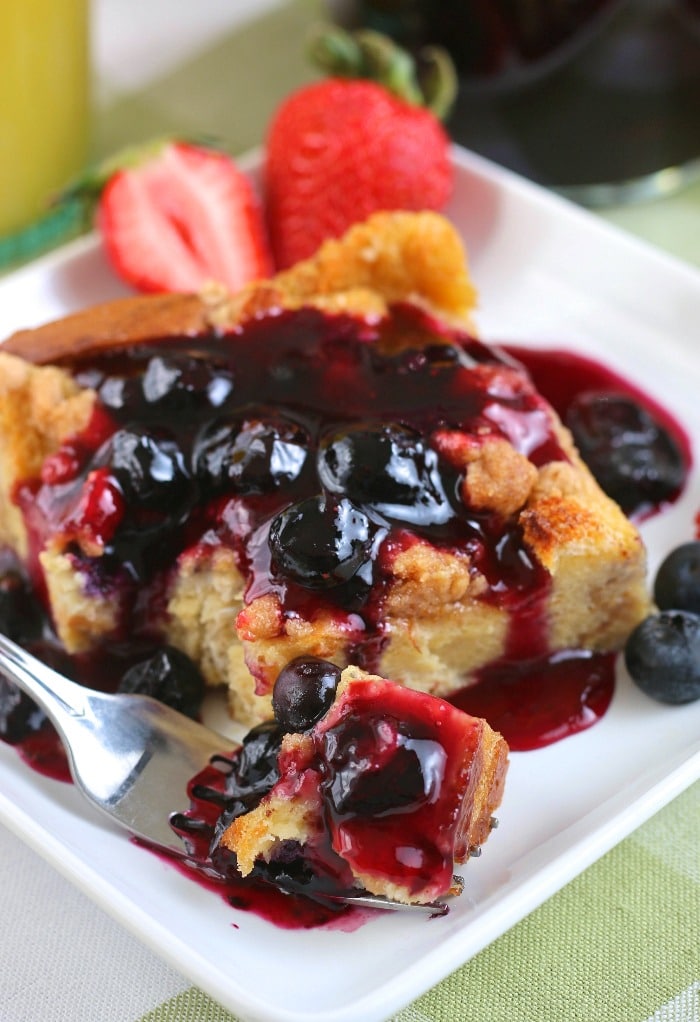 Can I Serve This With Regular Maple Syrup Instead?
If you are in a hurry or don't feel like the added blueberry flavor from this sugar free homemade blueberry sauce, you can definitely reach for traditional maple syrup.
Any syrup will work for this recipe, but my preference is to use a topping with some flavor. You could even use this Pumpkin Pancake with Pecan Maple Syrup recipe!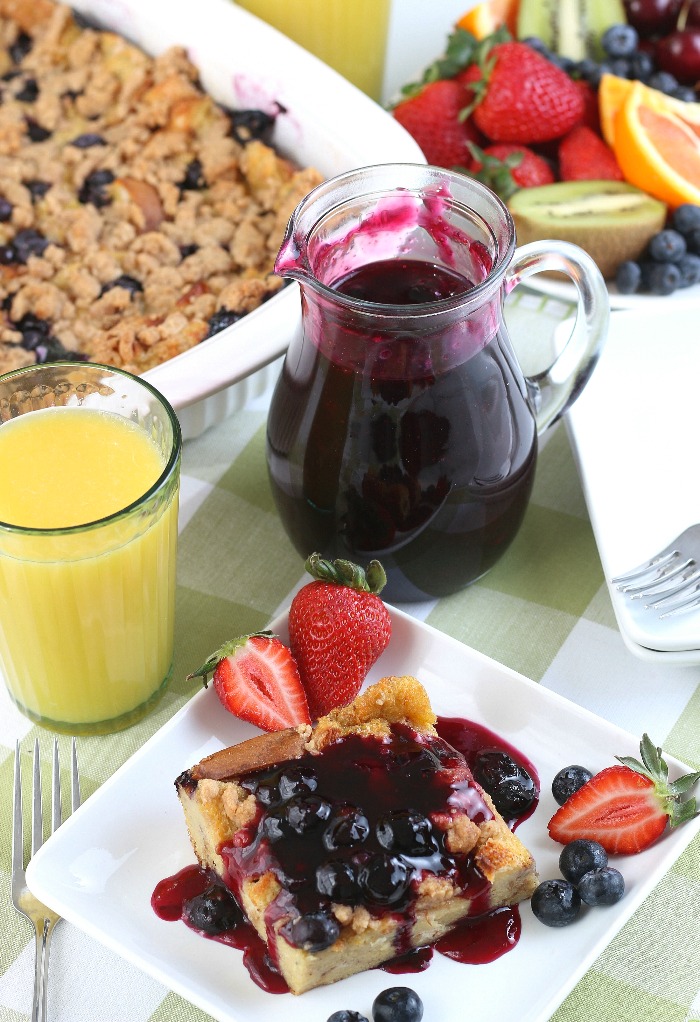 Is This A Low Carb or Keto Recipe?
No. On The Foodie Affair website you will find both low carb and traditional recipes that I make for my family and friends.
However, the blueberry sauce is sugar free. You'll find that in my recipes I try to incorporate lower carb alternatives.
This recipe can be adapted to use this Low Carb Banana Bread or this Paleo Bread Recipe. To use, I would assemble and bake right away.
In addition, feel free to substitute the brown sugar for a sugar alternative like brown monk fruit to lower the carb content.
Want more recipes? Check out these Easy Breakfast and Brunch Ideas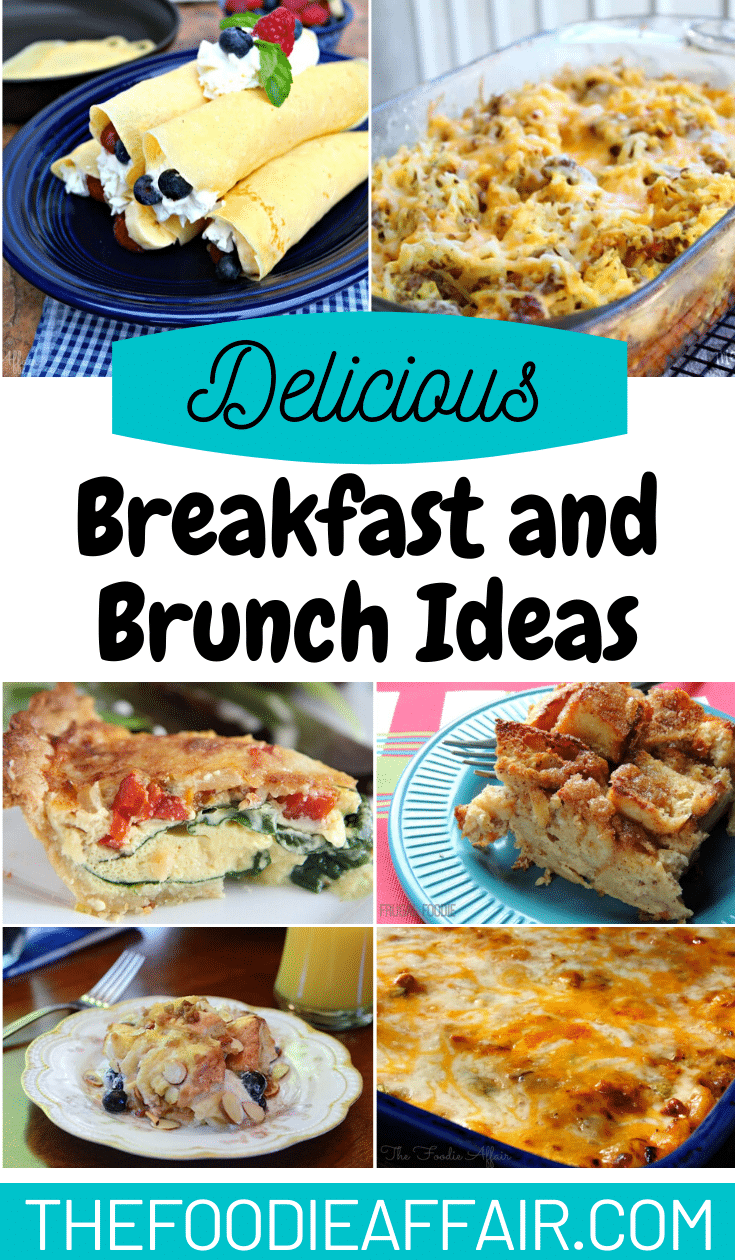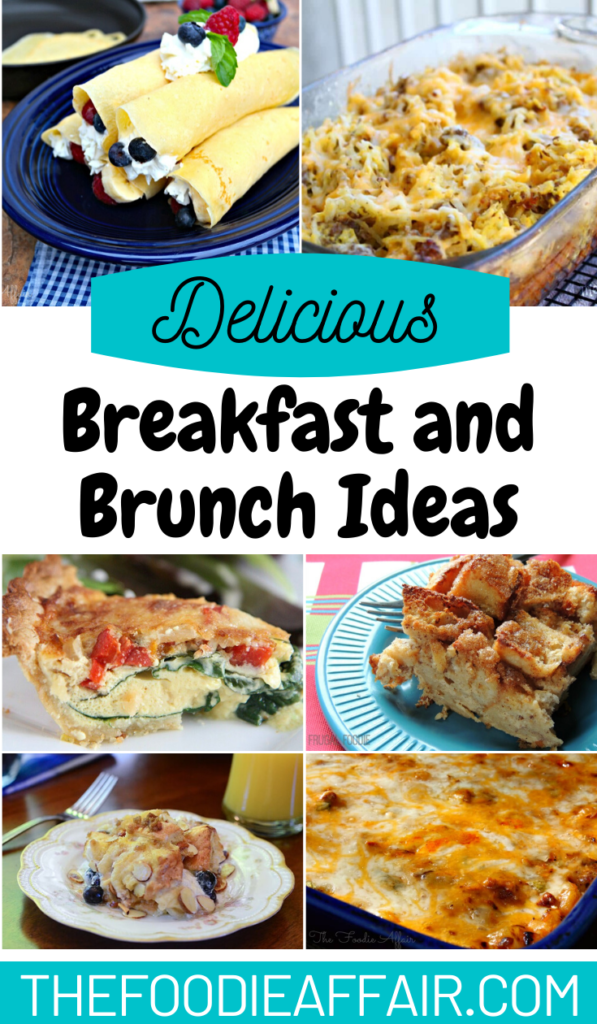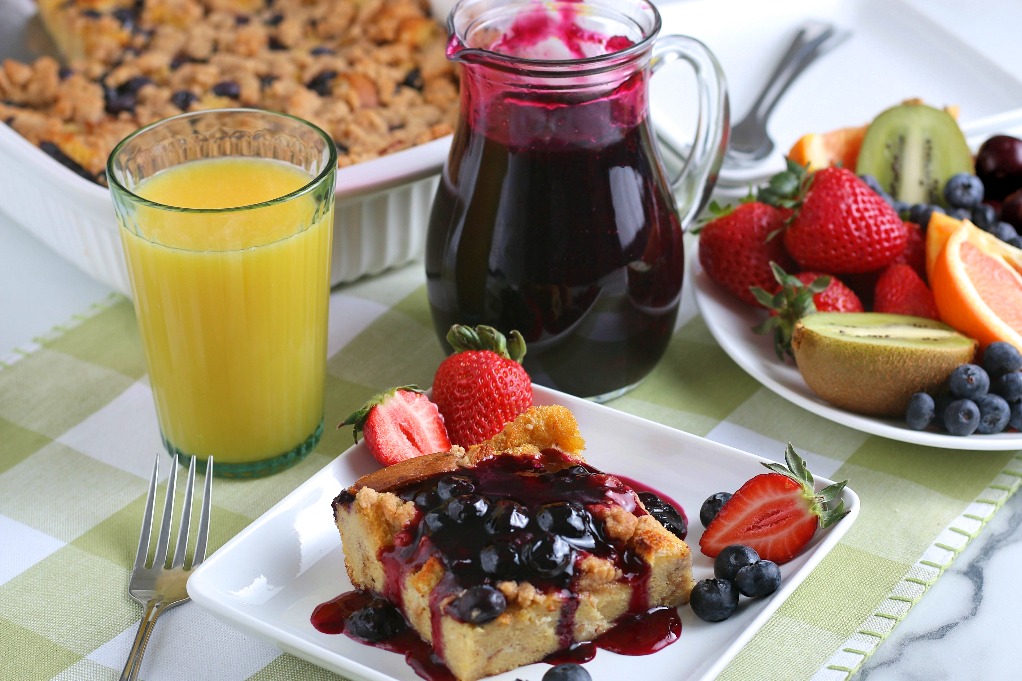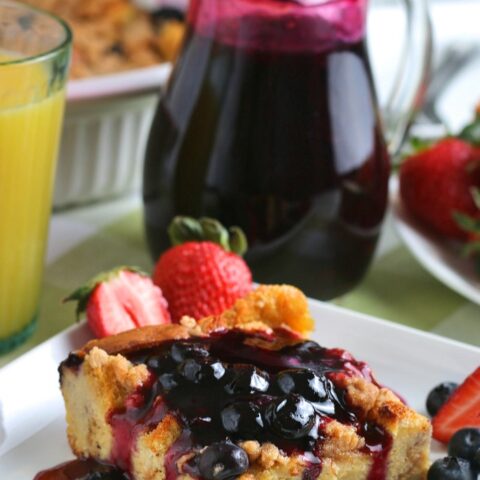 Blueberry French Toast Recipe
Total Time:
1 hour
10 minutes
Easy breakfast casserole that can be made in advance. This blueberry French toast casserole is delicious for any special occasion. Add the cinnamon blueberry sauce for an extra boost of flavor.
Ingredients
12 slices of day-old bread, cut into cubes
1 cup fresh or frozen blueberries
2 cups milk
8 large eggs
½ teaspoon cinnamon
1 cup brown sugar
1 tablespoon vanilla extract
Streusel
1/2 cup brown sugar
1/2 cup flour
1/2 teaspoon cinnamon
4 Tablespoons butter
Instructions
Grease a 9x13 baking dish. Cut the bread into 1 inch cubes and place in the prepared dish. Top with blueberries.
Whisk together eggs, milk, cinnamon, brown sugar, and vanilla. Mix until brown sugar is no longer lumpy.
Cover tightly with plastic wrap and refrigerate for 3 hour or overnight.
Remove from the refrigerator and bring to room temperature.
Begin to prepare the streusel topping by whisking the brown sugar, flour, cinnamon. Add in butter and cut it into the mixture with a pastry blender, or two forks.
Sprinkle on top of casserole and bake at 350 F. for 45-55 minutes.
Serve casserole with blueberry sauce
PIN TO YOUR BREAKFAST AND BRUNCH BOARDS