Overnight Caramel Banana French Toast Bake filled with a layer of caramelized bananas, a hint of rum and topped with toasted walnuts!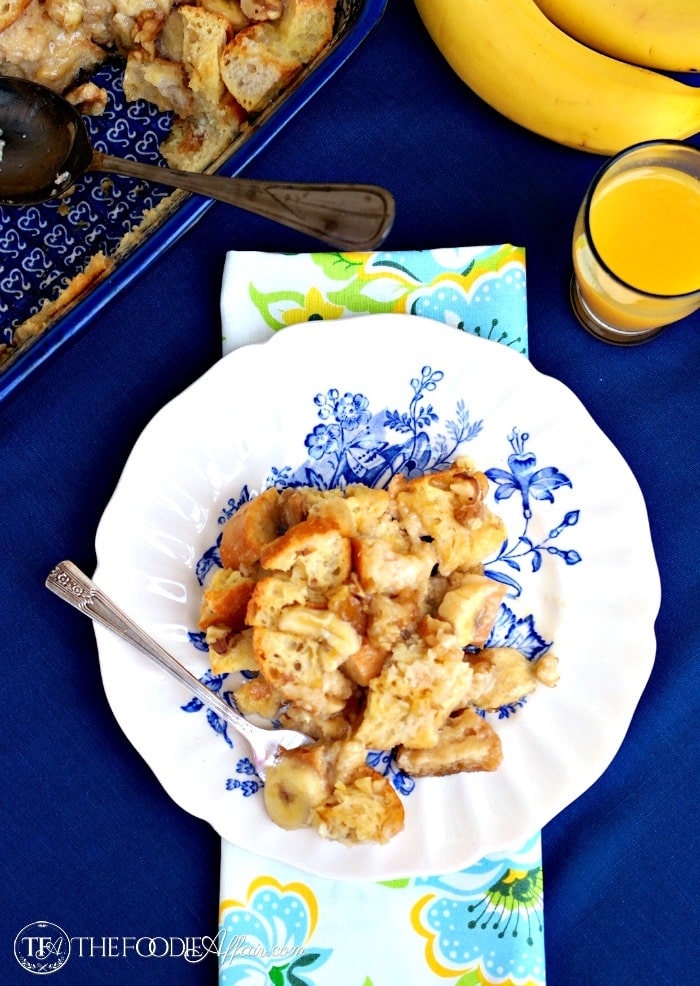 My three day weekend went by so fast! For you too?!! I guess it's true that time goes by when you're having fun!
I planned on spending some time writing up recipes and taking photos, but my days got away from me. Instead of getting ahead of my blogging/recipe sharing, I enjoyed the warm California wave of February summer sun that suddenly appeared, caught up on some sleep, walked and cuddled with our new furry family member, Abby, and today Alan and I went on a bike ride along the beach.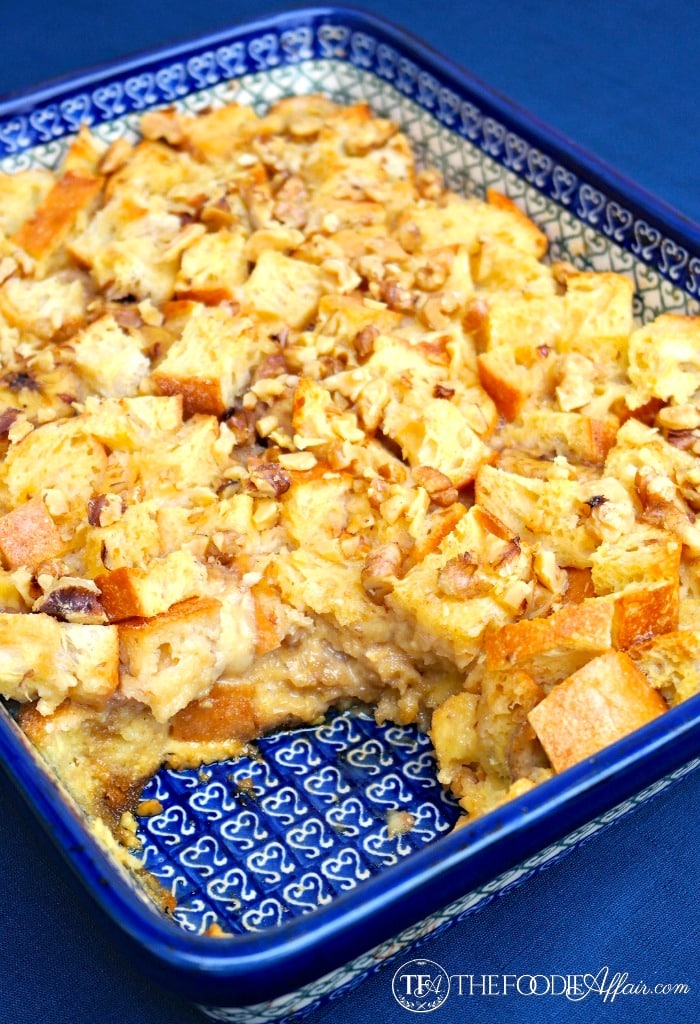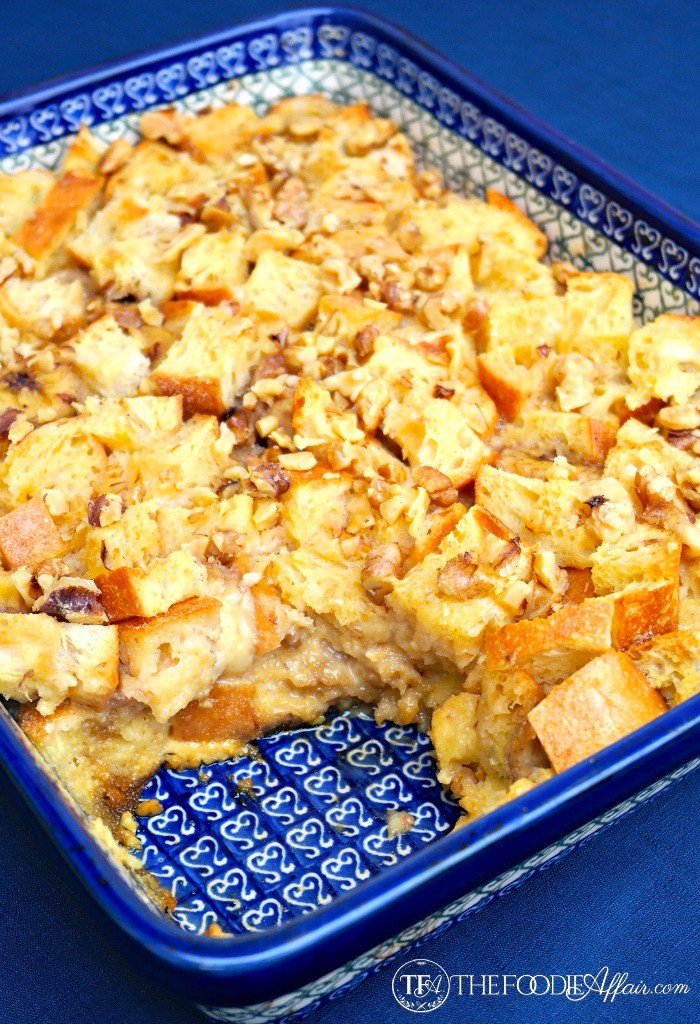 After a long ride, which caused me to have spaghetti legs (what a hilarious sight!) after getting off the bike, I popped this Caramel Banana French Toast Bake in the oven!  I put this breakfast casserole together the night before and it sure hit the spot for brunch! This dish can serve a crowd. It's enough for 6-8 so share with some lucky friends or family members. Sam happened to come by the house to visit, so we sent him off with enough for him and his roommates. Otherwise, I think we would have nibbled on this for dinner too!
I love the crunchy texture of the nuts that I decided to add at the last minute, and the nice gooey layer of caramel and bananas in the middle of the casserole! This combination of flavors are delicious enough to be served as a dessert too, just top with a scoop of vanilla ice cream!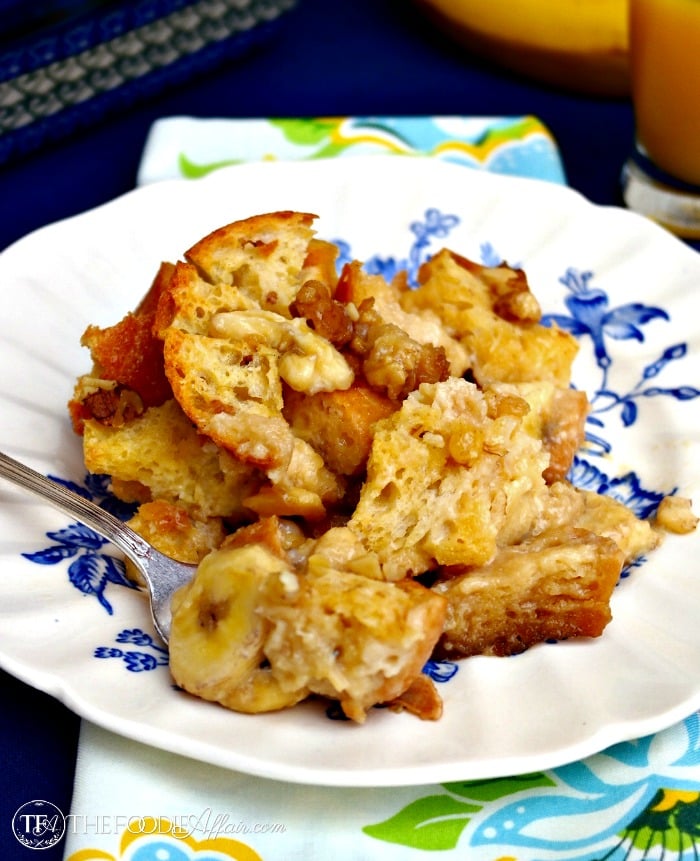 Caramel Banana French Toast Bake
Total Time:
4 hours
40 minutes
Ingredients
8 tablespoons (1 stick) butter, unsalted
1 cup dark brown sugar, packed
1/4 teaspoon cinnamon
3 Tablespoons dark rum or spiced rum - optional
3 medium ripe bananas, sliced
1 loaf challah, cut in 1/2 inch pieces
8 large eggs
1 cup milk
1 cup fat-free half and half
1 tablespoon vanilla extract
1/4 teaspoon salt
1/2 cup walnuts, toasted and chopped
Instructions
Melt butter in a large skillet over medium-low heat. Add brown sugar, cinnamon, and rum (optional) and cook until blended and smooth. Remove from heat just as the mix begins to bubble and fold in bananas.
Put half of the diced bread in a 9 x 13 inch casserole dish. Top with caramel banana mixture. Top with remaining bread.
In a large mixing bowl, whisk together eggs, milk, half and half, vanilla and salt. Pour over casserole ensuring all pieces are soaked in the egg mixture by pressing down on the bread pieces with a large spoon. Top with walnuts. Cover and refrigerate overnight or at least 4 hours.
Uncover baking dish and bake at 350 degrees for 40-50 minutes or until egg is set and top is light golden brown.