Use up your ripe bananas and make Banana Bread with Chocolate Chips for a tasty snack. Make one loaf or three mini loaves that can easily be shared!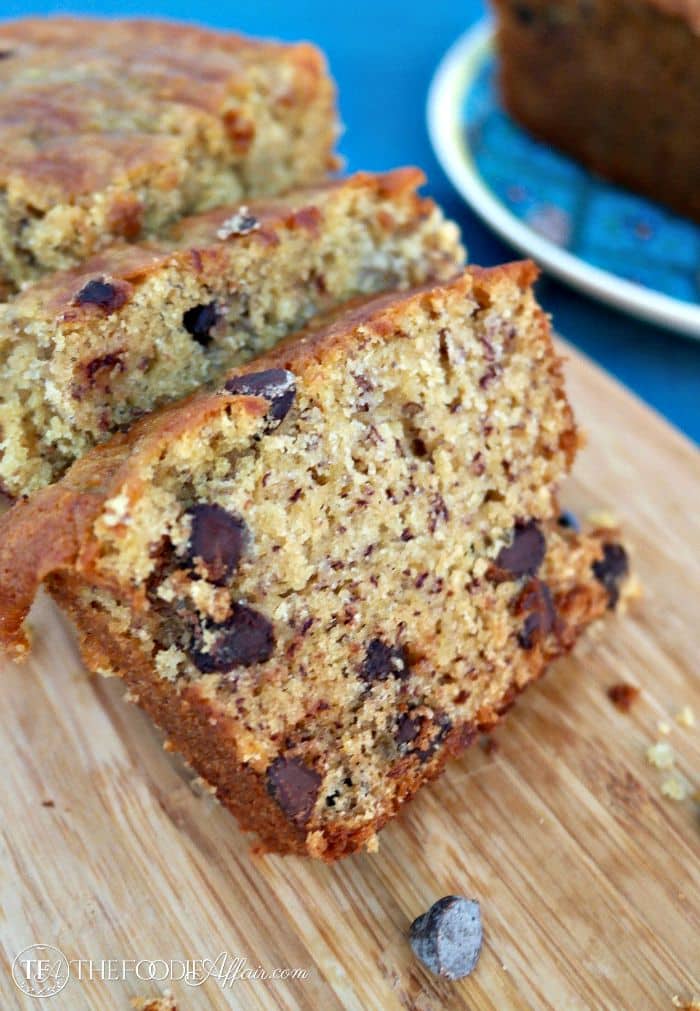 I made this bread with Max in mind. Max is one of our neighbors. A sweet man probably in his mid eighties that lives on the street right behind us. We see him practically every day when we take Abby on her walk. Alan does the pup stroll Monday through Friday and I join on the weekends. We walk right by Max's front window on our way to the forest area near our house. He has his chair faced at just the right angle to see who is coming and going through his front window, and will get up to chat with us for a bit when he sees us. He likes Abby and offers her a bacon treat which she devours!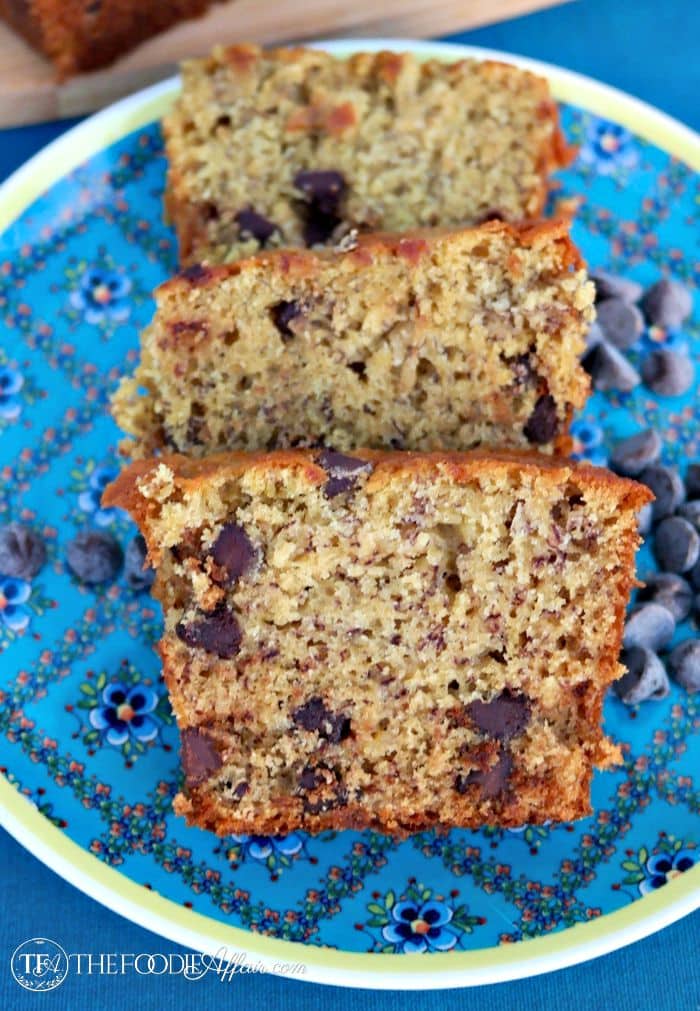 We get worried about him if we don't see him for a few days or if we notice his outdoor light isn't on in the evenings. He tells us that his kids live nearby, but they don't visit often. His ex-son-in-law visits though and we notice other people stopping by. He doesn't express bitterness or even show a hint of sadness when he talks about his family. He says it got to be too hard on his kids to see their mother deteriorate into another person. The result of Alzheimer or dementia. I can't remember which. Maybe both. Can you be diagnosed with both?
Anyway, he said, "I can't blame them for not coming by!" and then went on to say that his wife put up with him for over 40 years and he'll do everything he can to keep her comfortable at home! Gosh, what a sweet man. That exchange brought a lump to my throat. Max laid his wife to rest this past month. He says he's relieved because she is at peace now. I do see that he is at peace as well.
When I brought him one of these banana loafs he said, "You're going to get me fat!" I told him that was ok because I can't get fat by myself! The next day he thanked me again for the the bread and said it was delicious! I pointed out to him that he was the same slim size!
This recipe makes one regular size loaf or you can make three mini loafs which are the perfect size for sharing!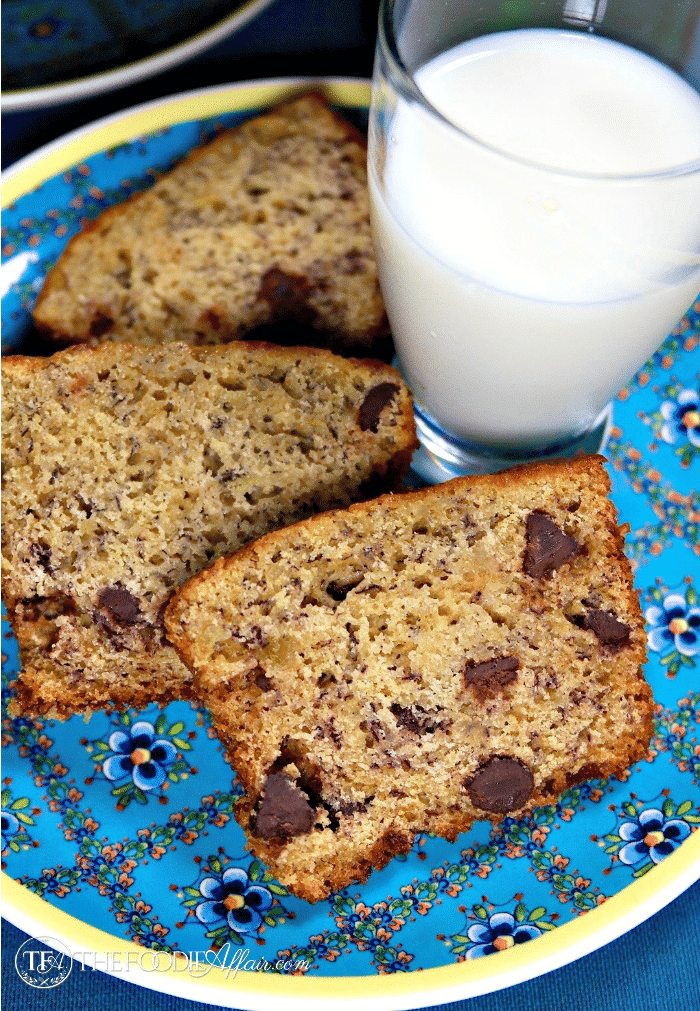 Yield: 12
Chocolate Chip Banana Bread
Prep Time 10 minutes

Cook Time 1 hour

Total Time 1 hour 10 minutes
Ingredients
1 1/2 cups while whole wheat flour
1 teaspoon baking powder
1 teaspoon baking soda
1/4 teaspoon salt
1 cup semi-sweet chocolate chips
1/2 cup (1 stick) butter, unsalted and at room temperature
1 cup sugar
2 eggs, large
3 ripe bananas, mashed
2 tablespoons lemon juice
2 teaspoons vanilla extract
Instructions
Pre-heat oven to 350 degrees. Spray loaf pan (s) with non-stick baking spray or grease pans with butter and flour. Set aside.
In a small bowl whisk together flour, baking powder, baking soda and salt.
In a large bowl beat butter until fluffy. Gradually add sugar until well incorporated. Add eggs one at a time and beat thoroughly. Add bananas, lemon juice and vanilla extract. Beat in flour mix into butter mixture. Place batter into prepared loaf pan(s). Bake one large loaf for 60 minutes. Small loaves will bake for 30-35 minutes or until tooth pick inserted in the middle comes out clean. Remove from oven and let cook for 10 minutes. Remove from pan and cool on wire baking rack.