Blue Cheese and Bacon Burgers; gourmet style hamburgers are just as easy to make as a plain burger, but taste so much better!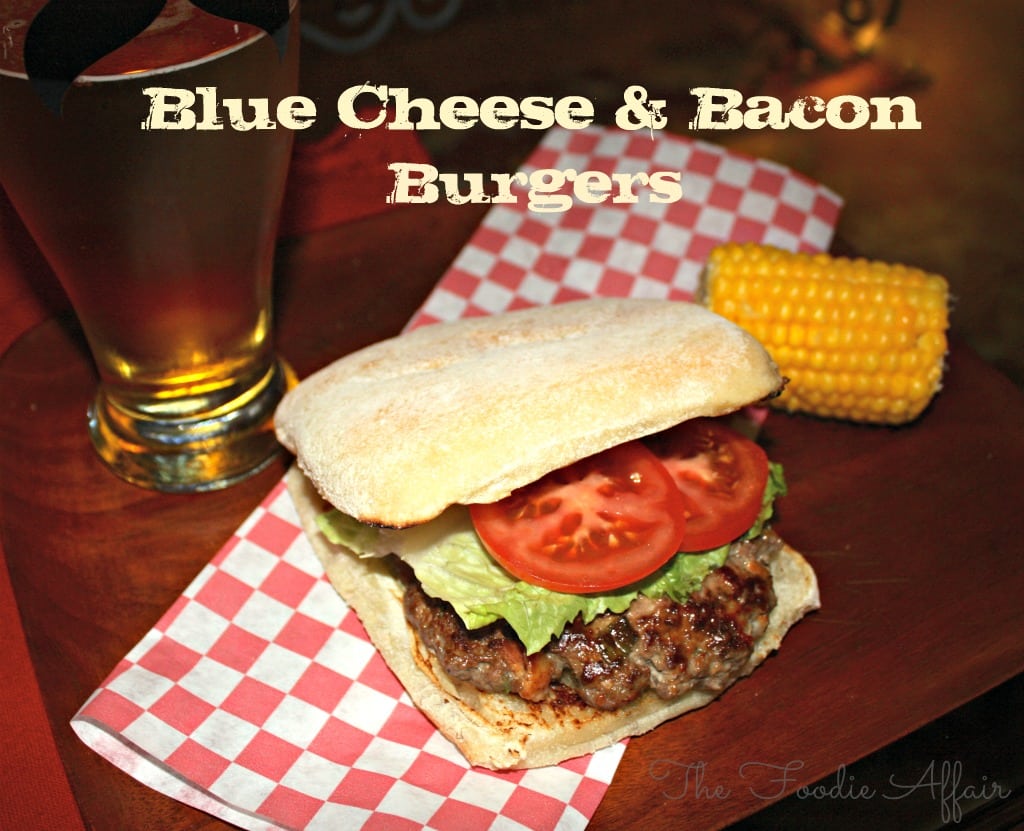 A few weeks back I got a nasty 24 hour stomach bug. I was in bed all day with a headache, the shivers, and feeling uncomfortable with stomach aches and pains. It was pretty crummy, but the worse part was that I completely lost my appetite. Nothing sounded good and my stomach couldn't handle anything that was remotely satisfying.
It took me a few days into recovery to feel like me again, and once I was back to my normal routine, all that was on my mind was a Blue Cheese & Bacon Burger! A gooey big thick juicy hamburger! I went to lunch with my co-workers, my first opportunity to eat a burger, which I was super excited about! The menu was limited, so I picked an All-American burger with lettuce tomato, and a slice of cheese.
I couldn't wait to sink my teeth into real food after eating pretty much NOTHING for several days!! Boy was I disappointed! The meat was as thin as a few slices of lunchmeat, it lacked flavor, and the bun was hard. Not what I was hoping for at all!! It was served with side of sweet potato fries and that was decent, but I still didn't get the burger I was craving.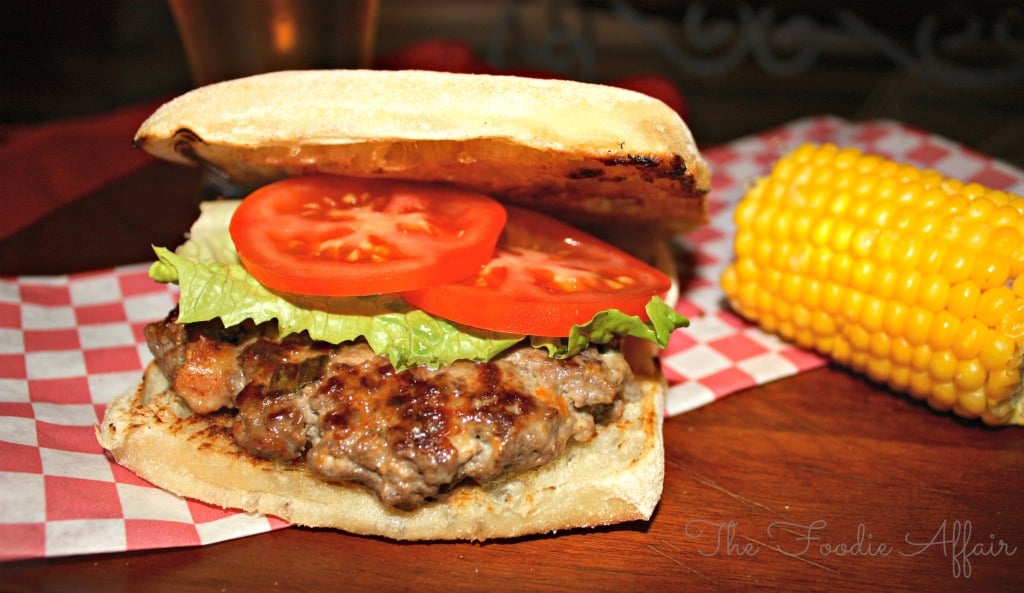 How hard is it to make a tasty burger? Not very, but if you want a great burger, you gotta make it yourself  🙂 Blue cheese and bacon are amazing together! Hello, restaurants, get this on your menu!!
This blue cheese and bacon burger is all the goodness I had hoped for!  The flavors are in the burger, so there is no need for mayonnaise, mustard or any other condiments, although I recommend a few veggies. If your grill is buried in snow, pull out your skillet and fry these up!!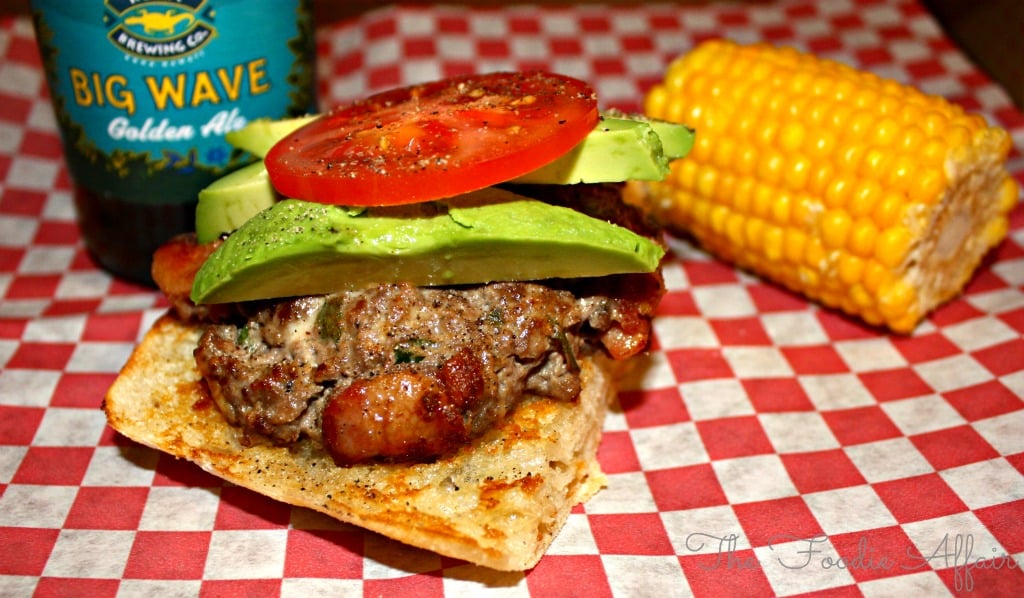 You'll want to refrigerate your patties before cooking for at least an hour. Keeping the meat cold helps the patties keep their shape while cooking. I also have another handy tip; form a divot in the middle of the burger. This helps the meat cook evenly. Works like a charm!!
Satisfying and tasty, these burgers are delicious!
Want another burger to try? This Tortilla-Wrapped Fiesta Mexican Burger from Anyonita Nibbles is another tasty burger you'll want to try!

Blue Cheese and Bacon Burgers
Total Time:
2 hours
6 minutes
Ingredients
4 buns (hamburger or ciabatta)
tomato, sliced
lettuce
avocado, sliced
For Patties
1 pound ground beef (80/20)
4 slices bacon, diced
6 ounces blue cheese, crumbled
1 teaspoon Worcestershire sauce
1 teaspoon thyme
2 teaspoons Dijon mustard
salt and pepper to taste
Instructions
In a large skillet, cook bacon until halfway cooked. Remove from pan and put on paper towels to drain oil.
In a large bowl, break up beef with a fork. Mix in Worcestershire sauce, thyme, mustard, salt and pepper, just until combined. Fold in blue cheese and bacon.
Form four patties with your fingers, handling gently. Using the shell of an egg as a mold, gently place in the middle of each patty forming a divot. Remove egg. Cover patties and put in the refrigerator for at least an hour (2 hours is best).
On medium-high heat, place patties on the skillet and cook for 2-3 minutes Flip burgers and cook for 1 minute. Cover skillet and continue to cook for 2-4 minutes or to desired doneness.
Split buns and coat with butter or mayonnaise, and toast on a skillet until lightly browned.
Assemble burgers with lettuce, tomatoes and avocado. Serve immediately.
Notes
Do not over mix meat or your patties will be dense and tough.