Kick of your summer with an All-American burger! These classic grilled hamburgers will be your "go to" recipe for your barbecue gatherings!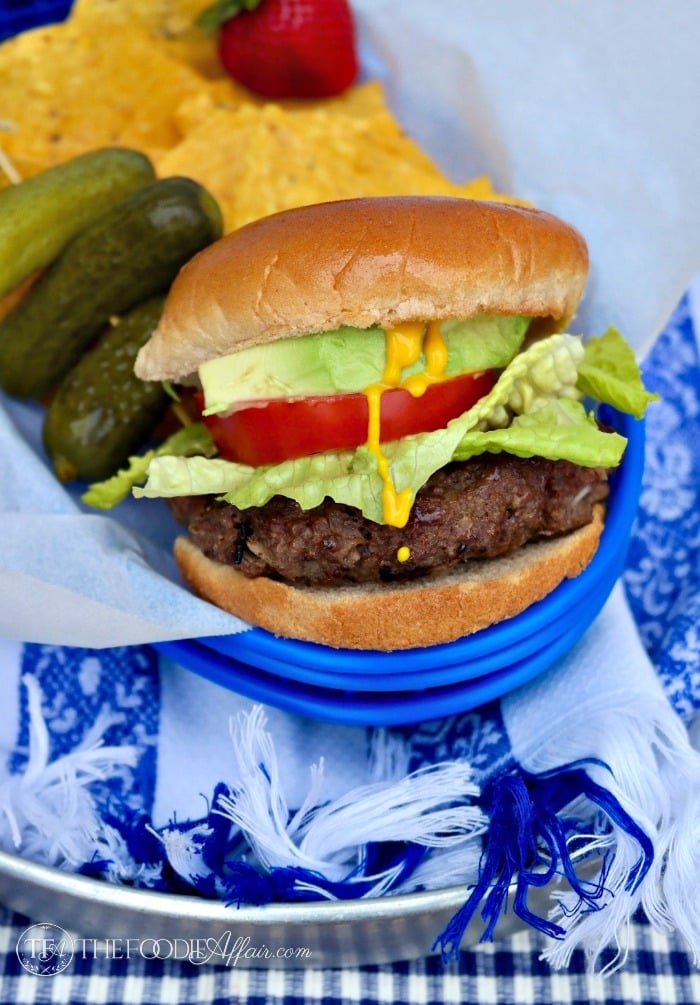 Sometimes you just want a good juicy burger without all the frills! That's they way this hamburger was prepared. Simple seasoning with lots of flavor that stands on its own, and just as tasty with all your favorite toppings. Alan always adds mustard on his burger. For him, burgers are incomplete without mustard! I like to add fresh veggies like tomatoes and lettuce. Oh, I've been stacking mine with avocado slices too!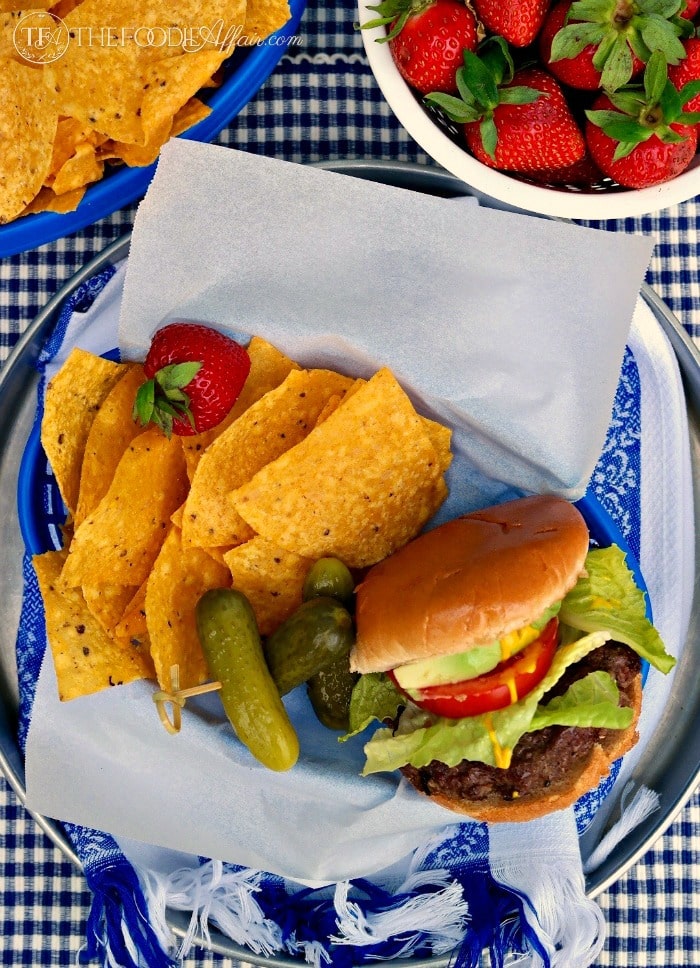 The key to keeping your burger juicy is to make sure you are gentle with the ground beef. The more you handle the meat the tougher it will become, so avoid those hamburger presses that smooch and pack down the meat.  The best burgers are gently formed with your hands. Another tip I like to pass along is to salt the burgers just before cooking on the grill. The salt helps retain the moisture as well enhance the flavor of the burger!
If you are a part of my newsletter family I'll be sharing more tips on how to prepare your grill for the season and ways to avoid cooking big meatball patties! Need something for your vegetarian guests? This Sweet Potato Veggie Burger is another "go to" recipe that I make often!
I hope you are enjoying the Memorial Day weekend. I sure am missing the gatherings and camaraderie we used to have with my military family during this holiday. Keep those that serve and their loved ones that are experiencing separation in your thoughts, and a special prayer for those heros that didn't come home. XO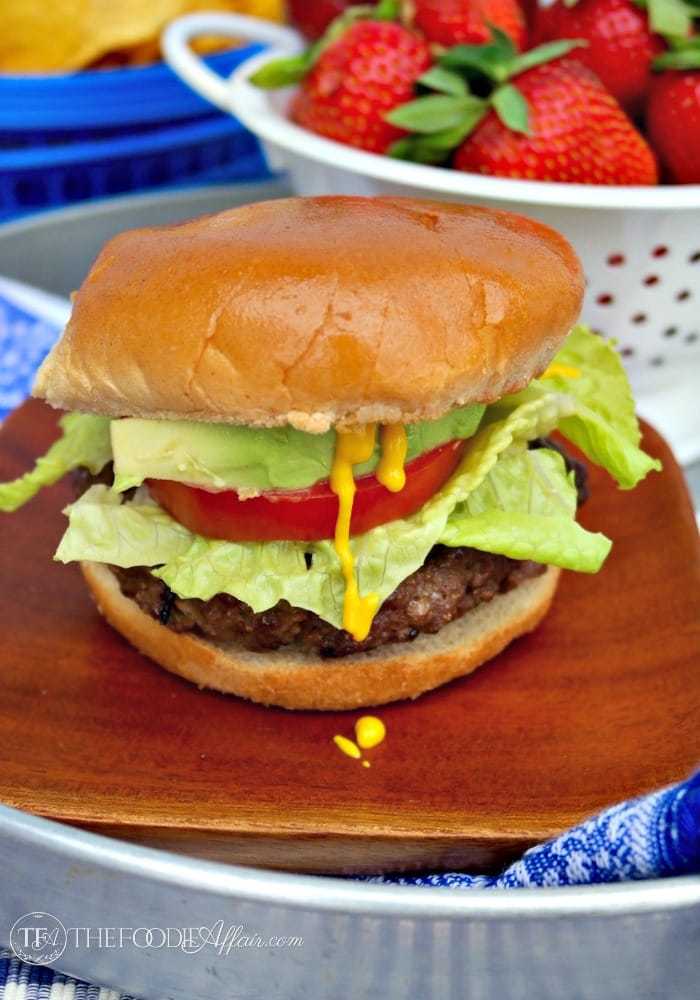 Classic Grilled Hamburger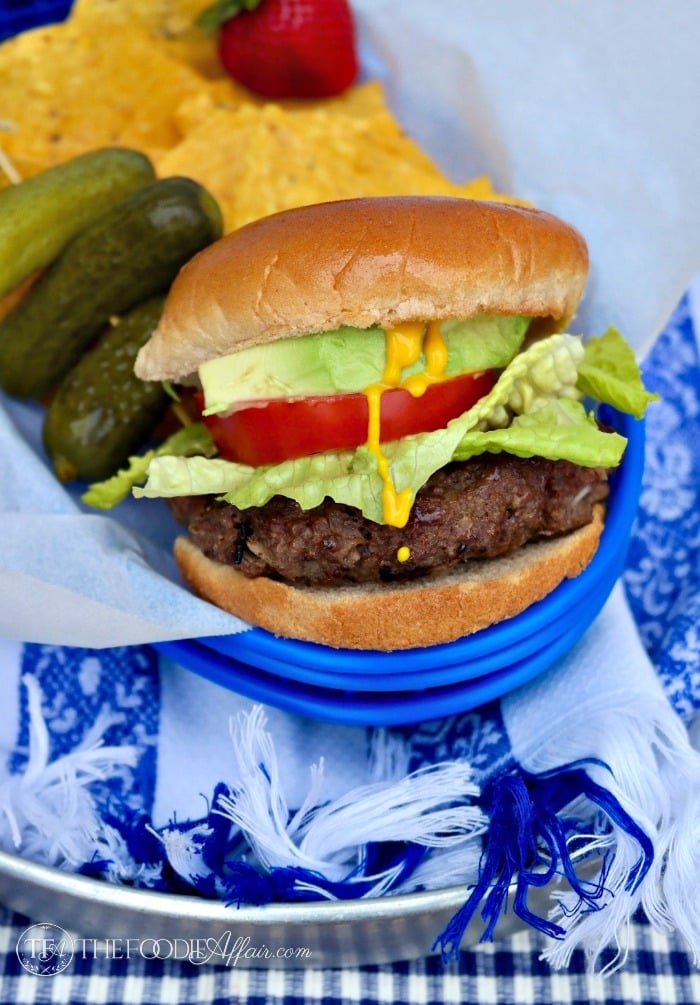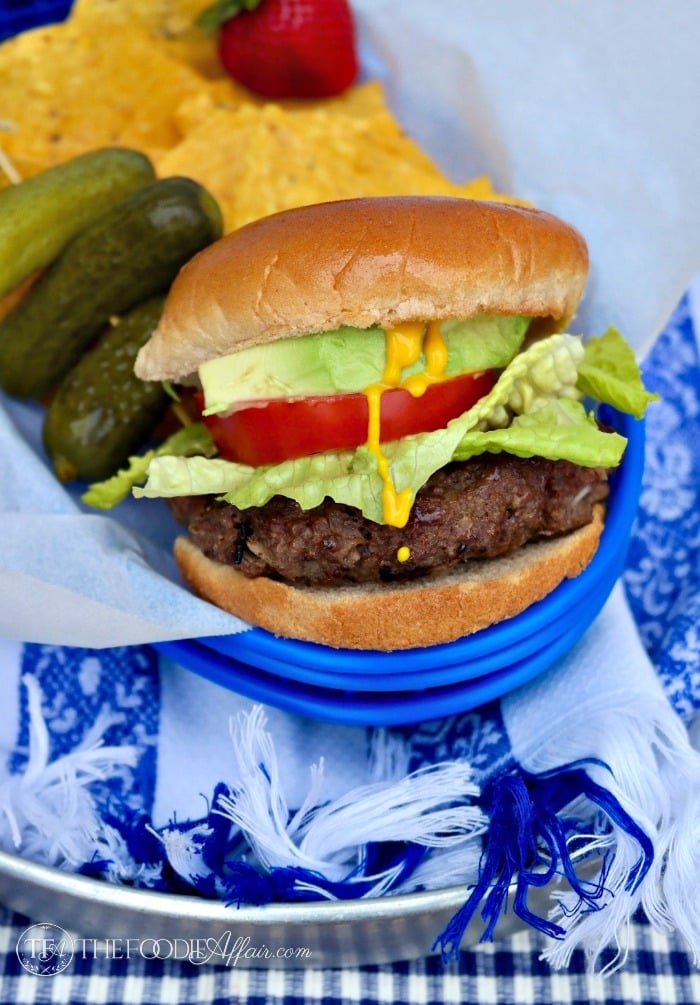 Ingredients
1 pound ground beef with 15-20 percent fat
1/2 cup onion, chopped
1 teaspoon Worcestershire sauce
1 teaspoon soy sauce
1/2 teaspoon garlic powder
Salt and pepper to taste
4 hamburger buns
Toppings and condiments of your choice: avocado, lettuce, tomato, cheese, mustard, ketchup
Directions
Preheat grill to high heat.
In a small bowl whisk together the Worcestershire sauce, soy sauce, garlic powder. Gentle fold into meat with chopped onions. Divide meat into 4 portions and with your hands form ¾" thick patties that are about 4 - 4½ inches in diameter. Form an indentation in the middle of each patty. Season with fresh pepper and put in the refrigerator for about an hour (or more if you can).
Before grilling let the meat stand at room temperature for 20 minutes. Season with kosher salt right before cooking.
Toast hamburger buns and top the burger with your favorite toppings and condiments.
Recipe Notes
How do you like your meat?
Medium Rare (130-135° F): Grill for 3 minutes, flip, grill for 4 more minutes.
Medium (135-150° F): Grill for 3 minutes, flip, grill for 5 more minutes.
Medium Well (150-165° F): Grill for 3 minutes, flip, grill for 6 more minutes.
Well Done (165° F and up): Grill for 3 minutes, flip, grill for 7 more minutes.
*source
Addicted to Grilling