This Tilapia Fish Taco recipe is similar to the type of tacos you can buy at taco trucks. They're simple. Assembled without a lot of extra fillings, but loaded with tons of flavor.
Blackened then pan-seared with a creamy onion and jalapeno topping, and so completely satisfying, I doubt that you'll miss the traditional tomatoes, lettuce, or sour cream toppings on your taco. These tilapia filets are seared to perfection in 6 minutes. That's right, six, as in cinco (I mean seis! Mom & Dad, aren't you proud of my Spanish skills 😉 !).  LOL
Yield: 4
Tilapia Fish Tacos
Prep Time 15 minutes

Cook Time 6 minutes

Total Time 21 minutes
Ingredients
1/4 cup Greek yogurt or sour cream if you prefer
2 tablespoons cilantro
Juice from 1 lime
1 jalapeño pepper, seeded and chopped
1 cup white onion, thinly sliced
1 1/2 teaspoon paprika
1 1/2 teaspoons brown sugar
1 teaspoon dried oregano
3/4 teaspoon garlic powder
1/2 teaspoon salt
1/2 teaspoon cumin
1/4 teaspoon ground red pepper
1 1/2 pounds (4-6) tilapia fillets
1 tablespoon canola oil
8 corn tortillas
Sliced Avocado (optional)
Lime slices (optional)
Instructions
Combine yogurt, cilantro, lime juice, and jalapeño in a food processor or blender and process until smooth. In a small bowl, combine the yogurt - jalapeño sauce with the thinly sliced onion and set aside.
Combine the paprika through the ground red pepper and sprinkle over fish, gently pat seasoning onto fish. Heat oil in a large skillet (I used cast-iron) over medium-high heat. Add fish to pan, cook three minutes on each side.
Warm tortillas and assemble tacos with fish, jalapeño sauce, and avocado if desired. Drizzle top with juice of a lime slice


Recipe adapted from Cooking Light, February 2011
Prepare the fish, warm the tortillas, and assemble the tacos!
Take at least another six (seis!) minutes to eat them, won't you?! 🙂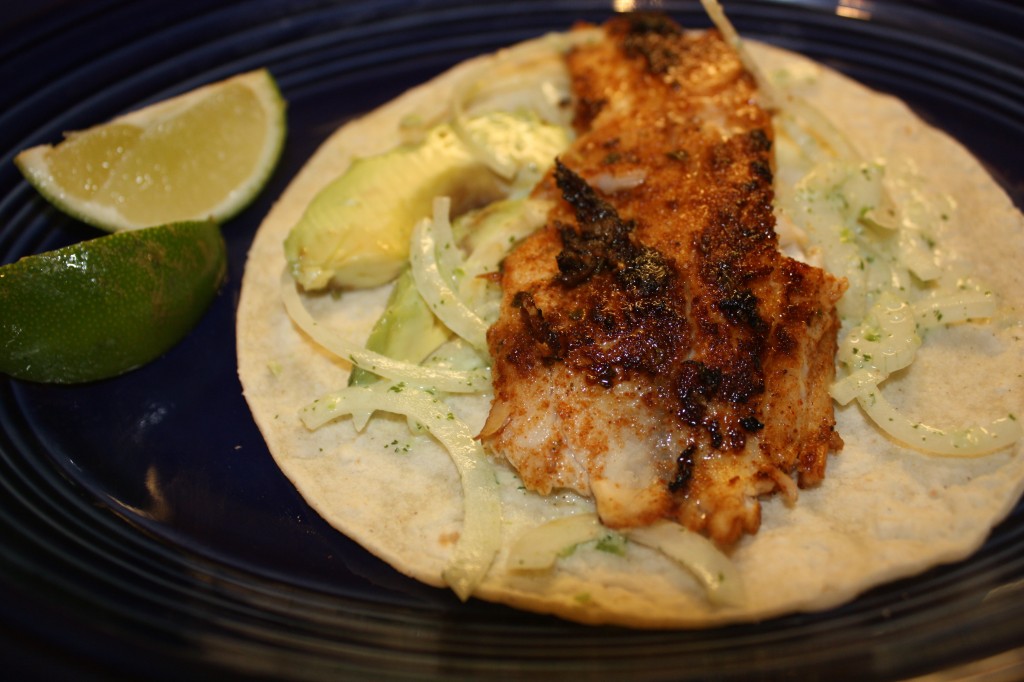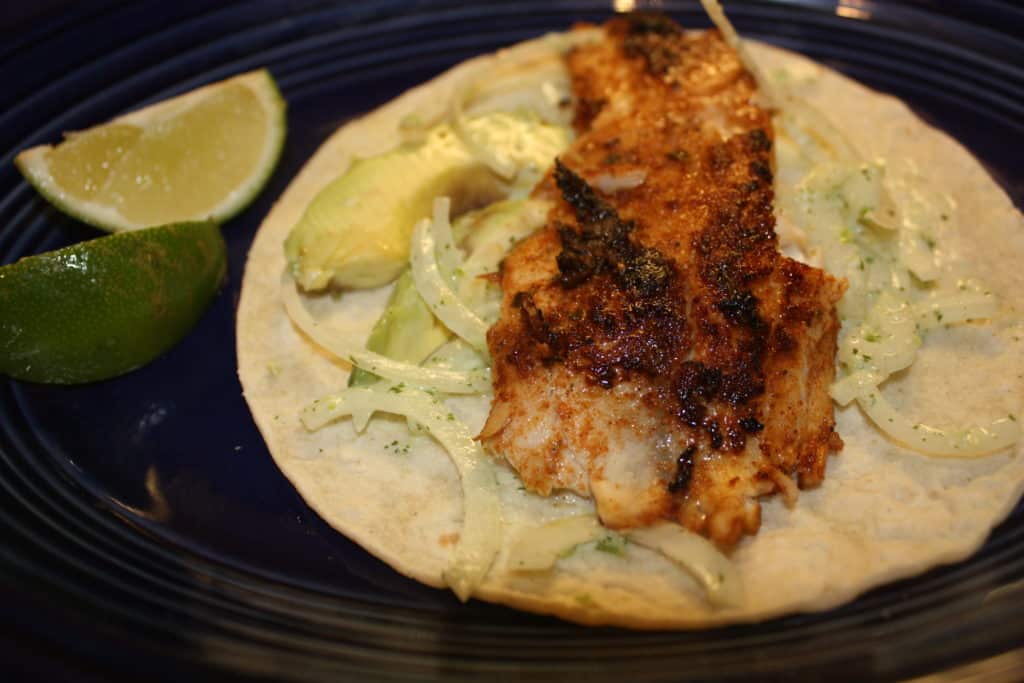 I love cooking Tilapia. The fish is firm and has a mild taste, which is easy to adapt to any combination of flavors.
Looking for more ways to cook tilapia? Try this Mediterranean Tilapia dish from Sandi at A New York Foodie.