These Maple Pecan Coconut Macaroons have crunchy edges with soft and pillowy centers of a mixture of maple, pecans and coconut!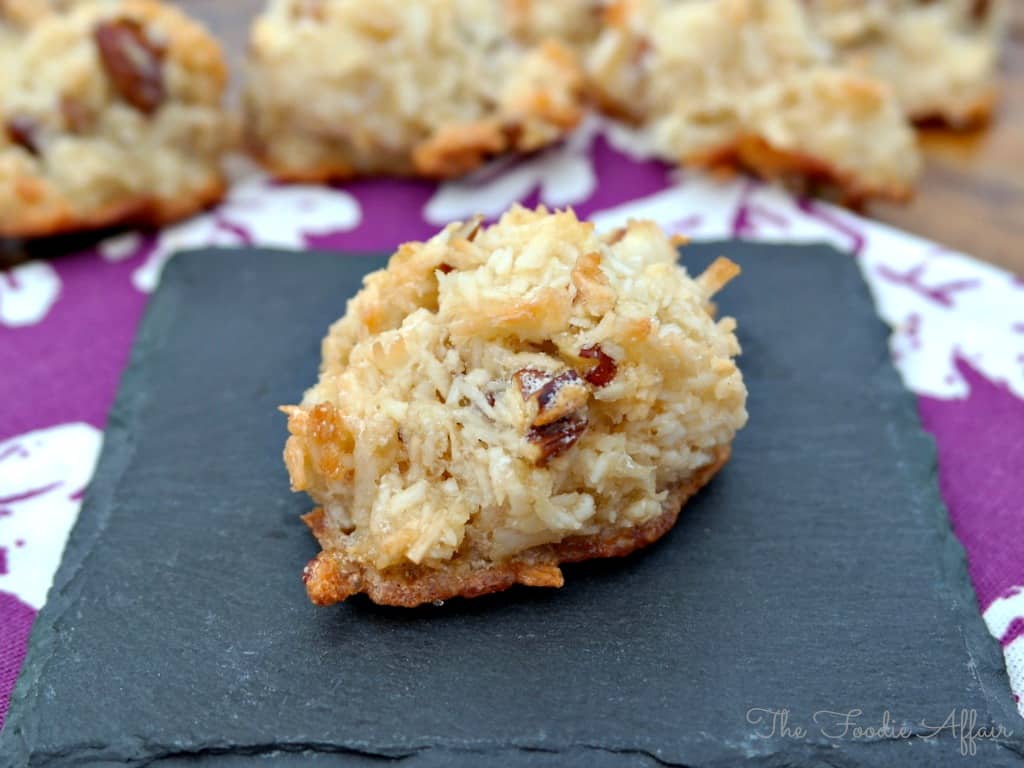 I'm sharing my first batch of cookies this season…Macaroons!  Macaroons have been in my must bake recipe list waiting patiently for some attention since April. I saved the newspaper insert Relish.com that featured Dan Cohen's vanilla macaroons, and have been toying around with the idea of turning a basic macaroon recipe into something I could share with my family for Thanksgiving.
If you don't know who Dan Cohen is, he's a Master Macaroon Baker (according to the article) who bartered his macaroons for coffee at eateries in New York, which eventually lead to a successful business and cookbook! I think he deserves a new title, Master Businessman!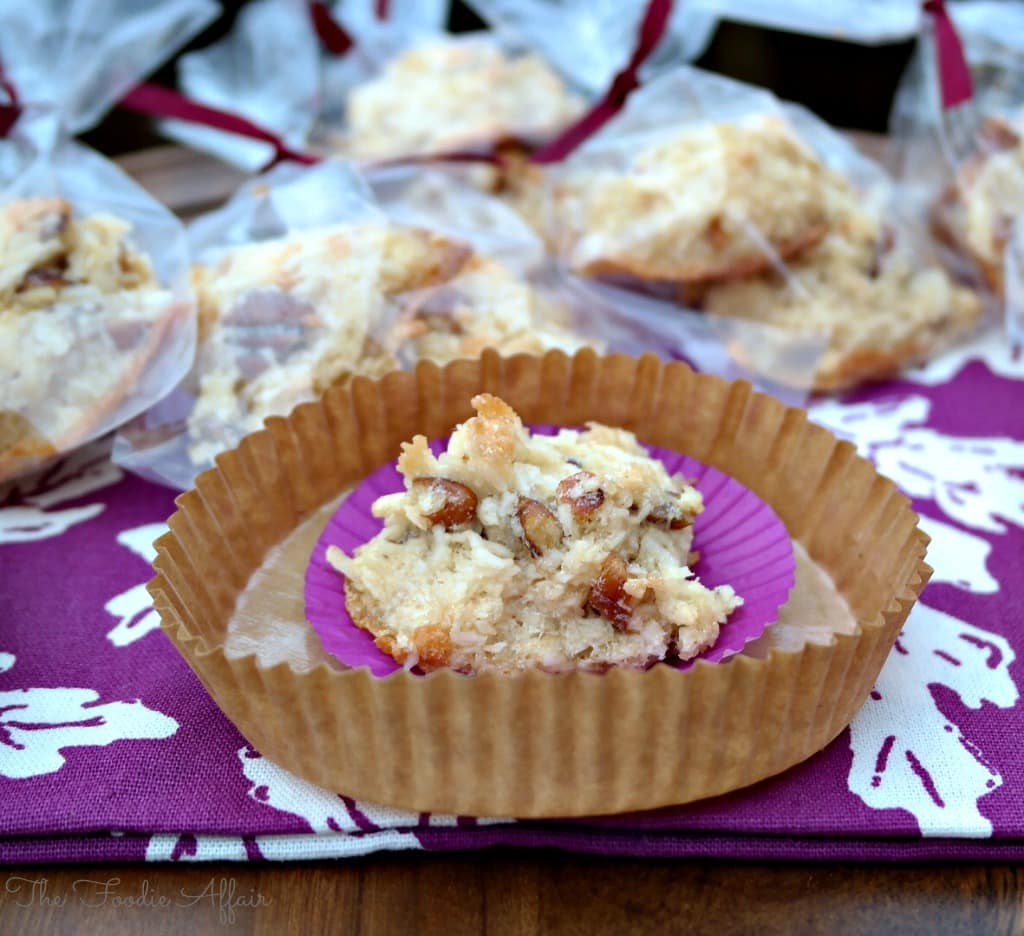 I went poking around Dan's online store, Danny Macaroons and saw that besides the basic recipe he shared in the article there was a variety of creative flavors including Maple Pecan Pie Macaroons, which had a SOLD OUT message when you clicked on that link.
Well, well. We're onto something here. That combination sounds amazing and not available only means it's coming soon from The Foodie Affair! My first batch tasted delicious, but the maple syrup was runny and the macaroons didn't hold together well. With a few tweaks and re-testing, the second batch is DELISH!
These macaroons will be a great addition to your dessert tray, especially for your gluten-free guests.  Put them on a platter and wrap up the rest to go!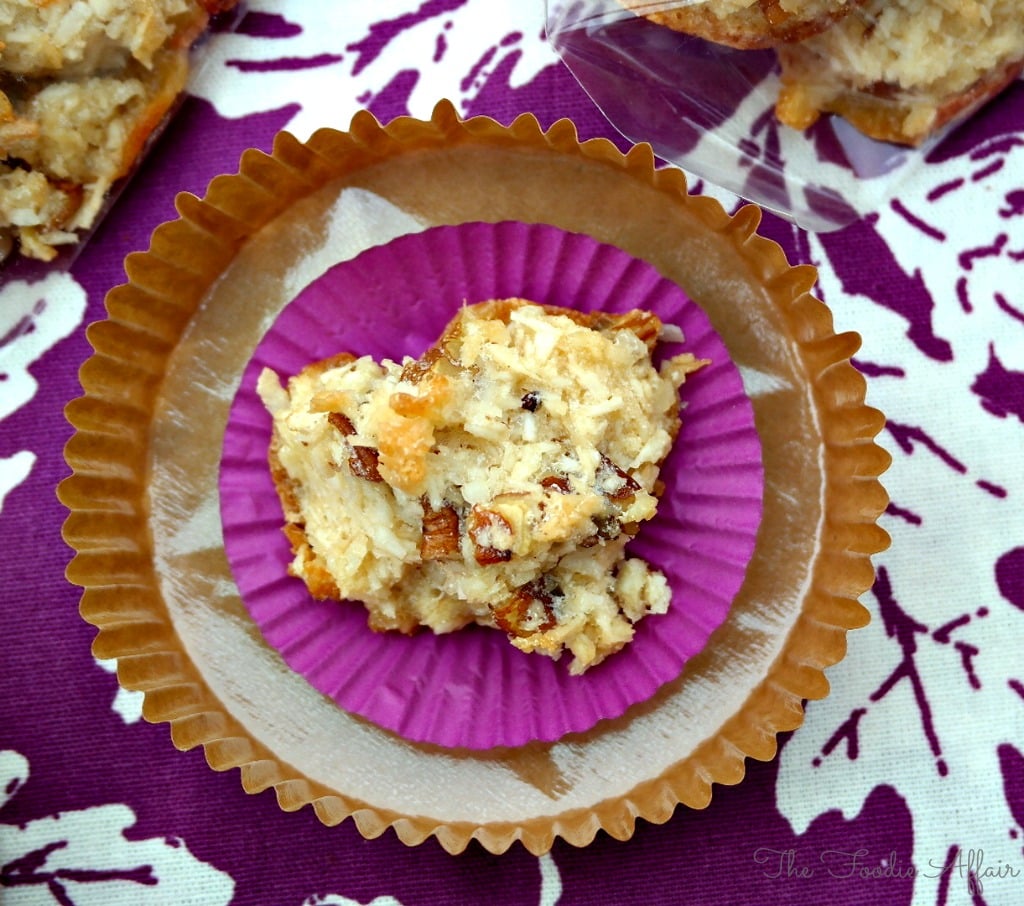 Yield: 2 doz
Maple Pecan Coconut Macaroons
Prep Time 25 minutes

Cook Time 25 minutes

Total Time 50 minutes
Ingredients
3/4 cup maple syrup (real)
1/8 teaspoon fine sea salt
1 teaspoons vanilla extract
1 Tablespoon cornstarch mixed with 1 Tablespoon water (optional)
4 large egg whites
3 cups medium shredded, unsweetened coconut
1/2 cup pecans, chopped
Instructions
Preheat oven to 325 degrees. Line 2 cookie sheets with parchment paper and light grease the paper. Set aside.
In a small saucepan heat maple syrup on high until it reaches a boil, then reduce heat simmering syrup until the syrup begins to thicken (12-15 minutes). Watch carefully so it doesn't burn. If you find that the consistency isn't changing you can add cornstarch and water to thicken. When thickened, remove from heat and stir in vanilla. Cool to room temperature (may take up to an hour).
In a medium bowl, beat egg whites and salt until stiff peaks form. Gently fold cooled maple syrup mixture into the egg whites, and then fold in coconut.
With a small cookie scoop, drop batter onto prepared cookie sheets. Bake for 20-25 minutes or until light brown. Remove from oven and cool for 5 minutes. Loosen macaroons with spatula and cool completely on baking racks.