Vanilla Extract Homemade with 100% pure vanilla Madagascar beans. Vanilla extract is used in recipes for baking, beverages and savory dishes. A jar of homemade vanilla also makes a wonderful gift!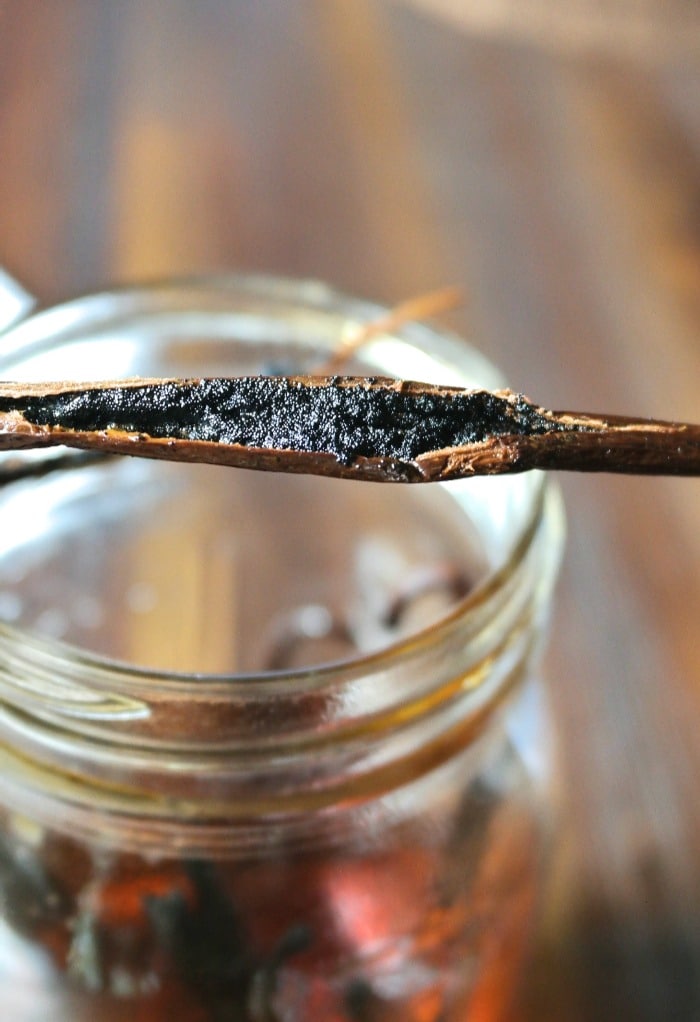 Vanilla Extract Homemade
I finally have vanilla extract homemade by me! Yay! It has been on my "to do" list FOREVER!
The strong aroma of vanilla, especially homemade, evokes a sense of comfort and so flavorful when you add it to a recipe.
You'll be amazed how easy it is to make a batch for yourself too.
Ingredients for Homemade Vanilla Extract
All you need are the following ingredients:
Vanilla beans
Alcohol
Jar with a lid
The hardest part about this recipe is to maintain some patience while waiting for the vanilla extract to mature the recommended six to eight weeks.
I'm on week two <tap, tap, tap>.
What Type Of Vanilla Beans are in Vanilla Extract that's homemade?
The best part of making vanilla extract homemade is that you have complete control of the ingredients used (more below).
There are a variety of vanilla bean flavors, so I recommend trying several to find your favorite:
Madagascar – sweet and creamy all purpose vanilla flavor profile.
Mexican – dark, bold flavor is good for savory as well as sweet recipes.
Tahitian – floral, fruity cherry flavor is good for custards and drinks.
Indonesian – mild smoky aroma for baking cookies and pairs well with chocolate.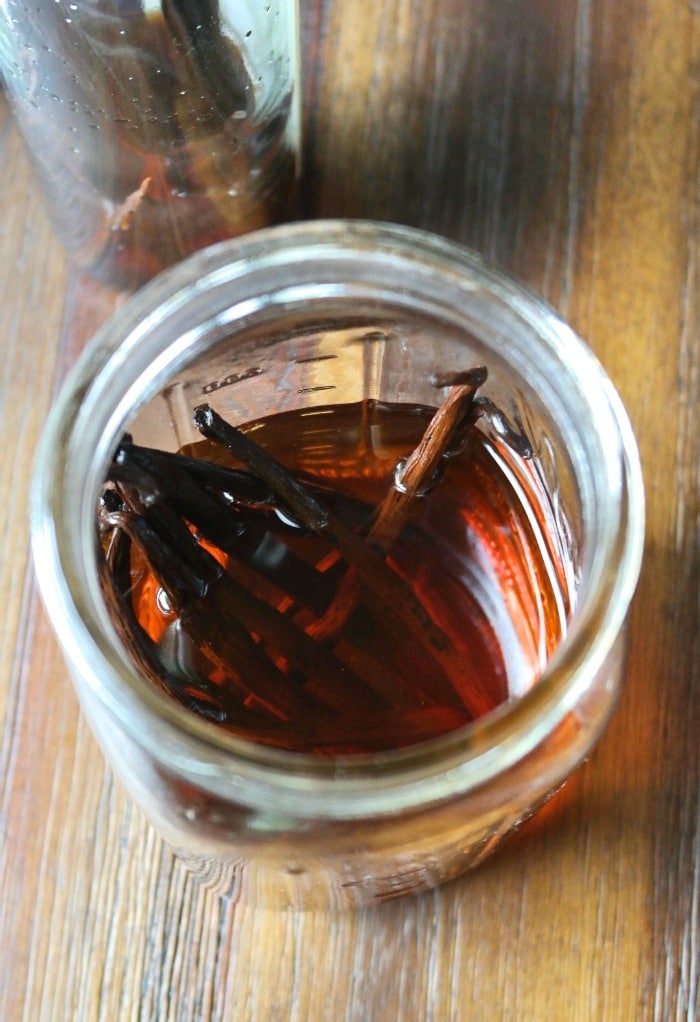 What Type Of Alcohol is in Homemade Vanilla Extract?
I use vodka, which doesn't add flavor. This allow the vanilla beans to shine through.
Bourbon whiskey or rum are also popular alcohol options that are used when making vanilla extract.
A complete new flavor profile can be invented trying bourbon or rum in your extract.
Help! My Vanilla Beans are Dry!
Oh no! If the beans are bone dry then it sounds like your vanilla beans may not have been stored correctly or they're old beans.
Don't worry though because these beans can still be salvaged. Soak the vanilla beans in vodka (or the alcohol you plan on using) for about a week before cutting into the bean to expose the paste.
The vodka will plump up the bean. Be sure the paring knife is sharp so you are sure to not slip and cut yourself!
Why You Should Make Vanilla Extract Homemade?
The ingredient to make vanilla extract at home is simple, but not it's rare to find an extract that doesn't include additional unnecessary ingredients.
I add vanilla to all my baked goods. I use a lot of it, so awhile back I bought a big 1.5 lb bottle of vanilla powder that was really convenient to use.
When I was ready to reorder, I glanced at the ingredients. Listed was dextrose and vanilla bean extractive.
What? Really?! Dextrose is sugar! Sugar in my 100% PURE vanilla extract? This made me look at my vanilla extract and I noticed the first ingredient was water!
Why do manufactures add sugar and water to EVERYTHING?! Ugh.
I suspect that big producers of vanilla extract want the product to taste good right away and not have to go through the process of developing the flavor over time, so they add sugar!
Water just dilutes the extract, so you can deduct why manufactures would add water to their vanilla extract.
Other Ingredients Manufacturers Add to Vanilla Extract
Not only do manufactures add sugar to their extracts, but I learned that in order for extracts to be labeled 100% pure, the FDA states that the product can contain no less than 35% alcohol, and ….
Vanilla extract may contain one or more of the following optional ingredients:
(1) Glycerin.
(2) Propylene glycol.
(3) Sugar (including invert sugar).
(4) Dextrose.
(5) Corn sirup (including dried corn sirup). Directly from the FDA site
Making my own vanilla couldn't have been timelier!
The vanilla that I'm brewing up has two ingredients; Madagascar vanilla and vodka! That's what I expect 100% pure vanilla extract to be!
Where to Purchase Supplies to Make Homemade Vanilla Extract?
I bought my vanilla beans from Beanilla (not an affiliate). They happened to have a sale on Madagascar beans. The Madagascar beans are fragrant and moist as well as commonly used for baking.
The beans can also be purchased at your local grocery store, but I find that that's not the most economical way to make this homemade recipe.
Buy in bulk to make this homemade vanilla extract recipe.
The small gift giving jars are from Monterey Bay Spice Company . I was going to buy some spices to make my own pumpkin pie spice, and noticed that they sell jars as well!
I also use a large mason jar, and once it's ready, divide into smaller jars.
The label was a little more challenging to make. I couldn't find a label just the right size, so I created my own using a photo editor, Ribbet. Other free applications are PicMonkey or Canva.
Once the design was finished I then printed them on a full sheet of Avery labels (6 per sheet) and individually cut them from there. They're about 2 1/2″ x 2 1/2 ".
Other options is to hand write on a gift tag and hang it from the bottle. Craftier folks can find a lot of options on Esty for food labels and stickers.
Recipe Ideas Using Homemade Vanilla Extract
I'm excited to use my own vanilla extract in all my recipes going forward for chia pudding, homemade Irish Cream, low carb waffles, Mexican wedding cookies, and a plethora of other recipes!
Vanilla Extract That Lasts For Years!
You can keep topping off your extract with vodka and it will last for years! This is what I do with two bottles or a separate mason jar that is constantly maturing homemade vanilla extract to refill smaller bottles.
When one jar is over half used, then top it off with more alcohol (sometimes add a fresh bean). Keep record of when you add the alcohol and after 4 weeks give it a little shake. In another two weeks it's ready to be used!
The other bottle I continue to use for all my recipes. I'm never without homemade vanilla extract!