I think in every grocery store you will find near the ice cream freezer section a little corner of ready made toppings; caramel and fudge, maraschino cherries, and sugar cones. They're all ready for you to grab and go while picking up your favorite ice cream. Also, tucked in the same corner is Smucker's Magic Shell! Do you know which topping that is?
It's only the coolest topping ever!
Make swirls, a thick blanket or a what ever design you want, and seconds after the Magic Shell syrup touches the cold ice cream, it "magically" hardens forming a candy-like crispy crust of chocolate.
I see a liquid and solid science lesson in this magic, don't you?
What's even cooler is you can make your own chocolate magic at home with just two ingredients, chocolate and coconut oil. That's it!
But hold onto that little secret for a moment and let your your magical powers take on a life of it's own. A little abra-cadabra wand swirling are definitely in order! Keep it under sixty seconds for the full effect though 😉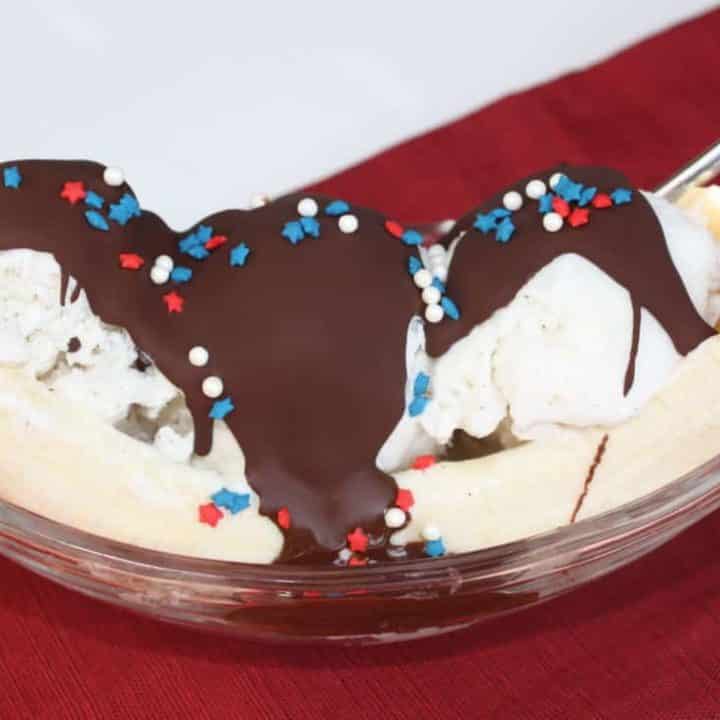 Homemade Magic Shell, Chocolate Ice Cream Topping
Ingredients
8 ounce of chocolate (I used Ghirardelli) chopped
2 Tablespoons coconut oil
Instructions
Chop chocolate and put it in a heat microwavable bowl with 2 tablespoons of coconut oil. On medium, melt chocolate stirring every 40 seconds for a smooth consistency. Once melted, put in a microwaveable dish. Drizzle or spoon over ice cream and in about 60 seconds, the chocolate will form a magic shell.
Notes
If your microwave has a soften/melt option, use that. Comes out perfect. Once the chocolate mixture cools, the syrup may harden. To reuse, warm back up in the microwave. Get creative by adding peppermint for mint-chocolate flavor. Use either dark or milk chocolate. I tried both and they are equally delicious!
There you go, you are equipped to be the coolest mom, dad, auntie, uncle or teacher ever!
Go wow someone with a little magic 🙂