Sugar Free Pumpkin Bread with chopped walnuts! This quick bread has all the flavor of a traditional recipes but this version is made without gluten or refined sugar!
Shhhh, no one needs to know that it's lower in carbs too!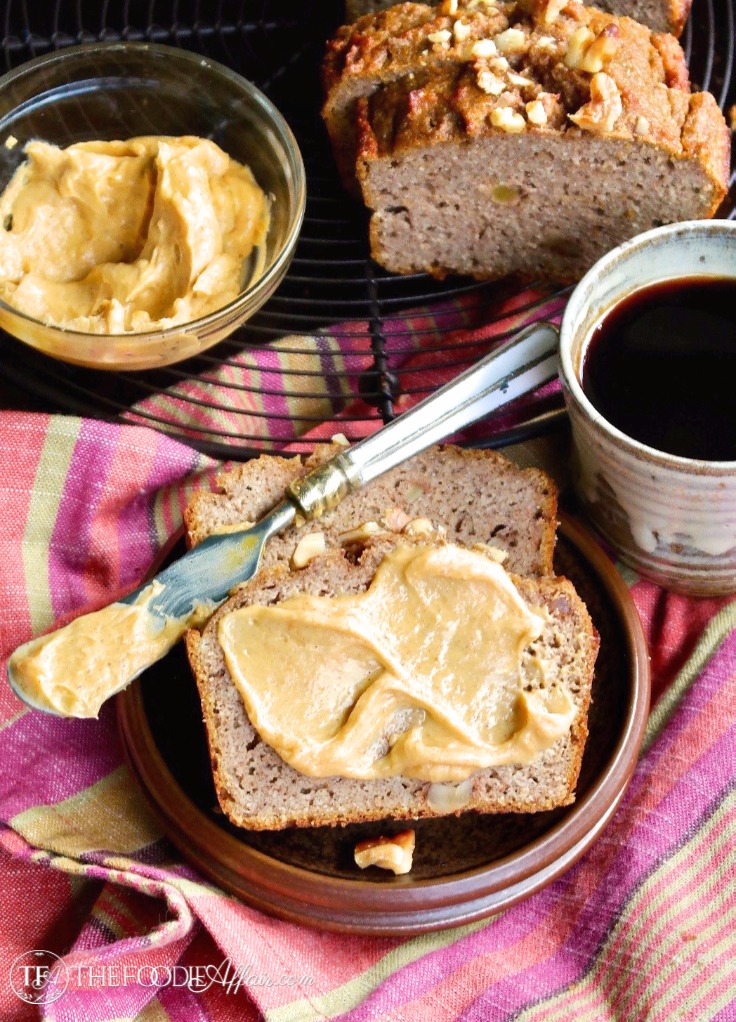 Hey, so it's officially October and perfectly acceptable to dive into all things pumpkin, right?!  I was ahead of the game posting recipes in September, but I couldn't help myself.  This is my absolute favorite time of year!
When the weather cools down a bit, I look forward to cozy hearty fall meals like beef stout stew, quick French onion soup, and homemade breads.  It's the calm before the holiday frenzy that I cherish as well.
My days are fairly under control, but gosh I can feel when I start to pick up the stress of everyone around me anticipating holiday shopping, and general hustle in our grocery stores, parking lots, and throughout the neighborhood and work.
Many years back I consciously made an effort to give myself a break from my own expectations, and have brought back the fun of the holiday season.  If I only bake 4 dozen cookies instead of 12, then so be it!  If a gift didn't arrive on time.  It's OK!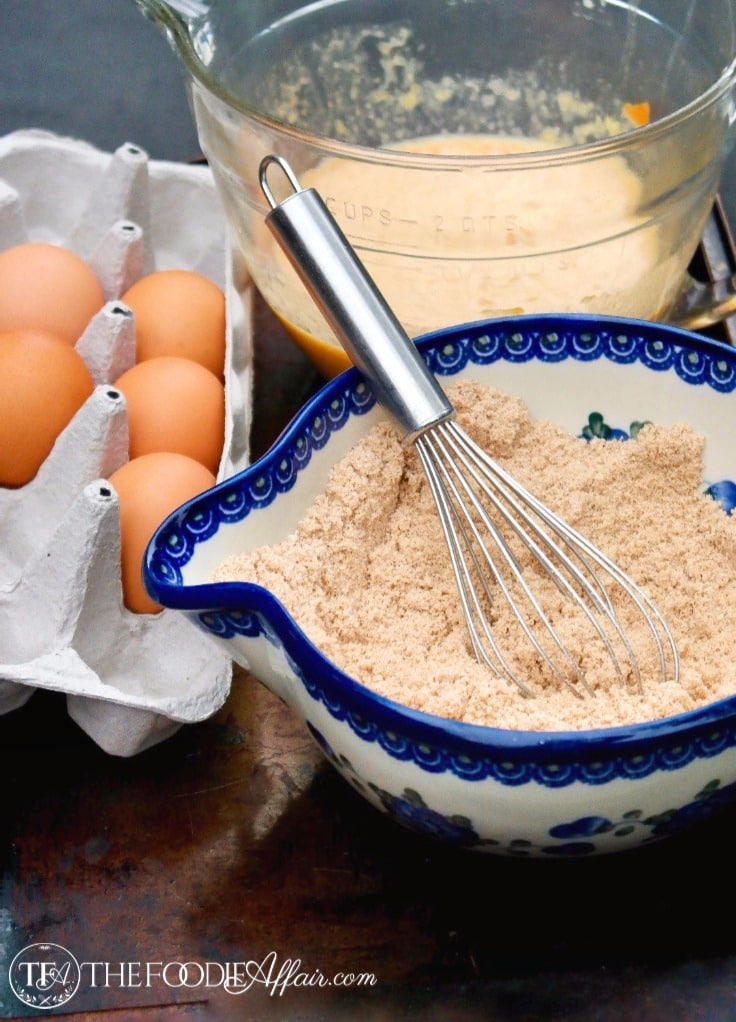 But it does feel great when I get organized and prep food in advance, so I have started to freeze the pressure cooker pumpkin puree.  I hope to have a stash build up to use for months!
I have been freezing 1/4 cup portions of the pumpkin and have already blended up a pumpkin pie spice smoothie, except I varied the recipe, again!  See, the three versions that I usually make wasn't low carb.
My mouth is watering just thinking about how delicious that smoothie is.  Lot's of healthy ingredients, but it tastes like a rich tasting milkshake.  I will share it soon!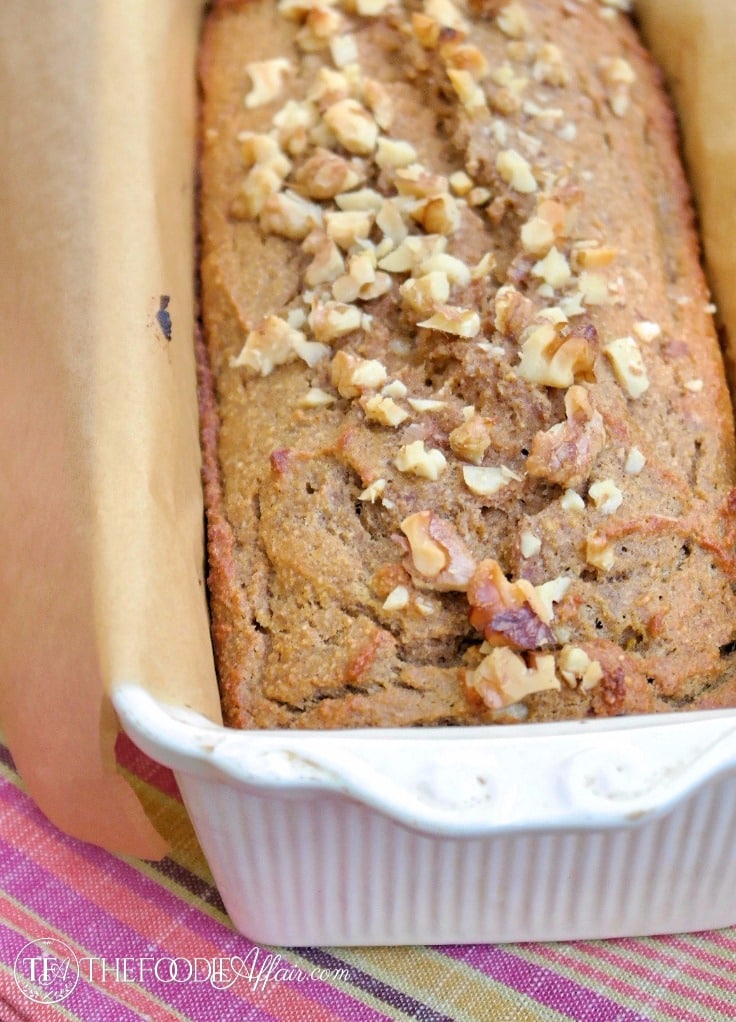 In the meantime, you will love how your house smells while baking a loaf of sugar free pumpkin bread!  It was so hard to wait for the bread to cool so that I could slice it up!
For this recipe I added walnuts.  I love the texture it adds to the bread and I only incorporated 1/3 cup including the sprinkle I added on top.  Add more or less to suit your preference.
The other ingredient I added to this recipe is a smidgen of maple extract!  I love the earthy flavor that comes though with the pumpkin spices.  Don't skip that.  It's a delicious addition.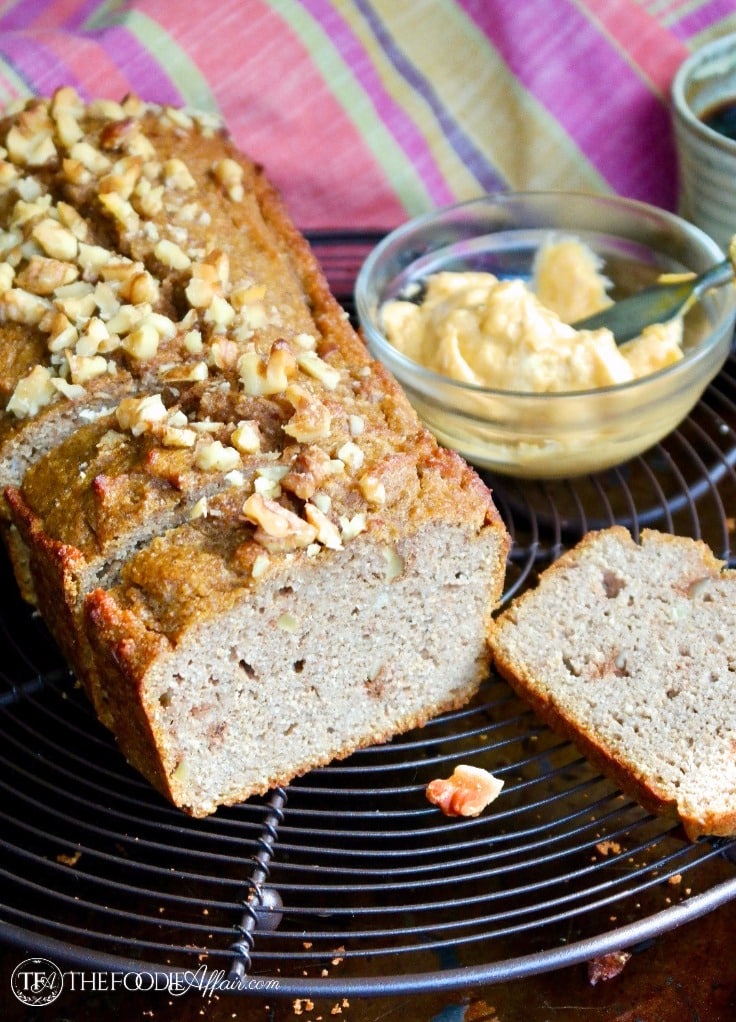 The loaf pan I use is not the standard 8 1/2″ x 4 1/2″ shape.  I used a 9″ x4″ pan, which allowed for about 12 servings once cut.
Enjoy a slice of this sugar free pumpkin bread right out of the oven or toast a slice and lather some nut butter or sugar free pumpkin spice butter over it.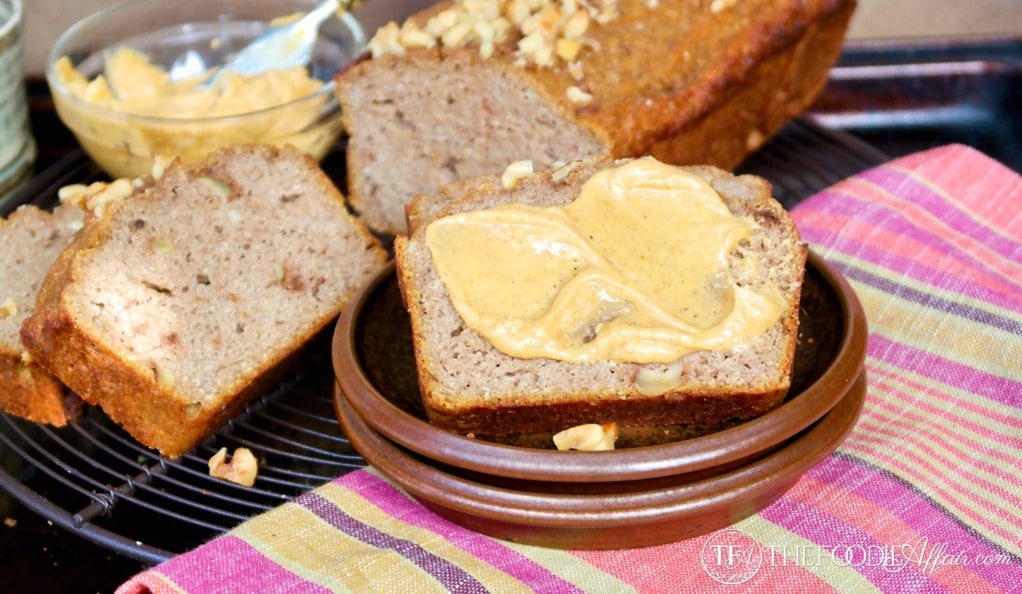 Sugar Free Pumpkin Bread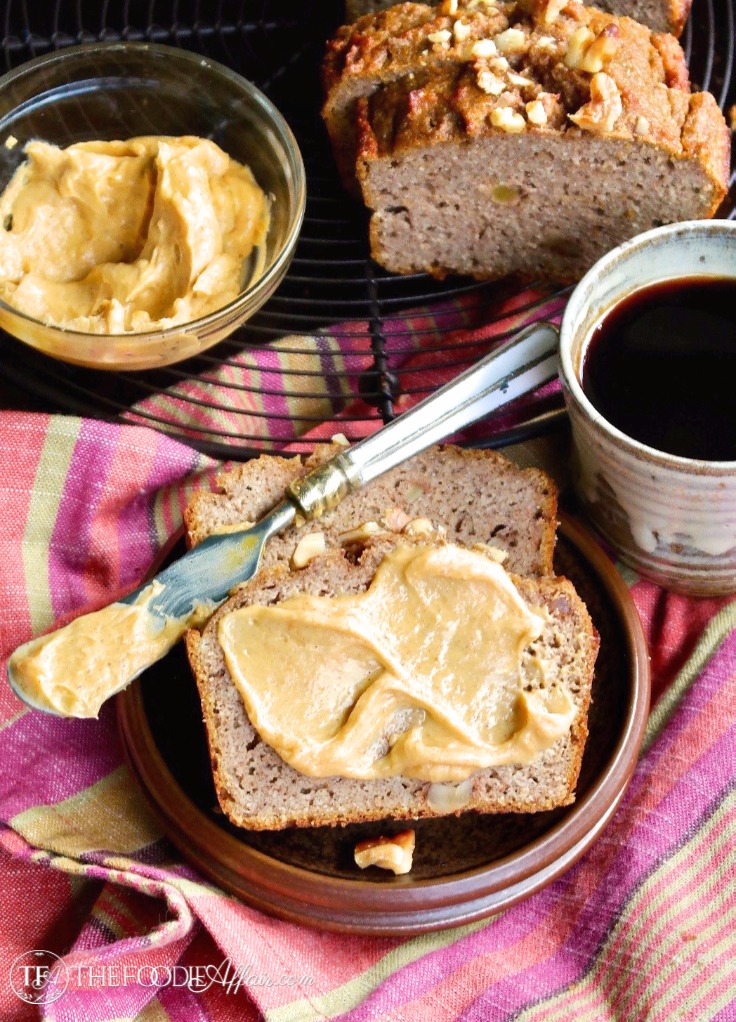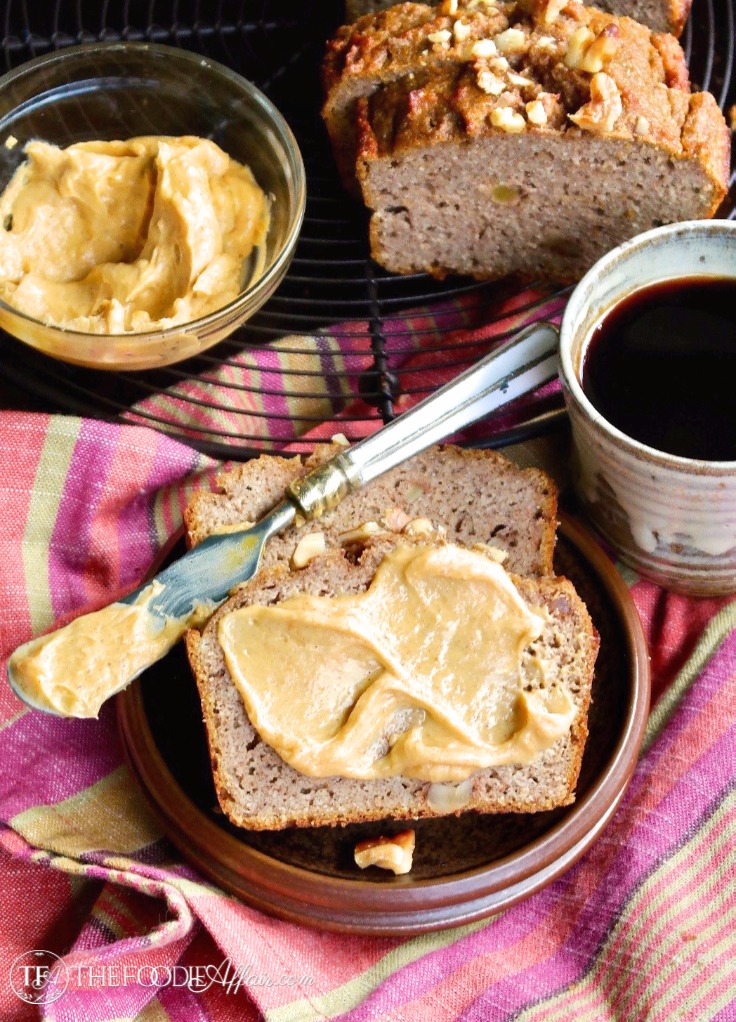 Sugar Free Pumpkin Bread with chopped walnuts! This quick bread has all the flavor of a traditional recipes but this version is made without gluten or refined sugar!
Ingredients
1 1/4 cup almond flour, superfine
1/4 cup coconut flour
1/2 cup Swerve sweetener, granulated
2 tablespoons Monk Fruit, golden
1 1/2 teaspoons baking powder
2 teaspoons pumpkin pie spice
1 teaspoon cinnamon
1/2 cup pumpkin puree
5 eggs, jumbo (Trader Joe's), separate yolks and whites
2 tablespoons butter, melted and cooled
1 tablespoon vanilla extract
1/4 teaspoon maple extract
1/3 cup walnuts, chopped
Directions
Preheat oven to 400 degrees. Line loaf pan with parchment paper and set aside.
Whisk together almond flour, coconut flour, sugar alternatives, baking powder, pumpkin pie spice, and cinnamon.
In a separate bowl mix together pumpkin puree, butter, vanilla extract, and maple extract. Add yolks only. Fold into dry ingredients until well combined. Add walnuts (optional 0reserve 1-2 tablespoons for the top).
In a large separate bowl whip egg whites until soft peaks form. Gently fold into batter and place in prepared loaf pan. Sprinkle remaining walnut on top of the batter (optional).
Bake for 35-40 minutes or until a toothpick placed in the center of the loaf comes clean. Cool for 10 minutes. Gently remove bread from pan can cool on a baking rack. Slice and enjoy.
Recipe Notes
macronutrients are an estimate based on the brands I used through My Fitness Pal. Your calculations may vary.