These stuffed baked apples are filled with chopped pecans, cranberries, brown sugar and butter! This easy dessert is a scrumptious dessert for two and are also elegant enough to be served at a dinner party!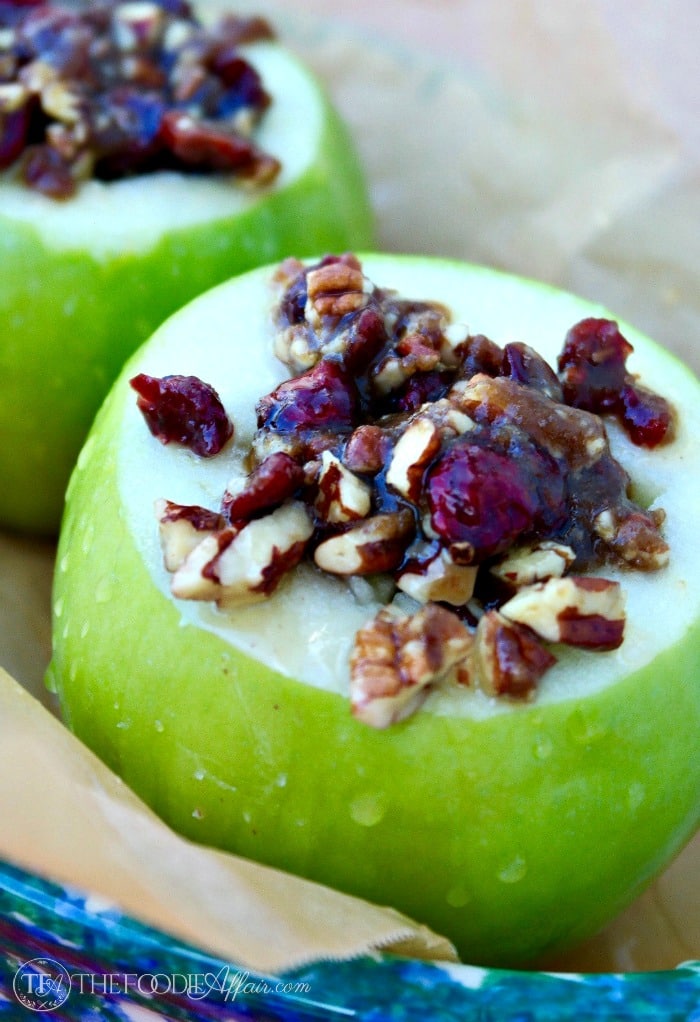 Stuffed Baked Apples
This recipe first appeared on the blog in November 2015.  This post has since been updated with a new photo and a sugar free alternative! 
These stuffed apples have all the flavors of a delicious slice of pie, but you're not going to be messing with rolling dough out to make a crust!
Impressive and simple to assemble and although I made this with two in mind, I have a feeling that once you taste these apples you'll want to share them with a crowd!
Packed in each apple we have the tart flavors from the cranberries and apple paired with the cinnamon brown sugar mix. It continues to get even better though! I tossed in some chopped pecans to add another layer texture to each bite!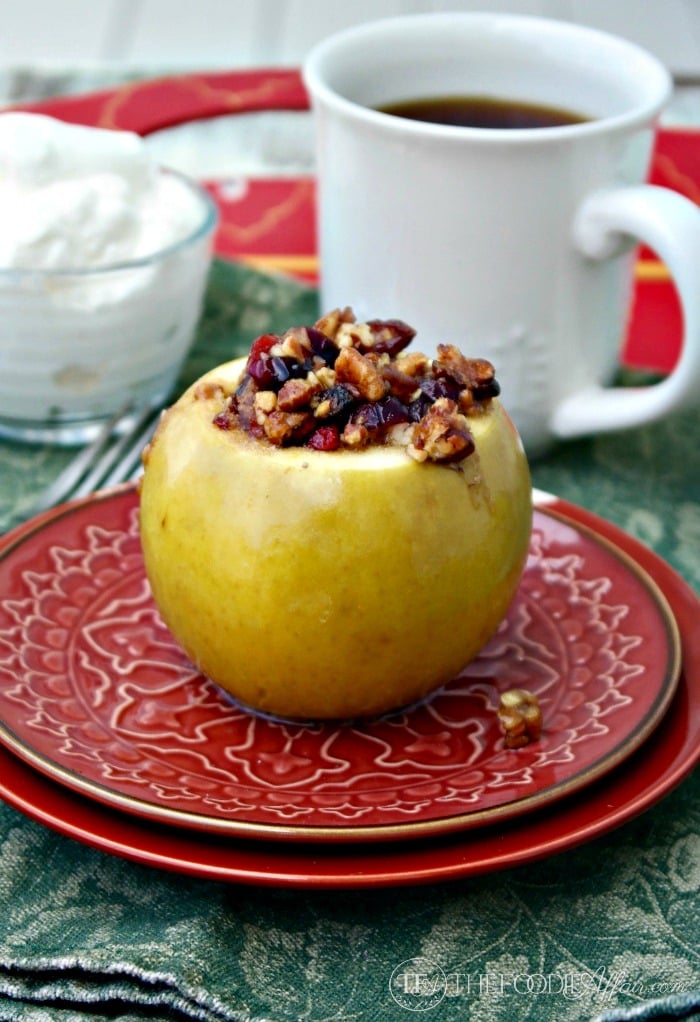 Which type of apples are best for baking?
When cooking apples you will want a variety that holds its shape when baked as well as one that offers a nice balance of tart and sweetness.
My favorite for this dessert is the commonly found Granny Smith.  The thick skin helps it maintain it's shape and when paired with the topping your tastebuds will happily dance to each bite!
These apples will also hold it's shape and will pair nicely with the topping;
Honeycrisp (only available in the fall)
Winesap
Braeburn
Cortland
Rome Beauty
Gala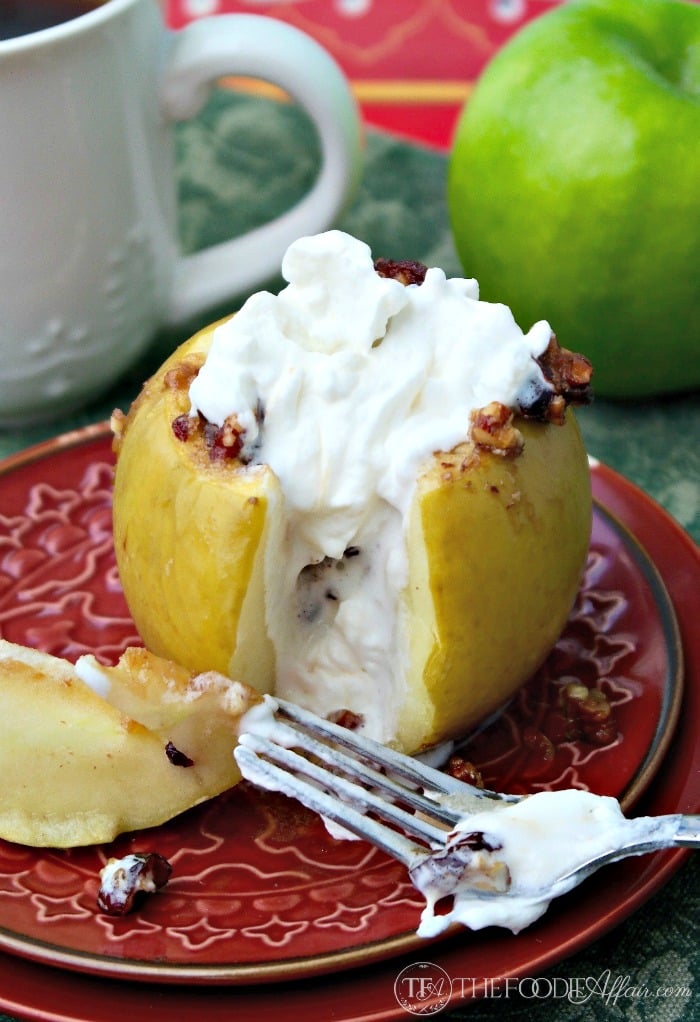 Tips for apple stuffing
When you core the apple try to keep a thick layer of the flesh so that there is plenty of apple to enjoy in each bite, but you also want to make sure that there is enough room to pack the goodies in the center of the apple to dig into.
Oh, be sure to top each apple with fresh whipped cream. I love the gooey mess that it makes as soon as it touches the warm apple and begins to melt! I can only imagine that a scoop of vanilla ice cream will be just as fabulous!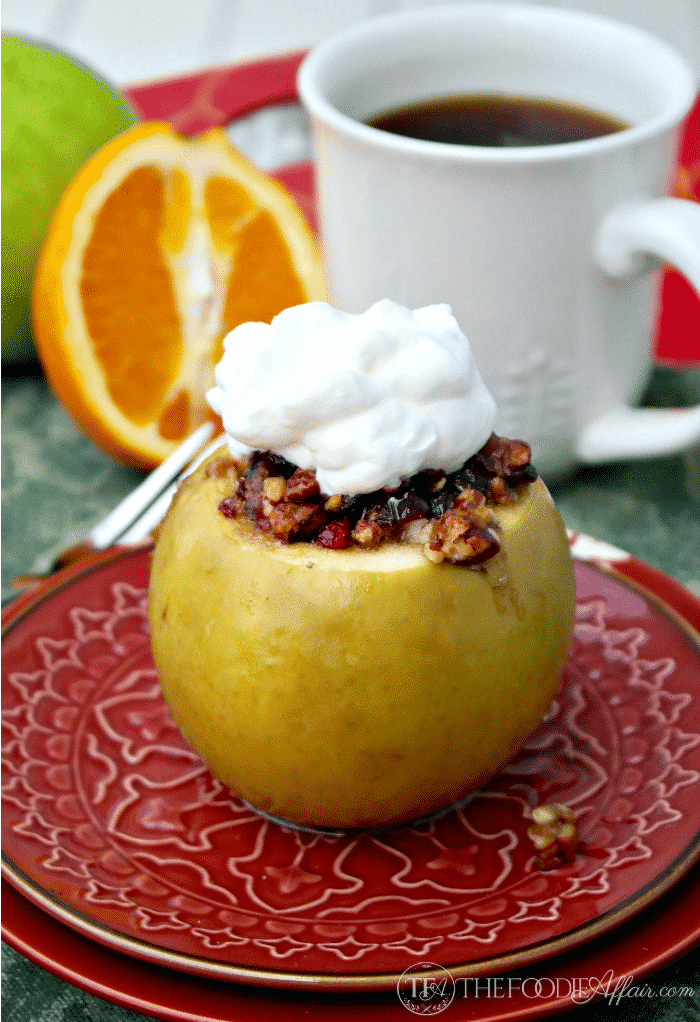 More easy apple recipes
This is a lovely treat to make for a special date night or for an evening of Netflix movie watching for yourself! Grab a fork and knife and dig in!
You also might want to give these recipes a try: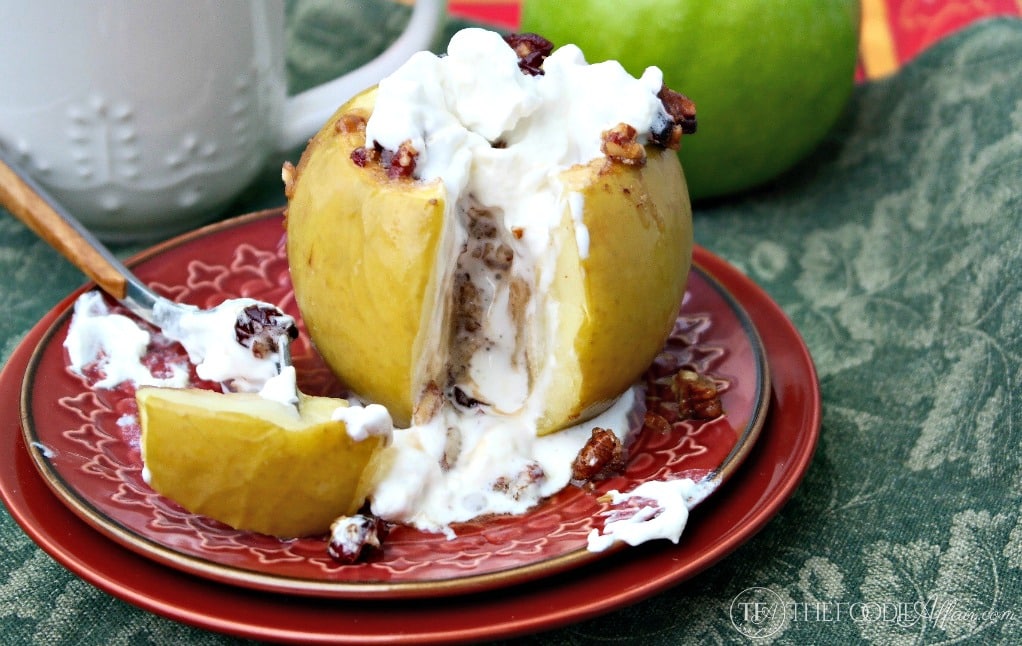 Stuffed Baked Apples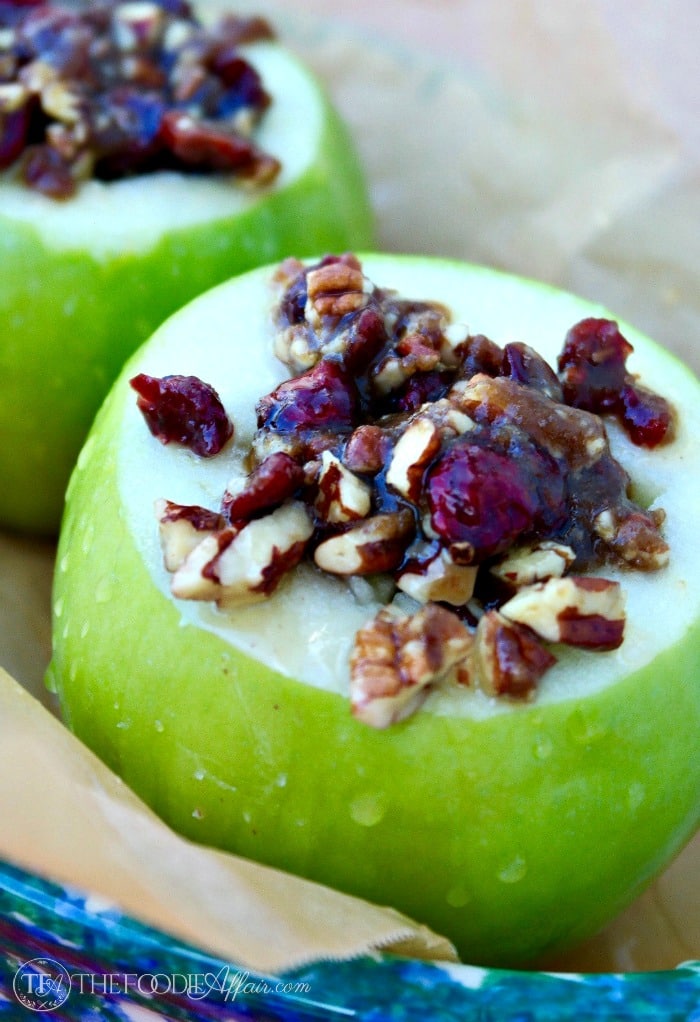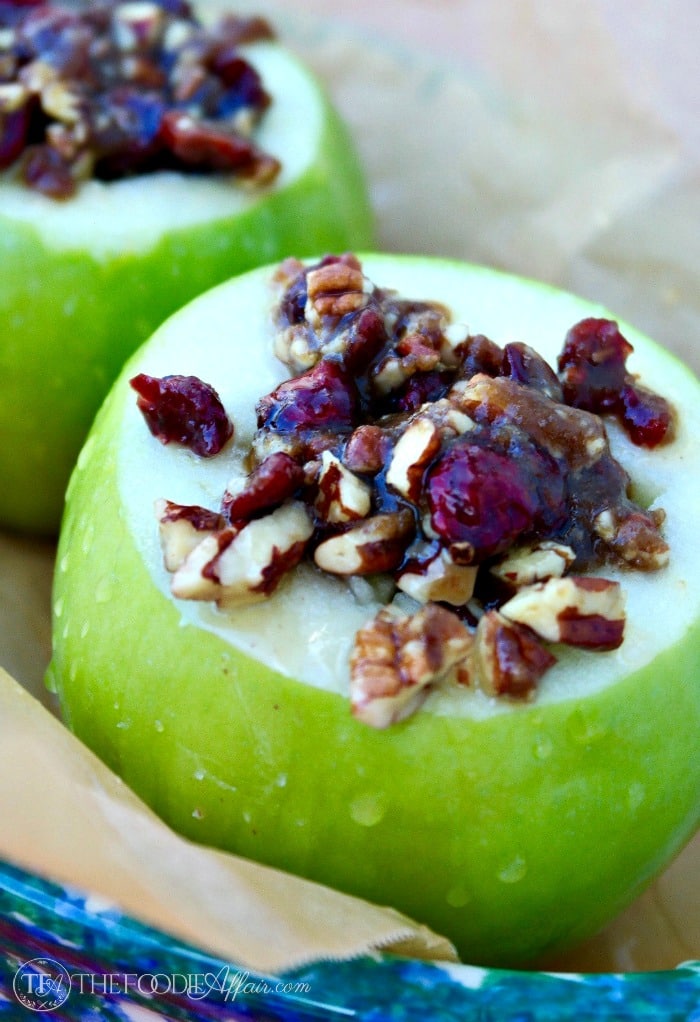 Baked apples with a mix of pecans and cranberries topped with fresh whipped cream. Make this dessert for two or double and serve at your next dinner party.
Ingredients
2 large Granny Smith Apples
1/4 cup chopped pecans
1/4 cup dried cranberries
3 tablespoons brown sugar*
1/4 teaspoon cinnamon
1/8 teaspoon kosher salt
3 tablespoons unsalted butter, melted
Fresh lemon juice
Fresh orange juice
Whipped cream or Ice cream (optional)
Directions
Preheat oven to 400 degrees. Line a baking sheet or pan with parchment paper and set aside.
In a small bowl mix together pecans, cranberries, brown sugar, cinnamon and salt. Pour butter on ingredients and mix well.
Slice top of the apples and core the middle removing the seeds. Drizzle the juice from ½ of a lemon over the flesh of the apple. Pack the center of the apples with the nut/cranberry mix. Slice the orange in quarters and drizzle the juice of one ¼ of the orange over the stuffed apple. Bake for 20 minutes. Remove and serve with whipped or ice cream.
Recipe Notes
*for a sugar free option replace brown sugar with monk fruit or Swerve brown sugar.
Loading nutrition data...