Strawberry Oat Bars with chia seed jam sweetened with maple syrup. These bars are a tasty snack, breakfast meal or an afternoon pick me up!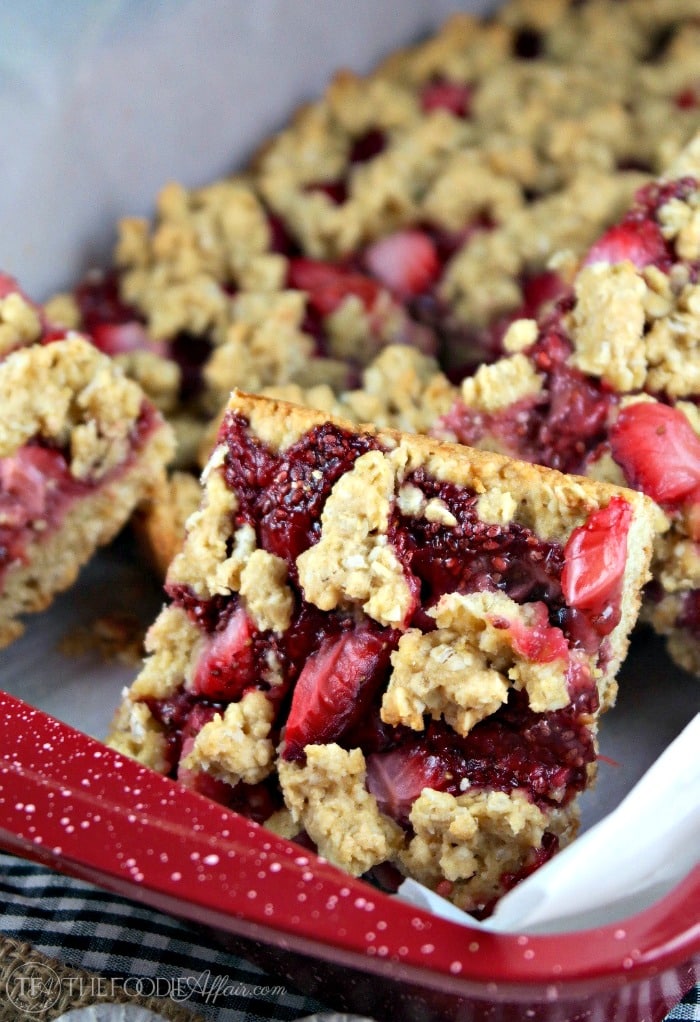 Soft and chewy strawberry crumb bars made with the chia seed jam that I shared earlier this week! These bars have just the right amount of texture and the only sweetener added is pure maple syrup! The flavor of the fruit really shines though in these bars!
I brought these babies into work with a list of the ingredients written on a sticky note so that anyone that partakes would know what these bars are made out of. With so many food allergies and diet restrictions it's getting trickier to share recipes that meets all preferences, but I suppose it doesn't matter because I find that nothing ever goes to waste when you leave any food in the break room!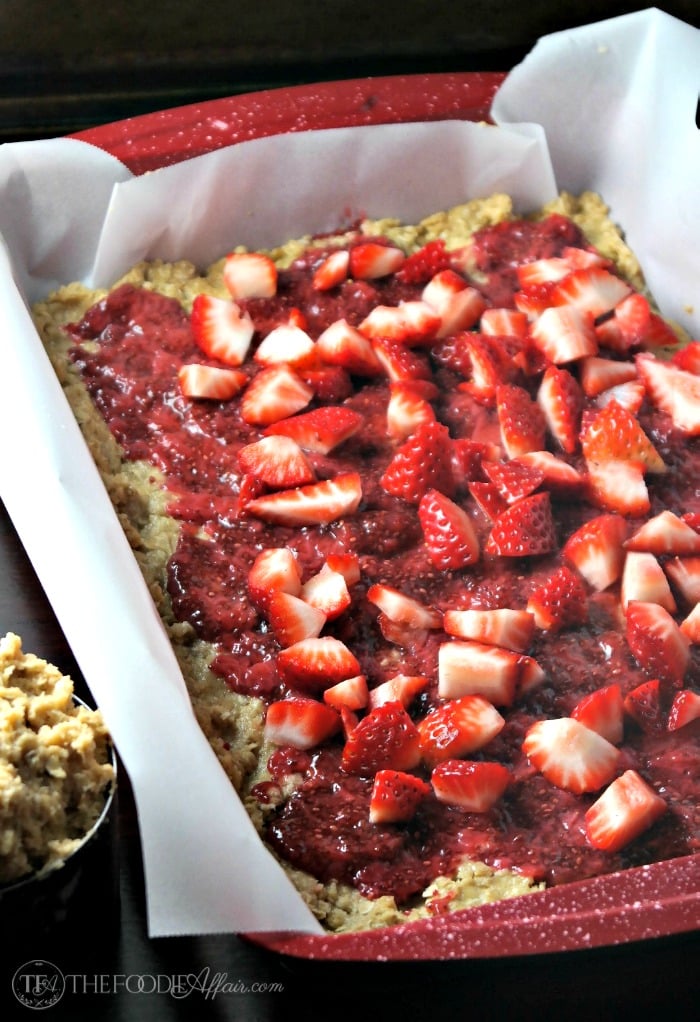 Although these oat bars look decadent they're actually pretty healthy! Several of my co-workers went back for a second piece (that they admitted to – hehe) and told me that they liked these bars because they're NOT super sweet!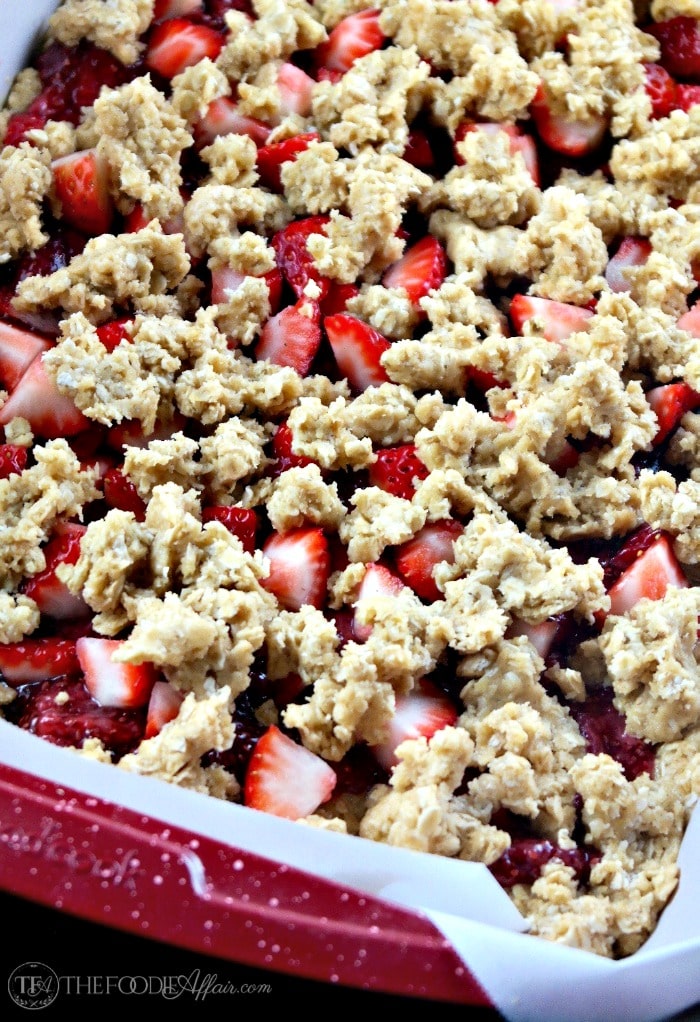 Since I bought quite a few strawberries I went ahead and added more berries on top of the jam. They softened up perfectly and I love how they pop out of the crumble topping!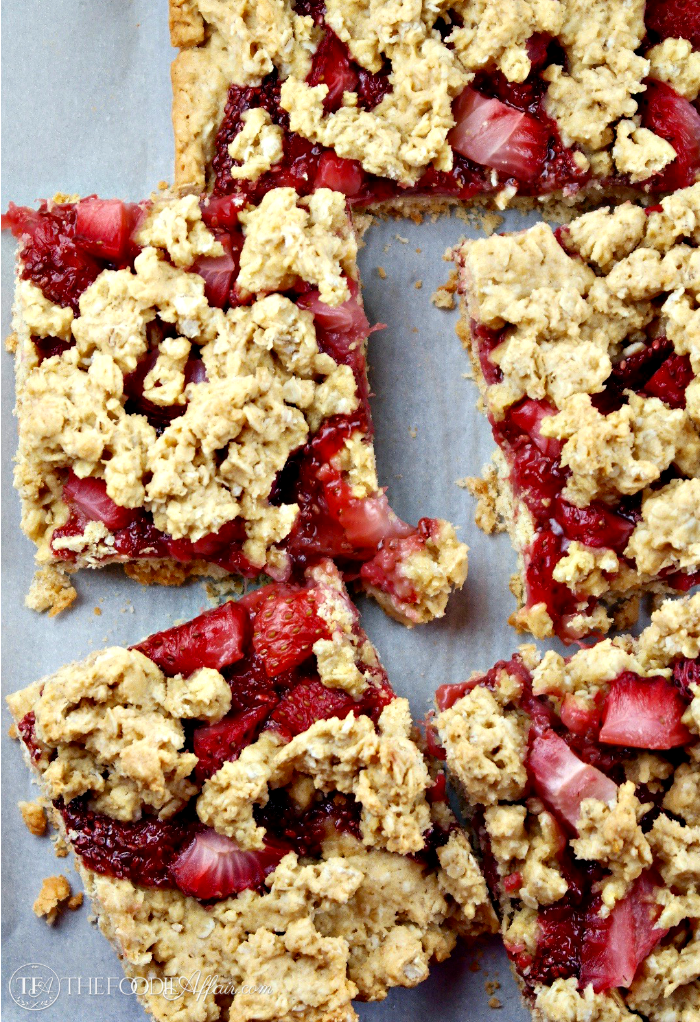 These Strawberry Oat Bars are perfectly sized to grab a square as you head out to start your day or enjoy leisurely with a hot cup of tea. They also would be a a tasty after school snack for the kids! I enjoyed a slice before hitting the gym.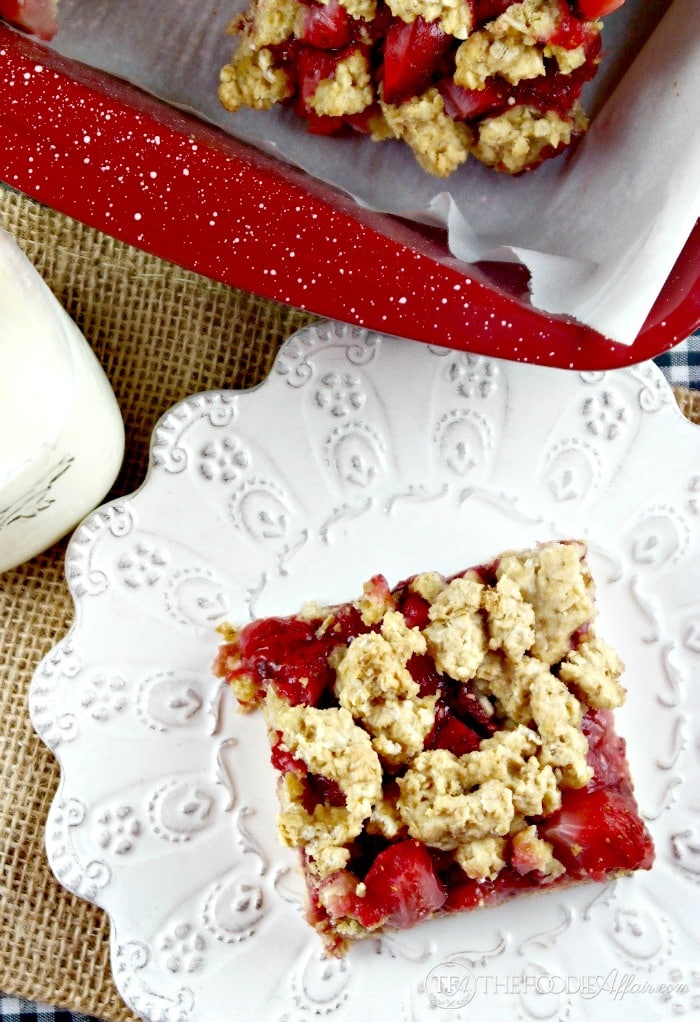 Strawberry Oat Bars with Chia Jam
Author:
Sandra @ The Foodie Affair
Ingredients
1 cup strawberry chia seed jam
5-7 fresh strawberries, cleaned and diced
Oat Bars
1 cup whole wheat pastry flour
1 cup rolled oats
1 teaspoon baking powder
¼ teaspoon cinnamon
¼ teaspoon salt
1 large egg
¼ cup maple syrup
¼ cup coconut oil
1 teaspoon vanilla
Instructions
Preheat oven to 350 degrees. Line a 8 X 8 inch baking pan with parchment paper and set aside.
In a medium bowl whisk together the flour, oats, baking powder, cinnamon and salt. In a separate large bowl blend with an electric hand mixer the egg, maple syrup, coconut oil and vanilla. Combine the wet and dry ingredients mixing until a dough is formed. Remove about 1 cup for topping.
Place dough on the bottom of the prepared baking pan and with your hands press down evenly forming a solid crust. Spoon strawberry chia seed jam over the dough and spread evenly. Add fresh diced strawberries on top of the jam. Crumble remaining dough mixture over the strawberries. Bake for 30 minutes or until the top is a light golden brown. Cool, remove from pan and slice in squares.