Easy Strawberry Chia Seed Jam is made without refined sugar and takes less than 15 minutes to make! Chia is a nutritional powerhouse adding protein, fiber and Omega-3s to your diet.
I love making jams and sauces with seasonal fruits! Last spring I shared this Mixed Berry Sauce and during the summer months I made this Peach Freezer Jam, which we devoured in just a couple of weeks!
This chia seed jam is also going to be gone in no time too, but I'm ok with that because Strawberries are STOCKED in every store right now! I loaded up with an awesome sale Grocery Outlet has going on. Only 99 cents for a whole pound!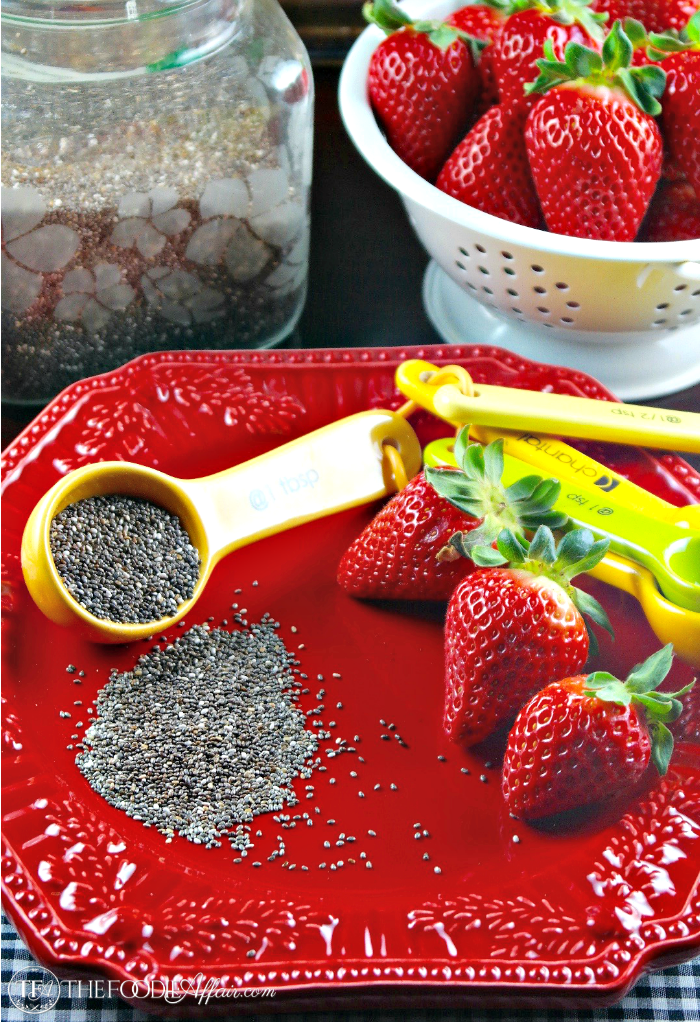 Have you gotten on the chia seed bandwagon yet? You should because these little nuggets are loaded with healthy nutrients and are so easy to add to your diet. I toss chia seeds in my smoothies all the time. At first I gelled the seeds with filtered water so they would plump up before adding it to any liquid like I showed you in this Ch-Ch-Chia post, but now I don't bother with that extra step. I toss them in yogurt or smoothies as they are and find that they'll plump up on their own adding more fiber to fill you up!
Chia seeds act as a natural thickener for jam, which is so convenient when you want a quick jam. No pectin or any special equipment is needed to make this chia seed jam. The seeds soak up the strawberry juice beautifully!
Lather up your toast with this chia seed jam or swirl in oatmeal or yogurt for a tasty breakfast or snack! Be sure to make an extra batch because I have a recipe that you'll want to use it for coming up later this week!
You also might be interested in trying this versatile Sugar Free Strawberry Topping!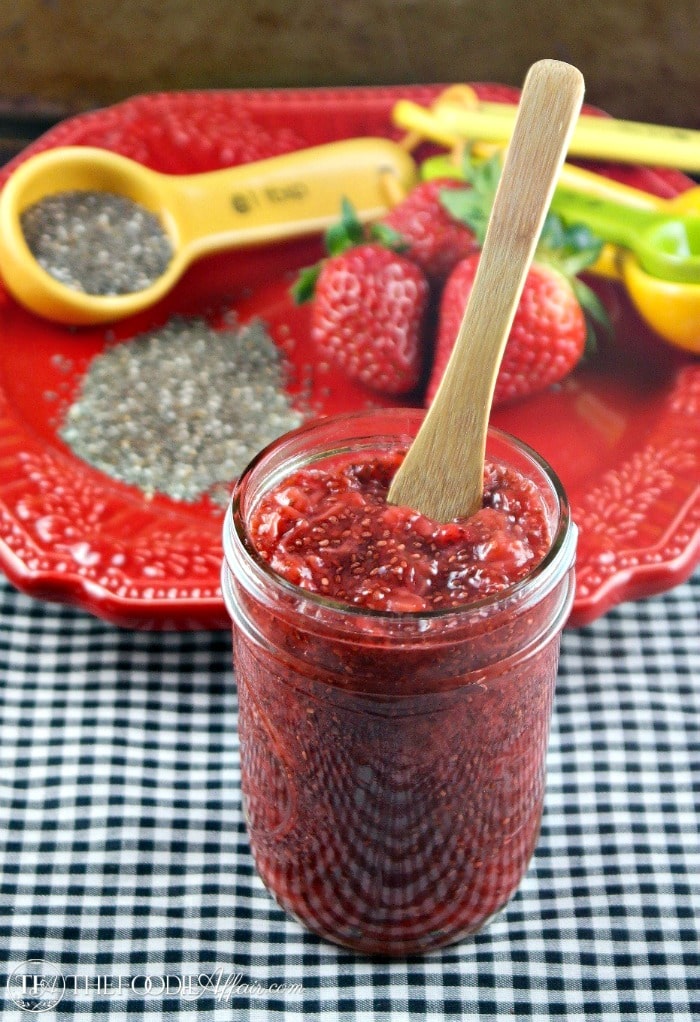 Easy Strawberry Chia Seed Jam
Author:
Sandra @ The Foodie Affair
Ingredients
16 ounces strawberries, hulled and diced
2 Tablespoons maple syrup
2 Tablespoons chia seeds
1 teaspoon vanilla extract
Instructions
In a medium saucepan add strawberries and maple syrup and heat over medium heat. For about 5-10 minutes cook strawberries until the berries release their juices and begin to soften. Continue to cook for an additional 5 minutes cooking down some of the liquid and break up some of the strawberries with a fork or potato masher. Remove from heat and add the chia seeds stirring well. Add the vanilla and let cool.
Spoon jam into a jelly jar and store in the refrigerator for up to 2 weeks or freeze for up to 2 month.