This tender and flavorful baked turkey thigh recipe is a mix of fresh rosemary, sage, and thyme folded into creamy butter then coated on each thigh giving you tender meat with crispy skin for your next family weeknight dinner.
Simple and delicious mid-week dinner recipe as well as a great option for a small Thanksgiving gathering. Instead of cooking a whole bird, cook a turkey breast or a couple of thighs.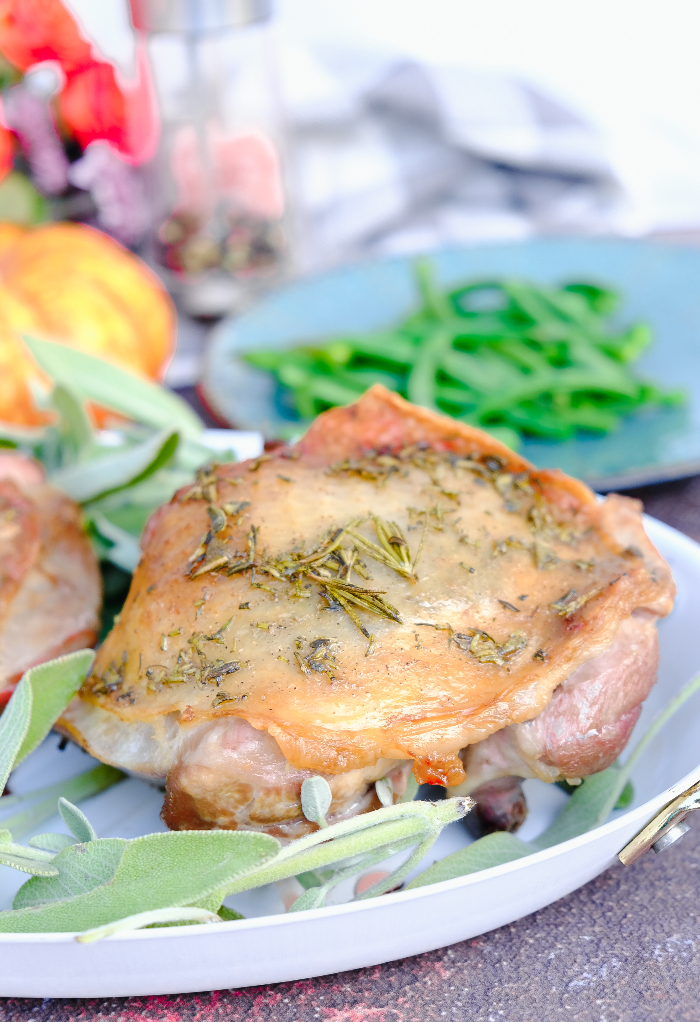 Baked Turkey Thigh Recipe
Although there seems to be plenty of white meat when we cook a whole turkey, more often everyone looks forward to a couple of extra slices of the dark meat too. Some families will cook two turkeys for Thanksgiving dinner just so that there are leftovers as well as more meat for the dark meat lovers.
This recipe is a great alternative to cooking an entire turkey just for the extra dark meat. Bake extra thighs! Not only will you have more slices of dark meat, but you just might have some leftover turkey to make turkey salad or turkey rice soup for later.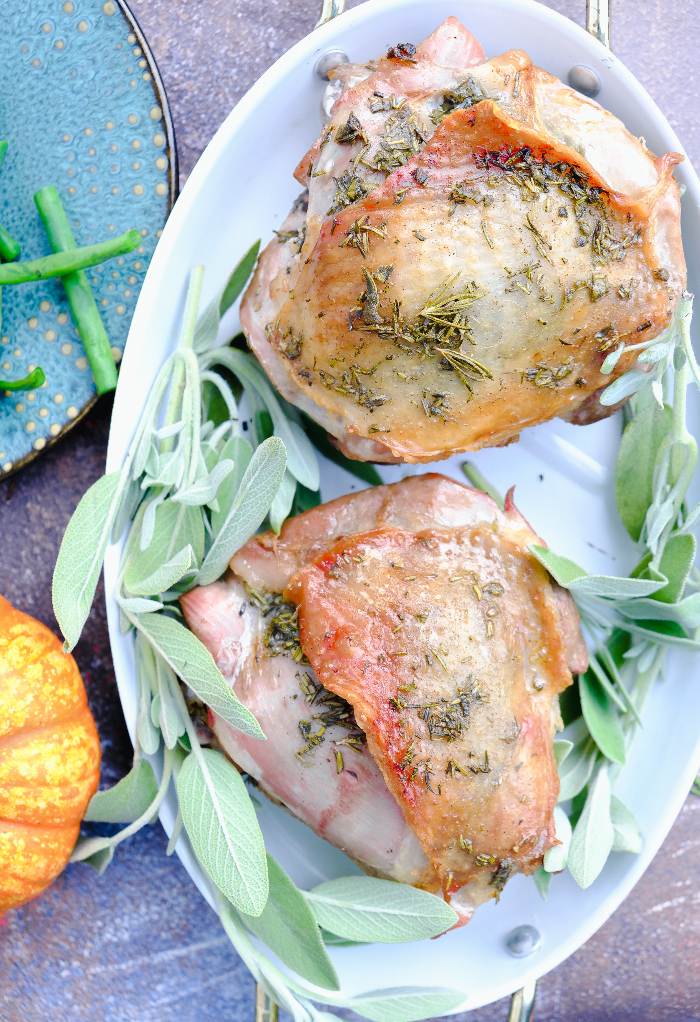 Ingredients you'll need for this recipe
Turkey thighs – Plain thighs, not enhanced in any manner. If you purchase turkey that has been brined, then skip the salting technique explained below. You can also roast turkey legs or even chicken thighs with this recipe.
Kosher salt – we use this to salt the turkey adding moisture and flavor.
Unsalted butter – Since we brine the turkey with kosher salt, be sure to use unsalted butter otherwise the turkey will be overly salted.
Fresh herbs; rosemary, sage and thyme. Pick up the poultry mix in your grocery store. It's a package of all three herbs.
Black pepper – optional or a melody of ground peppers.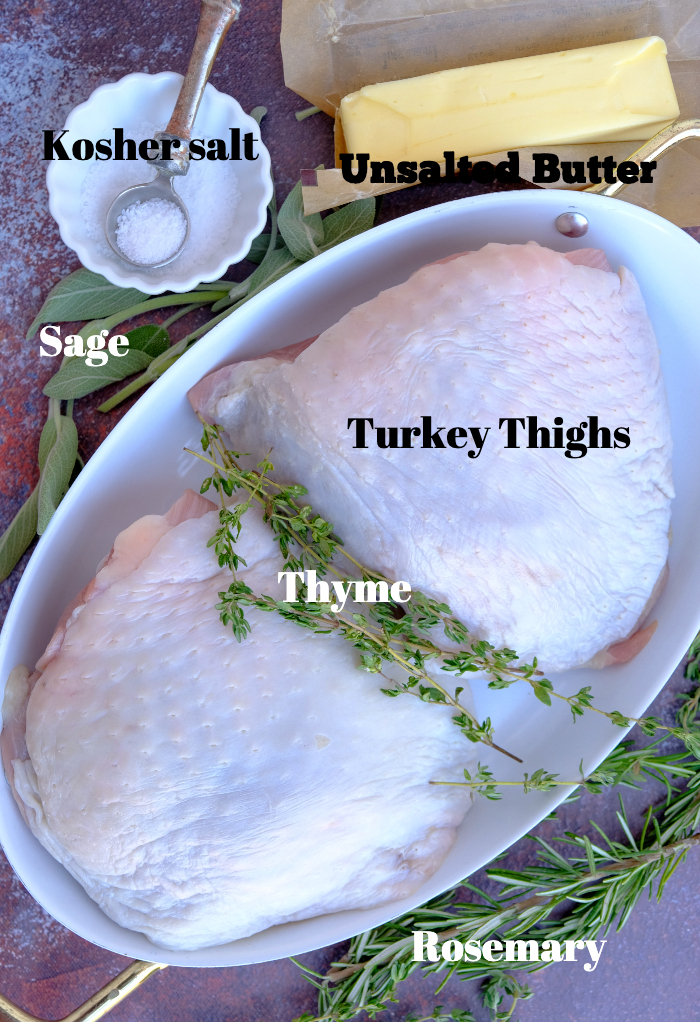 What is the difference between Salting and Brining?
For tender juicy turkey thigh meat, I recommend brining or salting the turkey. What's the difference? The brining method is a simple process of submerging the turkey parts a in a combination of water and salt.
The salt method is a simpler process by placing the salt between the skin and the meat of the turkey, which is the way I prepared these turkey thighs.
Both techniques is used as a flavor enhancer. Salt changes the protein structure of the meat allowing the meat to hold onto more moisture giving us tender delicious meat.
Salting a Turkey
To salt turkey thighs, I like to follow Cook's Illustrated recommendation. First, pat the turkey with a dry paper towel and gently remove the moisture from the skin of the turkey. Next, separate the skin from the meat with your hands and evenly distribute the salt between the skin and the meat.
For every pound of turkey you'll use 3/4 teaspoon of kosher salt.
After the turkey is salted place on a large baking dish or baking sheet with a rack in the refrigerator uncovered for a minimum of 6 hours. This helps crisp up the skin, which is why I like the salting method over the water brining technique.
If you don't plan on roasting the turkey until later, then cover the turkey with plastic wrap after the 6 hours uncovered.
Can you substitute Sea Salt for Kosher Salt?
Yes. However, since the crystal size of kosher salt is a thick grain, you want to make sure the sea salt has a similar texture for a one to one replacement.
How to bake Turkey Thighs
After you have salted the turkey thighs then you want to prepare the butter herb mixture.
Step 1 – Prepare the herb butter mix
First chop the herbs. You will want about 1 tablespoon of herbs and 1 tablespoon of unsalted butter per pound of turkey.
In a small bowl stir the herbs and butter together until the herbs are distributed through the butter.
Step 2 – Add Butter Mix to Turkey Thighs
Next, scoop about a tablespoon of butter and place it under the skin of the turkey. With your hands massage it though the turkey, then add more of the butter mix on top of the turkey.
Pour one cup of water in a rimmed roasting pan or baking sheet with a baking rack. Place prepared turkey on the rack and top with ground pepper, and fresh sage or thyme (optional).
Step 3 – Roast the Turkey Thighs
Bake the turkey thighs in a preheated oven at 425°F degrees for 30 minutes. Reduce the temperature to 325°F degrees. Continue to roast the turkey until the thickest part of the meat registers at 160°F degrees on instant read thermometer, about 15 minutes longer.
Transfer to a cutting board and let rest for 10 minutes before slicing and serving.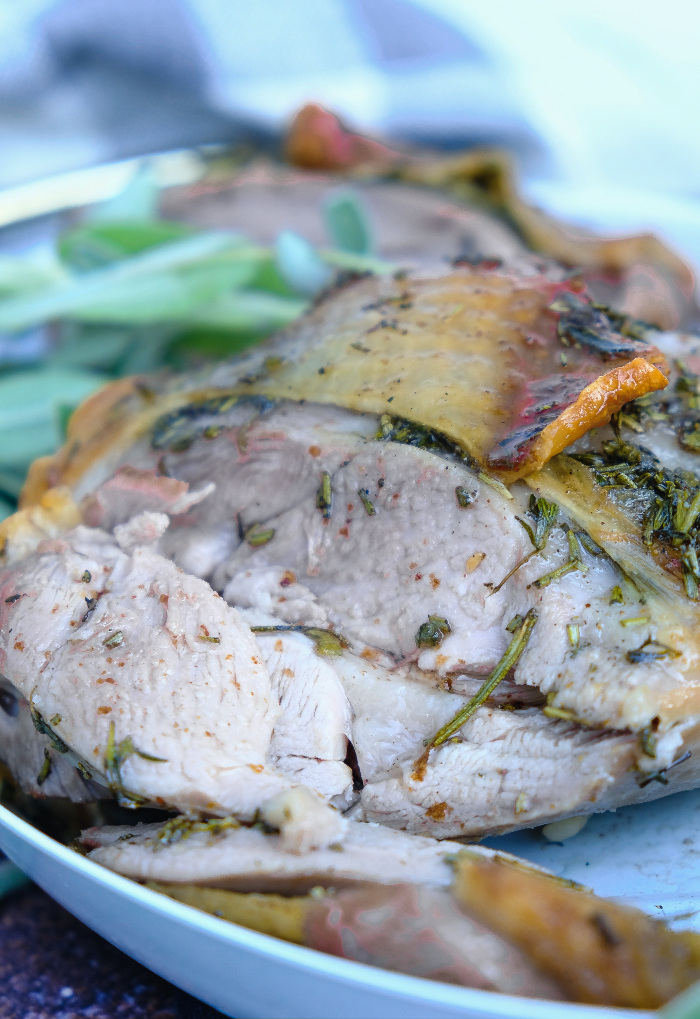 Favorite Delicious Sides to serve with Baked Turkey Thigh Recipe
This is a great recipe for any time of year. However, I find that I cook more turkey thighs during the fall and winter season. When preparing your holiday meals consider the following recipes.
What are your favorite Thanksgiving side dishes? I would love to try a new recipe! Let me know what else you would serve with baked turkey thigh recipe.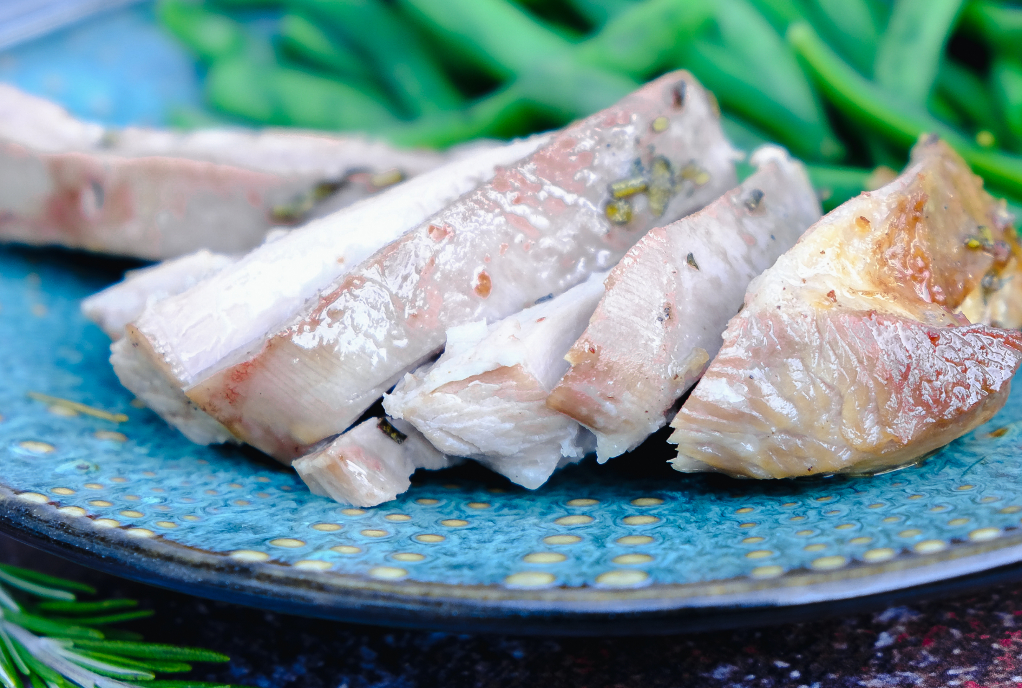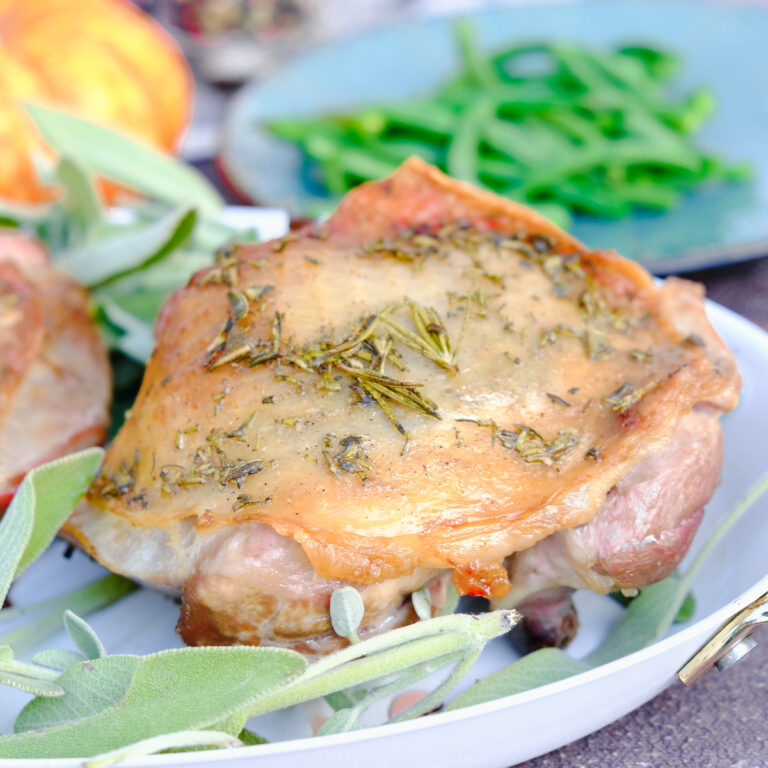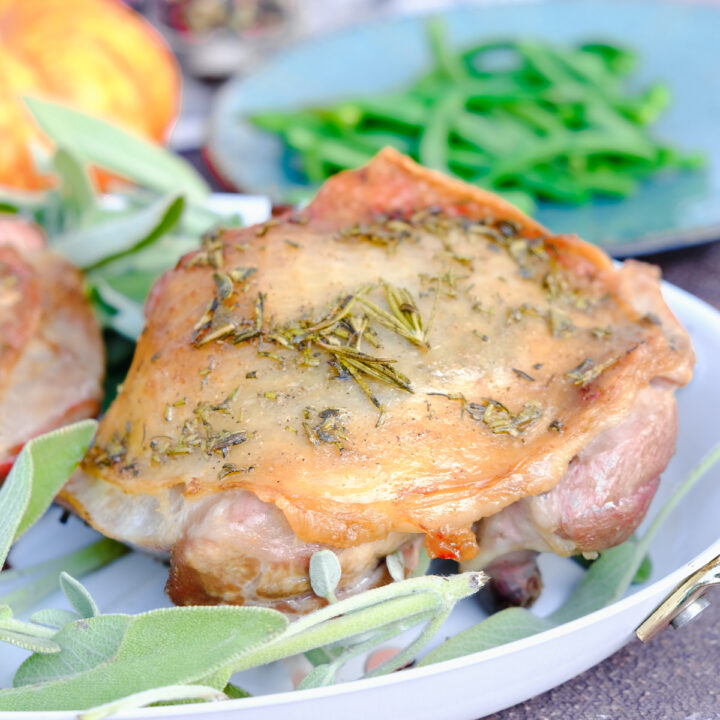 Easy Herb Roasted Turkey Thighs Recipe
Additional Time:
10 minutes
Total Time:
1 hour
5 minutes
Tender roasted turkey thighs with a herb butter mixture. Bake for extra dark meat for your holiday dinner, for a small gathering or any weeknight meal.
Ingredients
2-4 Bone and skin on turkey thighs (about 3 pounds)
2-4 Tablespoons Thyme, minced
2-4 Tablespoons Rosemary, minced
2-4 Tablespoons Sage, minced
2-4 Tablespoons unsalted butter
Ground pepper to taste
Kosher salt 
Instructions
Salt Turkey Thighs
Pat dry each turkey thigh with a dry paper towel
With your hands gently separate the skin from the meat.
For every pound of turkey thigh sprinkle 3/4 teaspoon of kosher salt between the skin and meat.
In a roasting pan, baking dish or rim lined baking sheet add 1 cup of water. Place a backing rack on the pan and place the turkey thighs on the rack.
Place in the refrigerator uncovered for 6 hours and up to 24 hours. After 6 hours cover with plastic wrap.
Herb Butter Mixture
For every pound of turkey you will want 1 Tablespoon of butter and 1 Tablespoon of Mince thyme rosemary and sage.
In a small mixing bowl mix together the fresh herbs and butter until creamy and well incorporated.
Bake Turkey Thighs
Place a tablespoon of the herb butter mix between the skin and meat of each turkey thigh. Spread evenly and massage on the turkey with your hands.
Add another teaspoon of the herb butter mix to the top of the skin. Spread over the turkey thigh.
Add 1 cup of water to a roasting pan, baking dish or baking pan with a rim. Place baking rack on the pan.
Place the prepared turkey thighs with the skin side up on the baking rack.
Add additional herbs and season with ground pepper if desired.
Put the thighs in the oven and roast at 425°F degrees for 30 minutes.
Reduce heat to 325°F degrees and cook for an additional 15 minutes or until the thickest part of the thigh registers 160°F degrees on an instant read thermometer.
Remove from oven and place on a cutting board. Let the thighs rest for 10 minutes before slicing and serving.




Notes
The amount of herb butter mix is dependent on how much turkey your are cooking. Generally, for each pound of turkey you will use 1 tablespoon of butter and 1 Tablespoon of herbs.
Nutrition Information:
Yield:

4
Serving Size:

1
Amount Per Serving:
Calories:

283
Total Fat:

21g
Saturated Fat:

10g
Trans Fat:

0g
Unsaturated Fat:

10g
Cholesterol:

131mg
Sodium:

170mg
Carbohydrates:

5g
Fiber:

3g
Sugar:

0g
Protein:

22g
Please note that the nutritional information provided are guidelines and may vary based on the brand of products used. For your specific nutritional goals use My Fitness Pal or Verywell Fit recipe calculators. All content within this site is not intended as medical diagnosis or treatment and should not be considered a substitute for professional medical expertise.
PIN TO YOUR RECIPE BOARDS