Ravioli lasagna served in individual size ramekins.  This easy recipe is made with prepared raviolis and sauce for a quick and tasty meal.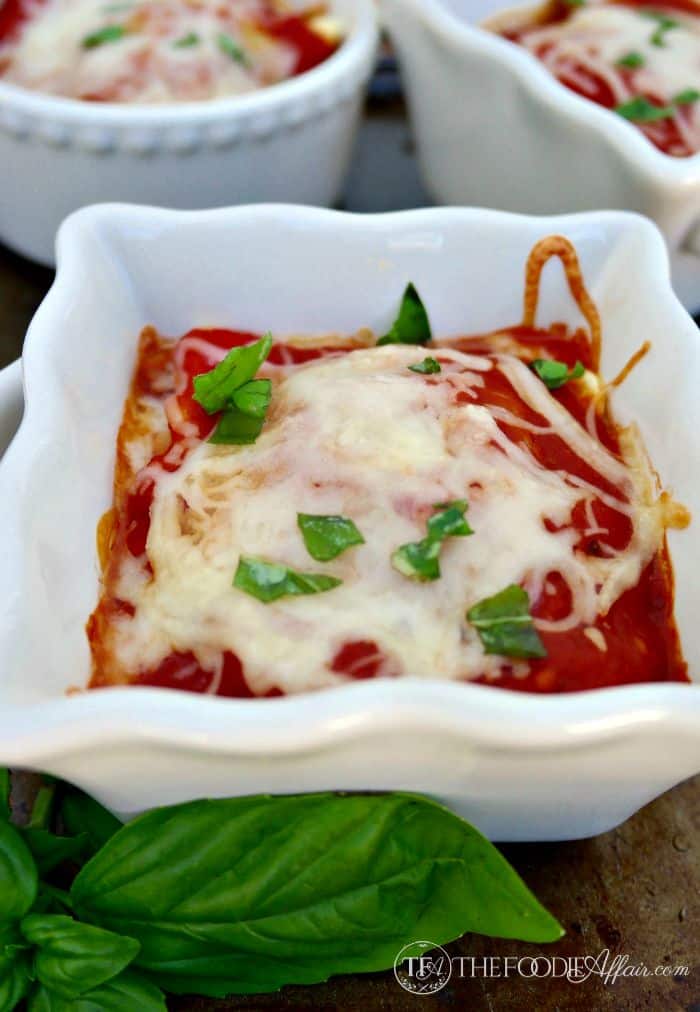 Ravioli Lasagna Recipe
After going grocery shopping are there time you just don't want to cook even though you have a house full of fresh ingredients? It's a task shopping for food! Once I get everything put away in the refrigerator and pantry I just want to sit and put my feet up. Tell me I'm not alone….please!
I discovered this ravioli lasagna casserole while shopping at Costco. Have you heard of such a dish? Each ravioli wrapped with tasty filling and then assembled like a lasagna casserole. So smart!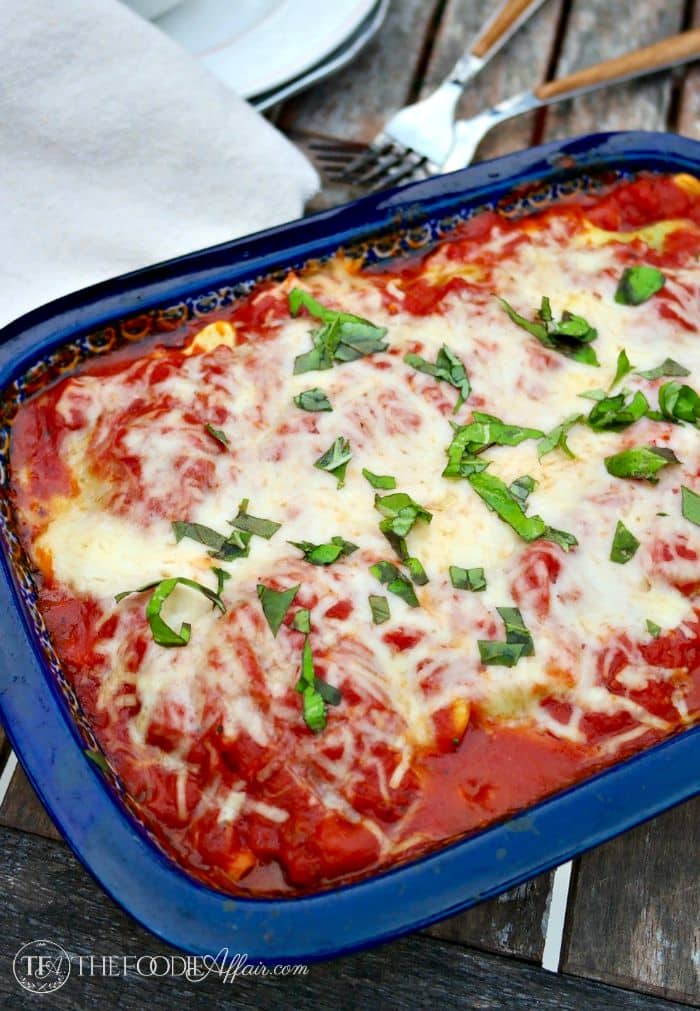 Easy ravioli recipe
Costco had pre-made ravioli meals in the refrigerator section so I grabbed one to try since I knew that preparing a meal after battling warehouse shopping wasn't going to happen!
Both Alan and I loved it and ate it for several meals, but once I realized how simple (and cheaper) this would be to make at home I put together my own.
For this dish I used spinach and cheese raviolis. You'll find them in the refrigerator section near the cheeses at the grocery store.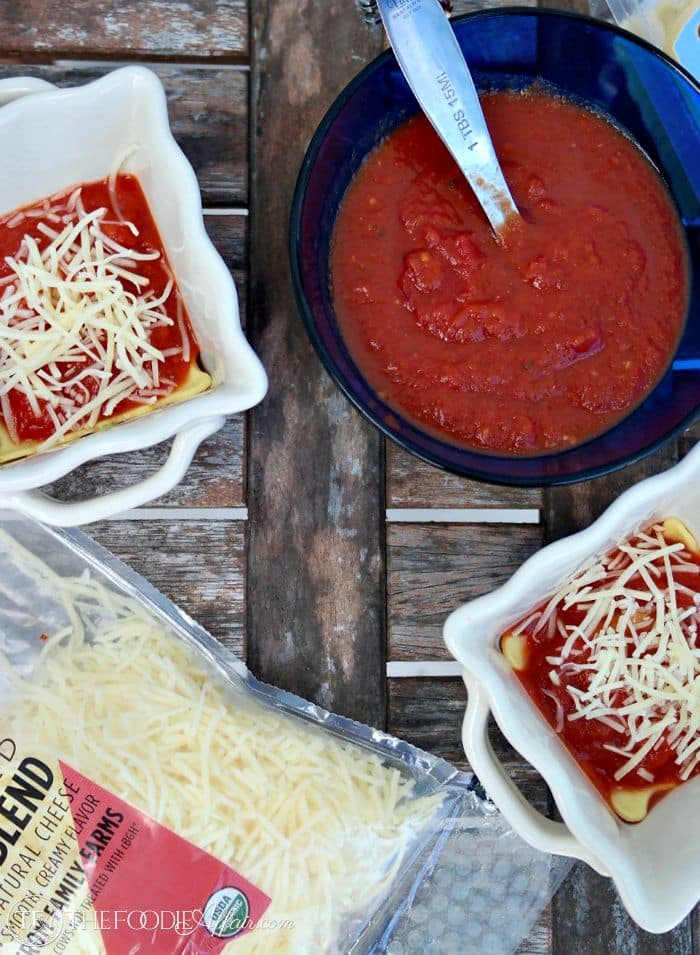 All I did was assemble the raviolis in two layers of pasta sauce and a blend of Italian Cheese, and then popped the casserole in the oven for about 25 minutes and dinner was done!
I used one of my smaller casserole dishes (9″ X 10″) and I had extra ingredients, so I assembled individual servings in ramekins, which are so darn cute don't you think?!
I love that I can individualize each serving with everyone's favorite ravioli fillings, plus what a crazy easy meal to make!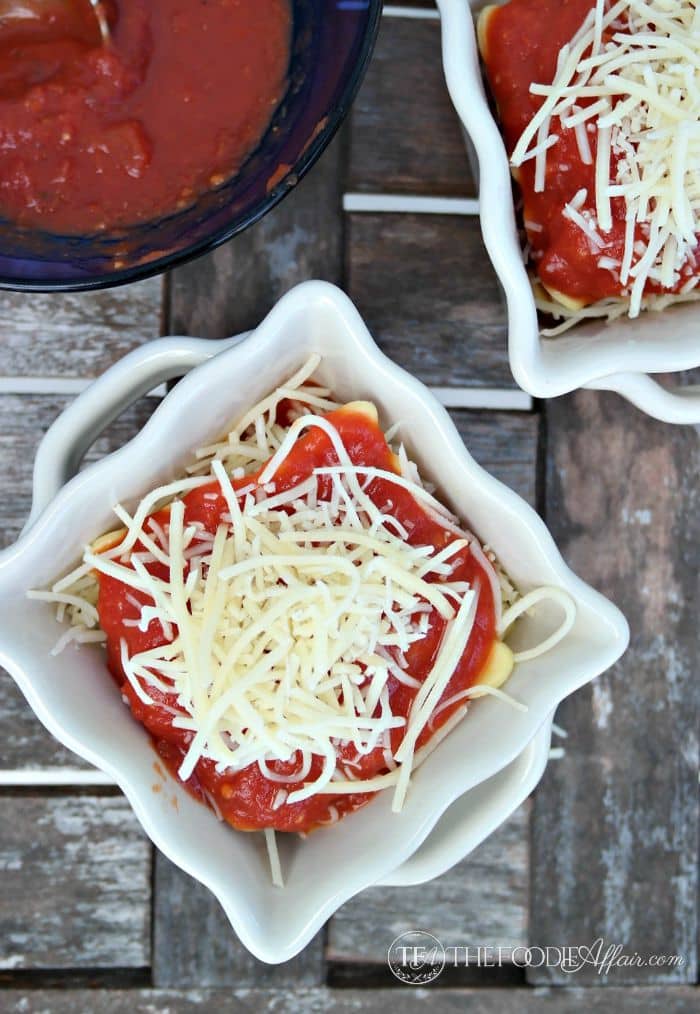 What to serve with pasta?
Assemble ravioli lasagna ahead of time so all you need to do is turn on the oven! You may want to make your own Meaty Crockpot Pasta Sauce.
How about adding a fresh salad to your menu?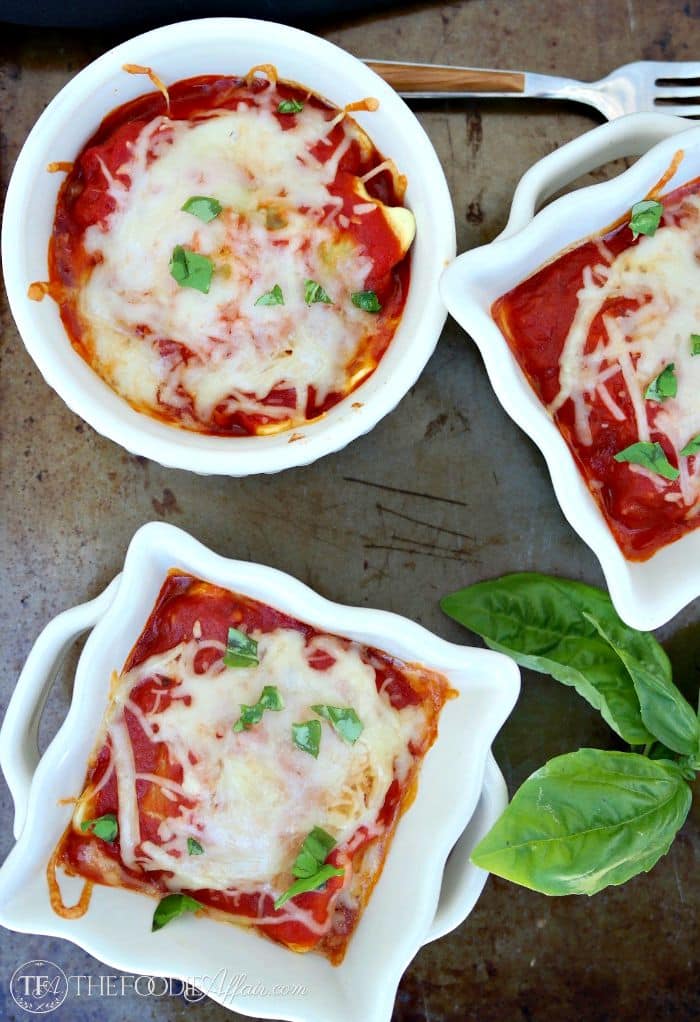 Yield: 6
Individual Serving Ravioli Lasagnas
Ingredients
2 - 9 ounce packages of raviolis
1 jar pasta sauce
3 cups Italian blend cheese
Instructions
Preheat oven to 350 degrees.
CASSEROLE
Put 1/2 cup of pasta sauce on the bottom of the casserole dish. Lay a layer of the ravioli squares. Pour a cup of pasta sauce over the raviolis and top with 1 cup of cheese. Repeat layer. Bake for 25-30 minutes or until cheese on top is bubbly.
RAMEKINS
Put 1 tablespoon of pasta sauce on the bottom of the ramekin. Lay one ravioli square on top of the sauce add another tablespoon of pasta sauce and top with 1 tablespoon of cheese. Repeat layer. Depending on the depth of the ramekin you may add a third layer. Bake for 25 minutes.