Hearty Spinach and White Bean Soup with orecchiette pasta! This healthy soup is a filling and perfect mid-week meal that can be ready in less than 30 minutes!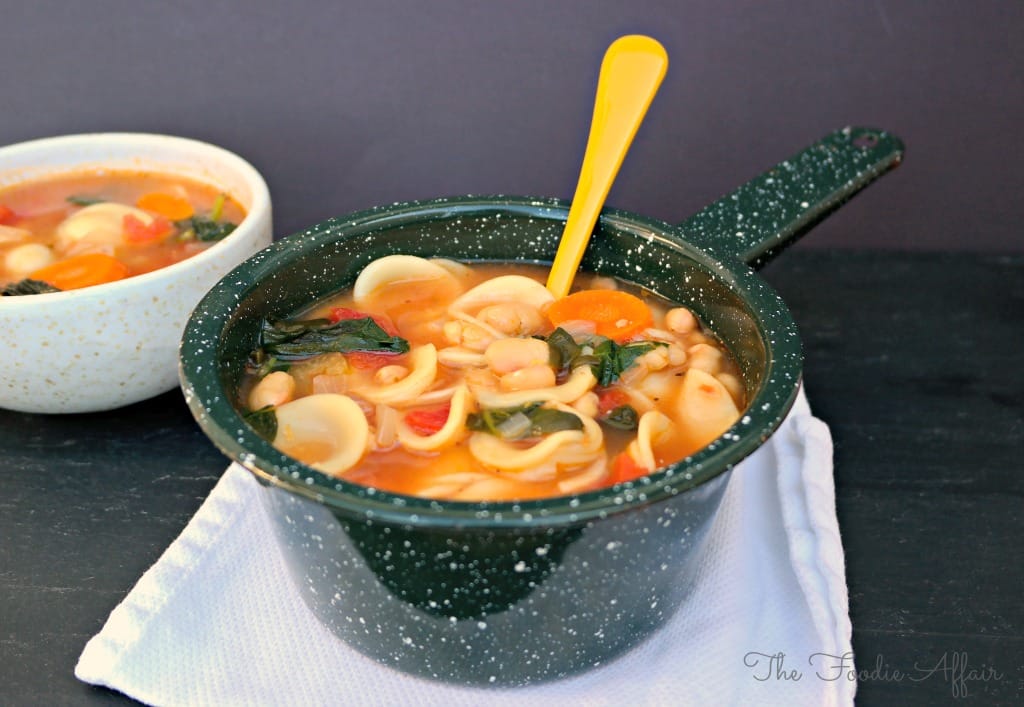 This soup, a full  flavor meatless meal is made with staples that you probably already have in your pantry!
Tasty soups are probably one of my favorite meals to eat during the fall. I love the comfort of a warm bowl of soup to fill my belly. It's not quite chilly here in California. In fact, it's still pretty summery, but that never stops me from craving soup!
I made this soup during the week one evening after work and a trip to the gym. I wanted real food, something light on the stomach, but a meal that was still satisfying! This soup hit the spot! I added the pasta at the last minute. That was a good decision!
I had the Italian pasta orecchiette in my pantry, which added some substance to the soup. The pasta is shaped like a small disk, apparently resembling a small ear, hence the name orecchiette (little ears).  Eating little ears doesn't sound appealing to me, and most won't know the meaning of the Italian word, so no problem, but it sure would be fun to serve up some ears for an easy Halloween meal don't you think?!  😉
Add the spinach the last couple of minutes of cooking or cook just until it wilts. I've made this soup with kale too, so if you are a fan, add kale while it's simmering. Unlike the spinach that only requires a quick blanch, the kale needs a little time to soften up.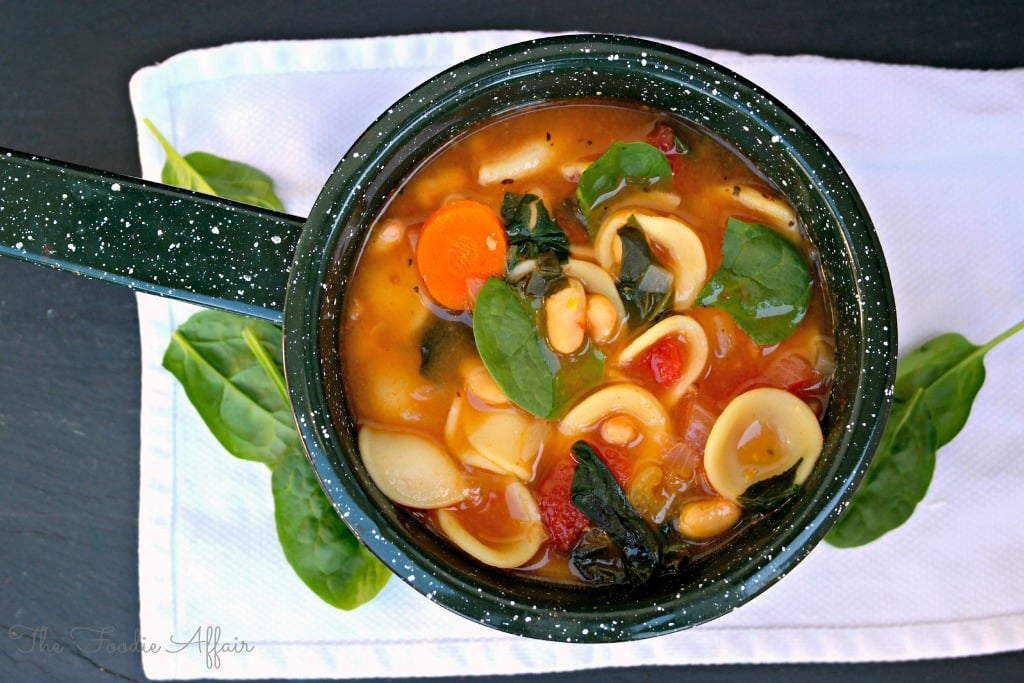 Spinach and White Bean Soup
Ingredients
1 medium carrot, chopped
1 stalk celery, sliced
1 medium onion, chopped
1 tablespoon olive oil
6 cups chicken or vegetable broth
1/2 teaspoon Italian seasoning
2 cups Oreccheitte pasta
1 15 ounce cannellini beans, rinsed and drained
1 14 1/2 ounce diced tomatoes seasoned with basil, garlic and oregano, undrained
4 cups baby spinach or chopped kale
Instructions
In a large saucepan cook carrot, celery and onion in hot olive oil over medium-high heat until softened and fragrant (about 3 minutes). Add broth, beans, diced tomatoes and pasta. Bring to a boil and reduce heat. Cover and simmer for 10 minutes. Uncover and add spinach. Stir until wilted. Season with salt and pepper to taste.