Pineapple Bread Pudding with Pineapple Rum Sauce
Tropical pineapple bread pudding with a simple pineapple rum sauce! This easy dish is the perfect addition to a brunch menu or even dessert!
Pineapple Bread Pudding
Today I'm straying from a low carb meal to share a brunch entree that is easy to make, absolutely delicious, and great to share with weekend guests!
When we have guests over I never intentionally put anyone on a low carb diet. That would just be rude, and I don't always feed my family only low carb dishes either.
Over the years I have found that occasional indulgences feeds the soul in the best way, and actually prevents from over doing it most other days.
Personally, I have found a way to keep my blood sugars fairly even by adding more protein and fat to meals when eating sweet dishes like this pineapple bread pudding.
So, eggs and bacon would be added to this meal!
Freaky Friday Winter Blog Hop with Bacon Fatte
Now I know we are in the middle of winter, but don't you sometimes imagine that you are on a tropical island when you are searching for warm sweaters and boots?
I do, which is what I was envisioning when I saw this pineapple coconut bread pudding recipe over at Bacon Fatte.
Lucky for me, I was assigned to Michele's blog for the Winter Freaky Friday blog hop! Michele is super talented (read more here) with some kick-butt natural entertaining skills!
Michele's blog is a combination of light foods as well as deliciously decadent dishes that are meant to be served everyday, yet each meal is perfect for guests too.
Whether serving a family-style meal or whipping up a meal to enjoy with friends, Michele gives us tips and alternatives on serving each dish.
Boy, as went through her blog, I secretly wished that I was her neighbor and would be invited to sit at her dinner table.
Can you imagine digging into this sheet pan shrimp and roasted vegetable dish or how about this sweet and spicy pineapple chili chicken?
Pineapple Bread Pudding Recipe – Ingredients & Utensils
Ingredients:
1 stick (8 tablespoons) butter, salted
3/4 cups granulated sugar (I used 1/4 cup Truvia)
4 eggs
20 ounce can pineapple tidbits or chunks (diced) or cut your own pineapple chunks from fresh pineapple.
8 Hawaiian sweet rolls
1/4 cup coconut, unsweetened
PINEAPPLE RUM SAUCE
1/2 cup dark rum
1/2 cup pineapple juice
1/4 cup brown sugar
Utensils:
Large size mixing bowl
Medium size mixing bowl
Hand mixer
Cutting board
Sharp knife
Small saucepan
Measuring cups
How to make bread pudding
A simple bread pudding is a combination of bread pieces and a liquid base with extra fold-in ingredients.
Your classic bread pudding is usually made with a combination of cream and milk flavored with vanilla and cinnamon spices with raisins added.
The type of bread you use is interchangeable, but my recommendation is to use a variety that will hold up to the liquid base used.
Brioche, challah or a French sourdough are often used for bread puddings, which can hold up well when using a heavy liquid base.
Tropical Bread Pudding Recipe
For this tropical pineapple bread pudding we used Hawaiian sweet bread, which is one of my favorite breads and pairs so nicely with flakes of coconut and pineapple!
Only 8 rolls are used in this dish, but it sure yields a lot of bite size pieces of bread.
First, you want to split the bread in half, put the top back on then cut in quarters providing eight pieces per roll.
Once you cut your bread, put it aside and whip your butter and sweetener together.
Separately, beat the eggs until they are light and frothy, then fold all the wet ingredients until well combined.
If the proportions between the wet and dry ingredients are off then the pudding may turn soggy. Not the case for this dish! The delicate Hawaiian rolls are a perfect match to the eggs and butter!
Fold the bread and wet ingredients together, then add the drained pineapple pieces and top with coconut. Bake for about 35 minutes.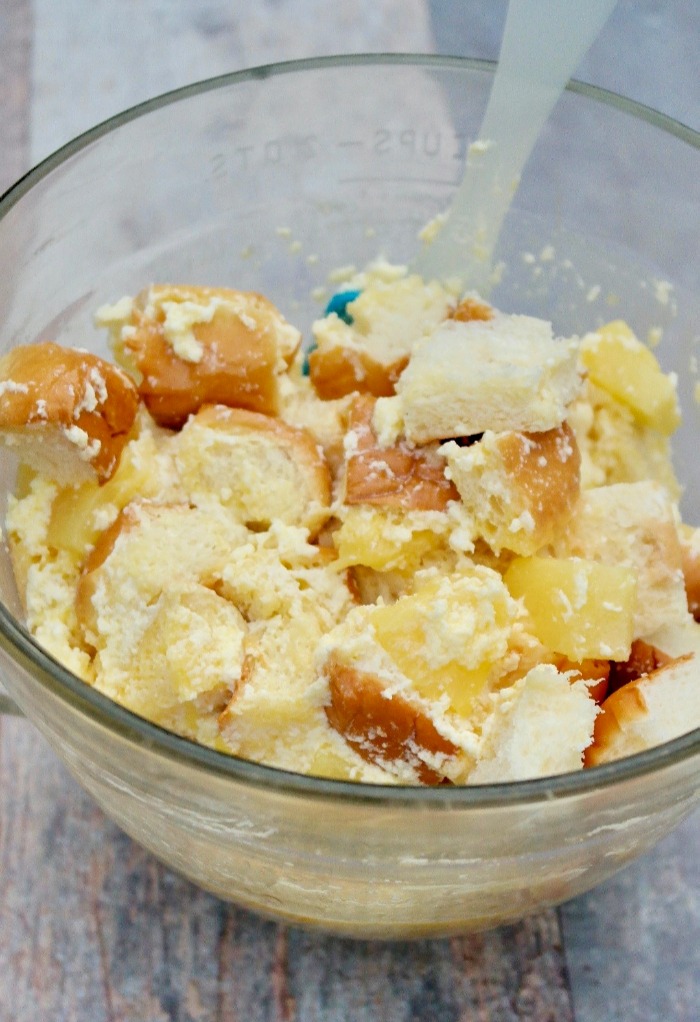 Bread pudding is delicious right out of the oven or at room temperature. Enjoy as it is or add a topping for an extra boost of flavor.
Rum-Pineapple Bread Pudding Sauce
Since we don't use the pineapple juice for the tidbits I decided to incorporate it into a sauce to serve over the bread pudding.
Dark rum, pineapple juice with some brown sugar simmered together is simple to make and makes this an extra special brunch entree!
Visit all the recipes shared for Freaky Friday Blog Hop!
A Dish of Daily Life – Cucumber Salsa
An Affair from the Heart – Arancini (Three Cheese Fried Risotto Balls)
A Kitchen Hoor's Adventures – Healthier Buffalo Chicken Dip
Bacon Fatte – Spiced Bakery Style Ginger Pear Muffins
Bowl Me Over – Beef Tips and Gravy
The Devilish Dish – Chocolate Covered Snickers Strawberries
Full Belly Sisters – Easy Crockpot Cesar Chicken
LeMoine Family Kitchen – Frittata Ranchera Black Bean Salad
Life Currents – Garlic Sesame Noodles
Lisa's Dinnertime Dish – Low Carb Cheeseburger Meatloaf
Mildly Meandering – Slow Cooker Zuppa Toscana Soup
Plattertalk – Whole Wheat Irish Soda Bread
Seduction in the Kitchen – Reuben Meatball Casserole
Take Two Tapas – BLT Bacon Cups with Avocado
The Foodie Affair – Pineapple Bread Pudding
West Via Midwest – Spicy Smoke Sauced Shrimp
Who Needs a Cape? – Cheez-It Fiesta Baked Chicken