Peanut Butter Eggs | Easy Homemade Sugar Free Recipe
Simple peanut butter eggs made without granulated sugar! These treats are perfect for those that follow a low carb, Keto, and gluten-free diets!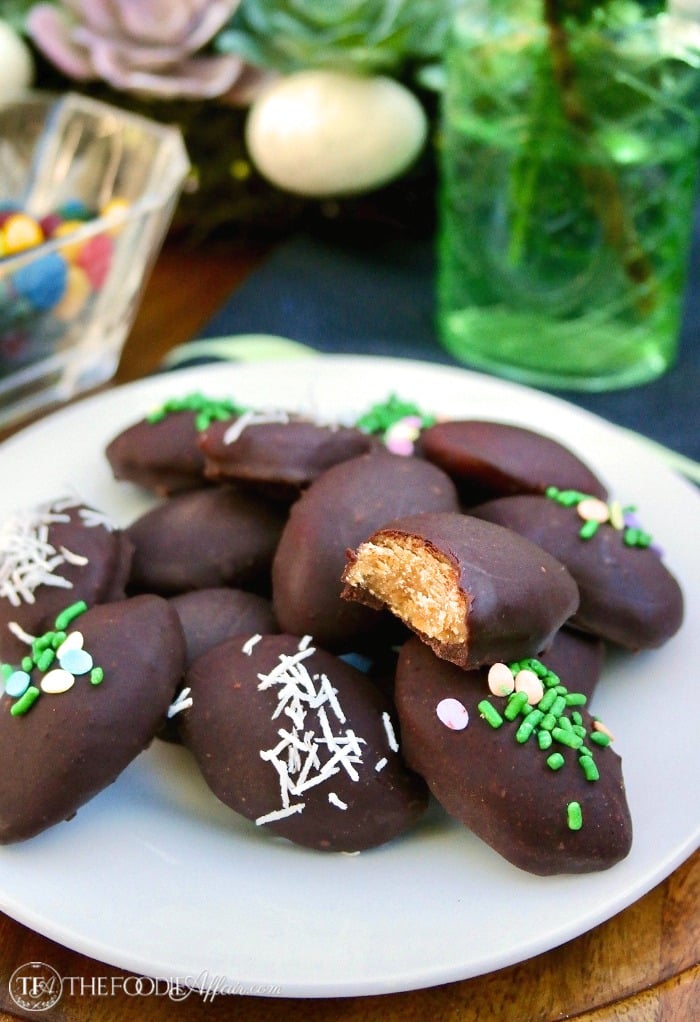 Peanut Butter Eggs – Copycat Reese's Easter Eggs
I decided to skip right over March madness and head straight to EASTER treats! But these aren't your typical bunny shaped carrot cake dessert. 
We're sharing copycat Reese's Easter eggs!
One of the best combinations ever is peanut butter and chocolate. Agree?
I know you are on board which is why I decided to make healthier peanut butter eggs!
Each mini egg is made without granulated sugar, so for anyone that wants a treat without an instant rise in your blood sugar levels, then you are going to LOVE this easy recipe!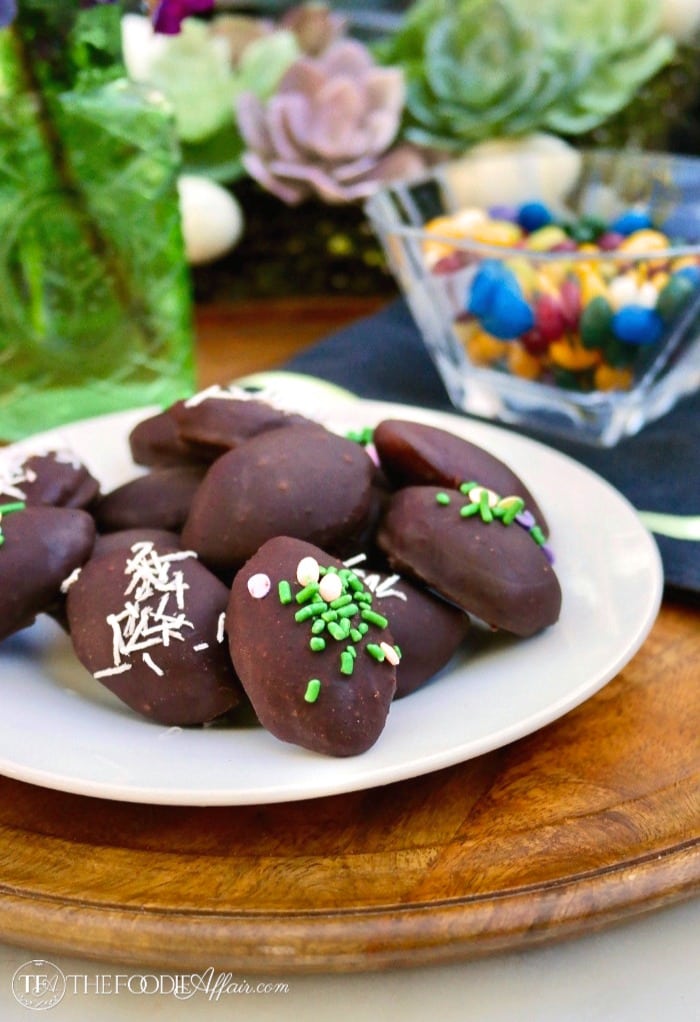 Peanut Butter Eggs Without a Mold
I tested a couple of different ways to make the peanut butter filling and found that what I'm sharing with you today is simply the best.
Why? Because the peanut butter dough holds together easily and you can form the eggs without purchasing a candy egg mold.
Plus, these are made with amazing simple ingredients! Not with six variations of not so good for you oils (Hershey's).
Also, there is a hint of maple extract that adds a nice flavor when mixed with all the ingredients. I believe the flavor mimics the earthy flavor of brown sugar.
AND YOU are the boss when it comes to how sweet you want these treats to be.  Adjust to your preference.
Let's get to it and gather the following ingredients and make some holiday peanut butter eggs!
Sugar free peanut butter
Cream cheese
Sugar alternative (Stevia & Erythritol blend)
Vanilla extract
Maple Extract
Sugar free chocolate baking chips
How to Make Chocolate Peanut Butter Eggs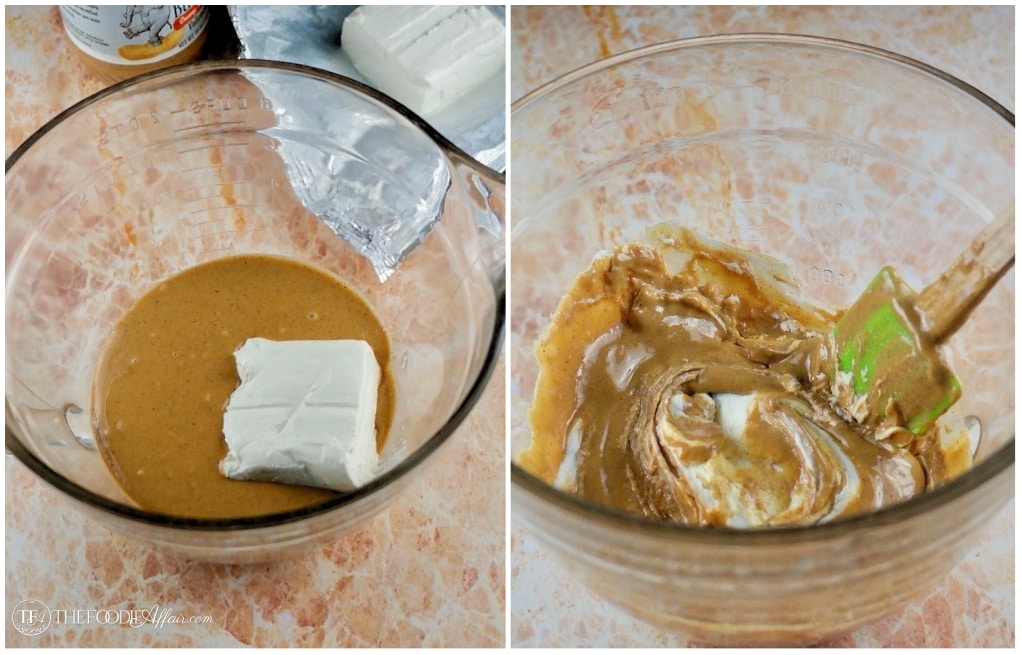 First, make sure you pick a peanut butter that is made with only peanuts.  You will be amazed to learn that so many brands have an arms length list of ingredients/additives in the ingredient list.
Brands labeled as a peanut spread instead of peanut butter are made with only 60% peanuts. The remaining ingredients???
Tricky marketing if you don't pay attention to those details, but now you know better. Read more in this peanut butter basics article!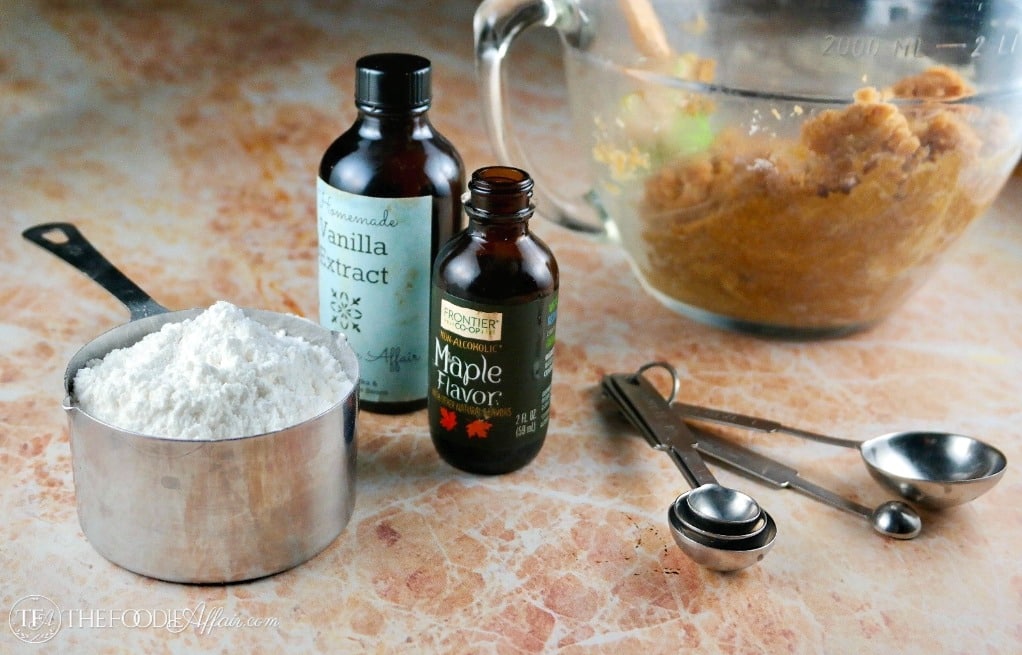 I picked up Trader Joe's brand with no salt.  The ingredient list?  Organic Valencia peanuts.
At first I thought the peanut butter would be too oily, but when mixed with cream cheese (sounds odd, but great base I learned from Ghirardelli!) the ingredients mix up quite nicely.
Next, mix in the extracts and sweetener. I used Swerve confectioner's sweetener. Now comes the fun part.
How to Shape Peanut Butter Eggs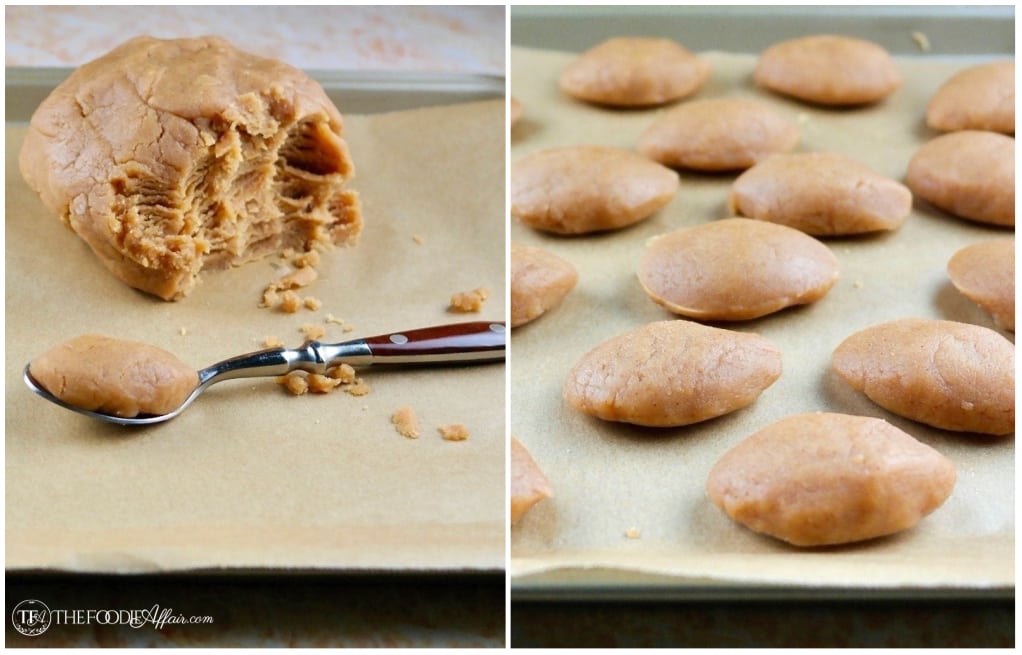 These eggs are mini size or to be exact, the shape of a teaspoon. All you need to do is pinch a heaping teaspoon of peanut butter dough and place it on the teaspoon to use as a mold.
Shape each egg with your fingers, then flip it over and shape again. This helps smooth each mound.
Put the batch of peanut butter eggs on a baking sheet, and then put them in the freezer while preparing the chocolate.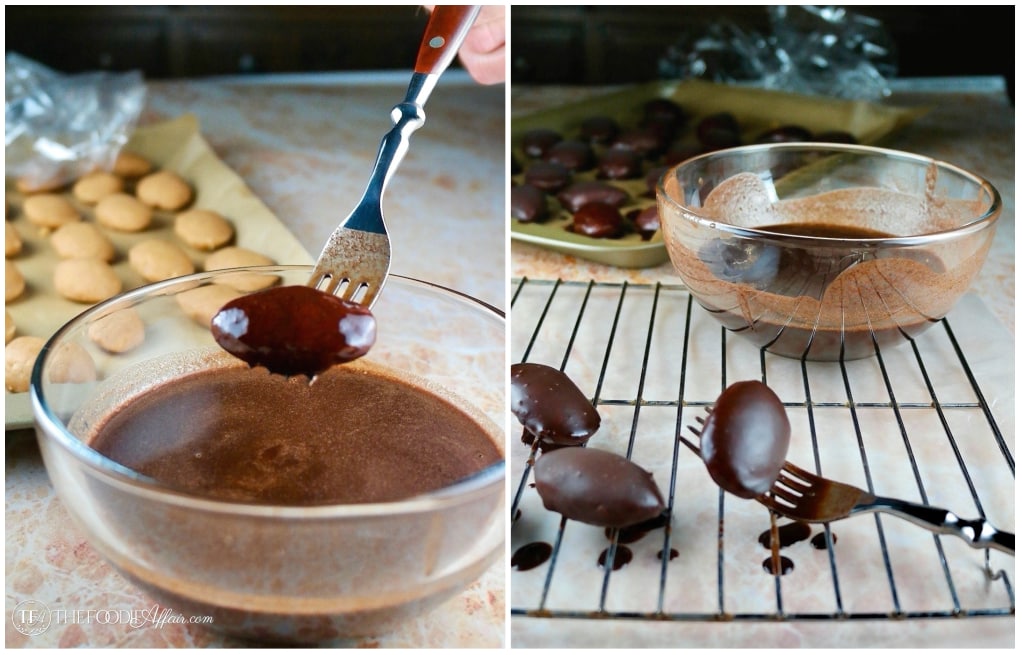 How To Coat Peanut Butter Eggs With Chocolate
You have two options when making the chocolate dip.  Use sugar free chocolate chips like Lilly's, which is super convenient if you have the chips on hand.
I usually do, but of course not this time and I was too impatient to head to the store that I know carries that brand.
If not, then try my chocolate method by melting cocoa butter, unsweetened chocolate powder with coconut or MCT oil. 
Then sweeten to your preference and add a splash of vanilla. Dip each egg in the chocolate and dunk it a couple of times. 
Each time the layer will deepen as it coats. 
Place on a baking sheet (lightly spray with cooking oil) to harden.
Then decorate as you wish or let harden just as they are.
Store covered in the refrigerator until you are ready to enjoy.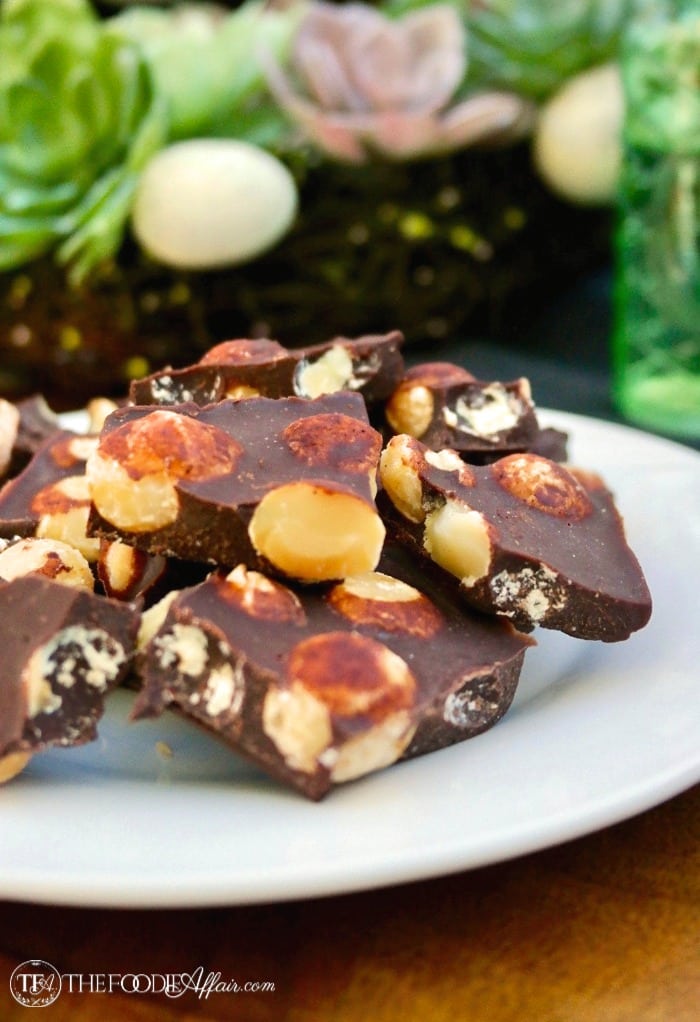 What To Do With Leftover Chocolate
With the leftover chocolate make bars or bark.  For bars line a loaf pan with saran wrap.  Pour remaining chocolate on the bottom and spread evenly. 
Place in the refrigerator to harden. Once hard, remove from pan and gently cut.
For bark, line a rimmed baking sheet with saran wrap and pour chocolate over the wrap and spread evenly. 
Add nuts, dried fruit, rice cereal, coconut or any other add in for another tasty treat! Harden in the refrigerator and break in pieces. 
Store in an airtight container in the refrigerator or freeze.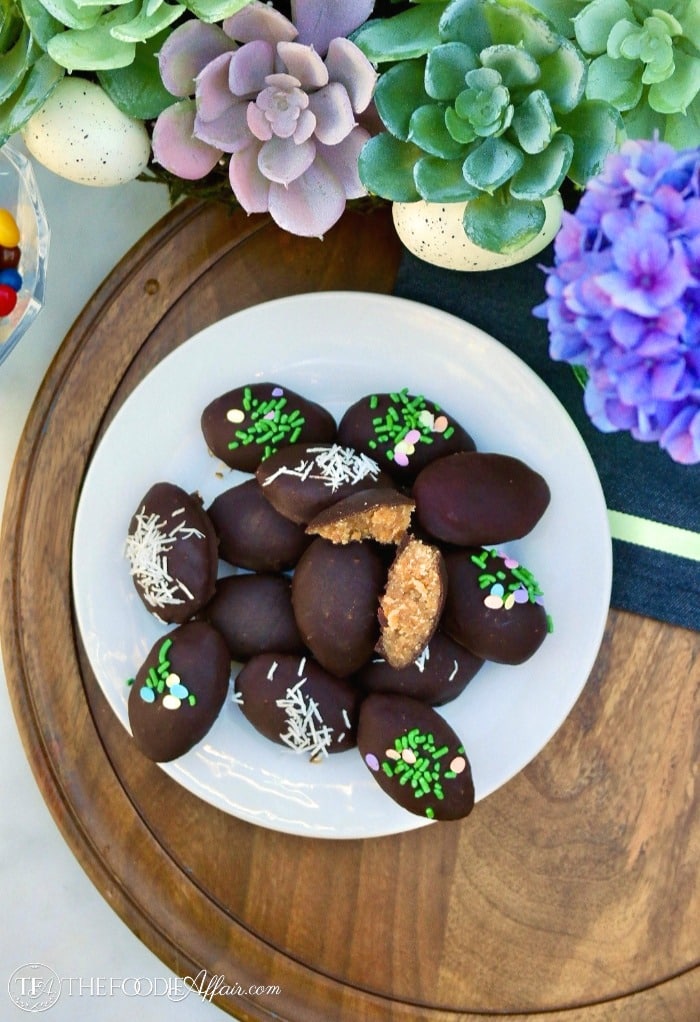 How to Store Chocolate Covered Eggs
There are no preservatives in these peanut butter eggs, so they need to stay cold and covered. 
Freezing is fine too!  In fact, I like eating these out of the freezer. These will last a couple of months in the freezer if properly stored in an airtight freezer container.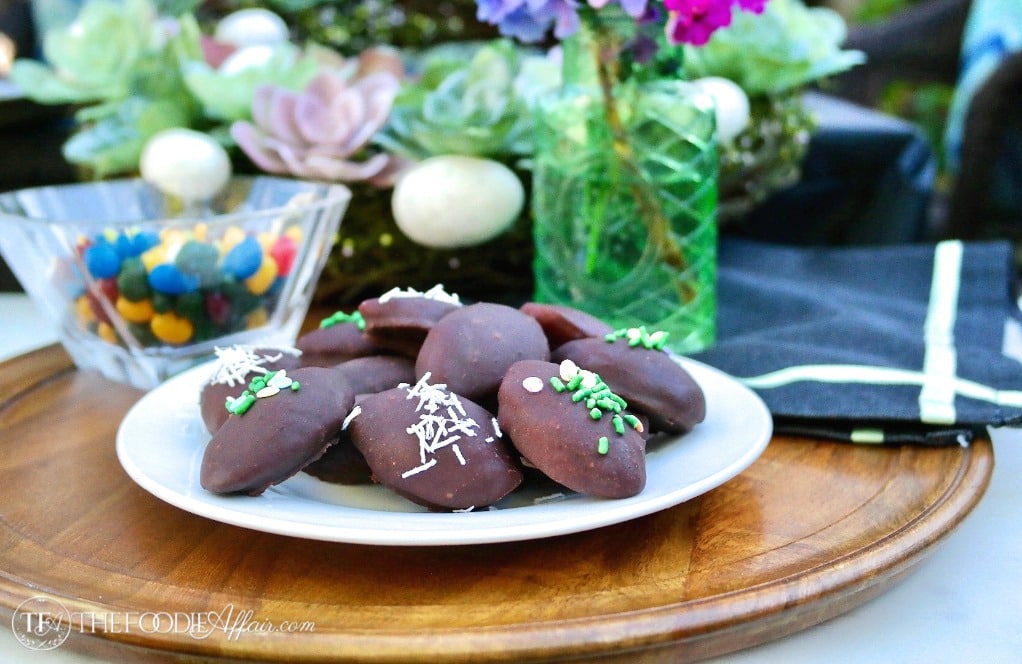 My Frozen Peanut Butter Eggs Have a White Hue On The Chocolate. What Happened?
Don't worry, the eggs will taste delicious. The white or gray color is called "bloom". This can happen when the fat and chocolate separate or if moisture comes in contact with the chocolate.
Although not eye pleasing, the white/gray color doesn't affect the flavor of the chocolate.
Want More Easter ideas?  Check Out These Recipes!
Easter Bunny Rolls With Strawberry Cream Cheese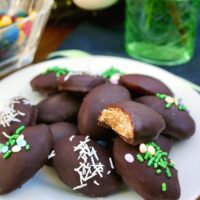 Peanut Butter Eggs | Copycat Sugar-Free Reece's Eggs
Delicious copycat Reece's Easter eggs made without sugar! These no-bake dessert treats can be made all year.
Print
Pin
Rate
Ingredients
1

cup

peanut butter

sugar free

4

ounce

cream cheese

3/4

cup

sugar alternative

Stevia & Erythritol blend

1

teaspoon

vanilla extract

1/4

teaspoon

maple extract
Chocolate
1 9

ounce

chocolate baking chips

sugar free
Alternative Chocolate Dipping Method
1/4

cup

MCT oil or coconut oil

1

cup

cocoa butter

1/4

cup

chocolate powder

unsweetened

1/4

cup

sugar alternative

Stevia & Erythritol blend

1

teaspoon

vanilla extract
Instructions
In a large bowl add peanut butter and cream cheese together.  Microwave for 30 seconds.  Remove from microwave and mix ingredients until well incorporated.  Add sweetener, vanilla and maple extracts. Mix well. 

Form eggs by using a teaspoon as a guide to shape the peanut butter dough.  Place on a baking sheet lined with parchment paper.  Place in freezer for 15 minutes.

In the meantime prepare dipping chocolate.  Melt baking chips in the microwave in 30 second increments until chocolate is smooth.

For alternative method place cocoa butter, chocolate powder and sweetener in a small saucepan over low heat.  Stir until all ingredients are melted.  Remove from heat and stir in vanilla extract. 

Remove peanut butter eggs from the freezer and with a fork dip into chocolate one at a time coating all sides 2-3 times.  Place on a wired cooling rack.  Return to refrigerator to harden.  Re-dip in chocolate for another coating if desired and decorate with sprinkles or a dash of sea salt. 

Keep refrigerated. 
Notes
The chocolate may form a semi-hard coating right away so you may not need to refrigerate a second time if you want to re-dip the eggs in another layer of chocolate. 
Leftover chocolate can be made into chocolate bars by lining a loaf pan with saran wrap then pouring the chocolate on the bottom of the pan.  Add nuts or fruit if desired and place in refrigerator to harden. 
Nutritional data calculated with Lilly's baking chips using My Fitness Pal 
Nutrition
Calories:
236
kcal
|
Carbohydrates:
7
g
Disclaimer
Please note that the nutritional information provided are guidelines and may vary based on the brand of products used. For your specific nutritional goals use My Fitness Pal or Verywell Fit recipe calculators. All content within this site is not intended as medical diagnosis or treatment and should not be considered a substitute for professional medical expertise.
PIN TO YOUR DESSERT, KETO AND LOW CARB BOARDS