This Manicotti Spinach Ricotta is filled with fresh ingredients; mozzarella, ricotta, and spinach, then topped with a light tomato sauce!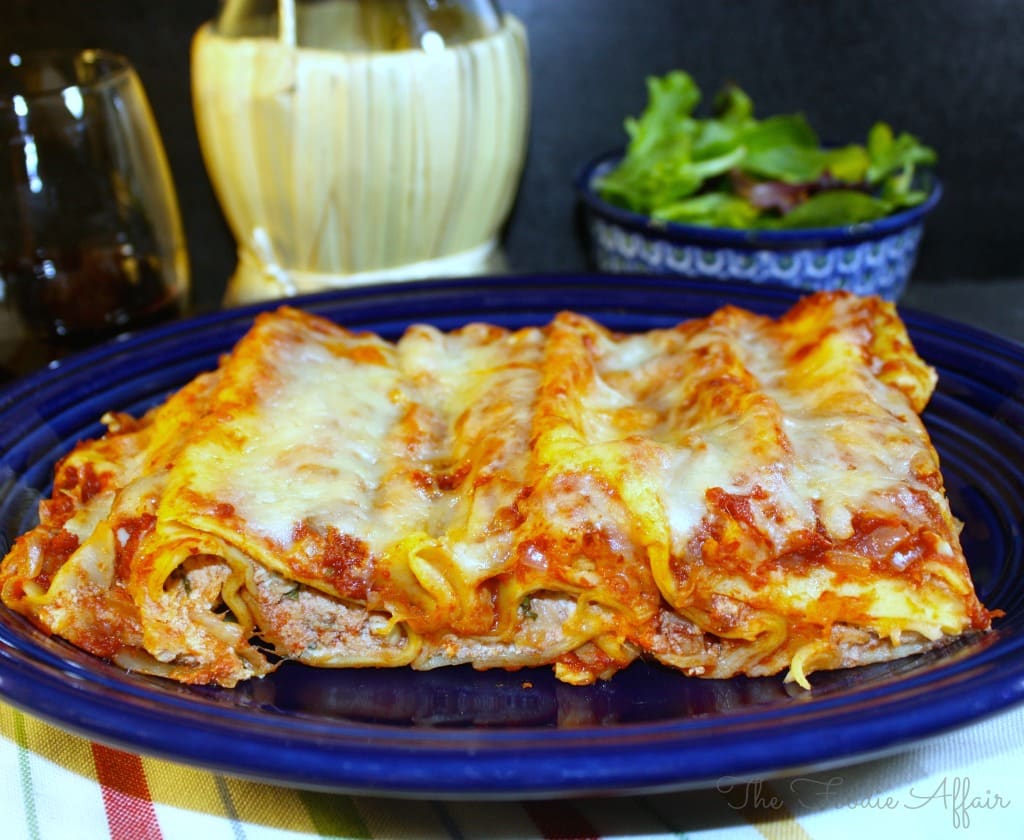 When was the last time you made manicotti? It's been awhile for me. It's one of those dishes that I enjoy eating, but because of the extra time it takes to prepare the shells, I save it for a special gathering, like when we celebrated my daughter's birthday.
The sauce is easy to make. I just put all the ingredients in a sauce pan and let it simmer while preparing the filling. In fact, you can make the sauce a couple of days before assembling the casserole, giving the flavors more time to blend together.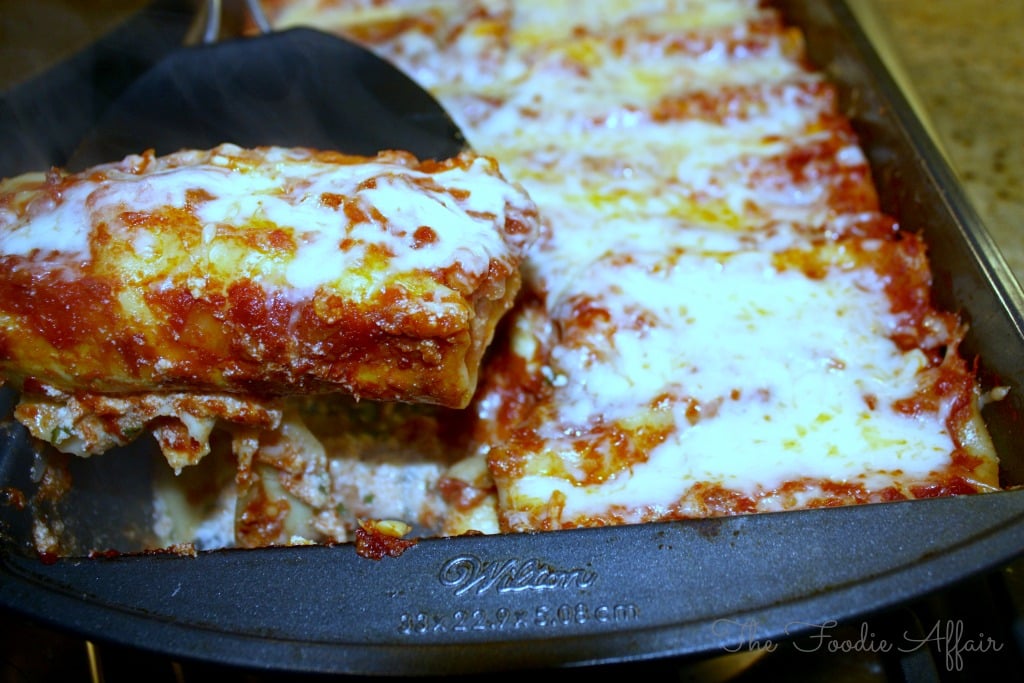 It's those tubular pasta shells that are a pain! The pasta can easily tear as you try to stuff them with the cheeses, and have you noticed how slippery they are to work with?  I've played the 5 second rule a couple of times as they flopped to my kitchen floor! Ugh!
That's all a blur now, because I have a great new way to make this pasta dish! We're ditching the traditional manicotti shells, and using no-boil lasagna noodles (not the ribbon type). I used the brand Barilla, which is packaged with 16 flat 7" x 3" rectangular pieces.  They work great in this pasta dish! All you do is let the pasta sit in some hot water until they're pliable, then place the filling on the pasta, and roll it up!
Why am I just learning about this trick?! It's so easy to work with and comes together super quick!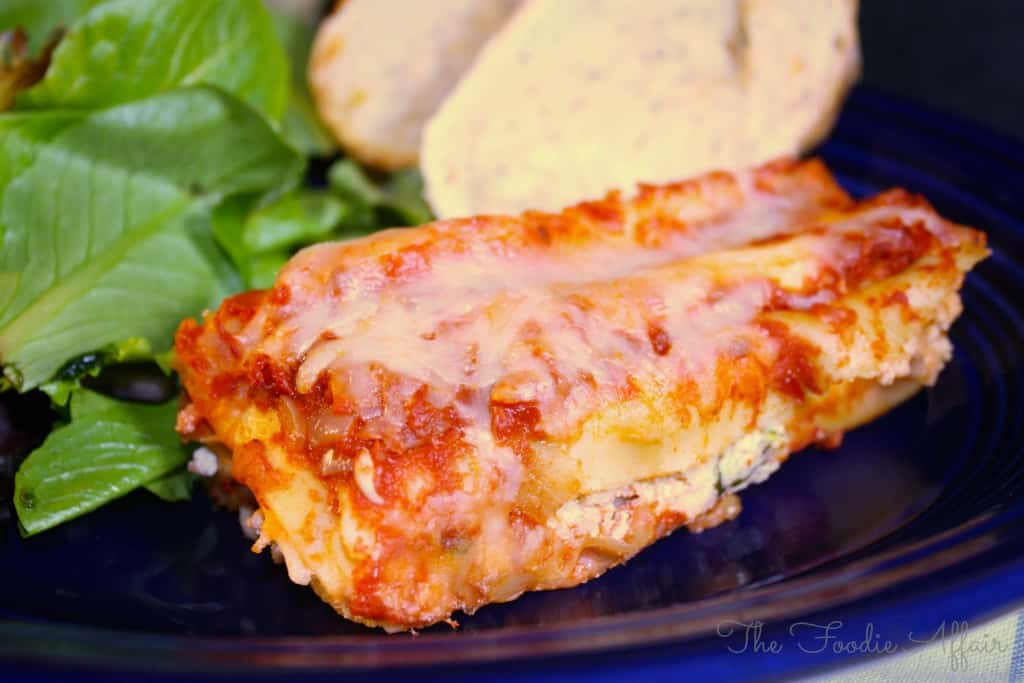 I kept the sauce vegetarian, but if you would like to include some ground sirloin, sauté about a pound of the meat with the onion, then add the seasonings and tomatoes, and let it all simmer together.
What do you think? Will you give it a try??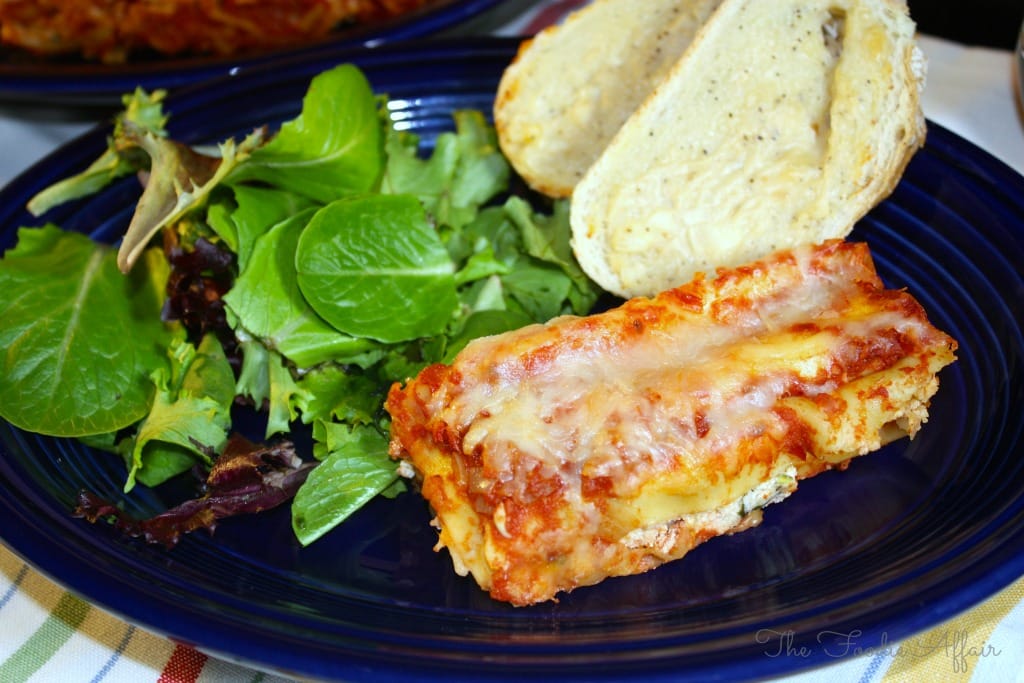 Manicotti Spinach Ricotta
Total Time:
1 hour
15 minutes
Ingredients
Sauce
1 small onion, chopped
olive oil for sautéing (approx. 1 1/2 Tablespoons)
2 (28 ounce) can crushed tomatoes
1 tablespoon tomato paste
5 garlic cloves, minced
1 teaspoon Italian spices mix
1/4 teaspoon red pepper flakes
salt and pepper
Manicotti
16 no-boil, oven-ready lasagna noodles
3 cups ricotta cheese (low-fat is fine)
4 cups pre-packaged Italian blend cheeses, shredded
OR (2 1/2 cups mozzarella, 1 1/2 cups provolone, shredded)
1 large egg, lighten beaten
1/2 teaspoon salt
1/2 teaspoon pepper
3 loosely filled cups baby spinach, finely chopped
Instructions
Place oven rack to the middle position and pre-heat oven to 375 degrees.
For Sauce
Over medium heat, sauté onion in a medium sized sauce pan until soft and fragrant. Add garlic, red pepper flakes, italian spices, and tomato paste. Sauté for 1 minute. Add crushed tomatoes combining all the sauce ingredients, simmering for about 20 minutes. Season with salt and pepper.
Manicotti Filling
Reserve 1 cup of cheese to top the manicotti casserole.
In a large mixing bowl, combine ricotta and remaining 3 cups of cheese, egg, salt, pepper together. Add chopped spinach.
Pasta
Soak the no-boil lasagna noodles in hot water (about 5 minutes). Drain water from the noodles and remove some of the water on the noodles by placing them on a clean kitchen towel.
Assemble
Spread half of the sauce on the bottom of a 9" x 13" baking dish. Fill each noodle with about a 1/4 cup of the cheese/spinach mixture, rolling from the short side of the noodle.Place the rolled manicotti, seam-side down over the sauce in the baking dish. Spread the remaining sauce over the manicotti and cover with foil. Bake for about 40 minutes. Remove foil and top with remaining 1 cup of cheese. Bake until cheese is melted (about 5 minutes). Let cool 10 minutes before serving.
Notes
Oven-ready Lasagne are flat 7" x 3 1/2" noodles that do not require boiling. I used a 9 ounce package of Barilla, which comes with 16 in the box. Other brands may come with less noodles.
Recipe adapted from Cook's Country Magazine, Baked Manicotti with Meat Sauce, page 12.