Chicken and Butternut Squash with Coconut Cream Sauce! This easy and healthy Indian-inspired dish is seasoned with warm spices like coriander and nutmeg.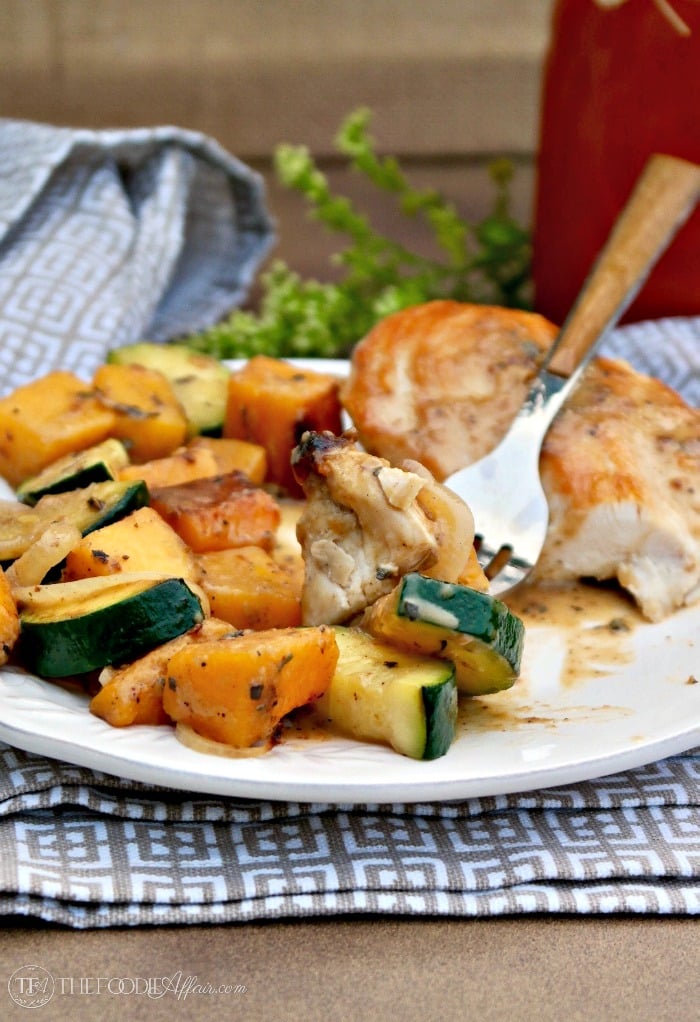 I have a super delicious, healthy, and easy dish that can be on the table in 30 minutes! This one-pan Chicken and Butternut Squash dish is the perfect amount for a couple.
Actually, there is more than enough veggies that were leftover for another meal which we turned into brunch!  Fry up an egg and layer it on top and you have transformed this dish into another tasty meal!
Creamy coconut sauce adds the perfect amount of healthy fats to this dish.
All the ingredients in this dish are nutritious and filling.  You'll get plenty of fiber from the butternut squash, a good amount of protein from the chicken and a nice dose of healthy fat from the coconut milk.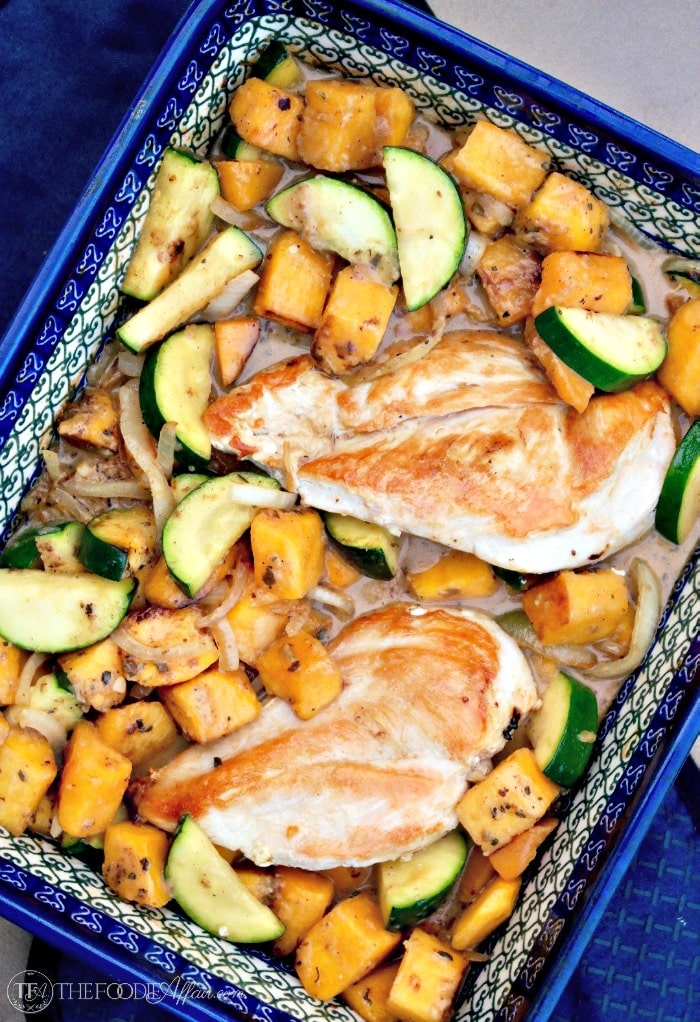 The coconut sauce with the sweet squash and onions is simple and tasty!  Once the sauce melds with the spices you could practically spoon it up and eat it as a soup!
Deglaze the browned food residue from the skillet.
Be sure to scrape the bottom of the pan when you add the liquid to the skillet.  You'll want every morsel of those leftover bits to add even more flavor.
I was running out of sunshine when I took these photos, so I missed a good close up of the sauce.  You can kind of see that the sauce turned a light tan color like cream of mushroom soup.
Most of the ingredients; organic chicken, diced organic butternut squash, and organic zucchini were purchased at Costco.  Have you notice their organic options have expanded?  Sure love having multiple places to purchase organic products from!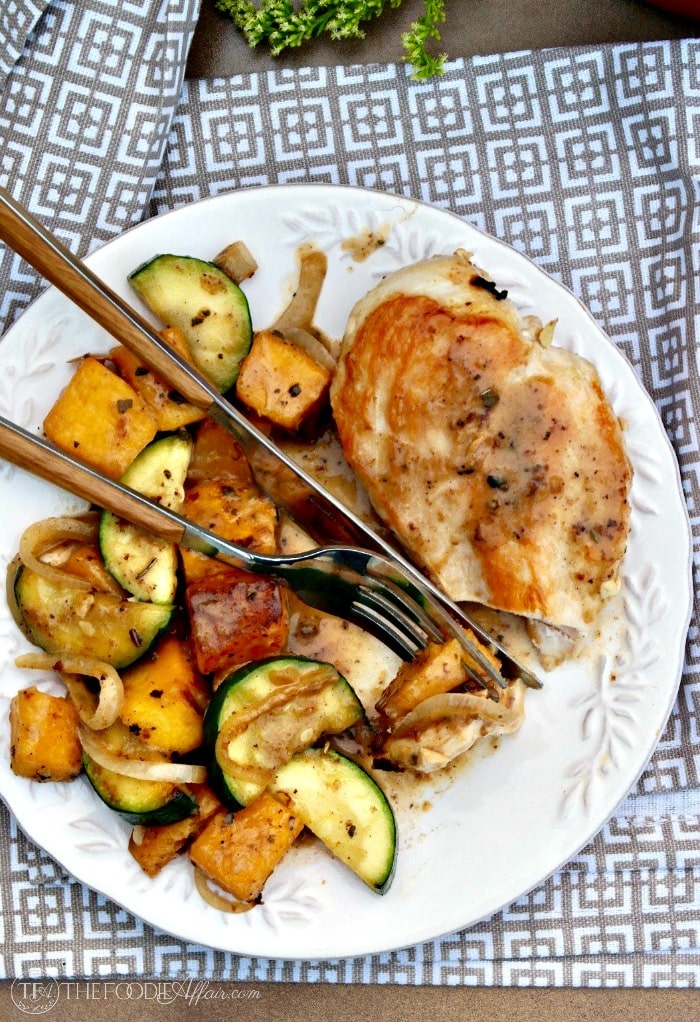 Chicken and Butternut Squash with Coconut Cream Sauce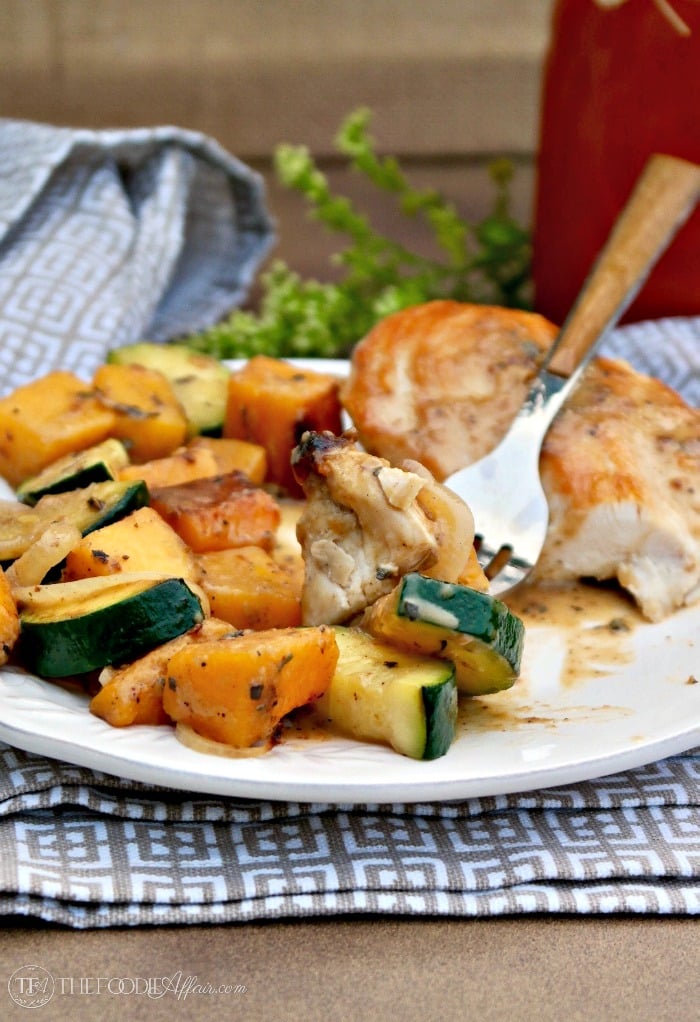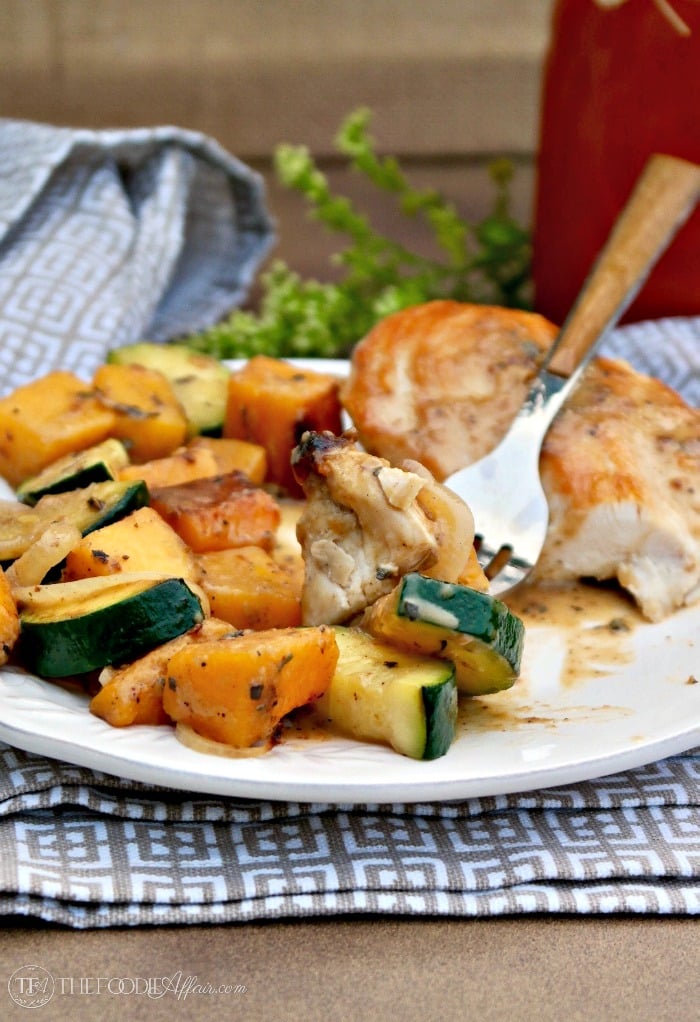 Ingredients
2 skinless chicken breasts
1 pound butternut squash, cut in cubes
1 large zucchini, rounds cut in half
2 tablespoons coconut oil (or olive, avocado oil)
Himalayan salt and pepper
1 small onion, sliced
1 1/2 tablespoons sage
1 1/2 teaspoons ground coriander
1 teaspoon ground nutmeg
1 tablespoons cornstarch with 1 tablespoon water whisked together
1 1/4 cup unsweetened coconut milk (I used Native Forest)
Directions
Preheat oven to 375 degrees.
Season chicken with salt and pepper.
Heat a large oven proof skillet with 1 tablespoon of oil over medium high heat. Add chicken and sear each side for 3-4 minutes. Remove from pan and set aside.
Add the remaining oil and saute onion and butternut squash for about 5 minutes. Add sage, coriander, nutmeg and zucchini. Saute for an additional 3 minutes.
Add coconut milk and cornstarch mixed with water. Scrape brown bits from the bottom of the skillet as you stir in milk mixture.
Add chicken back to pan and cover. Place in oven and bake for 15-20 minutes or until vegetables are tender. OR place all ingredients in a small oven proof casserole dish cover with foil and bake the same as the skillet option.