These delicate light and airy Pesto and Parmesan Popovers are bursting with flavor!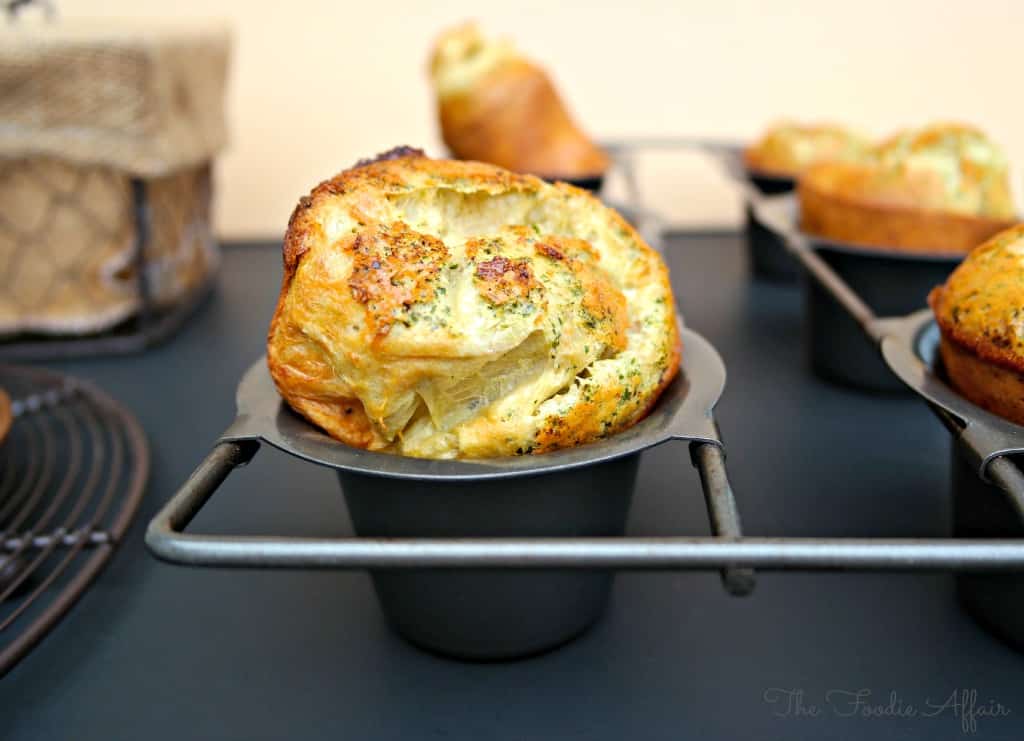 I'm a little giddy about my new popover pan. Isn't it the coolest muffin tin ever?! I love it and I got it at a consignment shop for a steal!
Near my office there is an old shop that I like to browse through during my lunch hour. It's a place were a lot of antique dealers consign furniture, jewelry, and tons of kitchen ware, mostly china and crystal. It's just so fun to poke around and I occasionally find something fun.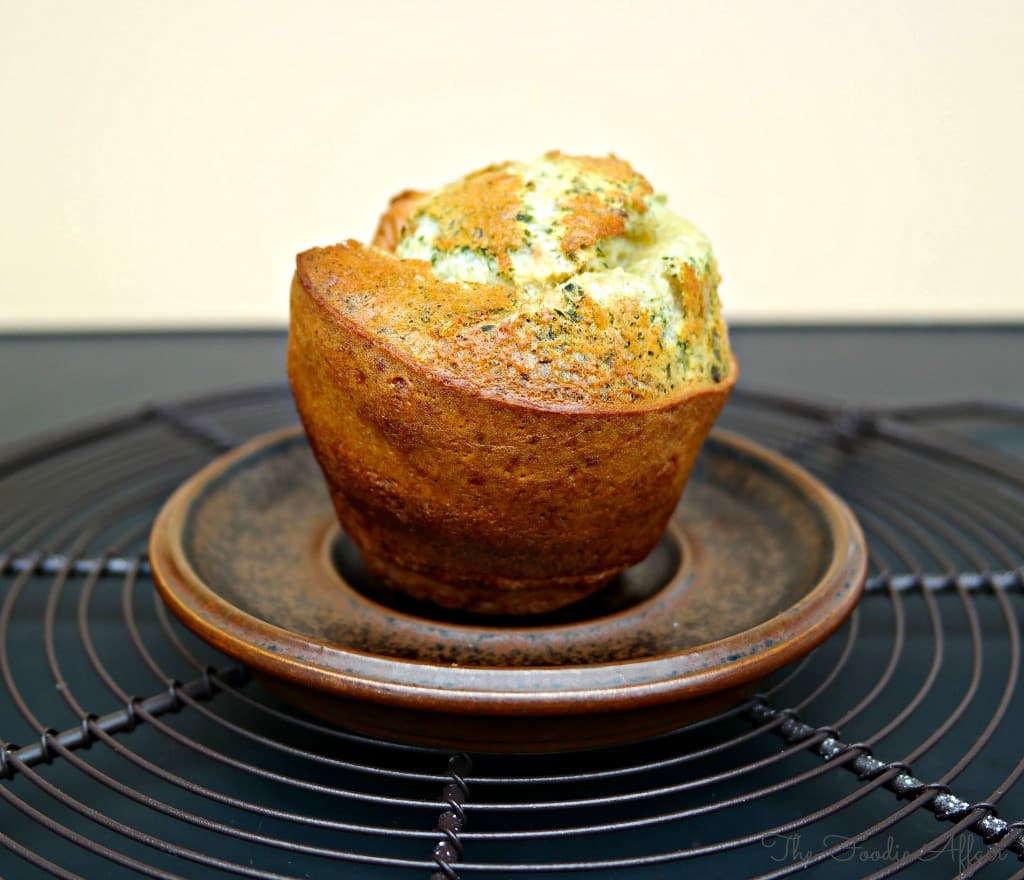 This popover pan was is not an antique. It's made by Wilton and it looked new and in perfect condition! The pan was definitely out of place and needed a new home, and for $1.50 it was mine!
I've made popovers for "The Bomb" Potpie recipe using a muffin pan and they tasted yummy, but each roll certainly didn't get the blast of heat that a real popover pan is able provide since the cups are separated. I added some of my Basil Pesto with Walnuts along with parmesan cheese to my basic recipe and boy did that liven up these rolls! They're delicious! These accompanied a variety of appetizers that we ate before going to an outdoor concert to see The Beach Boys last weekend.
Are you convinced that YOU could also use a popover pan? For more inspiration go take a look at these awesome Poblano Pepper and Pepperjack Popovers at Erica's Recipes!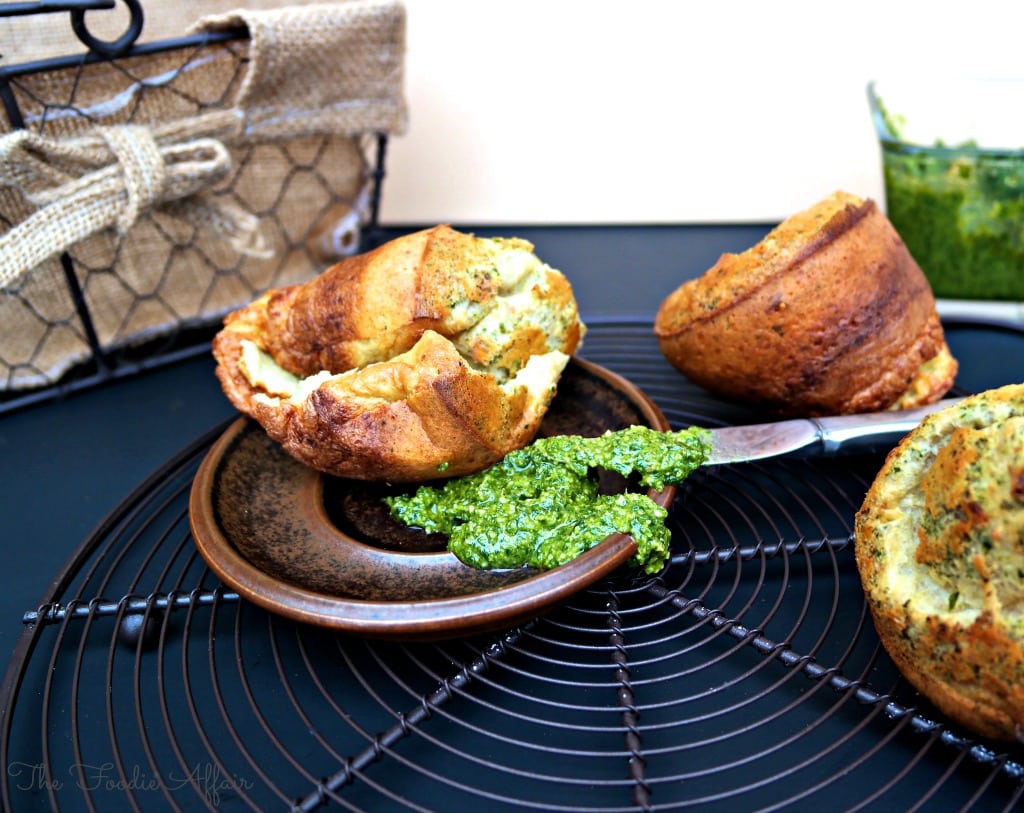 Yield: 6
Pesto and Parmesan Popovers
Prep Time 10 minutes

Cook Time 35 minutes

Total Time 45 minutes
Ingredients
2 eggs, at room temperature
1 cup milk, at room temperature
1 cup all purpose flour
3 tablespoon parmesan cheese, grated
Instructions
Preheat oven to 450 degrees. Put rack on the lowest shelf. Generously grease a popover or muffin pan.
Blend eggs, milk in a blender util smooth. Add flour and blend until there are no lumps.
Stir in parmesan and pesto.
Put pan in hot oven for 2 minutes. Remove pan and pour batter into each cup about 1/2 full.
Bake for 20 minutes. Don't be tempted to open the door! Reduce heat to 350 degrees and bake another 10-15 minutes or until lightly browned.


This recipe is adapted from my The Bomb Potpie recipe.