Bacon Wrapped Cheese Stuffed Chicken with RAGÚ Homestyle Thick & Hearty Traditional Pasta Sauce!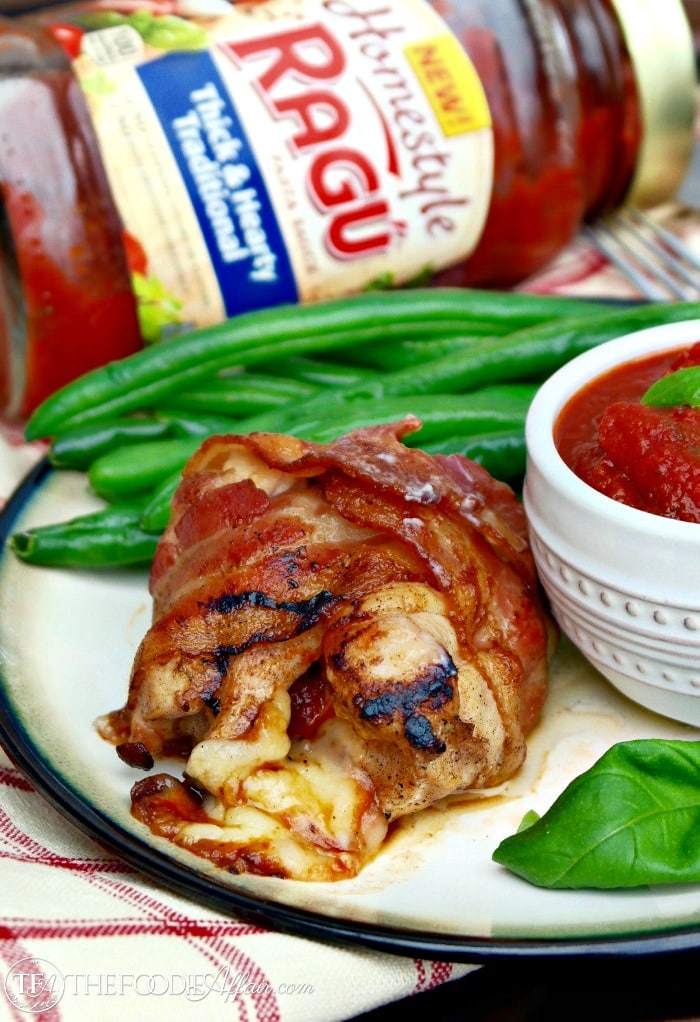 Yay! I'm back on track, guys! Who knew that taking a break from cooking during Mother's Day weekend would completely rearrange my cooking, writing and photographing schedule?! Boy, it really makes me realize that I have a pretty tight schedule, and I get a heck of a lot done during my weekends! I'm making up for the lack of recipes last week by creating one delicious dish that I bet will become a family favorite meal!
I was introduced to a new product line from RAGÚ and thrilled to be partnering with them to create this scrumptious Bacon Wrapped Cheese Stuffed Chicken along with RAGÚ's new homestyle pasta sauce! I put a dollop of pasta sauce right in the middle of each wrapped chicken thigh, which adds so much flavor, plus I serve extra sauce on the side for dipping each bite into!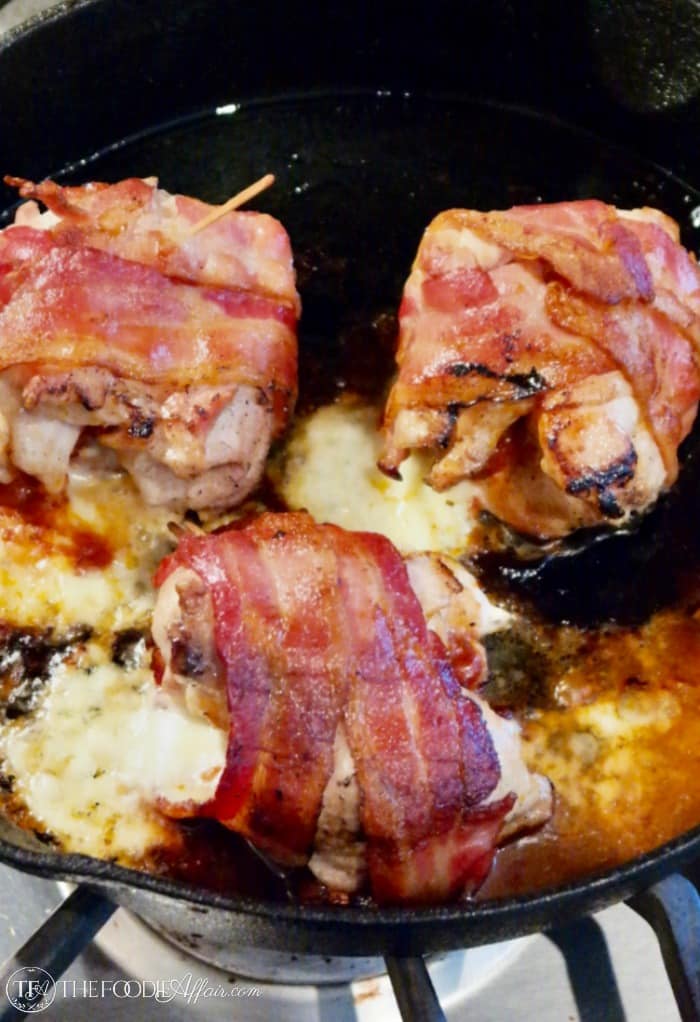 This new RAGÚ pasta sauce is is not only convenient to have on hand, but it tastes like it's made from scratch! Just like you would expect if you made it from your own kitchen there are no artificial colors or flavors , and no high fructose corn syrup added to this sauce. In fact, the first ingredient listed on the jar is tomato puree, which is made from home grown vine-ripened tomatoes from California!
I'm sooo glad to report RAGÚ did all the taste testing work for us, and made sure their sauce is perfect right out of the jar!  They added just the right amount of flavor from diced onions, herbs, and even the ideal amount of salt and pepper, so no tweaking the sauce with extra ingredients is necessary!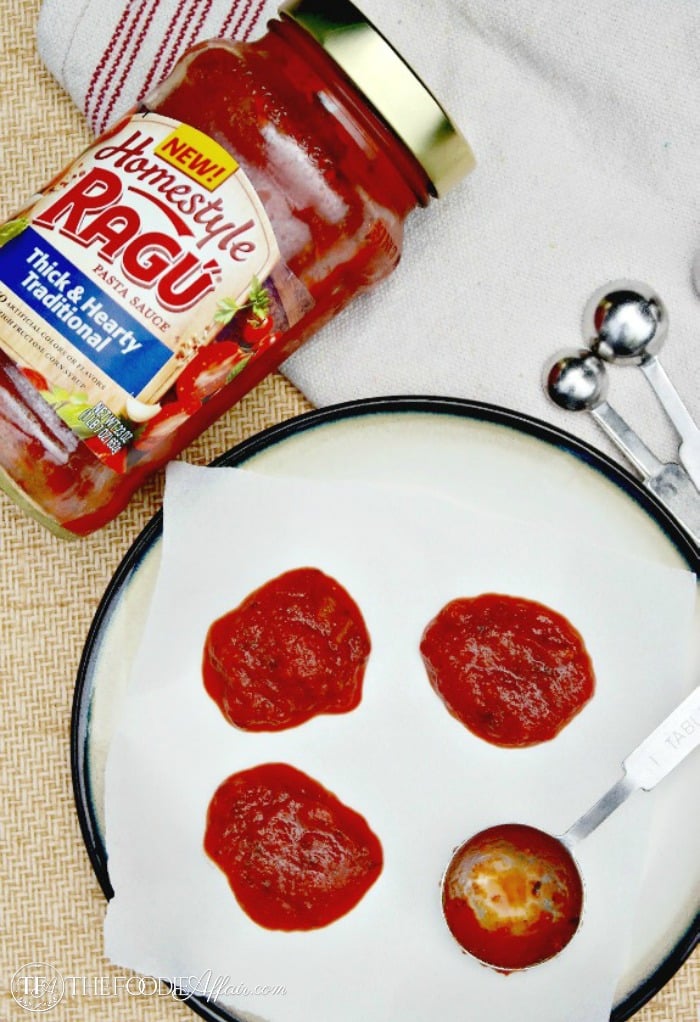 For this recipe I portioned out a tablespoon of pasta sauce for each piece of chicken and froze them into little disks so that they stayed right next to the cheese while wrapping the chicken in bacon.
Using a pre-made pasta sauce is such a time saver, especially when cooking during the week! I used the Thick & Hearty Traditional pasta sauce for this recipe, but there are 6 different other flavors that would be just as tasty! Be sure to check out the featured recipe on RAGÚ's website for more recipe inspiration!
While I was setting up a little assembly line of the cheese, pasta sauce and chicken I put 8 slices of bacon in the oven to partially cook. This step helps soften the bacon making it pliable, which makes it easier to work with when rolling up all the ingredients together.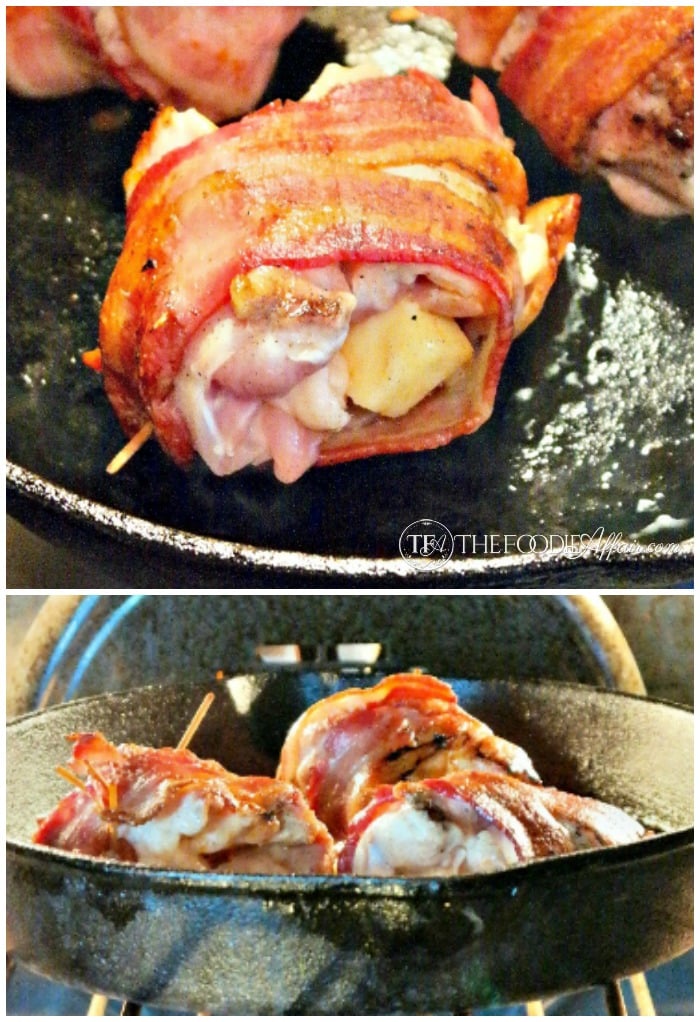 Then I added each chicken/bacon bundle to a cast iron skillet and cooked the bacon to a nice caramel brown, and just about to the point of turning crispy! Once I rotated the chicken so the bacon was evenly cooked I put the skillet in the oven to finish cooking the meat.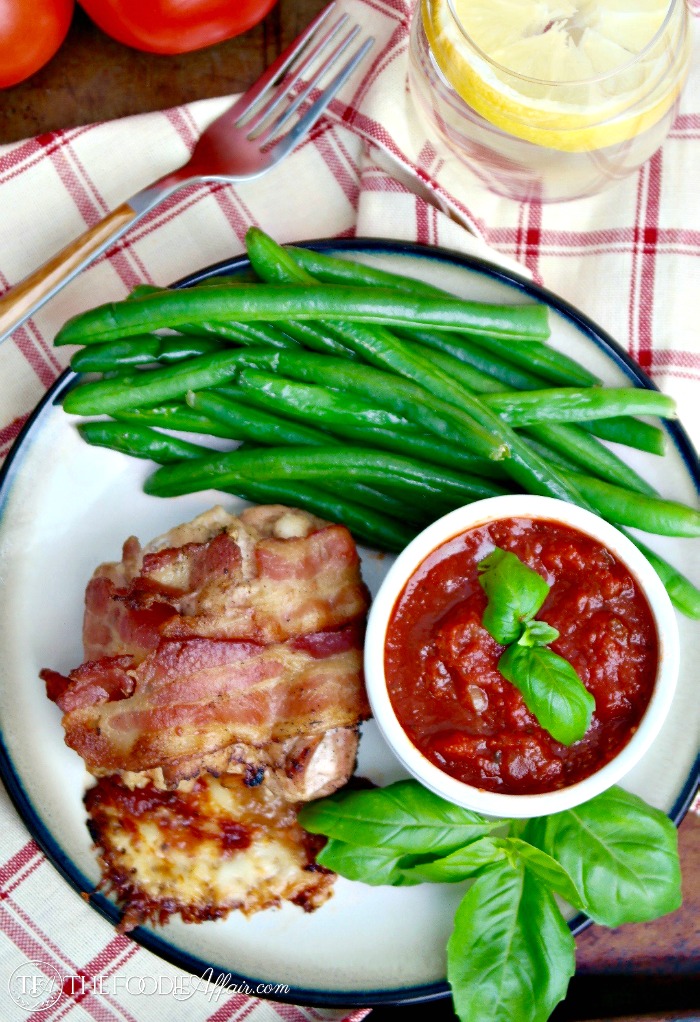 In about 25 minutes you're ready to slice into a flavorful meal! Don't forget to serve extra pasta sauce on the side so you can dip each piece into more flavorful sauce!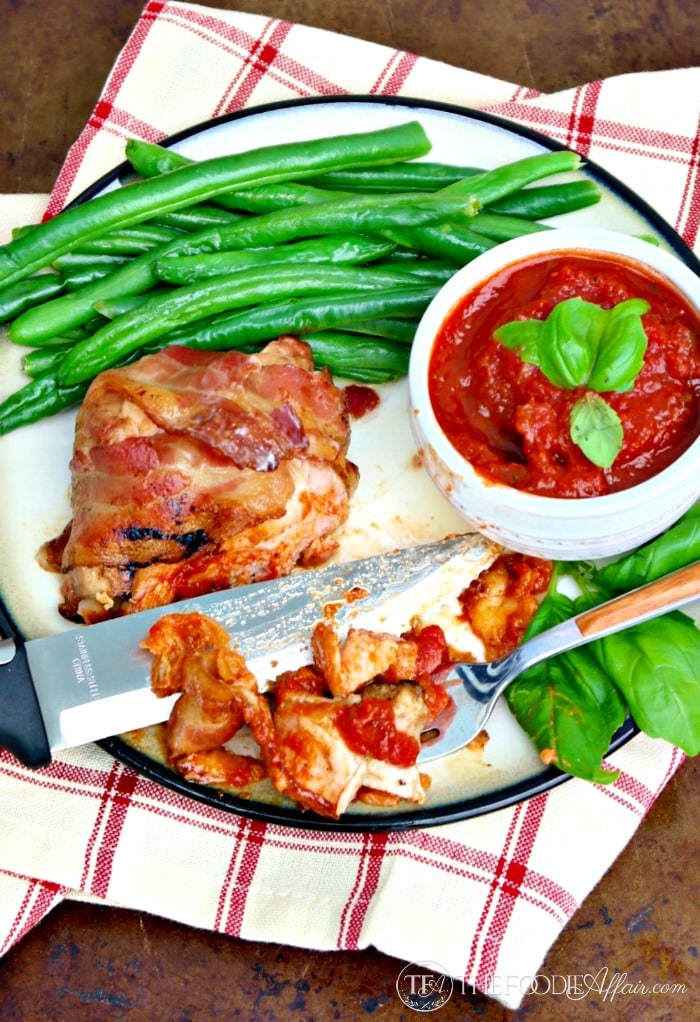 Serve with a seasonal vegetable, mashed potatoes or Mock Mashed Potatoes (Cauliflower)! Bacon Wrapped Cheese Stuffed Chicken is protein packed, which is quite filling, but the flavors are so delicious don't be surprised if you go back for seconds!
Bacon Wrapped Cheese Stuffed Chicken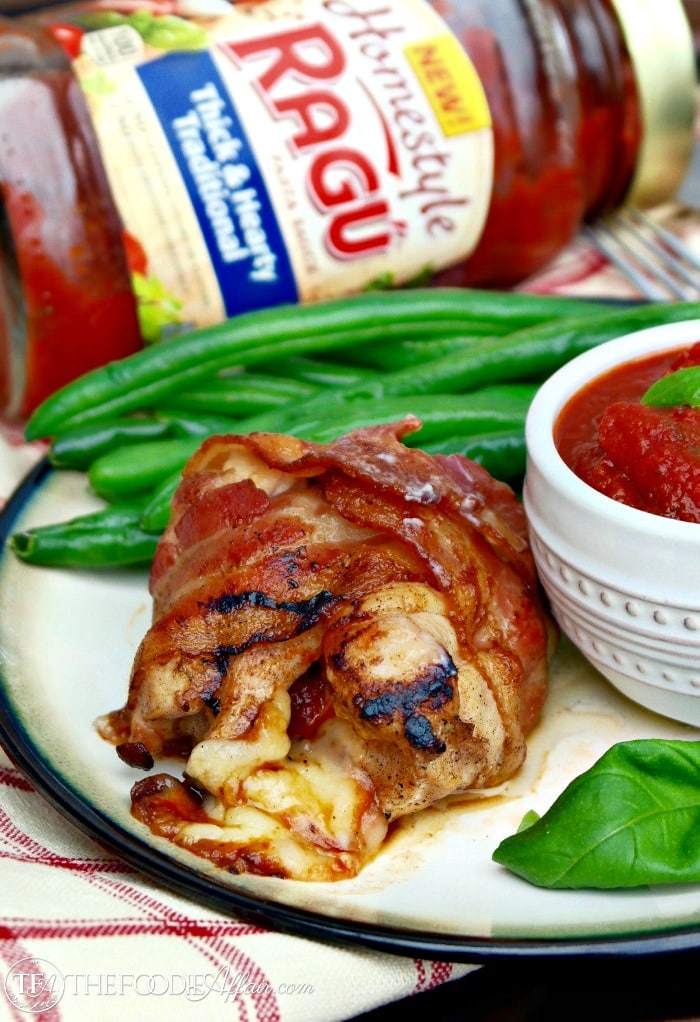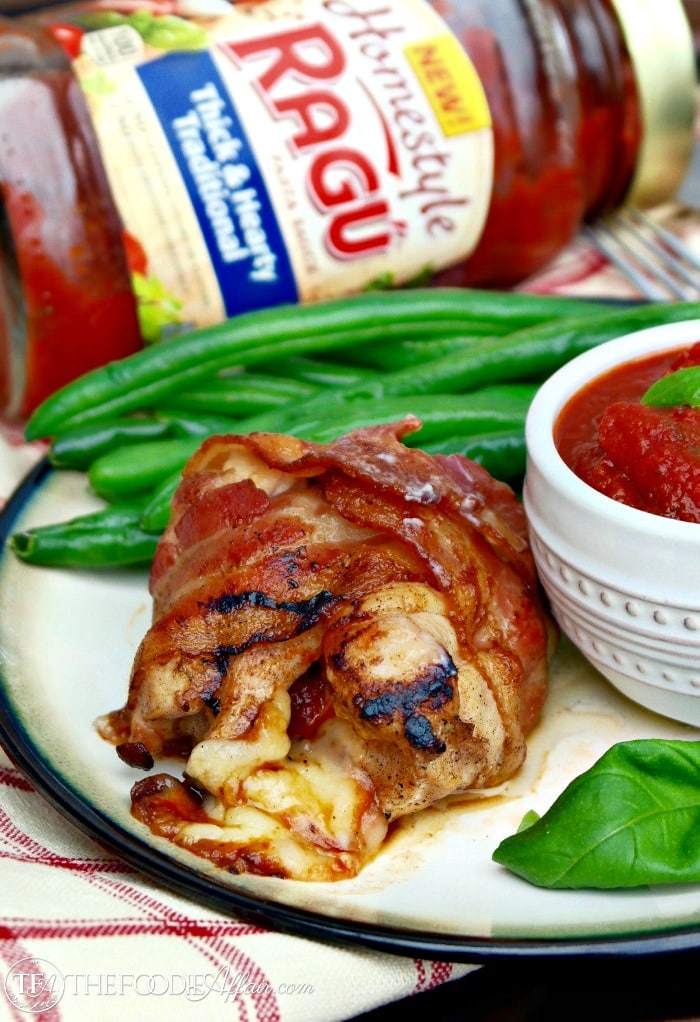 Ingredients
4-6 chicken thighs, skinless and butterflied for stuffing
1 jar Ragu Homestyle Thick & Hearty Traditional Pasta Sauce
4-6 slices, Monterey Jack cheese
8-12 bacon slices
Directions
Line a plate with parchment paper and for each serving place 1 heaping tablespoon of pasta sauce on the prepared parchment lined plate. Place in the freezer for 20-30 minutes.
Place bacon slices on a foil lined baking sheet and put in a cold oven. Turn oven to 425 degrees and cook bacon for 10 minutes or until half cooked. Remove from oven and carefully place each piece on paper towels to drain grease.
Season chicken with salt and pepper to taste. Assemble chicken by placing a piece of cheese and frozen pasta sauce in the middle of the chicken thigh (if pieces are small use two for each serving). Gently roll and secure with toothpicks if necessary. Carefully wrap 2-3 slices of bacon around chicken and secure with toothpicks.
Pre-heat the oven to 350 degrees.
Place wrapped chicken in an oven proof skillet (cast iron) over medium-high heat and cook rotating the chicken so the bacon is cooked evenly.
Place skillet in oven and bake for 20-25 minutes or until chicken is thoroughly cooked. Serve immediately and don't forget to remove the toothpicks!
This dish comes together quickly!
Step by step view on how to make a quick delicious family favorite meal!