A Not So Complicated Flower Arrangement
I write the word flowers on my grocery shopping list as a staple like milk, bread or eggs. I buy them inexpensively from my local farmer's market or from a grocery store. They brighten any room and look so pretty on a kitchen table! Flowers will last a week, maybe two if I take extra care to rinse the water and clip the stems every few days.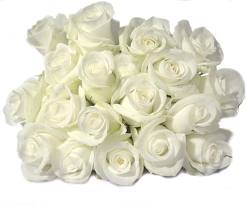 My latest bouquet of white roses were wilting and needed to be replaced, and I also had a craft idea using fresh flowers in mind, so while picking up some juice, I stopped at the floral section in Trader Joe's for a new fresh bunch. My intent was to buy roses to replace my dying ones, but since roses are the most popular flower for Valentine's Day, they were all sold out for the day. As I was looking over the bunches that were left and deciding on my purchase, I overheard part of a conversation between a couple of gals chatting about the different colored flowers and their meanings of roses.
Gal 1 – "The card said, thinking of you!"
Gal 2 – "What color were the flowers?"
Gal 1 – "Red"
Gal 2 – "Whoa, that means…."
They went on to discect the intention of the card/color combination of red roses. I have heard talk about color/rose association topic before, but never had a need to put much thought into it, so being inquisitive (nosey), I goggled "roses and meaning" when I got home, and a plethora of sites came up from florist companies to dating tip sites. Apparently, the color variations in the rose family all have a different meaning!
Red, the most romantic symbolizes love and means "I love you"
Regular Pink means "I'm happy with our relationship"
Deep Pink says "thank you" when some one does something nice for you
Light Pink symbolizes "sympathy"
White symbolizes "innocence and purity"
Yellow symbolizes "friendship and caring"
Lavender symbolizes "falling in love"
Geez, folks, why must we put so much pressure associated with giving and receiving flowers?!! What happens if you aren't aware of these meanings and you send the wrong message?! Yikes, dating seems so complex and a little unromantic to me!!
I'm glad that the only flowers left were a hand full of mixed arrangements or a few bunches of daisies to choose from. For $8 I bought lavender daisies and a mix of purple daisies and turned them into this…
Do It Yourself
For the heart shape, I bought a cardboard shaped heart box from Beverly's
2 fresh flower floral foams from Beverly's
1 can spray paint
1 plastic garbage bag
paper or another bag to protect the surface while painting
flowers
Place your floral foam in water for about 15 minutes. The water will absorb lots of water and the foam will be heavy.
While your foam is soaking, paint your container. I painted the inside and outside of my heart box because I may reuse it, and I want it to be completely finished.
Be patient, and let the paint dry completely!
Once the container is completely dry, put your plastic inside the box leaving 1″ hang over.
Cut your foam to fit inside your container. The foam is soft, so you can push and squeeze it to fit perfectly. Nestle the plastic bag around the foam putting it inside the container.
Now you are ready for fun and creative part. Cut your flowers and gently push them into your foam creating the color combination of your choice, and find the perfect spot to display your arrangement. Isn't it pretty?!
Now I'm wondering if the purple daisies have the same color symbolism as the rose family…if so, I just made a "falling in love, he loves me, and he loves me not" flower arrangement 😉
Plucking the delicate petals from the daisy flowers; chanting "he loves me and he loves me not" to discover the truth whether their beloved is true or not.