Shortbread cookie crust with a thin layer of melted chocolate, and then topped with strawberry ice cream. This three layered dessert can be eaten with your hands!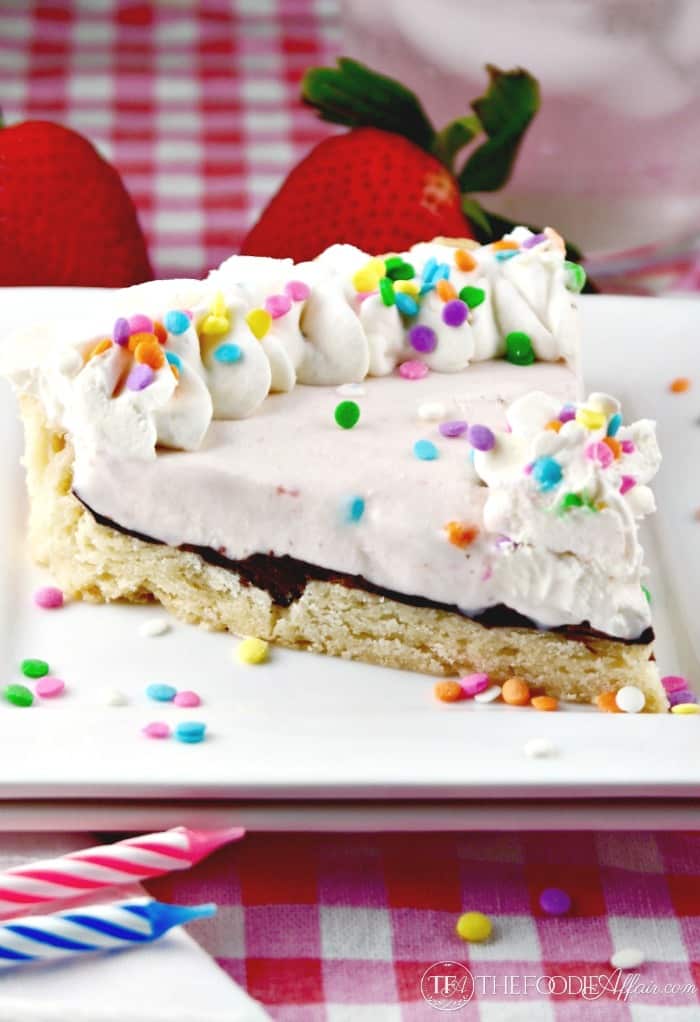 Woo-hoo, it's PAR-TY time! We celebrated Ashley's birthday this past weekend and for the occasion I created a fun scrumptious dessert that you are going to love! This dessert is easier to make than a traditional birthday cake and just as festive!
When we visited my in-laws a couple of weekends ago my father-in-law made lemon bars, and I've been obsessing over the simple buttery shortbread crust he used ever since!
Initially I was going to make a giant cookie topped with chocolate and serve it with a scoop of ice cream, but it looked too plain.
It didn't take long for our birthday celebration dessert to morph into this ice cream cookie-cake-pie-tart!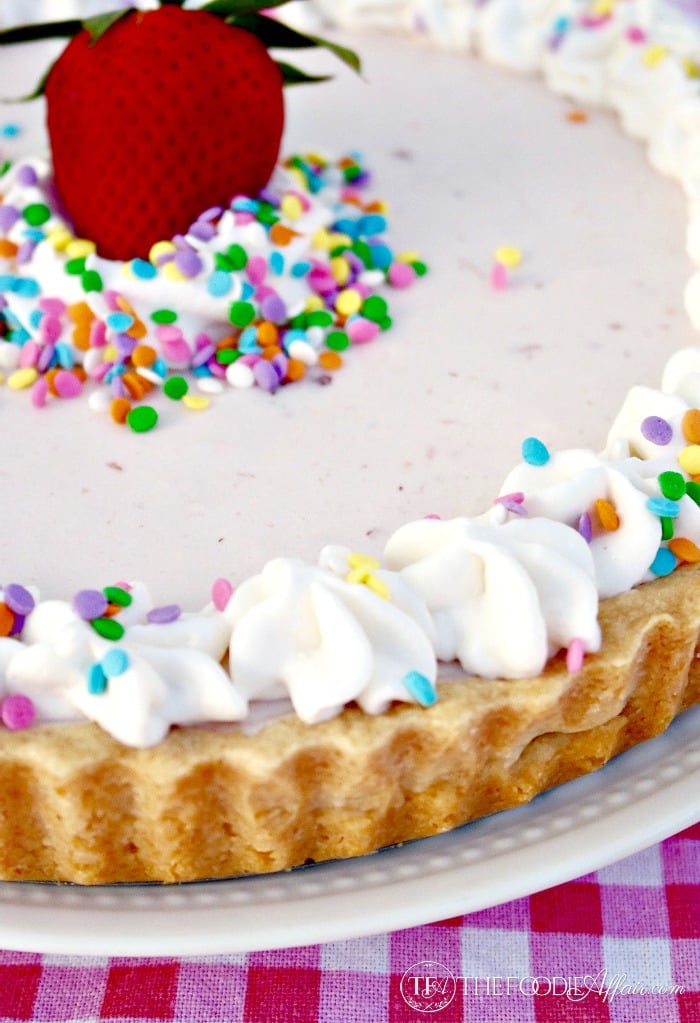 This recipe makes enough for two shortbread crusts, so if you only need one you can freeze half of the crust for another time or make cookies out of it!
I used a tart pan to mold the shortbread crust into and after it was cooked and cooled I spread a thin layer of melted chocolate over the crust! Once it hardens the chocolate adds a thin barrier between the cookie and ice cream!
I wanted the ice cream to be pink, which just so happens to match the color of Tripler Army Medical Hospital where Ashley was born! Yep, the building of the hospital is painted pink! We always made a big deal out of that when she was older.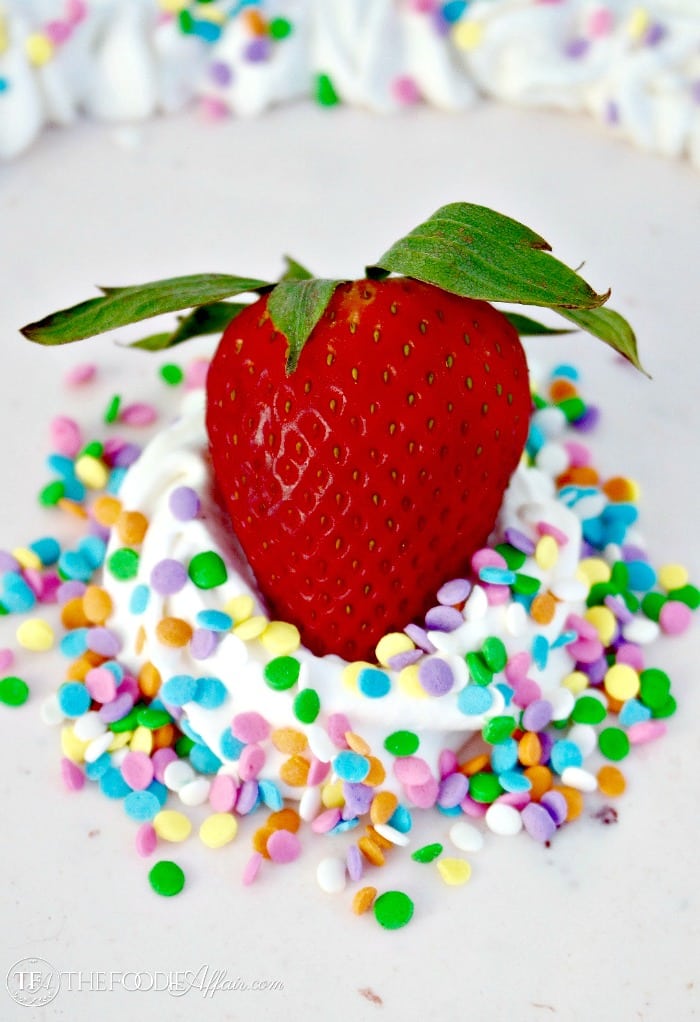 Every time we drove by the hospital we would point it out…"LOOK, there's the PINK hospital that you were born at!"
We were thinking…"It LOOKS like the painting bid was picked based on the price of bargain basement paint!!" LOL
It is actually very pretty coral pink and if you've ever been to Hawaii and have visited The Royal Hawaiian Resort it's similar in color, which is what the General in charge of the project back in the 40's wanted to match!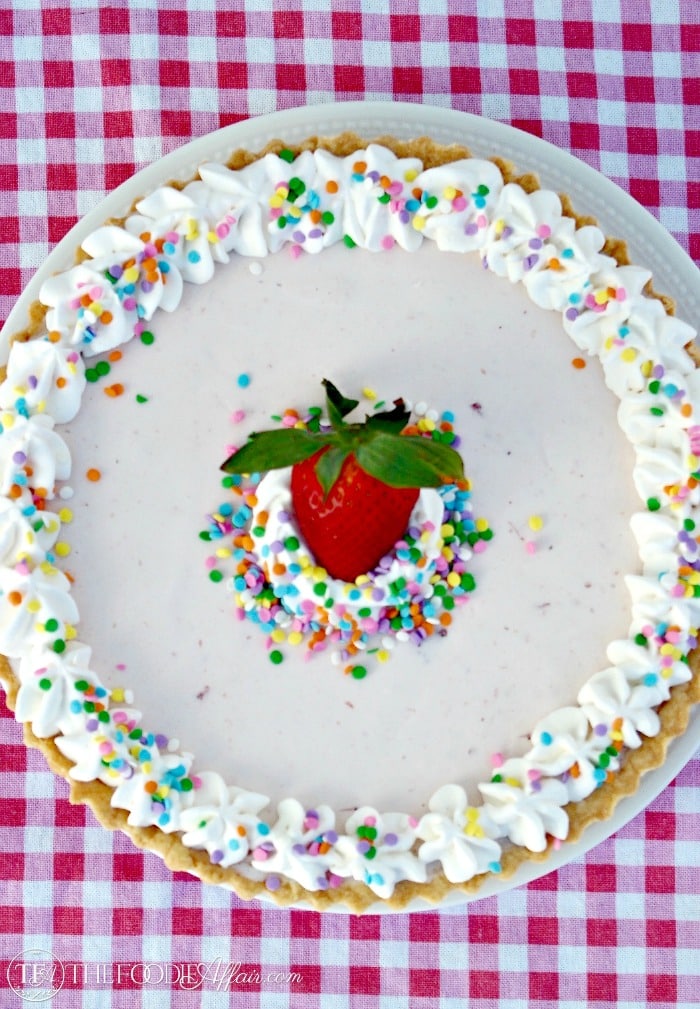 I used Tillamook's creamy and luscious Oregon Strawberry ice cream, which is just as dreamy as it sounds!
Each of us picked up our piece with our hands and took bites like we were eating pizza!
Hey, that's another name I can add to this dessert! Shortbread ice cream cookie-cake-pie-tart-dessert pizza!
Yield: 8
Shortbread Ice Cream Cookie Cake
Ingredients
Shortbread Crust
1 1/2 cups (3 sticks) butter, unsalted at room temperature
1 cup granulated sugar
1 1/2 teaspoon vanilla extract
3 1/2 cups all-purpose flour
1/4 teaspoon salt
Chocolate Layer
1 1/4 milk chocolate, melted
Ice Cream Layer
3 cups strawberry ice cream, softened
Decorate
Instructions
Preheat oven to 350 degrees.
In a large bowl beat together the butter and sugar until combined. Add the vanilla.
In a separate bowl whisk together the flour and salt. Add to the butter mixture and mix on low until a dough forms.
Divide dough in half (you only need one for this recipe) and place each between two layers of parchment paper. Roll into a circular disk about 11 inches is diameter. Chill in the refrigerator for 30 minutes.
Remove top layer of parchment paper and gently flip on 9 inch tart pan. Remove second layer of parchment paper and gently press into pan forming the crust. Pierce bottom of the dough with a fork. Bake for 25 minutes or until very light golden brown. Cool at room temperature.
Melt chocolate in the microwave or double boiler until creamy. Spread over cooled crust. Put in the refrigerator or freezer to harden. While hardening put about 3 cups of ice cream in a large bowl and left soften. Mix until it is creamy. Top on chocolate layer and smooth out covering the whole cookie-cake. Return to freezer for ice cream to harden. Decorate with whipped cream and sprinkles.