Creamy and delicious healthy chicken pot pie made with fresh ingredients. Use leftover chicken or even turkey to make this comforting meal, lovingly known as "The Bomb".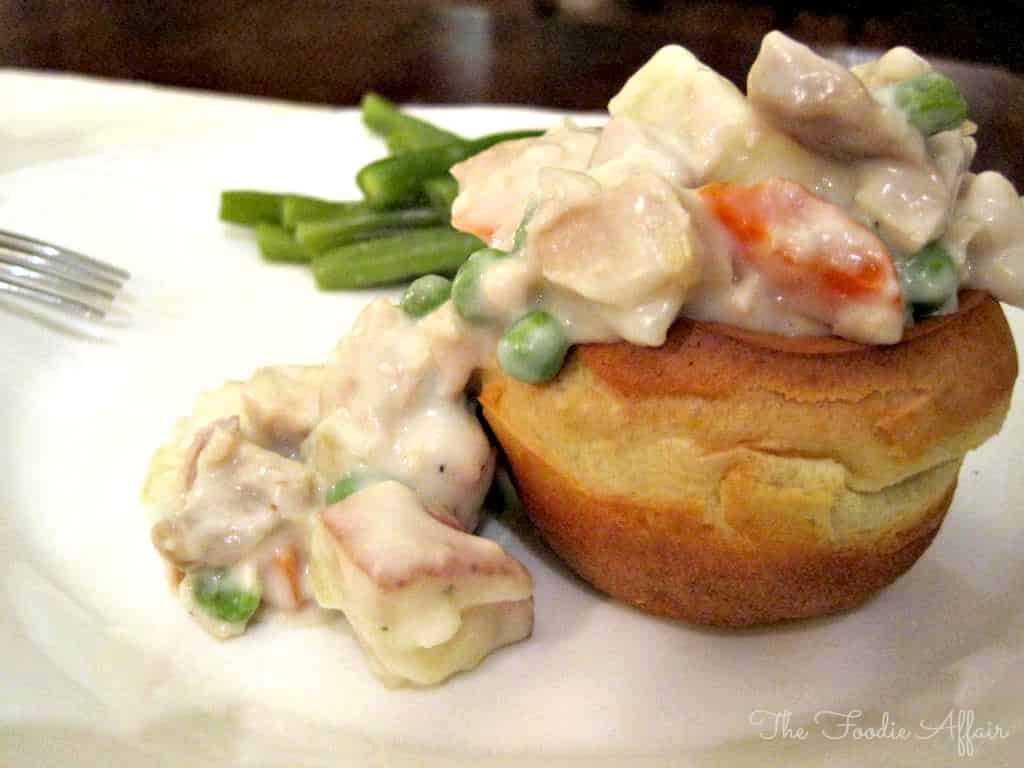 Healthy Chicken Pot Pie
The day after Thanksgiving is my favorite stay in your jammies as long as you want kind of day; it's my Lounge Friday!  
After the busy preparations of our Thanksgiving meal, and enjoying the company of my family, I really look forward to a few days of not-a-lota anything!
Everyone is on their own in the kitchen, helping themselves to their favorite dish(es) that were left from our feast. Bellies are definitely satisfied for a few days.
By Monday we were getting to the point of snubbing our noses at the remaining leftovers, but I still had some turkey that I wanted to spruce up!
My last bit of turkey would be surrounded by a creamy sauce and vegetables aka potpie casserole. I debated on using Bisquick as a topping instead of the traditional pie crust because I wanted the meal to be just a tad bit lower in the caloric category.  
Keeping with the traditional crust-like theme, I baked popovers and used it as a base, then added the casserole filling.
After my son took his first bites, he mumbles "mom, this is the bomb!" I have to agree, it's good!
How To Make Popovers
Popovers (12) – Preheat oven to 425
1 cup of milk at room temperature
1 cup of all-purpose flour
2 eggs
dash salt
Blend ingredients in a blender until smooth.  Traditionally, popovers are baked in a custard cup or special popover pan.  I used a regular muffin pan. Grease generously, and put muffin pan in the oven for 2 minutes.
Remove pan and fill with batter half way. Put in oven and let the popovers puff for 20 minutes. Don't be tempted to open the oven. It needs to stay hot!
After 10 minutes, reduce the heat to 350 and cook an additional 10 minutes.
Popovers will be puffy and golden brown.
Homemade Chicken Pot Pie Filling
Potpie Filling
White Cream Sauce
Ingredients:
4 Tablespoons butter
3 Tablespoons all-purpose flour
1 1/2 cups milk
1/8 teaspoon pepper
1 teaspoon of chicken bouillon granules
Melt butter in saucepan on medium high. Once, melted, whisk flour into butter until smooth and free of lumps. Gradually add milk and continue stirring until the sauce thickens. Add pepper and bouillon. Turn to simmer and continue to stir so a film doesn't form on the top.
Filling (4) – Preheat oven to 350
Ingredients:
1/2 onion, diced
1 celery stalk, diced
2 small red potatoes, diced (microwave for 6 min.)
1 carrot, diced (microwave for 6 min.)
1/2 cup frozen petite peas
2 cups turkey or chicken, diced
Get ahead start of the cooking process by microwaving potatoes and carrots on high setting for 6 minutes. Sauté the onion and celery in a non-stick pan until onion is translucent and fragrant.
Add peas, meat, and microwaved ingredients to the onion and celery.
Fold in white sauce and put in a casserole dish. Place in heated oven for 20 minutes or until bubbly.
Plate up with a popover topped with the casserole filling. There you go, "The Bomb!"