Strawberry Mousse Recipe | Sugar-Free Dessert
Easy strawberry mousse recipe made with fresh whipped cream, sweetener, and sugar-free strawberry puree. Top this light and airy dessert with fresh fruit!
This post is sponsored by Voortman Bakery. The content and opinions expressed below are that of The Foodie Affair.
Strawberry Mousse
Remember that homemade strawberry puree I shared last week?
Well, between a tablespoon of that sugar-free sauce and my lemon curd, breakfast never tasted so delicious when I add a little to my Greek yogurt!
Seriously, just thinking about it makes my mouth water. It's THAT good!
I highly recommend you put that on your "must make" list, because now I have another recipe you can use that strawberry sauce in.
Have you ever made strawberry mousse?
It's probably one of the most decadent treats ever created, and I made it a lot healthier by keeping the ingredients simple and granulated sugar-free!
Three Ingredient Strawberry Mousse Recipe
Strawberry mousse is simple to make once you have the strawberry puree already made.
If you would like, you can also purchase a jar of sugar free jam, but I highly recommend making it yourself.
Gather these ingredients:
Fresh Strawberries
Vanilla Extract
Sugar alternative like Swerve
How To Make Strawberry Mousse
Chill bowl and beaters in freezer for about 30 minutes
Beat whipping cream until soft peaks form with sweetener
Fold in strawberry puree
Scoop in serving dishes and garnish
How To Make Strawberry Mousse Without Gelatin
I was super curious to see how this dessert would hold up without gelatin, and I have to say, beautifully!
When using gelatin, you need to bloom it in water, then fold it in the base ingredients, which in this case is the strawberry sauce before folding it into the whipped cream.
I skipped that part entirely and went straight to folding in the puree into the whipped cream to keep this dessert easy. I'm very pleased with the results.
Now, if I was serving this for guests and I wanted to make this 3-4 days in advance, then I would use gelatin to give it an extra boost of thickener.
So the option is yours!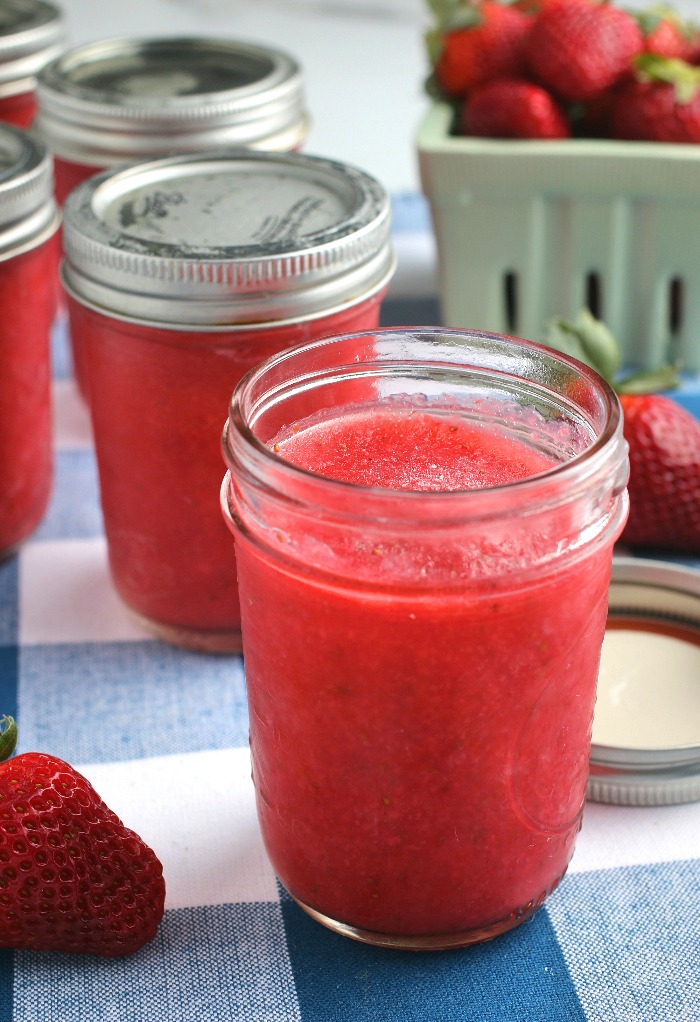 What Goes Well With Strawberry Mousse?
Fresh fruit: diced strawberries and blueberries
Sugar free Wafers. Strawberry and fudge coated wafers are perfect with this mousse!
Samoa Strawberries – chocolate dipped strawberries with toasted coconut
Almond slivers or chopped walnuts
Chocolate shavings
Chocolate chips
Can You Freeze Strawberry Mousse?
Yes! This strawberry mousse lasted in the refrigerator for several days, and the leftovers I scooped in heaping tablespoons and froze it for an anytime treat!
By the way, it is quite tasty in a warm cup of coffee!
Some other ways you can use the leftovers is to bake wonton wrappers like I did with these pecan wonton bites and scoop a tablespoon of mousse in the middle.
You can also buy pre-made mini fillo shells or pie crust if you prefer to go that route.
So many delicious options to serve this strawberry mousse! Give this easy recipe a try today!
PIN TO YOUR LOW CARB, KETO DESSERT BOARDS