New Zealand Bacon Egg Pie made with flakey pastry sheets, bacon and whole eggs that cook hard! This savory meal is a perfect picnic meal!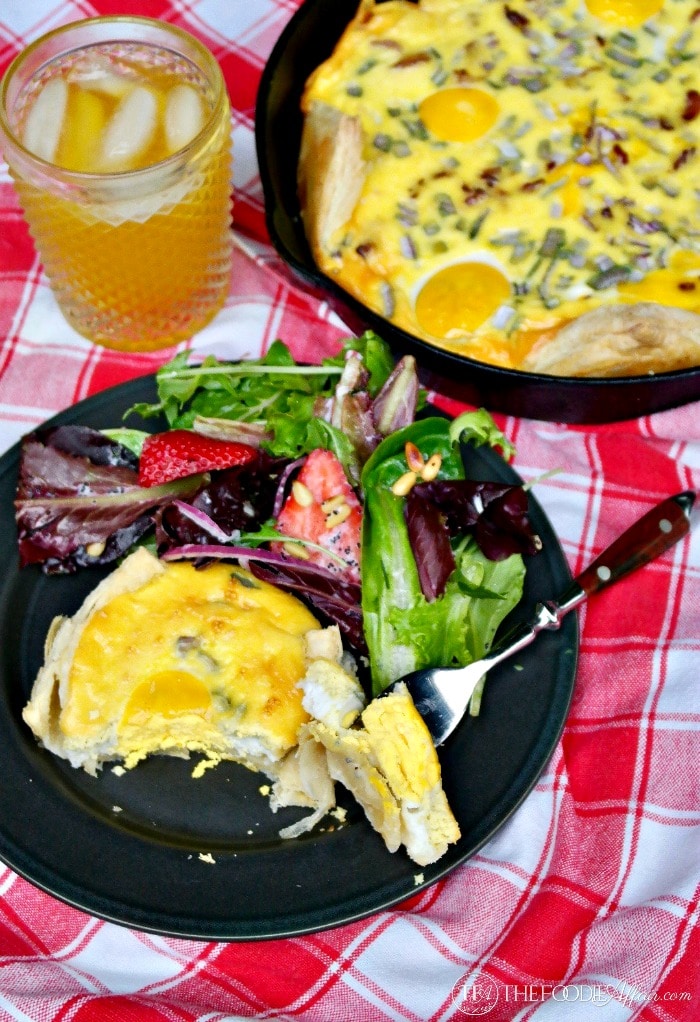 Welcome to the latest round of Freaky Friday summer blog hop! If this event is new to you, you are in for a treat!  
The Freaky Friday event consists of a group of talented bloggers that are secretly assigned to another participant's site to make a recipe that caught their eye.
I was assigned to the very talented Nicole from PicNic!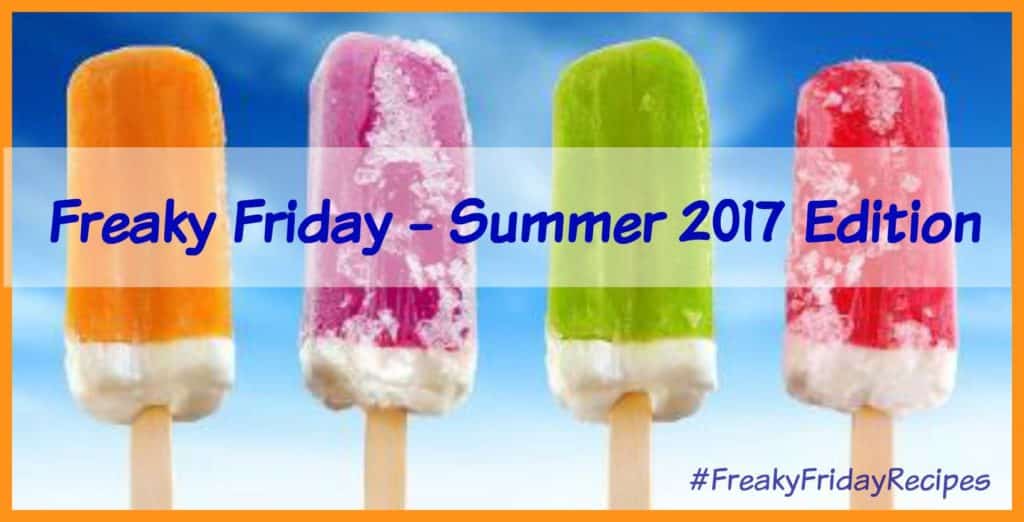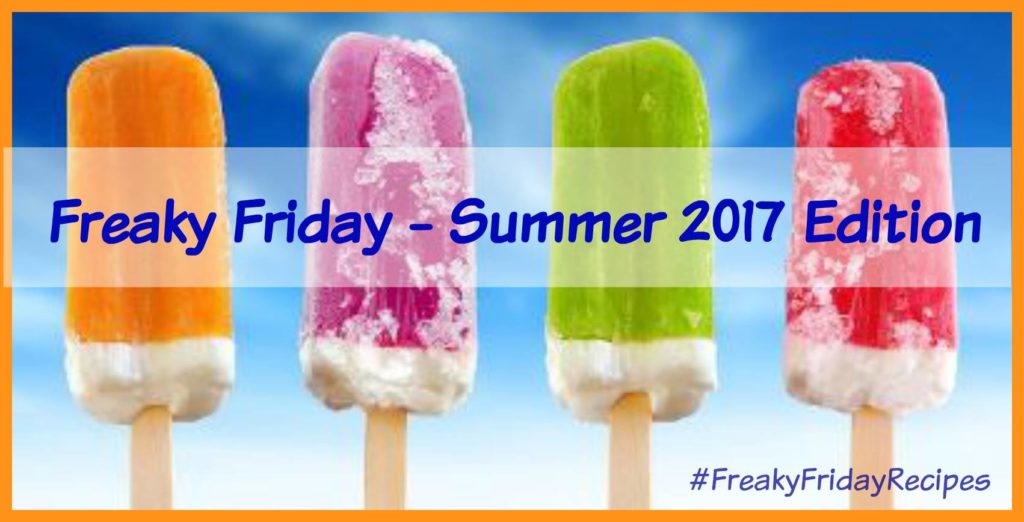 As you might guess, Nicole is a New Zealander who created this traditional New Zealand Bacon and Egg Pie.
In addition to making scrumptious family-friendly dishes like this Thai Red Curry, Seafood Gumbo or Chocolate Panna Cotta Nicole is a neuroscientist specializing in molecular neuroscience.
A lot of hard work went into earning a PhD, but lately she has turned her attention to another rewarding role…Nicole is a new MOMMY!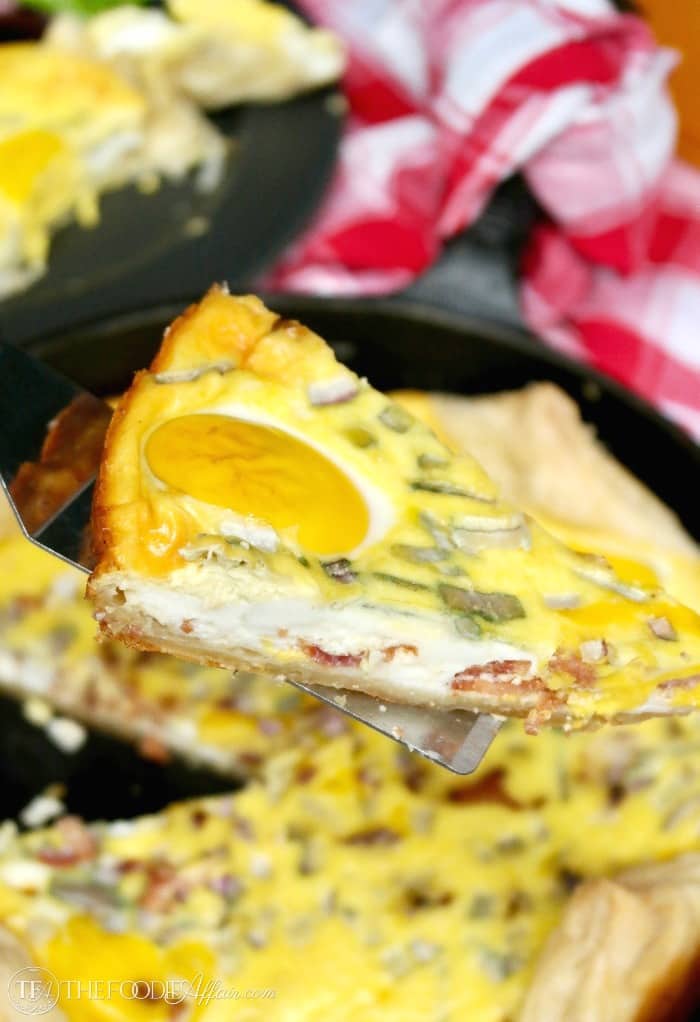 I'm sure you can imagine how busy life is right now, which made me think of all the busy families that look for simple and nutritious meals.
I was gravitating towards her cheesecake collection (OMG, you gotta check out the Toberone Cheesecake) until I saw that she also shares recipes that are popular in New Zealand.
What a great way to dive into a new culture! I adapted Nicole's Bacon and Egg Pie only in presentation. All the ingredients are the same except that Nicole adds another layer of Puff pastry to her pie. I wasn't confident in my ability to layer and crimp the dough on top, so I left it open.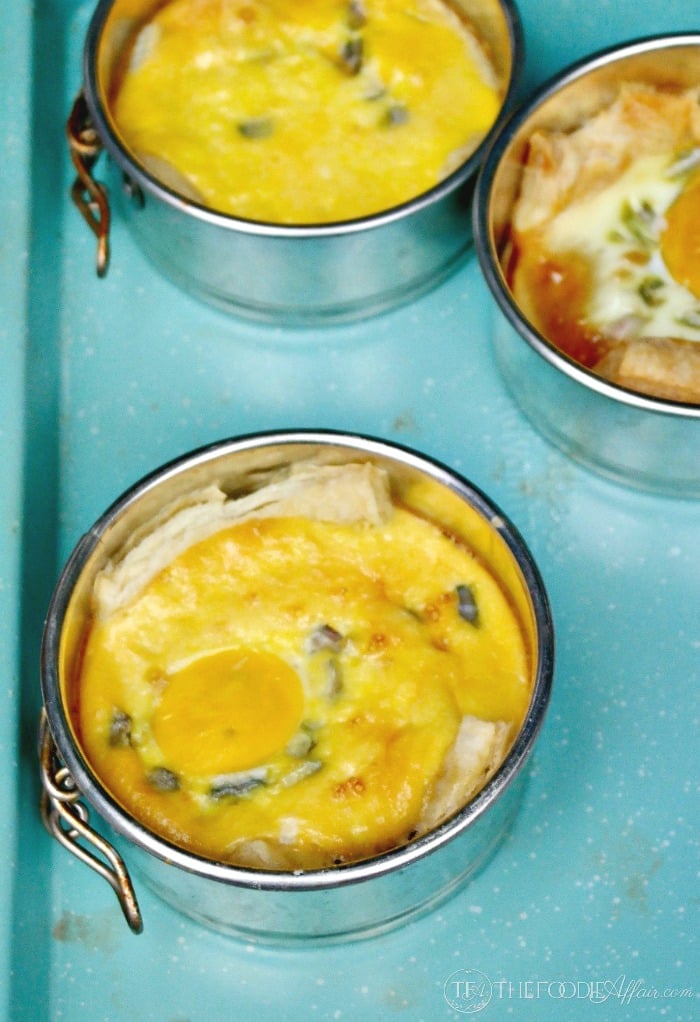 With the remaining sheet of pastry I made another batch of the egg mixture, placed the crust in mini springform pans, and made individual size servings!
This recipe is perfect to share with guests and easy to make in advance, so if you have a summer picnic planned, then this is the recipe for you!
Enjoy with this Strawberry Avocado Chicken Salad or a Fresh Fruit Salad.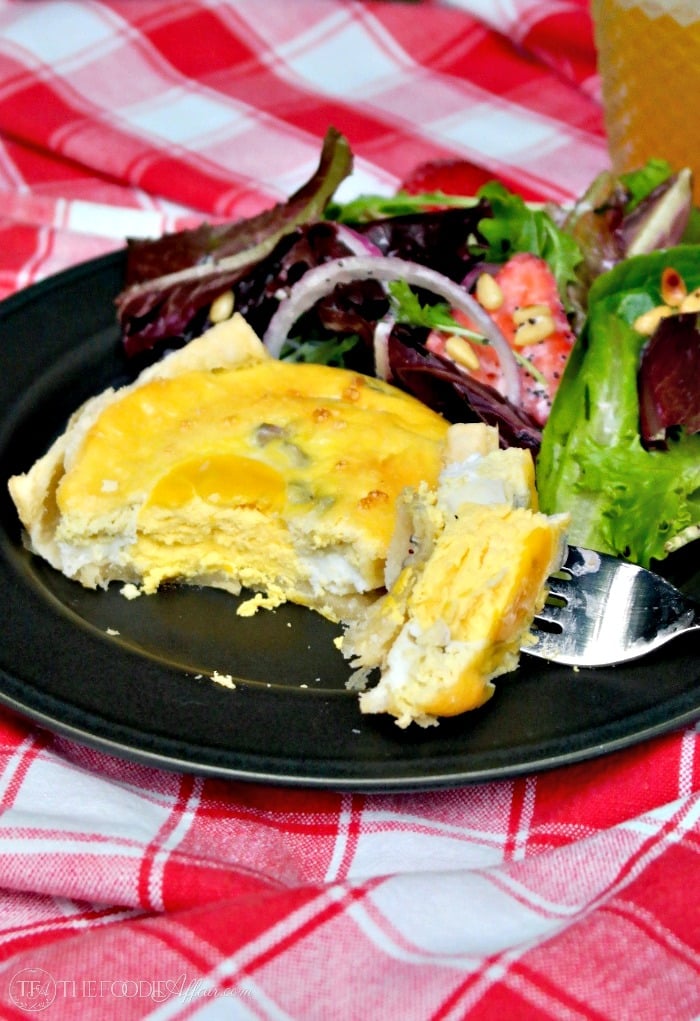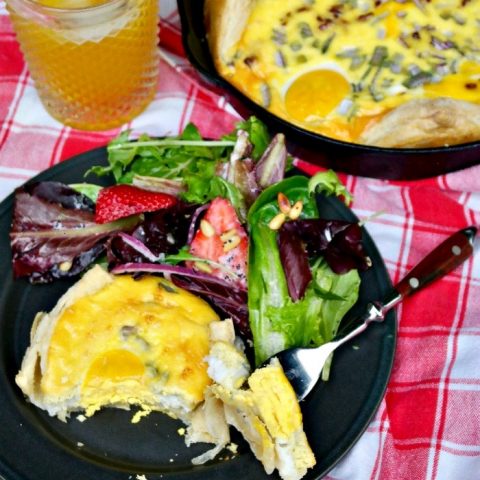 New Zealand Bacon and Egg Pie
Ingredients
1 package Puff Pastry
4 slices bacon, cooked and chopped
1/2 onion, diced
8 eggs, divided
1/4 cup milk
salt and pepper to taste
Instructions
Preheat oven to 350 degrees.
Layer iron cast skillet with 1 sheet of Puff pastry. Add bacon to the bottom of the pastry. Gently crack 6 eggs on top.
In a small bowl whisk together remaining eggs and milk. Season with salt and pepper. Fold in onion and pour over eggs in the skillet. Bake for 35-40 minutes or until eggs are set.
Notes
For individual servings cut pastry to fit the bottom on the mini pan instead of one pan. Follow the same directions as above.
Check out all the participants of this Summer Freaky Friday edition. You are sure to find some great new recipes!
#FreakyFridayRecipe Summer 2017 Edition
A Dish of Daily Life – Mexican Black Beans
An Affair from the Heart –Deconstructed Guacamole Salad
A Kitchen Hoor's Adventures – Homemade Strawberry Frozen Yogurt Popsicles
Aunt Bee's Recipes – P.F. Chang's Lettuce Wrap Salad
Belle of the Kitchen – Crock Pot Honey Sriracha Meatballs
Bowl Me Over – Grilled Shrimp Nicoise Salad
The Devilish Dish – Southwestern Coleslaw
The Flavor Blender – Creamy Frozen Margarita Pie Slice with a Pretzel Crust
Full Belly Sisters – Bacon Scallion Deviled Eggs
The Foodie Affair – New Zealand Bacon and Egg Pie
Honey & Birch – Grilled Guacamole
Hostess at Heart – Easy Oven-Baked Chicken Fajitas
Lemoine Family Recipes – Easy Peach Dumplings
Lisa's Dinnertime Dish – Tortellini Caprese Salad
PicNic – Oreo Scones
PlatterTalk – Black Bean and Roasted Corn Chowder
Seduction in the Kitchen – Peach Sweet Tea
Take Two Tapas – Spicy Margarita Shrimp Skewers
Who Needs a Cape? – No Bake Chocolate Cherry Cheesecake Parfait