Baked wild caught Salmon Coconut Red Curry Sauce over a bed of sautéed spinach.  This dish is packed with protein and healthy fats that will keep you satisfied for hours.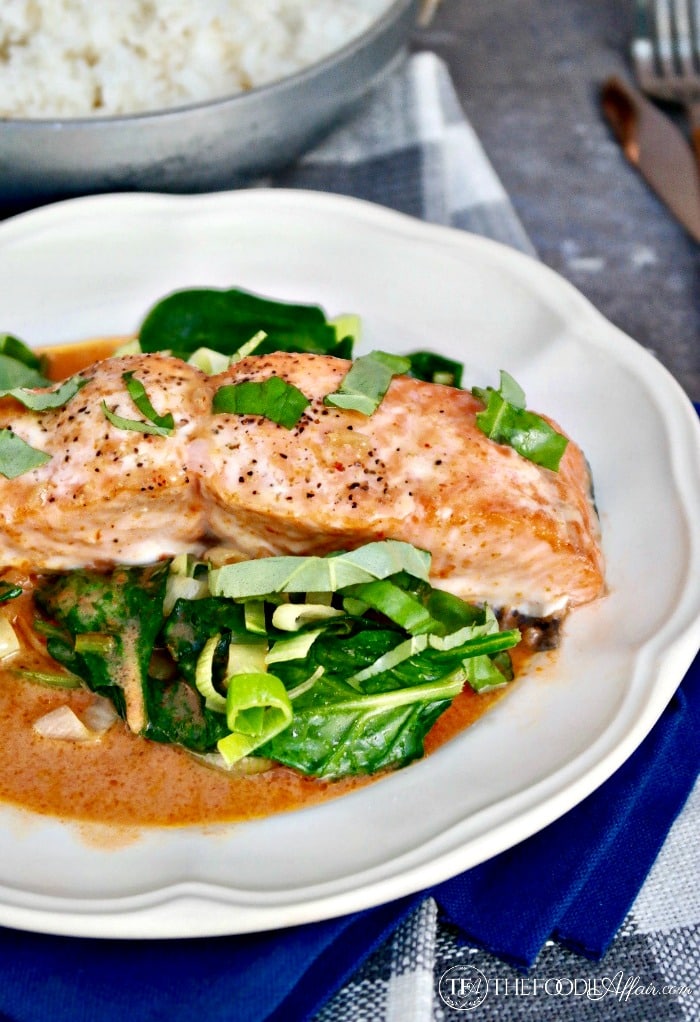 I spent a small foodie fortune on salmon this past weekend and even though I was a little hesitant to break out my credit card, because who in their right mind spends $28 per pound on fish?
Hand sheepishly raised.  me…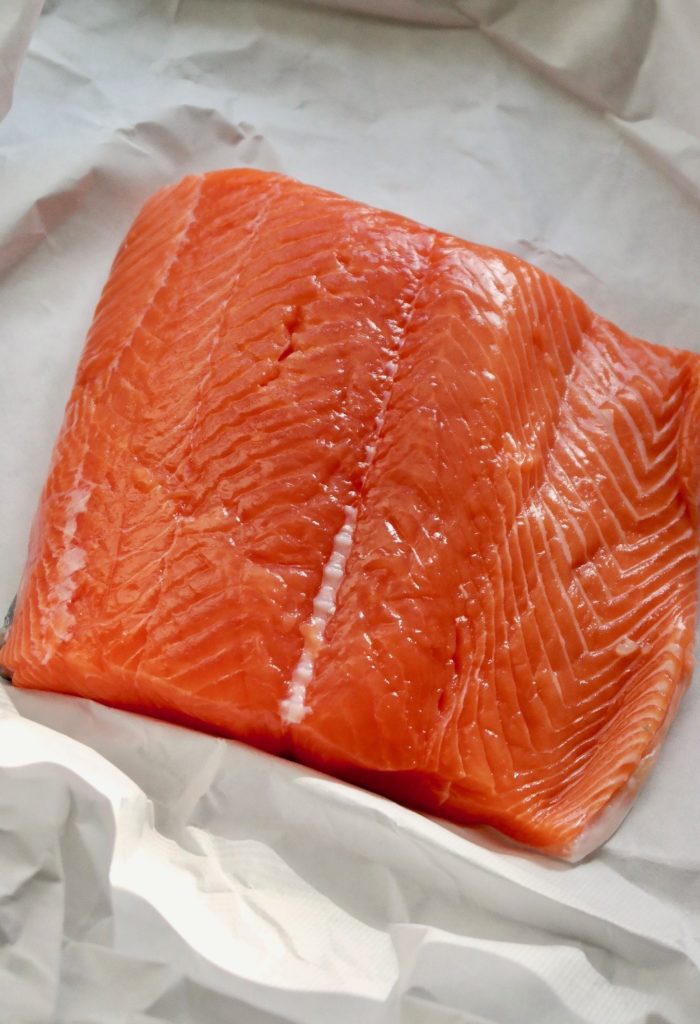 I couldn't help it.  I wanted fresh fish and went straight to the source, a local fish market.  We live in Monterey where seafood is a fresh as it gets, so it would be a shame to pick up fish from a national grocery store when we have access to wild caught local salmon!
The grocery stores get plenty of our business.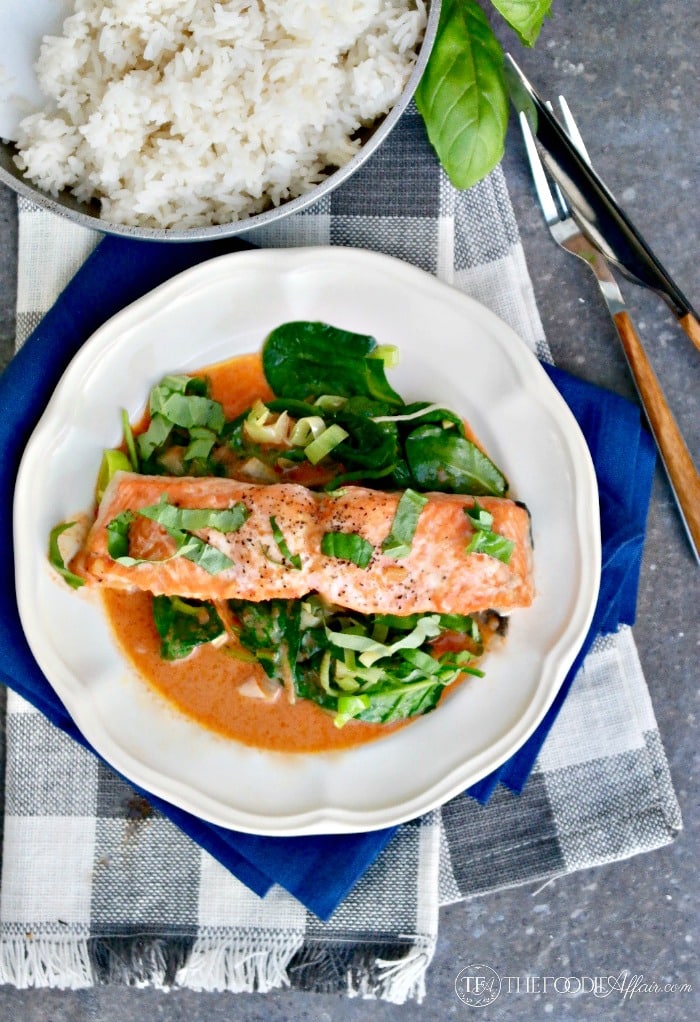 My favorite fish market is Sea Harvest .  Right when you walk in the shop there is a large glass display showing off the fisherman's catch.  They also run a quaint restaurant, which is quite popular as I noticed there was a waiting time to be seated.
Nothing on the menu compares to this Baked Salmon Coconut Red Curry Sauce though!
Yeah, I'm feeling brave with my comparison, but I'm not joking, this dish is amazing, packed with flavor, and is ready in under 30 minutes!
Enjoy with a side of Easy Cauliflower Fried Rice or you might be interested in How to Make Sticky Rice for your side.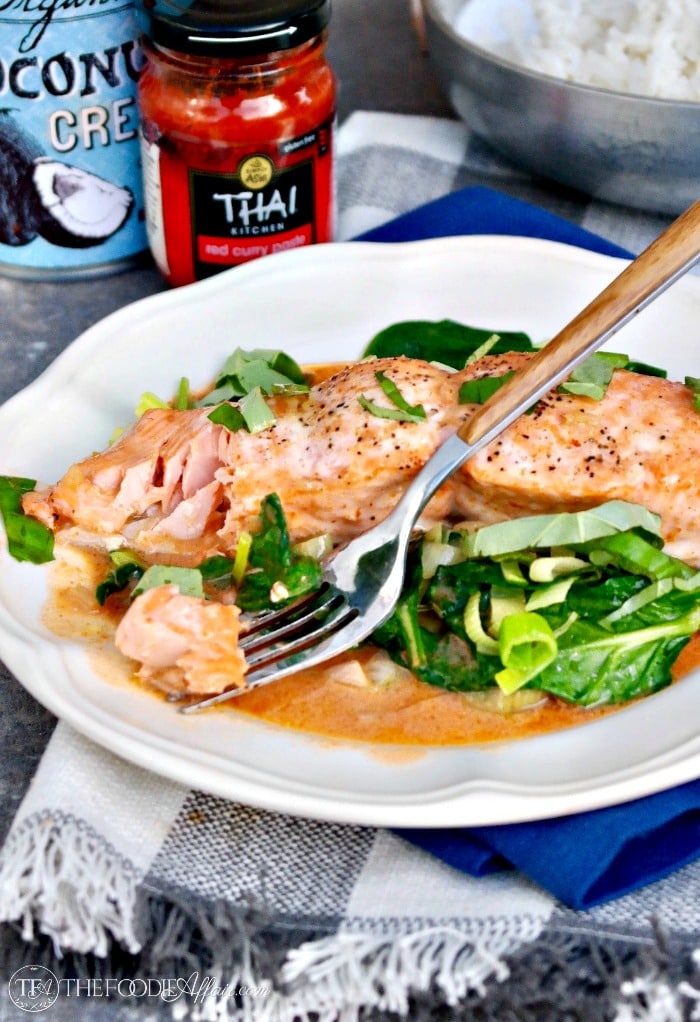 Baked Salmon with Coconut Red Curry Sauce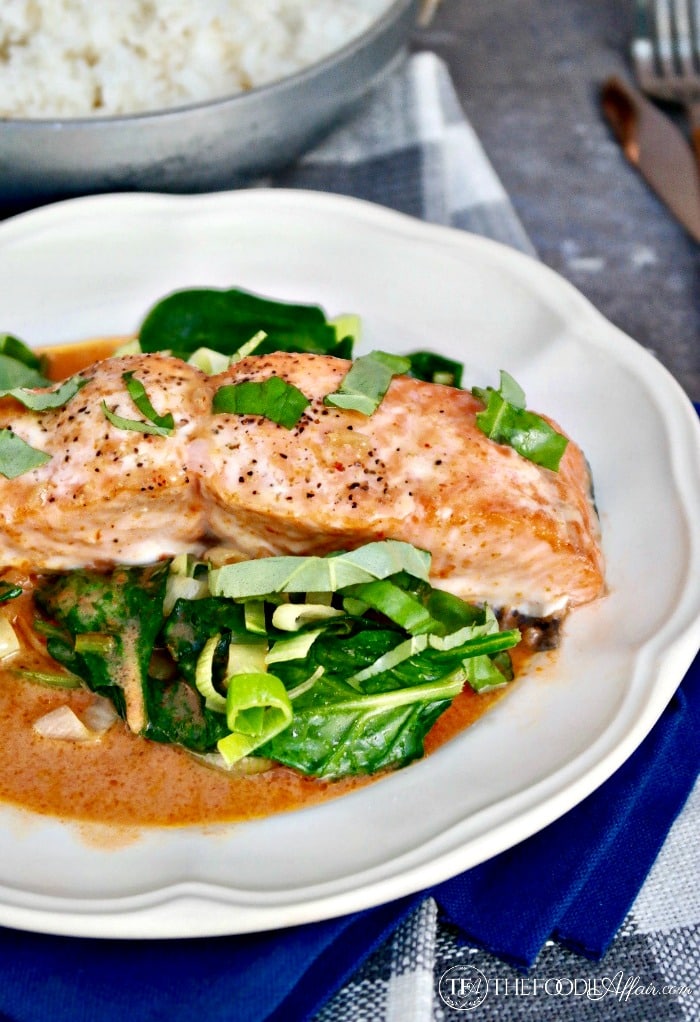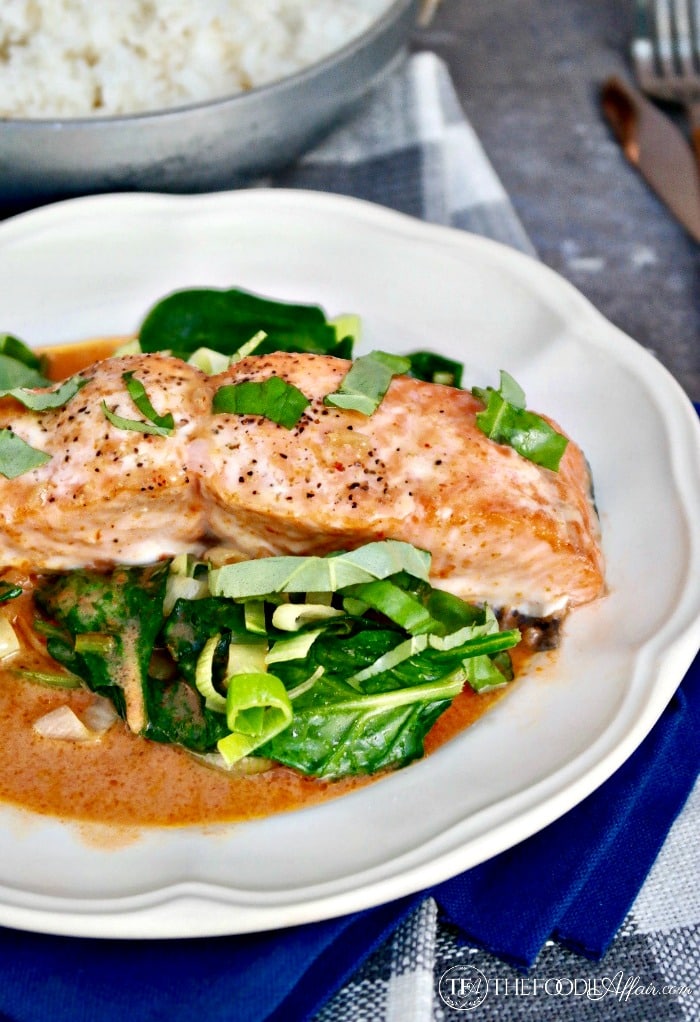 Ingredients
1 - 1 1/2 pounds wild caught salmon cut into 4 pieces
1-2 tablespoon olive oil
salt and pepper to taste
Red Curry Sauce
1 14 ounce can coconut cream
1 1/2 tablespoons red curry paste
1 1/2 tablespoons fish sauce
1 tablespoon fresh ginger, minced
Sautéed Spinach
1 tablespoon butter
1 leek stalk, sliced
3-4 cups baby spinach
sliced basil for garnish
Directions
Preheat oven to 350 degrees. Line baking sheet with foil or parchment paper and set aside.
Coat both sides of salmon with olive oil. Season with salt and pepper. Place skin side on prepared baking sheet. Bake for 20 minutes.
In a small saucepan over medium heat combine the coconut cream, curry paste, fish sauce, and ginger. Heat until combined. Add salt and pepper to taste.
In a large skillet over medium heat melt butter. Add leek and saute for 1-2 minutes. Add spinach and saute until desired consistency (about 1 minute).
To serve place salmon over spinach and top with curry sauce. Garnish with sliced basil.