Cool down your hot cocoa or coffee with a dollop of creamy Peppermint Mocha Frozen Whipped Cream!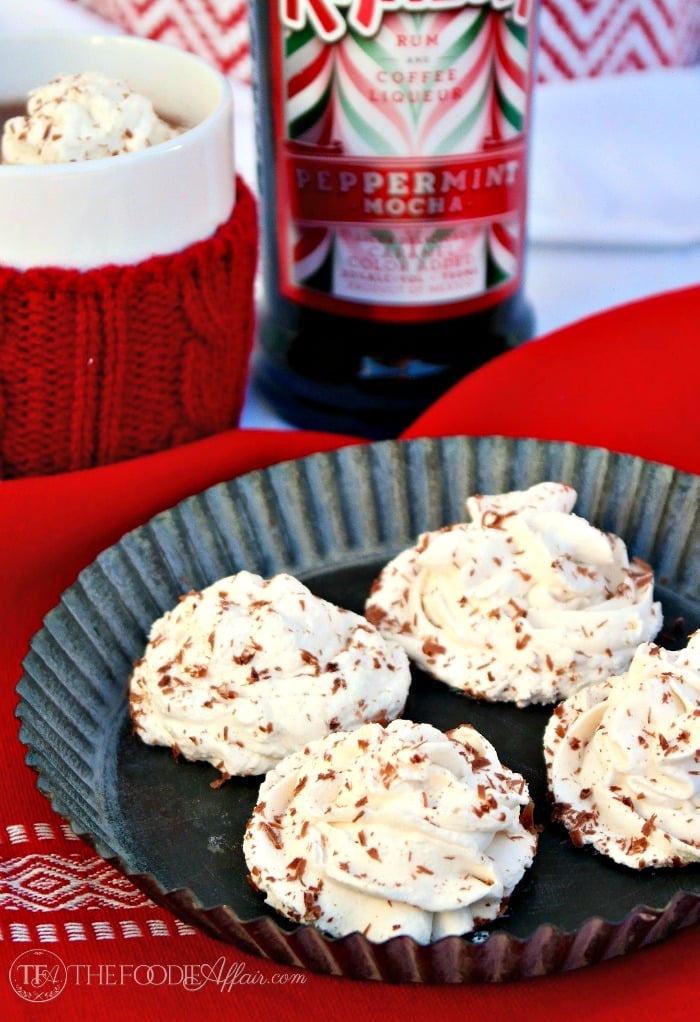 The best part of enjoying a hot beverage during the winter months is topping the drink with creamy whipped cream, especially when it's on a cup of rich homemade hot cocoa! Do you agree? The whipped cream is like a thick blanket that keeps the drink toasty warm and when you give it a few stirs it'll melt quickly into a creamy puddle before totally disintegrating.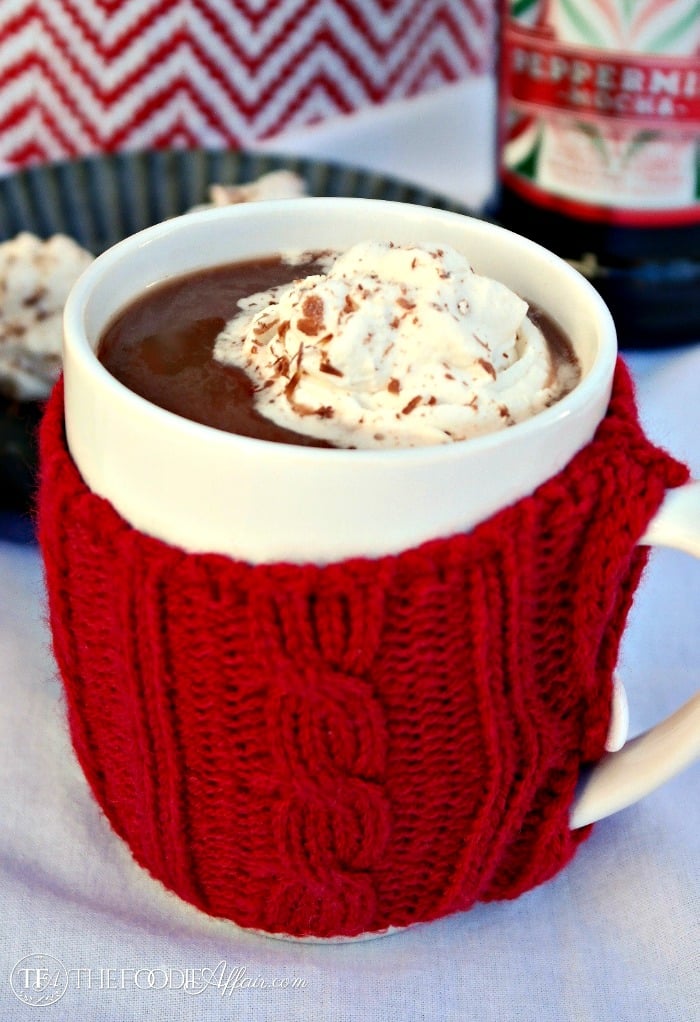 It's a small window of pure enjoyment so why shouldn't we savor that creamy goodness a little longer by freezing dollops of whipped cream before adding them to a drink!
What a delicious treat, but you know what makes this extra special? I whipped up fresh cream with the seasonal Kahlúa Peppermint Mocha liqueur that I picked up at my grocery store! Now that's a fun way to jazz up a cup of hot cocoa. Oh and if you are wondering, it tastes delicious in coffee too!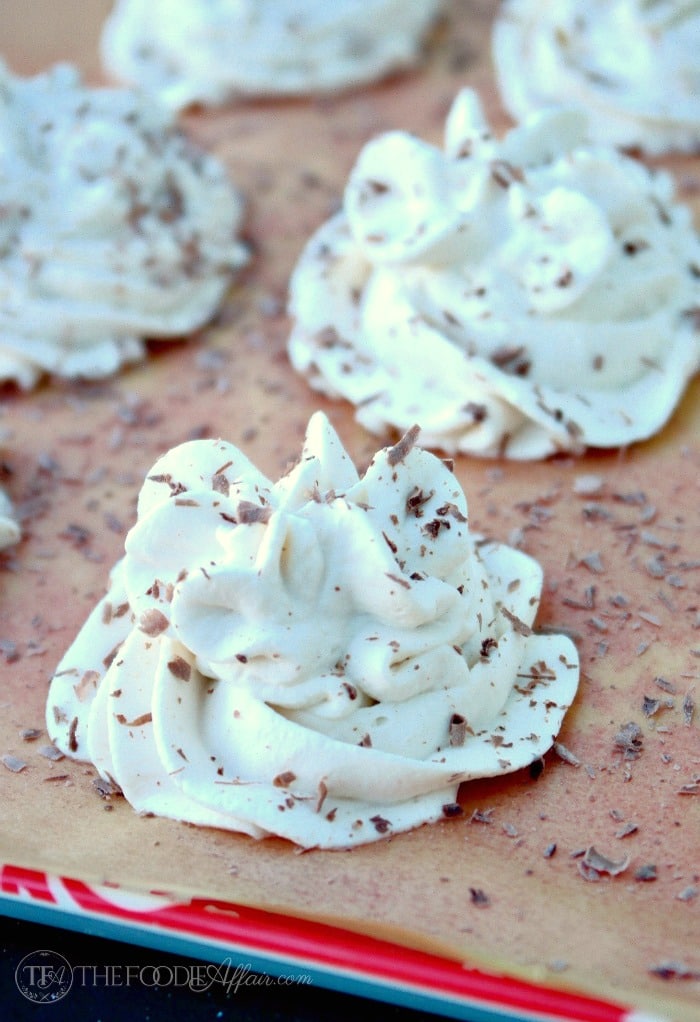 Cool and refreshing peppermint with dark chocolate and a hint of coffee folded into each little pillow of whipped cream! Such a delicious combination of flavors!
This idea was inspired by my friend Rini from Healing Tomatoes.  A few weeks ago we were online chatting about how to capture a photo of her Hot Chocolate before the whipped cream completely melted. I suggested freezing the cream, and then my thoughts went to adding some flavor, a little boozy flavor!
This recipe is just for adults, but if you want to leave out the liqueur you can add 1/8 teaspoon of peppermint extract and increase the powdered sugar by another couple of tablespoons. In fact, there are all kinds of flavorings that you can experiment with. How about adding caramel flavoring?
Keep warm friends! It's getting cold, even in California!!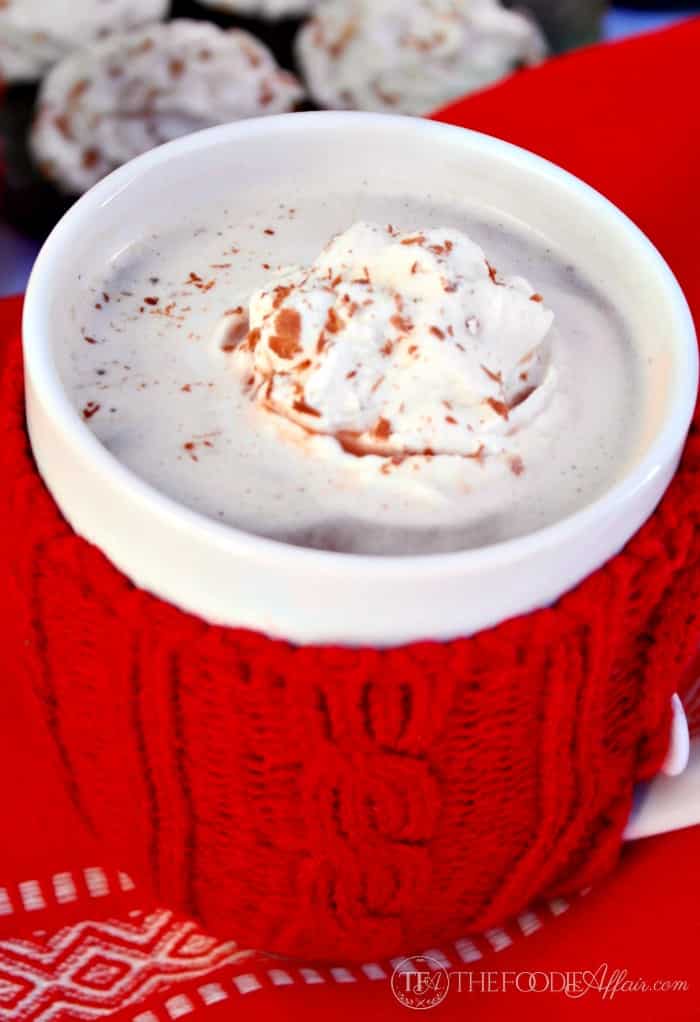 Yield: 8-10
Peppermint Mocha Frozen Whipped Cream
Prep Time 10 minutes

Cook Time 1 hour

Total Time 1 hour 10 minutes
Ingredients
1 cup whipping cream
1 tablespoon powdered sugar
2-3 Tablespoons peppermint mocha liqueur (seasonal Kahlúa)
chocolate shavings for garnish
Instructions
Line a baking sheet with parchment paper and set aside.
In a large bowl whip cream with powdered sugar and liqueur until stiff peaks form. Pipe whipped cream into round disks on the prepared baking sheet. Sprinkle with chocolate shavings (optional) and put in the freezer for at least an hour. Add to hot cocoa or coffee.
Notes
You can adjust the size by piping the whipped cream into any height or width you want.