Samsung Holiday Spritzers with cranberry and lime is a tasty and festive cocktail that is perfect for entertaining!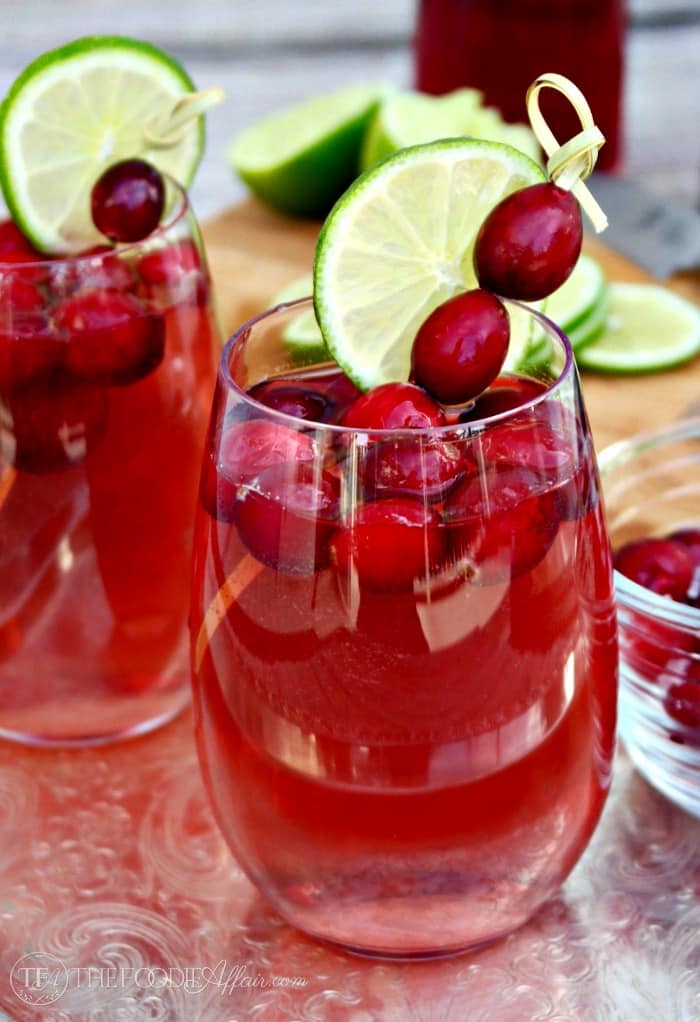 Do you love to entertain during the holidays or does the thought of putting together a gathering put you in a panic? I used to get super stressed with all the details when hosting a party. I would clean like crazy before everyone arrived, prepare all the food by myself, and make sure there was every type of beverage available ranging from mixed cocktails to sparkling water. I was worn out before the party even started, so over the years I've learned a few hosting tips that have made entertaining easier and more relaxing! As we approach New Year festivities plan a celebration! Follow these tips and enjoy a stress-free get-together!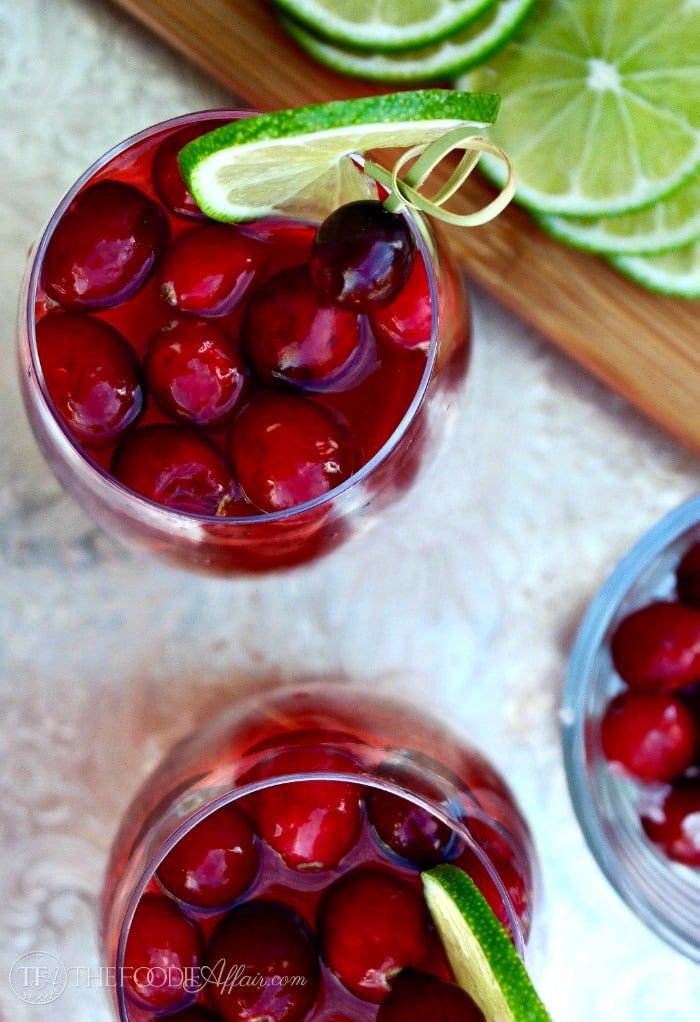 First, accept help with the food! If someone asks what they should bring have a list ready and cross off a few tasks on your "to make" list. Your guest will only offer to bring a favorite dish that they know will be a hit with all the guests. For those that don't cook and want to help, ask them to bring bag of ice! That's one less task you need to take care of!
Second, provide a non-alcoholic beverage like lemonade as well as a signature cocktail like Samsung's Home Appliance light and refreshing Merry Cranberry Lime Spritzers! Create a do-it-yourself beverage station that is stocked with all the ingredients to make the drink along with instructions detailing the measurements. For this drink I put out white wine, cranberry juice, club soda, limes and frozen cranberries for garnish.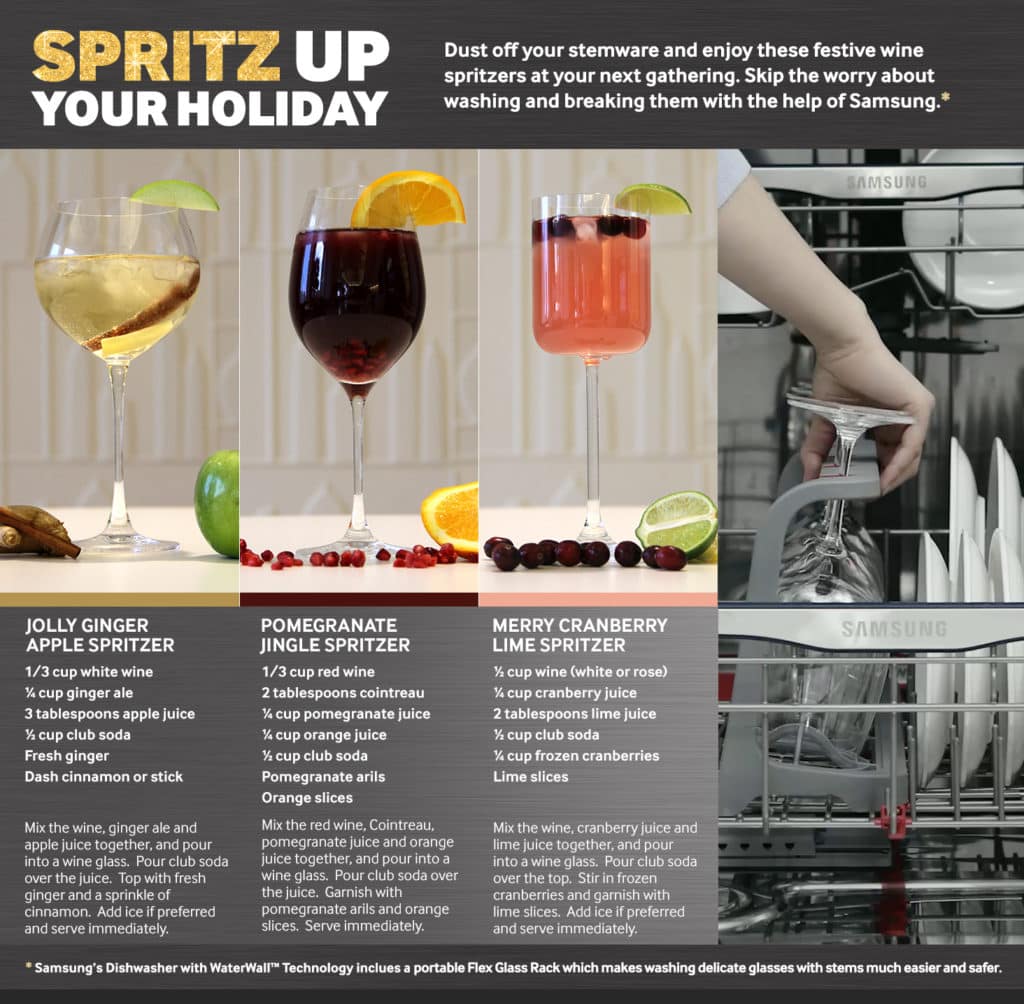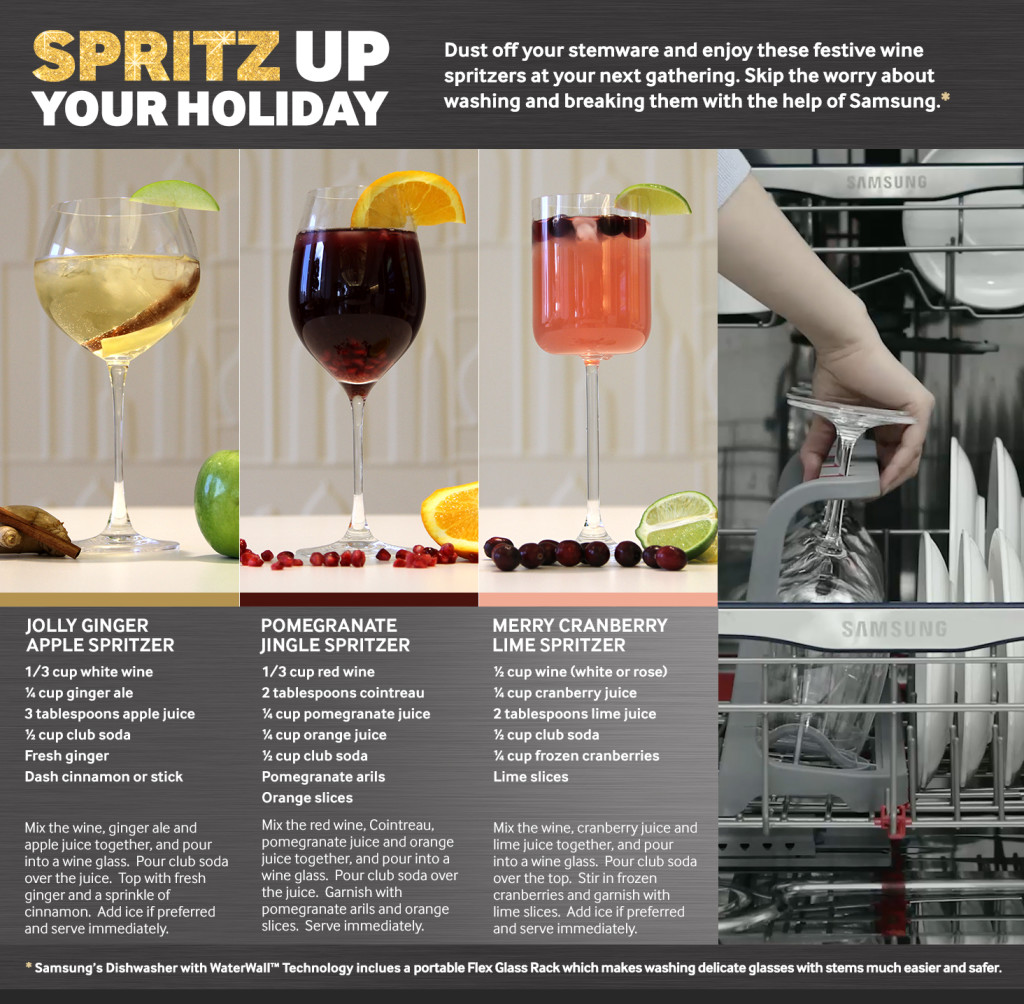 Third, prep the kitchen by making sure the sink is clear, the dishwasher is bare, and the trash/recycling bins are empty. These simple tips will free up your kitchen, so your guests have a clear spot to put their dishes, and can easily toss uneaten food or used paper napkins while you mingle with your friends instead of taking care of the garbage.
You won't need to ask guests to put the wine glasses to the side to wash after the party, and hope that they don't accidentally get broken. Put the wine glasses directly in the dishwasher! Samsung's state-of-the-art WaterWall™ technology allows delicate stemware to be put in Samsung WaterWall™ dishwasher making clean up a snap and hand washing a past time! Instead of huddling over the sink washing each glass, Samsung's Flex Glass Rack safely secures the glasses near the plates, platters or pots! The vertical water jets creates a powerful wall of water efficiently cleaning each dish and glass leaving you more time to put your feet up after hosting a great party! 
Breakout your stemware and get creative with recipes that can be served in wine glasses! Do you have any fun ideas that you can share?
This is a sponsored conversation written by me on behalf of Samsung. The opinions and text are all mine.