Easy Instant Pot Applesauce With Pears
Learn to make homemade applesauce in an Instant Pot! We add a couple of pears to ramp up the flavor profile, but leave the option up to you. Naturally sweet, this applesauce is made without granulated sugar and ready to be enjoyed in 30 minutes!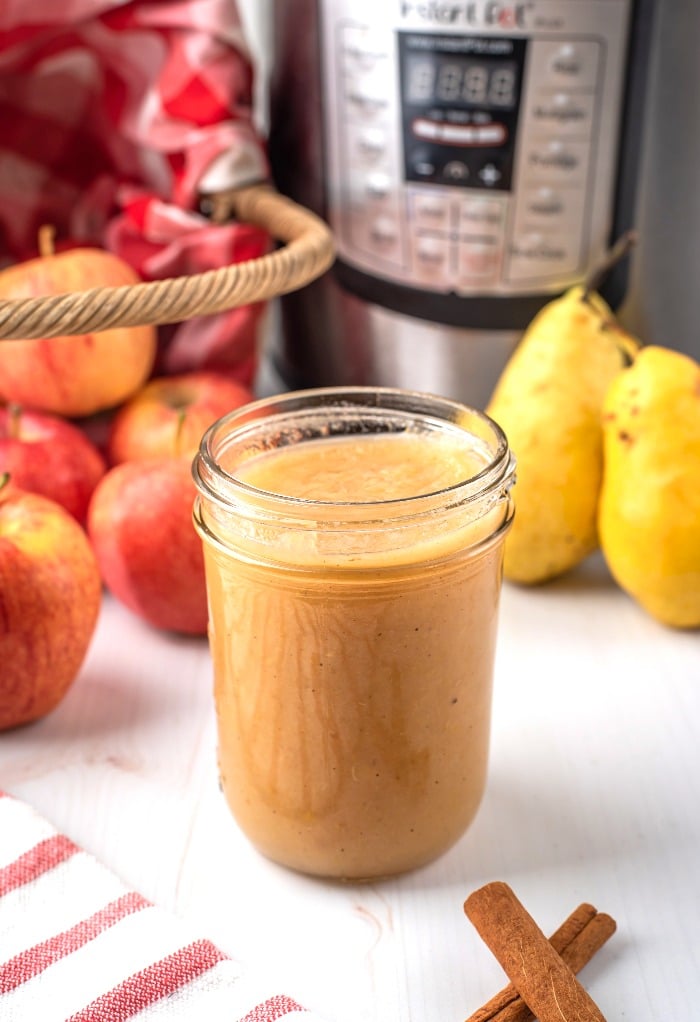 Homemade Sugar Free Applesauce
If you love the quick delicious results when cooking with an Instant Pot, they you will love making your own applesauce at home.
No preservatives and just two flavorful spices are needed for this Instant Pot applesauce recipe.
You'll enjoy eating this by the spoonful, but be sure to use it as a fat replacement in baked goods, add to yogurt or in your apple cinnamon oatmeal.
This is also delicious on savory dishes. Alan can't eat a pork chop at home without a side of applesauce.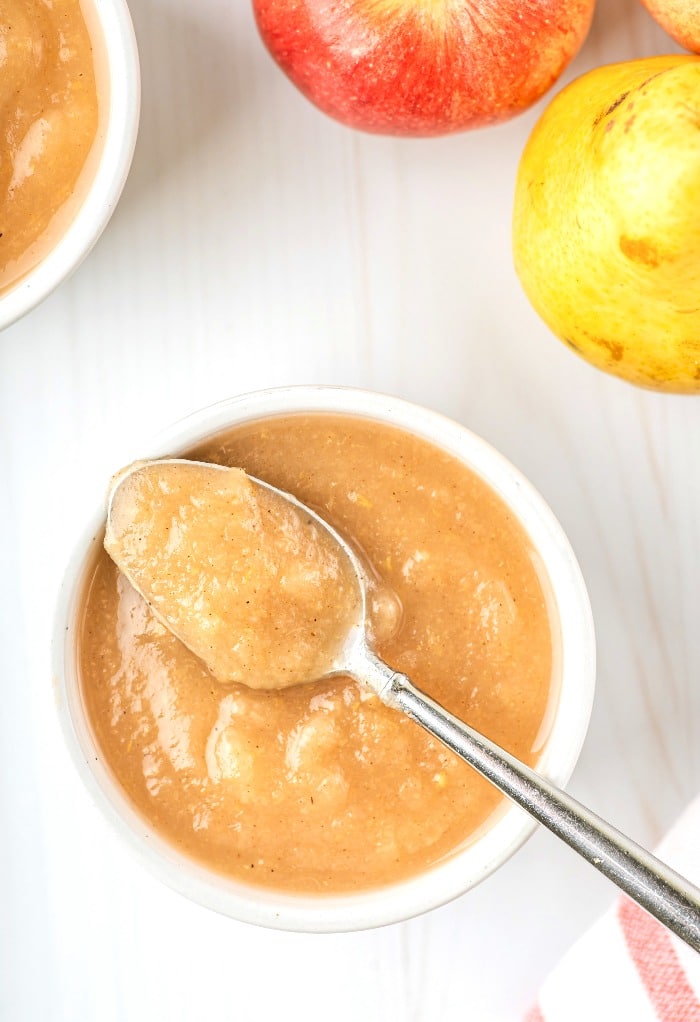 What will I need to complete this recipe?
You will need the following ingredients for Instant Pot Applesauce :
Apples – pick your favorite variety and try to taste test to make sure it is sweet enough for your taste.
Pears – the riper the better, and you will only use 2 for this recipe.
Cinnamon sticks – full cinnamon sticks adds the most delicious flavor.
Nutmeg – adds a nutty and naturally sweet flavor.
Lemon juice – helps keep the fruit from browning.
Salt – enhances the naturally sweet flavors in fruit.
Water – helps the cooking process soften the fruit.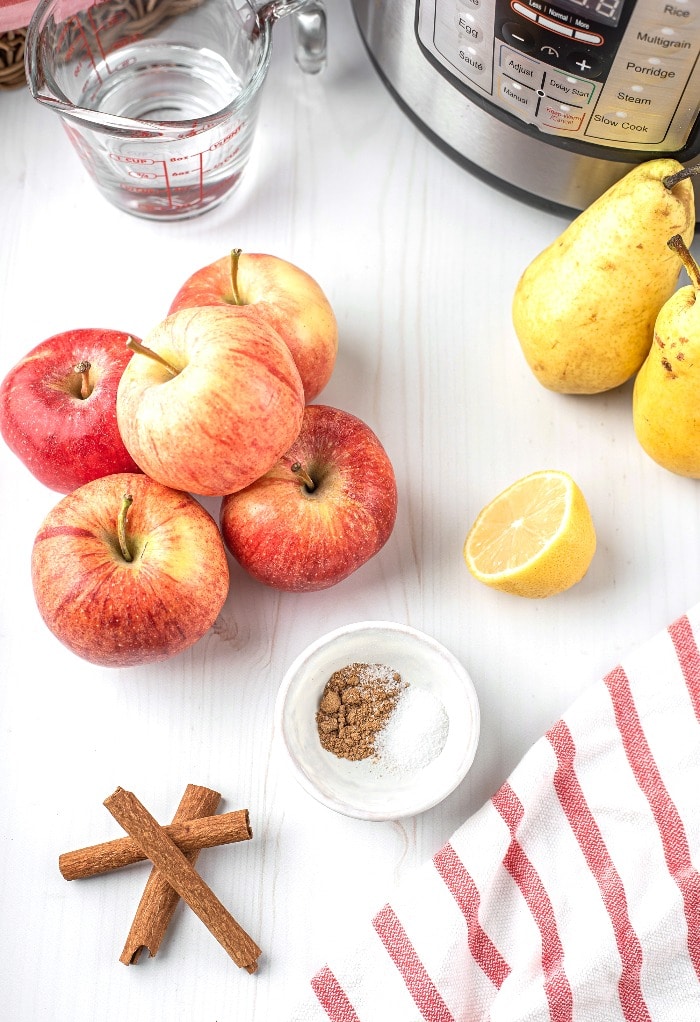 You will need the following supplies:
An Instant pot or pressure cooker (this recipe was made in the 6-quart Instant Pot)
A sharp knife
Cutting board
Measuring spoons and cup
An immersion blender or food processor or high speed blender
Jars for storage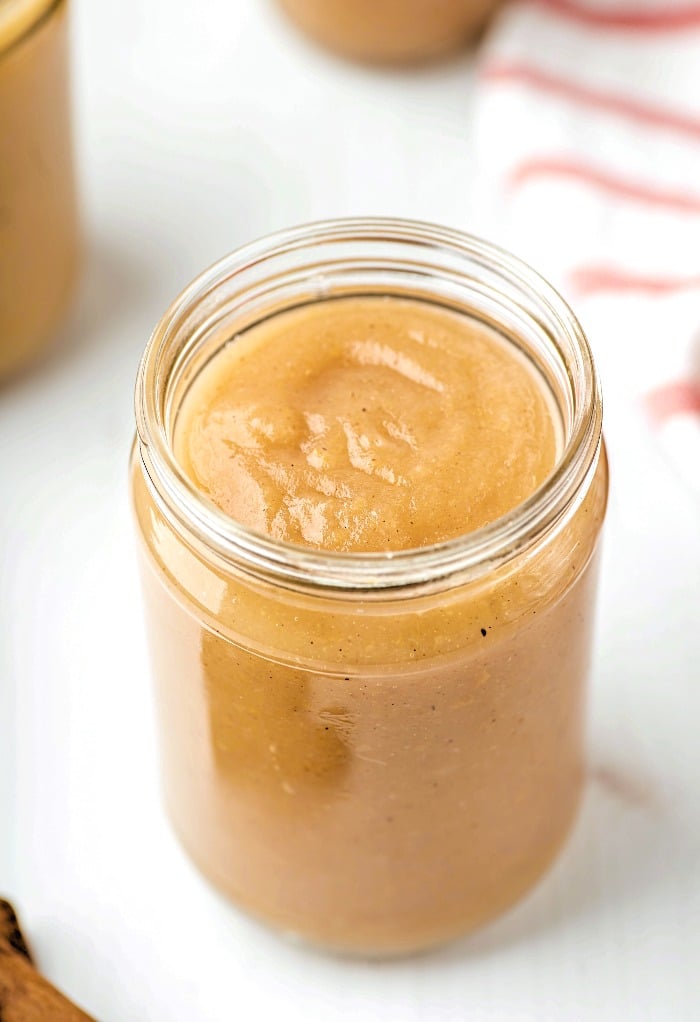 How to make Applesauce in an Instant Pot
Once you make homemade applesauce you will never need to buy it in the store again.
No peeling required and ready in under 30 minutes!
Step 1 – Prepare Fruit
Clean and dry the apples and pears. Remove the stems, core the fruit, and dice in large chunks. Add to Instant Pot.
Step 2 – Add Remaining Ingredients
Place nutmeg, salt, lemon juice and water over apples and pears. Stir until combined. Top with cinnamon sticks.
Step 3 – Cook
Cover with Instant Pot lid and ensure vent is set to the seal mode. Cook on Manuel mode for 5 minutes. Let the pressure release naturally for 15 minutes. Carefully remove lid.
Step 4 – Blend Applesauce
With an immersion blender, blend to your desired consistency. Alternatively, you can place in a food blender or food mill to mix to a creamy consistency.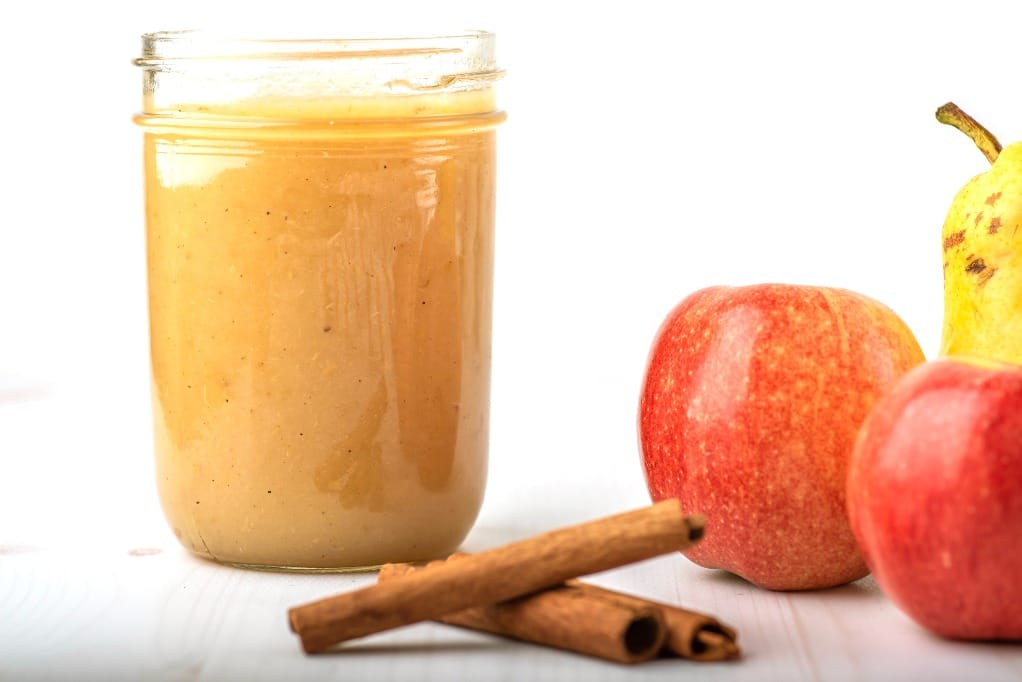 How should I best store this Applesauce, and how long does it stay good?
This homemade Instant Pot applesauce should last for one week to 10 days in the fridge. It can also be frozen for 2 to 3 months.
Allow it to thaw in the fridge overnight. It should last about 3 – 5 days in the fridge at this point.
Properly canned applesauce should last for at least one year.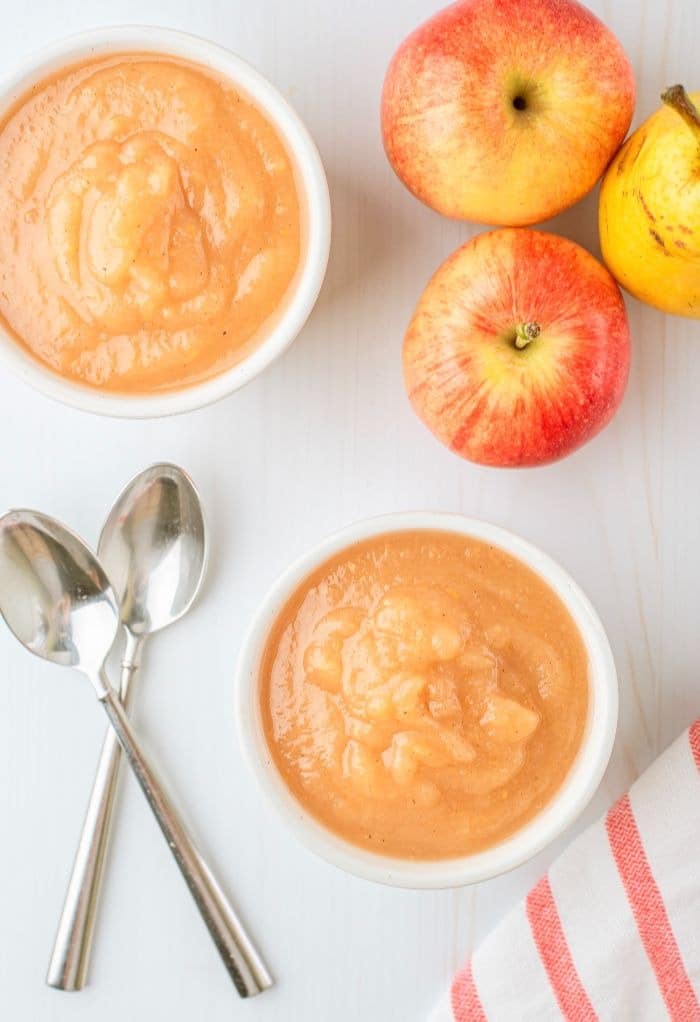 What are the best apple and pear varieties for Instant Pot Applesauce?
First of all, if you have any apples or pears lying around that are too soft or getting too old to eat, this is a great use for them. Not only do you have to toss your fruit, they will cook up a bit faster than fresh, crisp apples.
Note, if all of the fruit you are using for this recipe are to the soft side, you may want to cut the cook time down by 1 to 2 minutes.
The best flavors come out when you mix apple varieties. Combine some sweeter apples – like Fuji, Golden delicious, Gala, or Honeycrisp – with more tart varieties – like Braeburn, Liberty, Granny Smith. Other good apple types are the tangy but mildly sweet Macintosh, or Jonagold.
As for pears, go for the soft and sweet types like Bosc, Bartlett, Comice and Anjou. They have a great texture that purees well.
When in doubt, pick your favorite varieties of apple and pear, or whatever you can get your hands on.
For my last batch, I used Gala apples and Bartlett pears because that was what was available to me.
Why use pears in Instant Pot applesauce? Can I use just apples with this recipe?
You certainly can replace the 2 pears with 2 apples if you prefer a classic applesauce.
The pears give the sauce a slightly different flavor and also lends a bit of a creamy texture to the applesauce.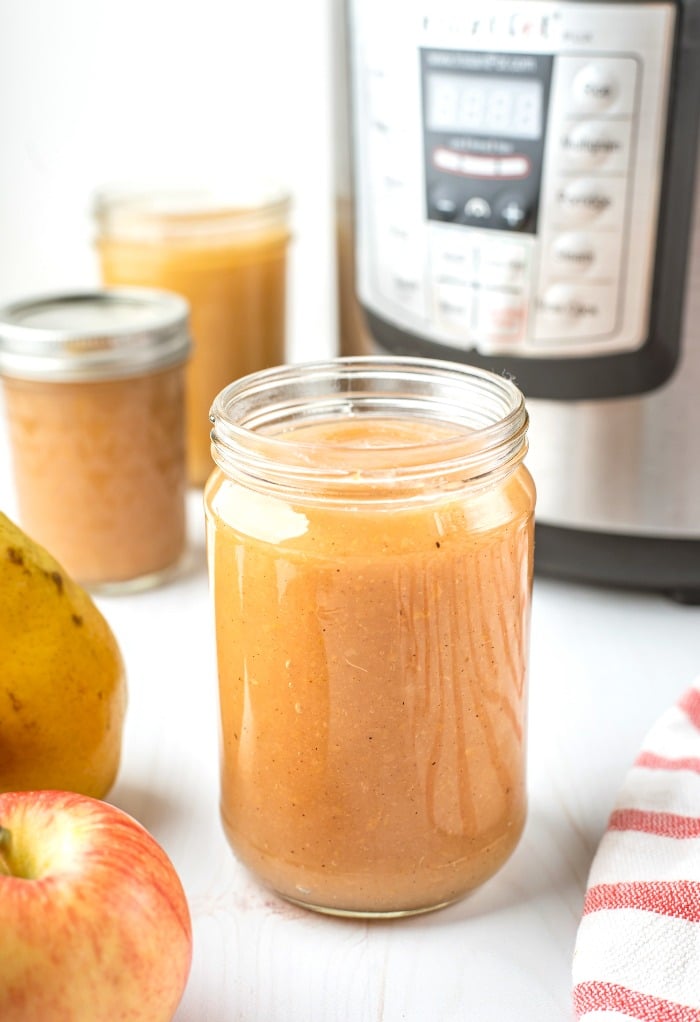 Can I double this recipe for a larger batch?
You can double this recipe. Please note that the applesauce can sometimes splatter when cooking and clog the steam valve.
To avoid this, be sure the total volume of what you are cooking does not fill the Instant Pot past the ½ fill line.
You don't peel your apples and pears first?
No! The skins will soften during the Instant Pot cooking process, and when blended, they will not even be detectable to the tongue.
Plus, a lot of the nutrients and fiber are in the skins, so it's even healthier this way. So, unless you really want to, don't bother spending time on that tedious task.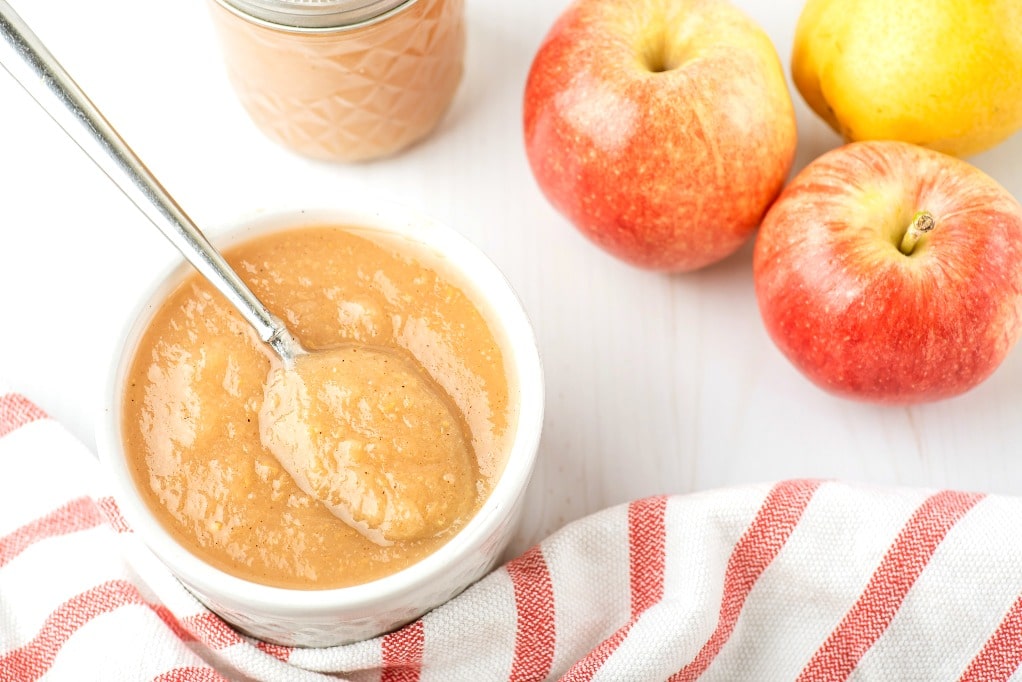 How to make applesauce on the stovetop
Place all ingredients in a medium size saucepan. Turn on medium heat and add cover. Simmer for 20 minutes. Turn off heat, remove cinnamon sticks and cool. Mix with an immersion blender.
How to make apple sauce in a slow cooker
To make this is a slow cooker, place the ingredients in the slow cooker, turn to high, cover and let cook for 3-4 hours.
Check out this Crock Pot Applesauce recipe with cinnamon!
Applesauce replacement
Looking for a way to cut calories in your baked treats? Use this unsweetened applesauce as a substitute for oil or butter.
You will follow a 1:1 ratio. For instance, if the recipe calls for 1/4 cup of oil, then use 1/4 cup of your homemade applesauce.
Note that the texture may change to be slightly denser, so you may consider replacing some of the fat, but not all of it.
Applesauce for babies
According to the Center for Disease Control and Prevention (CDC) you can introduce solids to babies at about 6 months.
I wish I would have made my own applesauce when my kids were little. Boy, the money I would have saved!
To make applesauce for babies omit the spices. You will only use two ingredients apples (and pears if you choose) and water.
In addition, I would peel each piece of fruit until the baby has mastered chewing and swallowing, and that timeline will vary for each child.
Note that baby applesauce that is purchased from stores is finely pureed, so to mimic the store brands you will want to puree a longer and add water to thin if needed.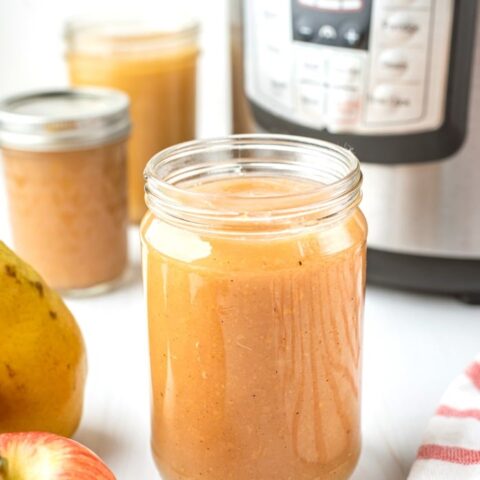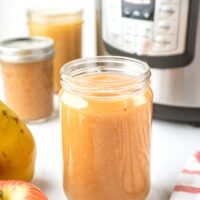 Instant Pot Applesauce Recipe
Creamy homemade applesauce made in an Instant Pot. This easy recipe is made with a few flavorful spices. Enjoy by the spoonful, with sweet and savory dishes or use as a fat replacement in baked goods.
Print
Pin
Rate
Ingredients
5

apples

2

pears

5

four-inch long cinnamon sticks

½

teaspoon

nutmeg

½

teaspoon

salt

1

tablespoons

lemon juice

½

cup

water
Instructions
Core the apples and pears, and cut into large pieces. No need to peel them. Place in Instant Pot.

Add all other ingredients; nutmeg, salt, lemon juice and water. Mix ingredients and top with cinnamon sticks.

Secure the lid and make sure vent is set to Sealing. Cook on Manual for 5 minutes. When Instant Pot beeps, allow for a Natural Release for 15 minutes.

At this point, you can release any remaining pressure and open the lid. Use an immersion blender to process sauce to desired consistency. Alternatively, you can move contents to a blender or food mill to process. You may have to work in batches.

Store applesauce in glass jars. Extra sauce can be refrigerated, canned, or frozen (be sure to leave space in the top of jar for expansion).





Nutrition
Serving:
1
g
|
Calories:
58
kcal
|
Carbohydrates:
13
g
|
Sodium:
90
mg
|
Fiber:
3
g
|
Sugar:
11
g
Disclaimer
Please note that the nutritional information provided are guidelines and may vary based on the brand of products used. For your specific nutritional goals use My Fitness Pal or Verywell Fit recipe calculators. All content within this site is not intended as medical diagnosis or treatment and should not be considered a substitute for professional medical expertise.
PIN TO YOUR INSTANT POT RECIPES