Chicken tenderloins seasoned with simple spices are grilled and then served with a delicious peanut sauce for dipping! Serve as an appetizer or main dish for your next meal!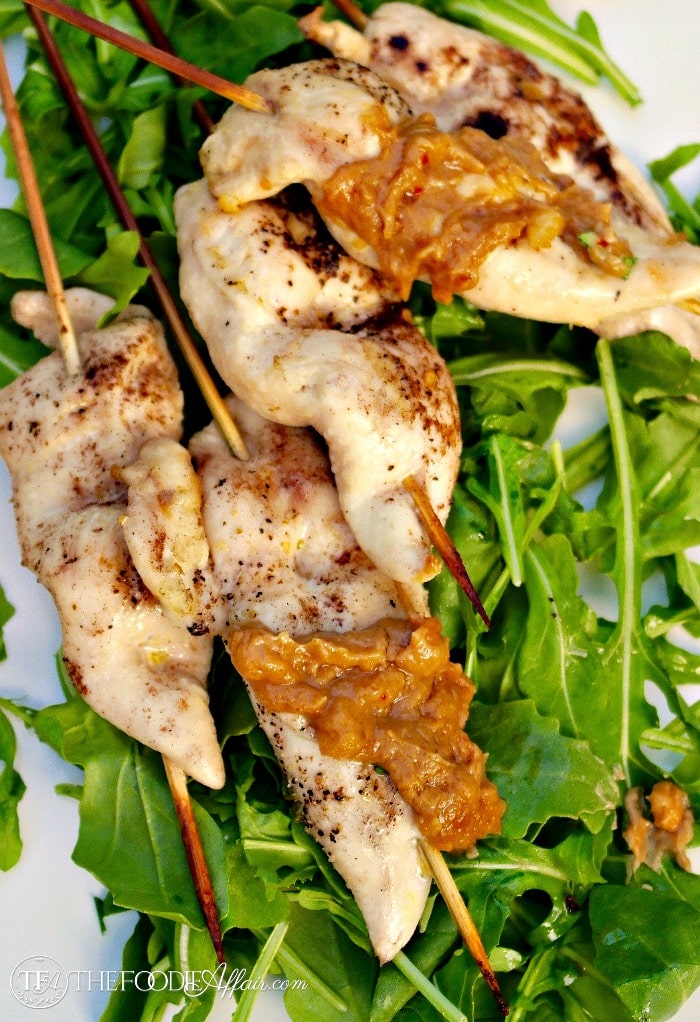 I am just getting over a nasty cold! My first ever summer sniffles, soar throat and cough! What the heck?! Guys, it's Alan's fault. Every summer he  gets a cold and I escape the virus, but when I woke up in the middle of the night to his coughing fit I knew I was doomed and wouldn't escape the misery. For a good week I battled the bug!
Luckily I wasn't out of commission the whole time I was fighting the cold. I was sequestered in the house for a full 3 days though, but was able to take advantage of the down time by getting some extra sleep and lounge time with my fur babies. I still had an appetite, but wasn't in the mood to spend any time in the kitchen. We ordered out a couple of times, but when I was feeling better Alan grilled these skewers.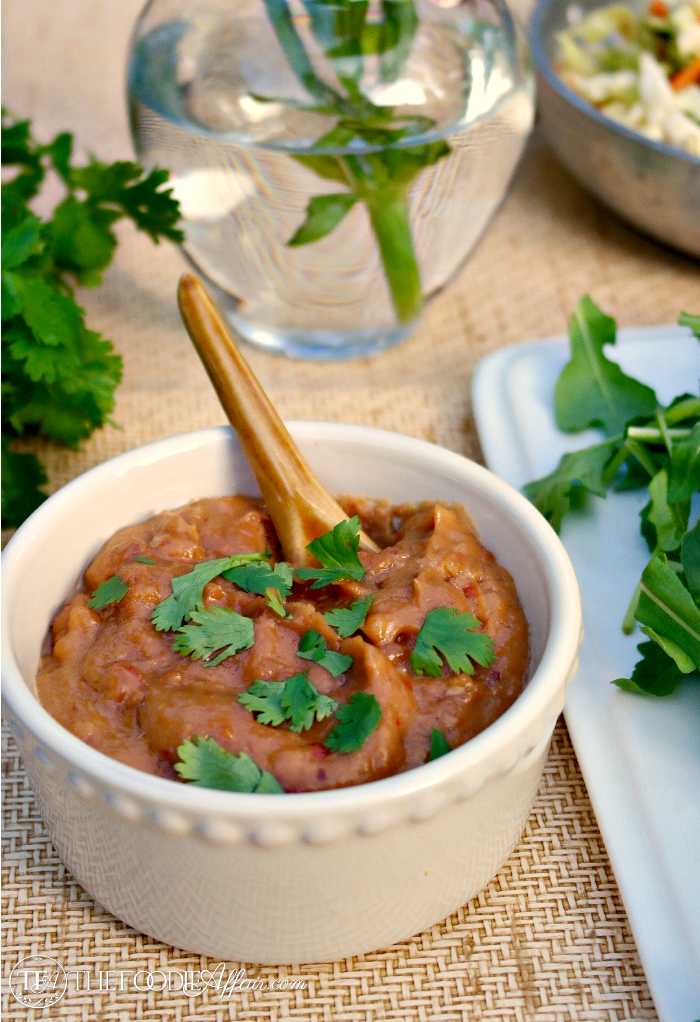 These chicken skewers aren't your typical immune boosting foods like this Turkey Rice Soup that you might crave when fighting a cold, but they are quick to make and the peanut sauce is the same delicious sauce I used in this Whole Wheat Pasta dish! That sauce alone will perk anyone up! This is a great appetizer, but I often serve them as the main dish and will add a couple of sides like Broccoli Slaw and Sticky Rice.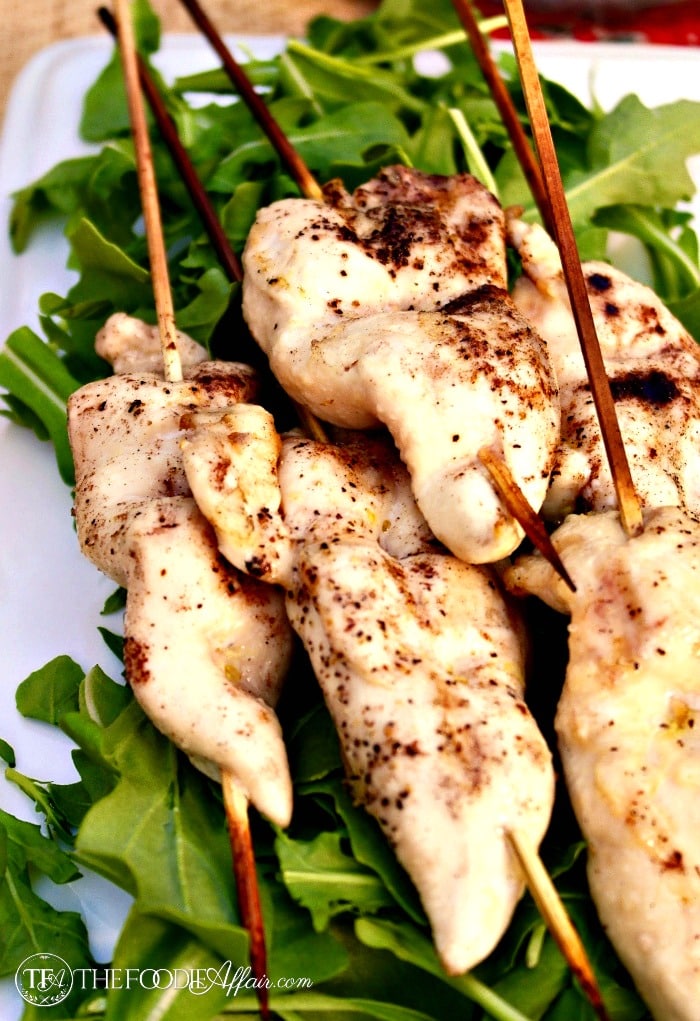 It was so nice to have a satisfying homemade meal after being cooped up, and there is a natural bonus ingredient in the sauce that I didn't realize would be beneficial for colds. Those red pepper flakes in the peanut sauce sure can help with decongestion! 🙂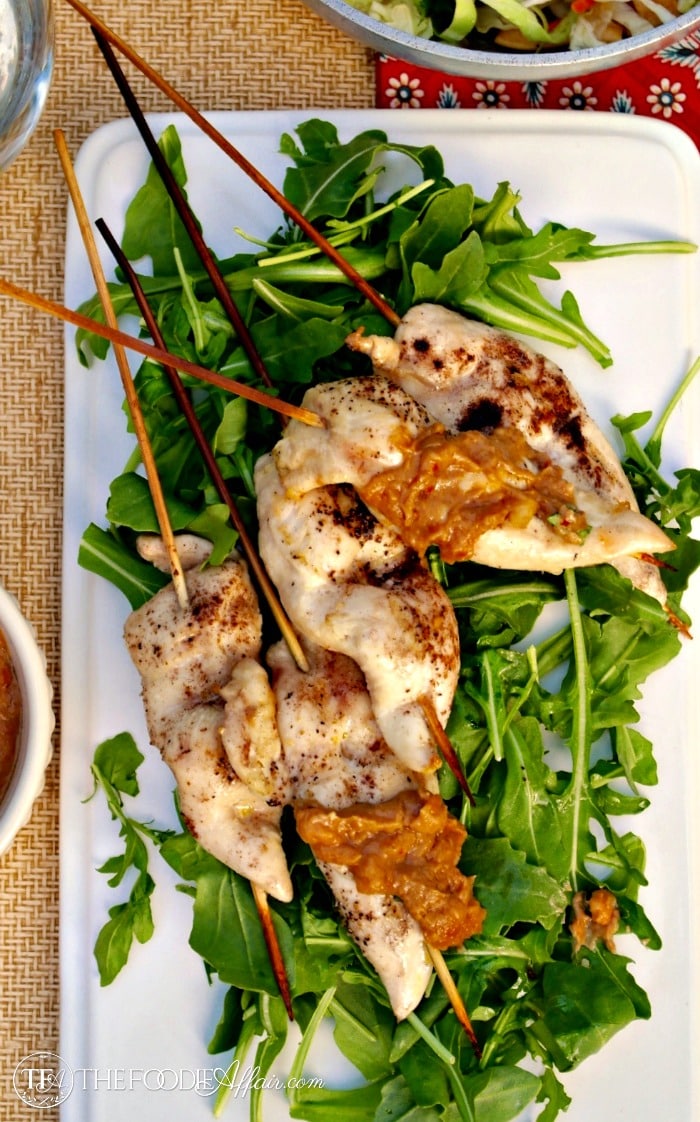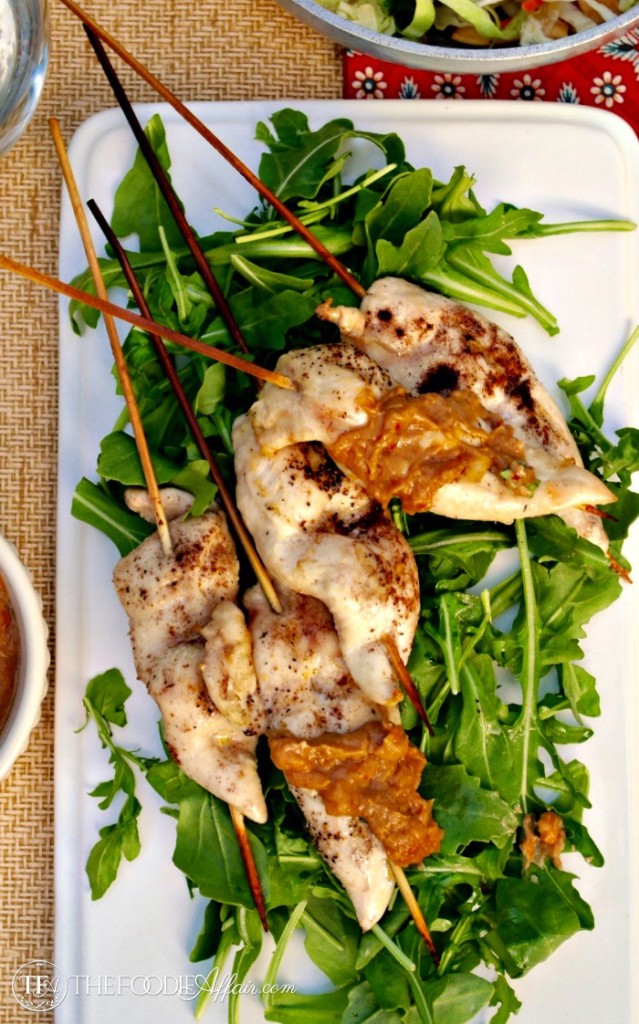 Chicken Skewers with Peanut Sauce
Ingredients
2 pounds chicken tenderloins
2 Tablespoons oil (vegetable, canola, avocado)
Salt and pepper to taste
1 1/2 teaspoons allspice
Bamboo Skewers presoaked in water for 15 minutes
[url href="https://www.thefoodieaffair.com/2015/05/18/whole-wheat-pasta-with-peanut-sauce/" target="_blank"]PEANUT SAUCE[/url]
½ cup vegetable broth
½ cup peanut butter (reduced fat)
¼ cup soy sauce (reduced sodium)
1 tablespoon Sesame oil
2 tablespoons honey
2 tablespoons fresh ginger, chopped
2 garlic cloves, minced
½ teaspoon crushed red pepper
Instructions
Preheat grill.
In a small bowl whisk together ingredients for peanut sauce; vegetable broth, peanut butter, soy sauce, sesame oil, honey, ginger, garlic, red peppers and set aside.
Skewer chicken and brush with oil. Season with allspice, salt and pepper. Grill until cooked through (about 4 minutes each side). Serve with peanut sauce.