Creamy and delicious no churn Cadbury Mini Egg Ice Cream is an extra special treat with bits of the holiday candy added to this frozen dessert!
This vanilla ice cream made with only three ingredients; whipped cream, sweetened condensed milk and vanilla extract!  Add chopped chocolate crunchy eggs for an extra special treat!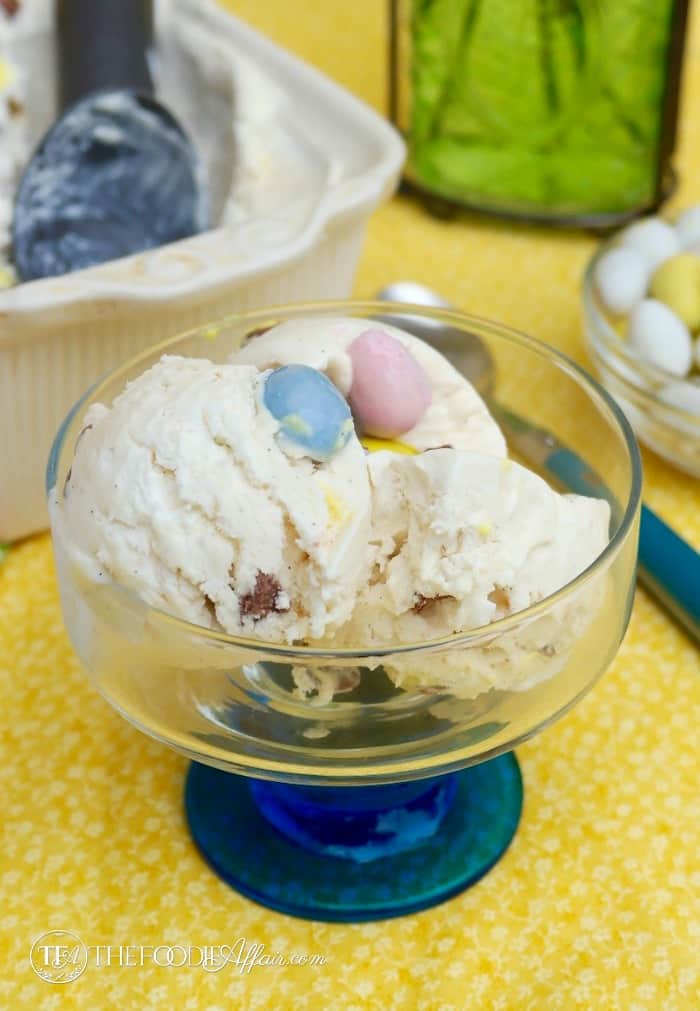 Cadbury Mini Eggs are my absolute favorite candy that I like to swoop up during the Easter season. The candy crunch outer shells and the plump chunk of creamy chocolate make their way into our home every year.
I first got hooked on the candy when we were living in Germany (2004-2005) where the Cadbury brand was one of the most popular confectionaries in Europe, which makes sense since Cadbury originated from the United Kingdom.
There is something VERY different about European chocolate compared to what we make here in the United States. In the States we tend to add more wax and oils, non-chocolatey ingredients. European chocolates are richer, creamer and freakin' amazing! It's true.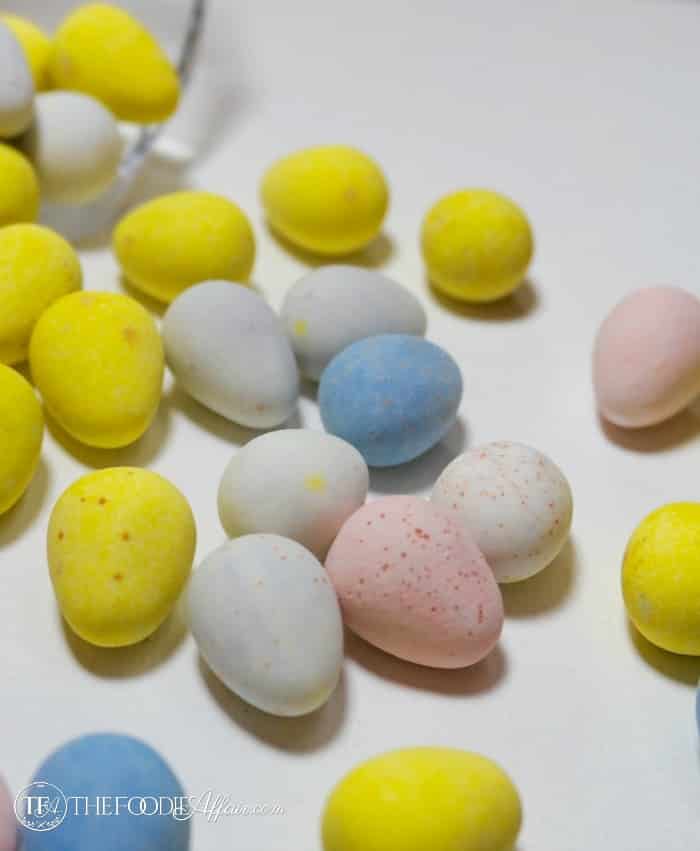 When we returned to California I noticed that Cadbury also migrated with us, and was available at specialty stores like World Market. It could have stood out to me because I was used to seeing the brand in Germany, and now I know what I'm looking at. Either way, I was thrilled and knew Cadbury and I would be forever friends!
About 4-5 years after we returned to California I remember one day listening to National Public Radio about Kraft purchasing Cadbury. I was heartbroken! First, there were a lot of people that would lose their jobs, which is devastating on its own, but I was also thinking that Kraft would ruin the recipe of my beloved Cadbury Mini Eggs!
Fortunately, I believe the chocolate candy recipe remains the same.  It sure tastes fantastic folded in this simple Cadbury Mini Egg Ice Cream!
So there you go, the history of how I began to love Cadbury and how I will remain faithful to the brand and how you can use it in an easy dessert!!
This recipe was inspired by my friend, Marion at Life Tastes Good. Check out her Easy Snicker's Ice Cream recipe. You also might like this Cinnamon Vanilla Bean Ice Cream or this healthy version, Cherry Greek Yogurt Ice Cream Sandwich recipe!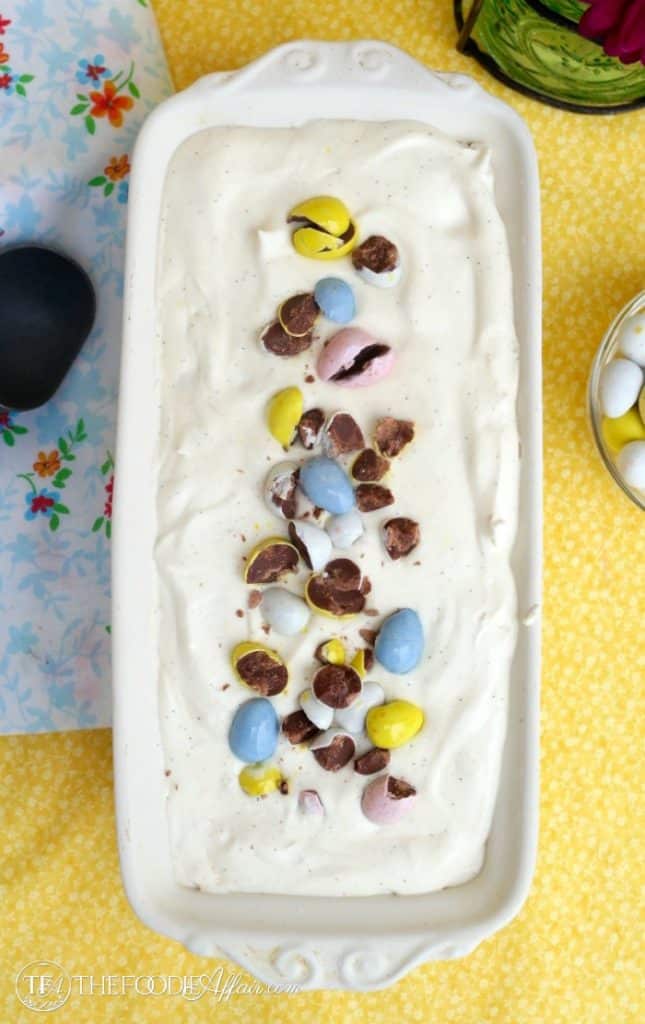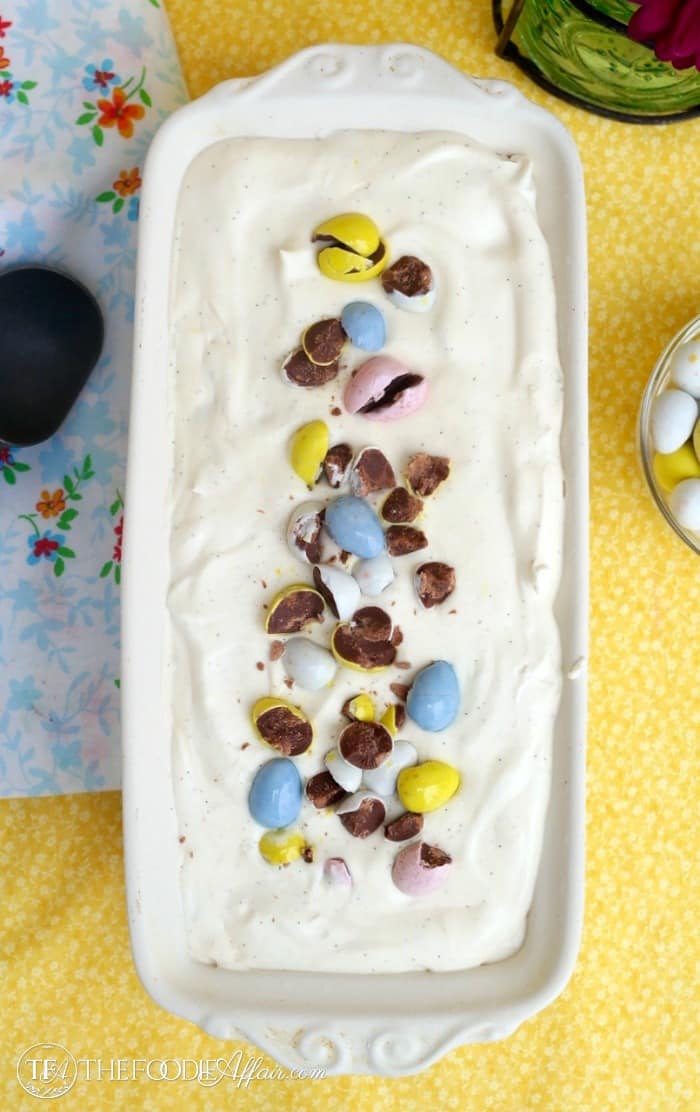 Cadbury Mini Egg Ice Cream
Author:
Sandra @ The Foodie Affair
Recipe type:
Dessert - Ice Cream
Ingredients
2 cups heavy whipping cream
1 can (14 ounce) sweetened condensed milk
2 teaspoons vanilla extract
1 cup cadbury eggs, smashed
Instructions
In a medium bowl stir together sweetened condensed milk and vanilla.
In a large mixing bowl, whip heavy cream on high speed until stiff peaks form (3-4 minutes). Gently fold into condensed milk and vanilla mixture.
Put cadbury eggs in a large Ziploc bag and crush with a mallet. Fold into ice cream mix. Put in a freezable container and keep in freezer until it hardens 6-8 hours.
Did you know that you can make your own condensed milk?  Try this
Sugar Free Condensed Milk
Recipe!