I have a working kitchen! All appliances are hooked up, and I'm slowly getting my cooking schedule back.
Still missing are some shelves and the cabinet doors, but those are minor hiccups compared to when we discovered the work crew started to install the wrong sized cabinets!
The guys assigned to the job were awesome, and were doing just what they were hired to do, put in the cabinets, but as they were installing them, my husband could foresee some issues like the sink cabinet way off center from the window! After re-measuring, we learned that the whole wall would have ended up with filler and patchwork if they continued as-is! We lost two full installation days because the project manager measured incorrectly, and ordered the wrong sized cabinets. Errr!
Thank goodness my husband was able to be at the house to oversee the job, and didn't let the crew take any shortcuts!
I'll share photos of my kitchen's facelift after the doors and hardware are installed 🙂
My first homemade meal in our new kitchen is an easy dish, and you use only two pans. One for the chicken, and the other for the noodles, which makes a nice bed for the chicken. Easy peasy and delish!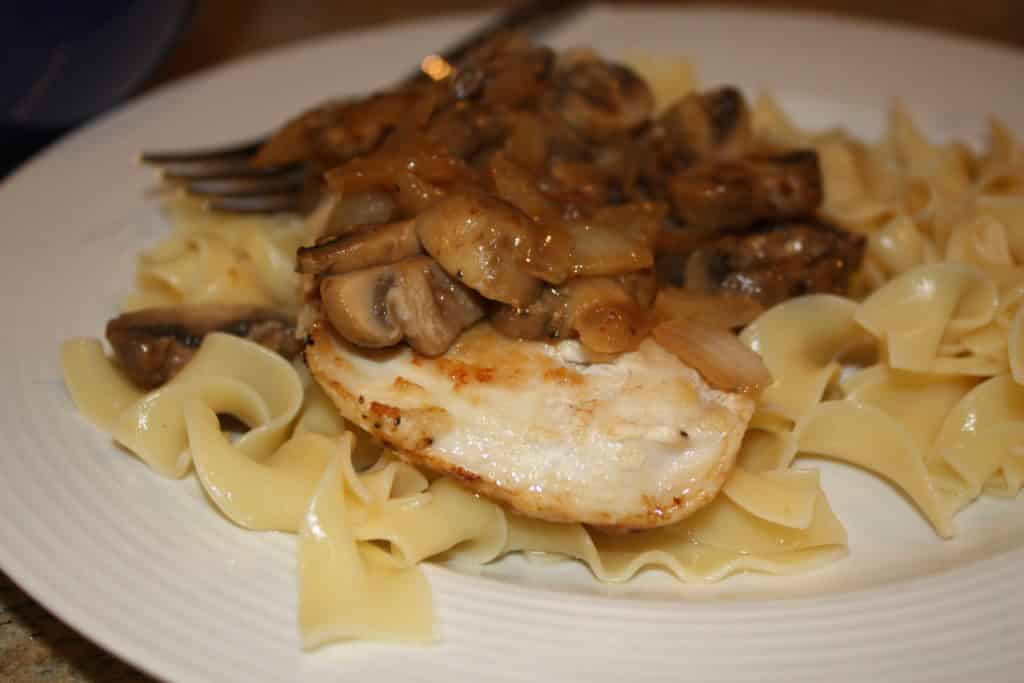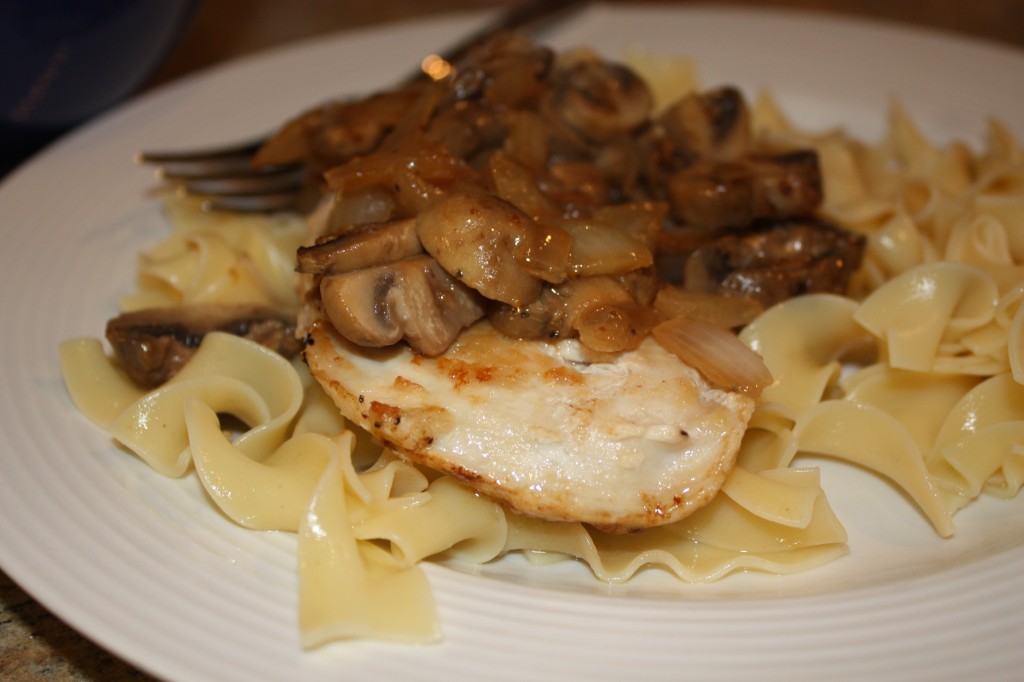 Caramelized Chicken with Mushrooms
3 boneless, skinless chicken breasts, thinly sliced
Flour for dredging
Salt and pepper
2-3 Tablespoons olive oil
3 Tablespoons butter
½ onion, chopped
1 8-10 oz package of sliced mushrooms
1/3 cup white wine (I had chardonnay open)
If the chicken breasts are thick, cut the chicken lengthwise. Season the thin slices generously with salt and pepper.
In a separate bowl or plate, lightly dredge the chicken with flour.
Heat a large skillet on medium high heat and add the oil. Add the chicken and brown on each side for approximately 3-4 minutes per side. Once cooked, remove chicken and set aside.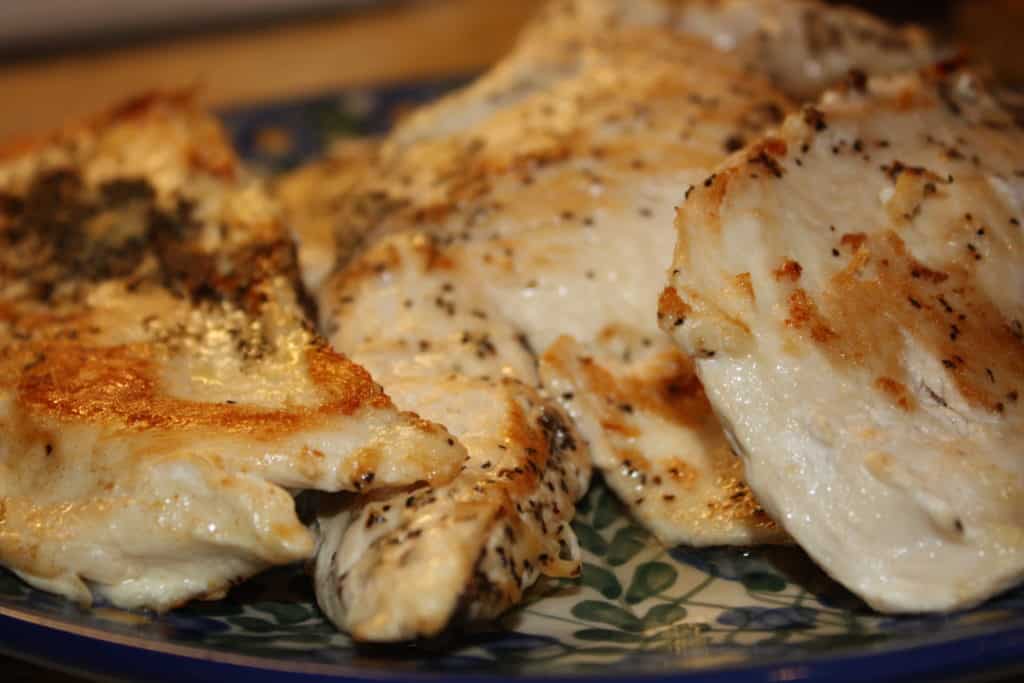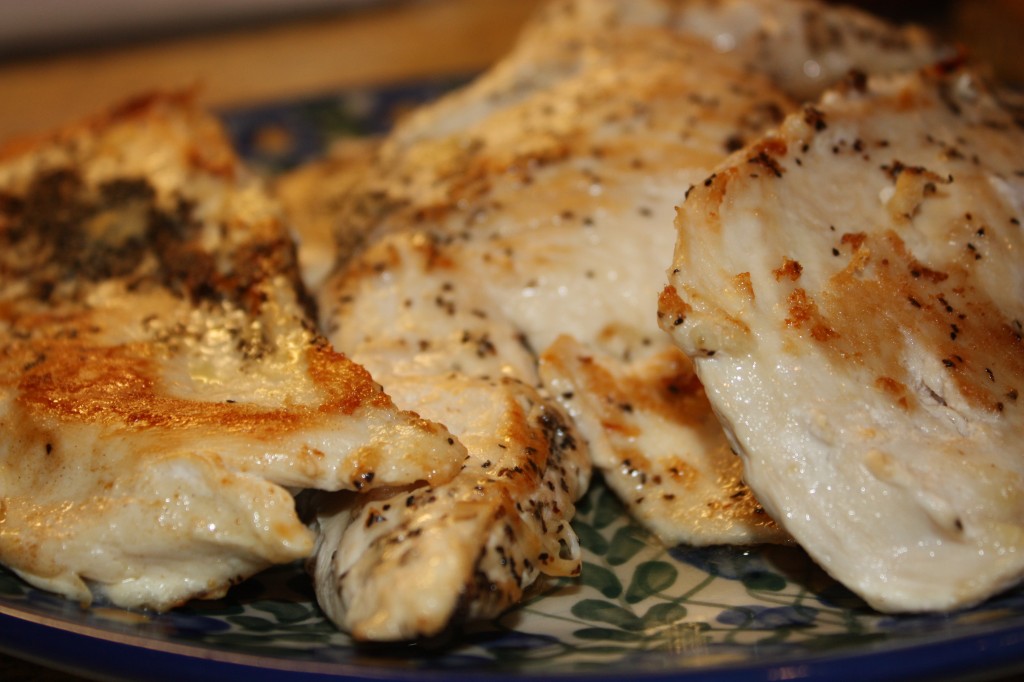 To the same skillet, reduce the heat to medium, and add one tablespoon of butter and the chopped onion. Sauté until the onion begins to get soft (about 1 minute). Add the remaining two tablespoons of butter and sliced mushrooms. Sauté until soft (6-7 minutes). Add the white wine (or broth if you prefer) to deglaze the pan. Mix it up and be sure to incorporate all the brown bits from the bottom of the pan. See the coating stuck on the left side of the the picture? That's good stuff!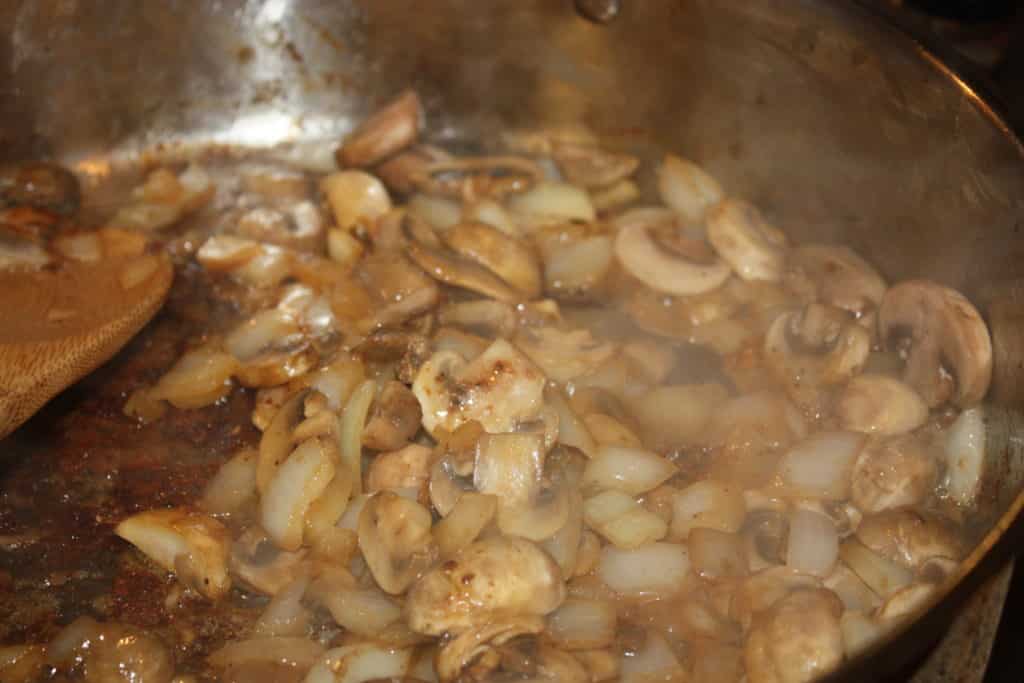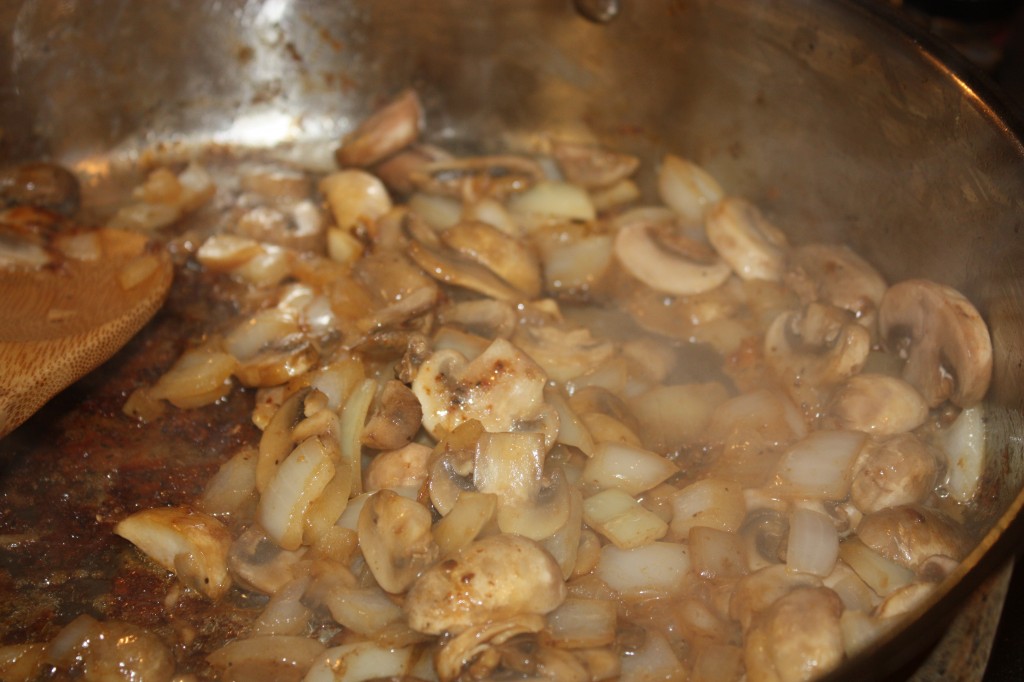 Serve over a bed of noodles, and to complete the meal, add a salad or vegetable of your choice.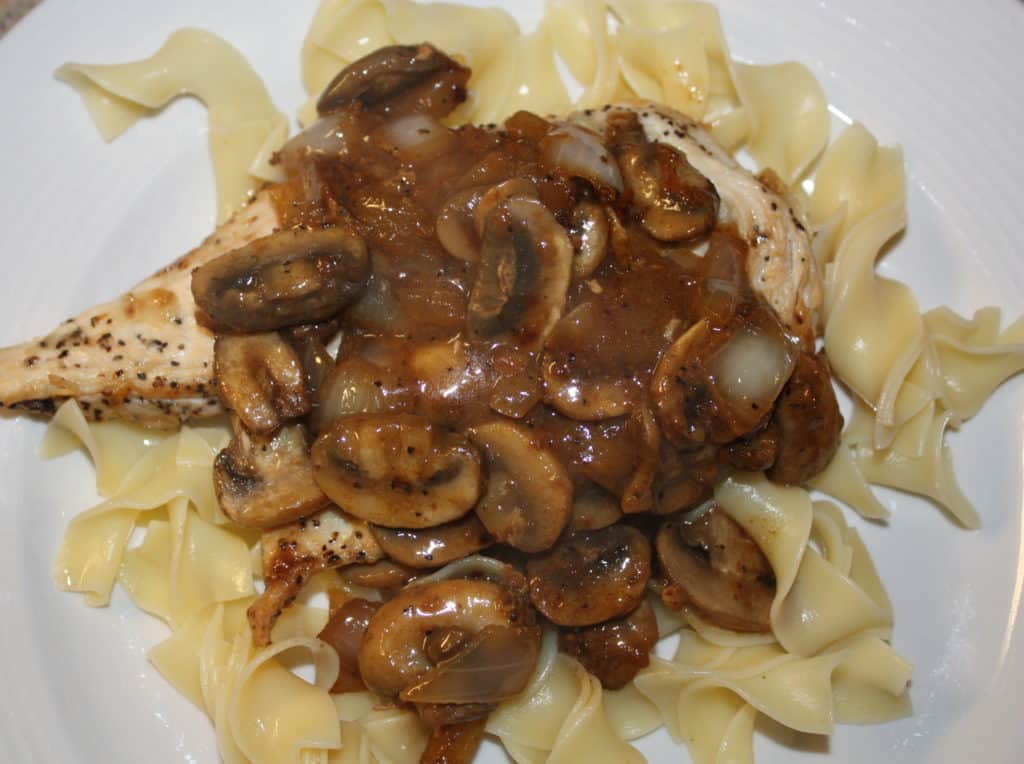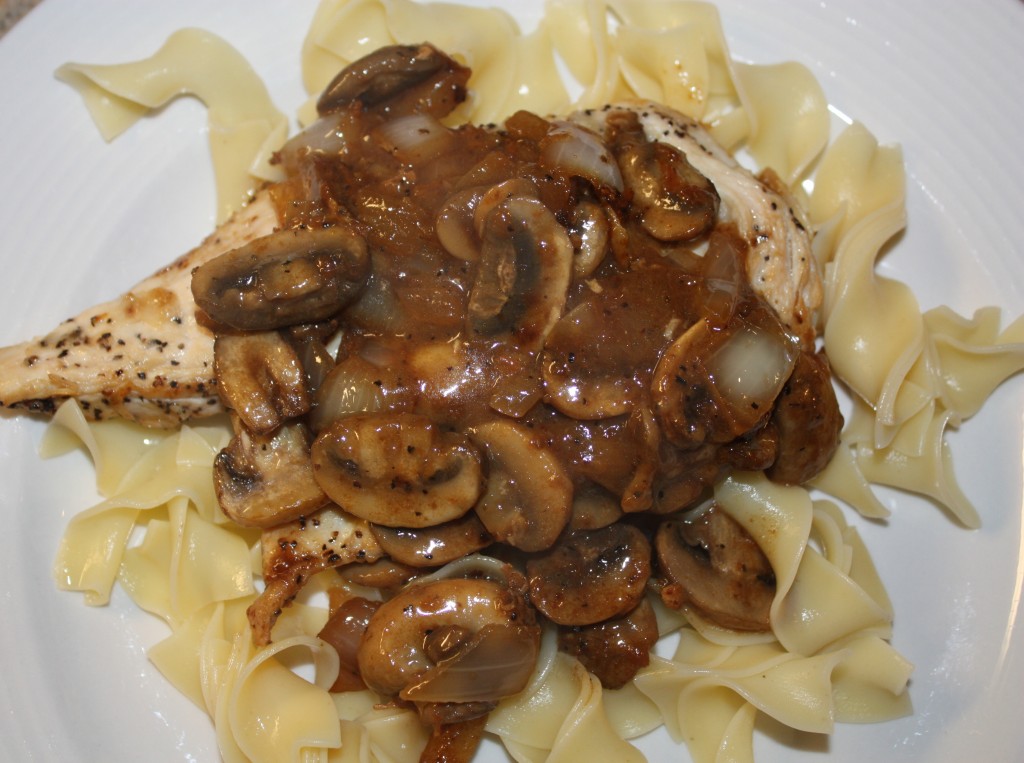 We like lots of mushrooms, so there wasn't much topping to add to any leftovers, so next time I may double the mushroom/onion topping.