Easy Vegetable Stir Fry Recipe
This homemade vegetable stir fry is not only easy to make but also healthy and delicious. It is a great way to use up any fresh produce you have on hand. This fresh Asian-inspired recipe is perfect for busy weeknights when you want to feed your family a healthy meal without spending a lot of time in the kitchen.
If you love easy 30 minute meals then you also will want to try this Teriyaki Chicken Stir Fry Recipe.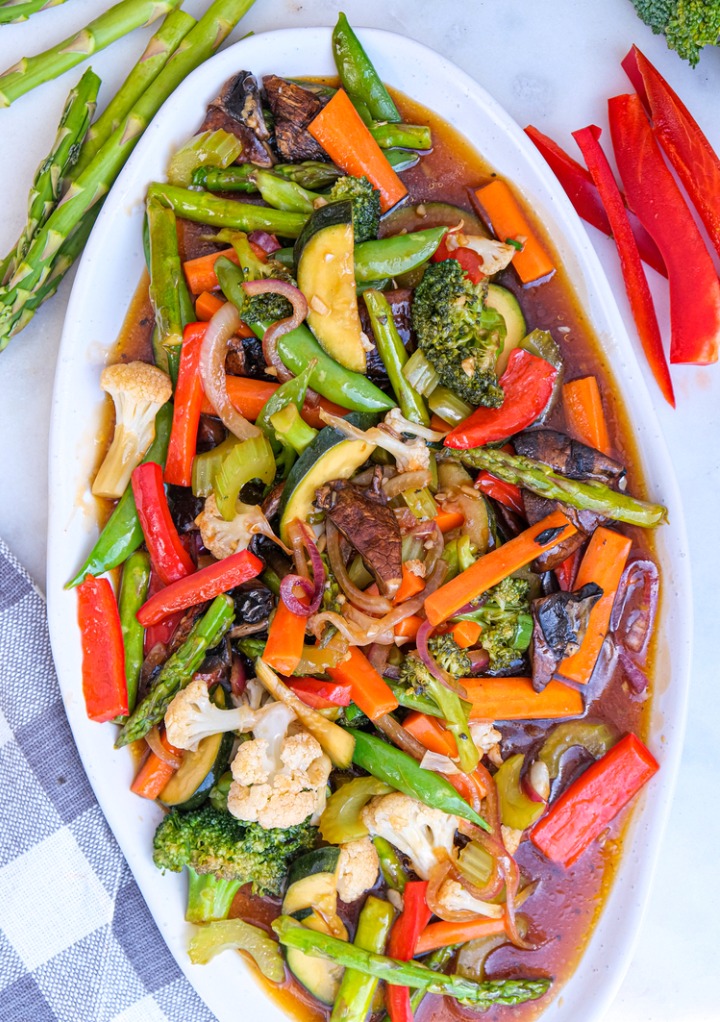 WHY YOU'LL LOVE THIS RECIPE
Stir fry is a classic dish that is both easy and delicious. This recipe features a variety of veggies, that are coated in a tangy stir-fry sauce from my Sugar Free Stir Fry Sauce Recipe making it perfect for a healthy dinner. Plus, the dish can be tailored to your liking by adding your favorite veggies. Give this stir fry a try tonight!
Quick and easy to make which makes it the perfect weeknight dinner recipe.
Not loaded with sugar! Let the natural sugars from vegetables shine through this dish.
Customizable with any vegetables you have on hand, making it a great way to use up leftover veggies before they go bad.
No need to pay for expensive takeout, when you can whip up this simple and flavorful dish at home.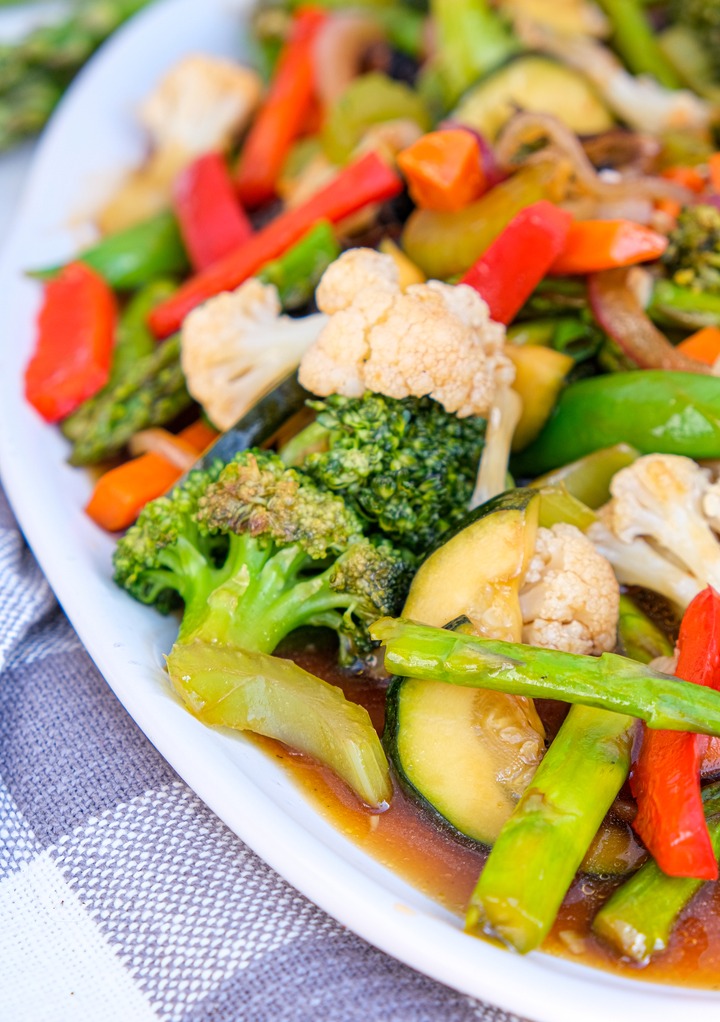 EQUIPMENT NEEDED
To make this easy recipe, you will need a few kitchen staples. Grab these kitchen tools and get ready to make this simple meal.
knife and cutting board
large nonstick skillet or large wok
small bowl
medium bowl
whisk
measuring cups and spoons
INGREDIENTS
You only need a handful of ingredients to make this recipe, you can customize this recipe to make it your own. No matter which vegetables you use you will love this healthy meal.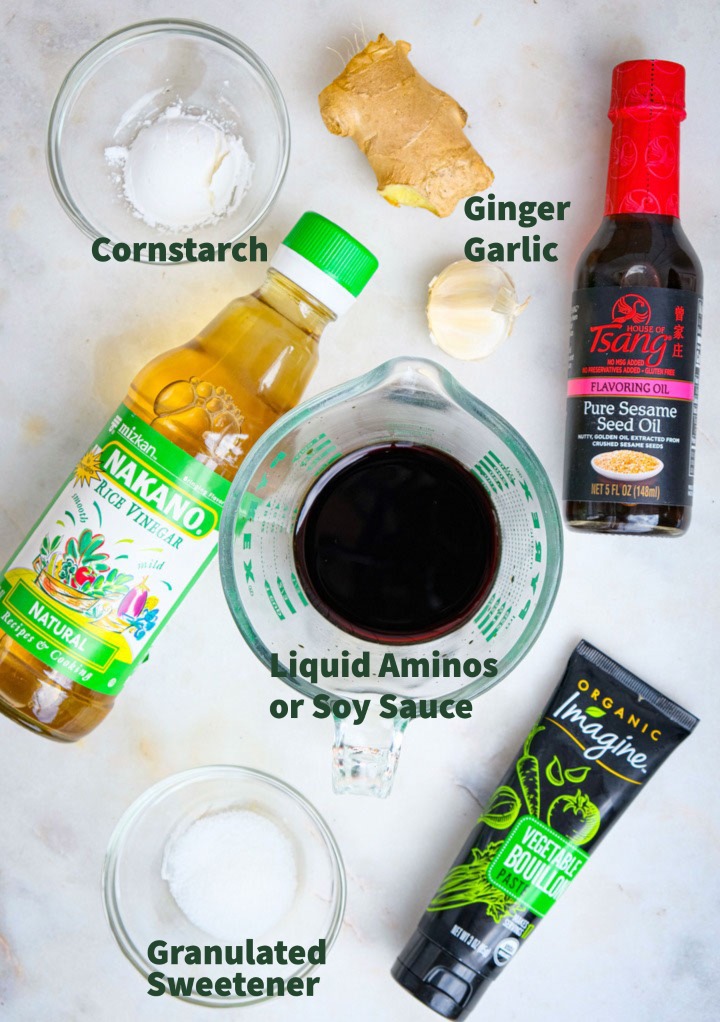 Vegetable Stir Fry Sauce Ingredients
liquid Aminos or low sodium soy sauce
vegetable broth
sesame oil – this oil is often used as a finishing oil, add just before the dish is done to retain all the flavor. However, I mix it in with all the ingredients and I think it still have the flavor. Add the oil at the end if you prefer, but don't forget! It's so flavorful!
rice vinegar, sugar-free
fresh ginger, minced
garlic clove, minced
sugar substitute
cornstarch (see options) mixed with water
Vegetable Stir Fry
neutral-tasting oil – avocado oil, vegetable oil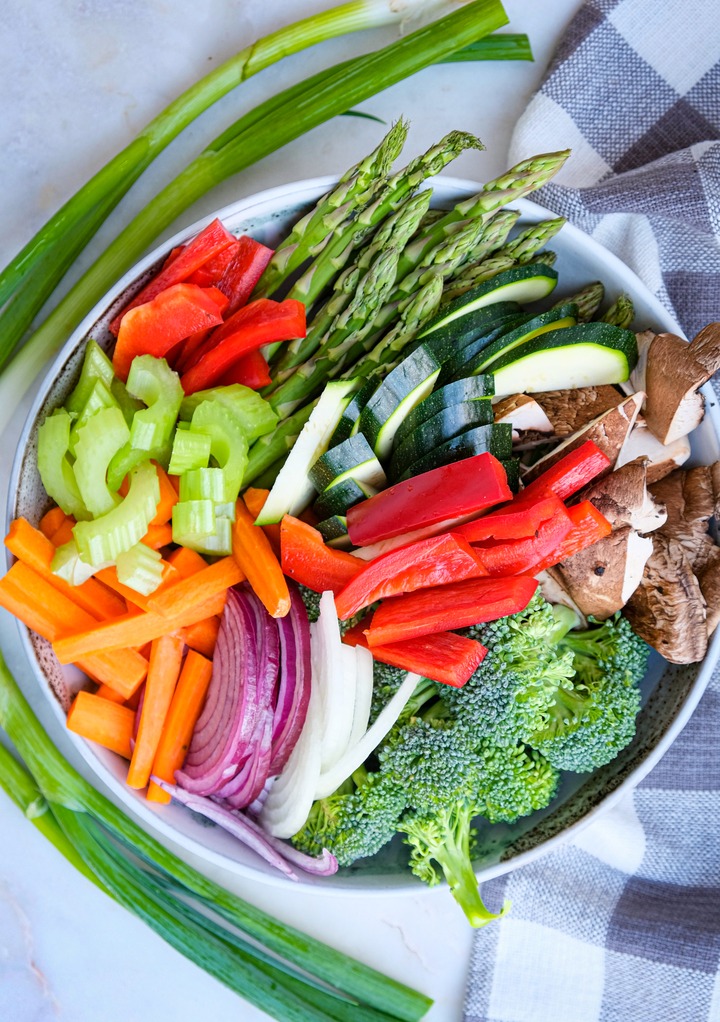 Vegetables – such as
portobellos, cut in 2″ wedges or baby creminis sliced – these are heartier mushrooms.
asparagus, cut in 2″ pieces
bell peppers, sliced – red, green, yellow or orange.
carrots, 1/4″ slices
celery, 1/2″ slices
onions, 1/2″ sliced
snow peas or snap peas
zucchini, 1/4″ slices
Broccoli, 3/4″ pieces
cauliflower 3/4″ pieces
HOW TO MAKE THIS VEGETABLE STIR FRY
Making this delicious easy vegetable stir fry recipe is easier than you think. It comes together in just minutes and it is the perfect blend of sweet and savory. So, gather your family around the table and follow these simple steps and you will have a family-friendly meal in no time at all.
It's important to cook vegetables that are similar in size so that they cook at the same time. However, some vegetables may need to be cook separately since they will take longer to cook like broccoli and cauliflower.
STEP 1: MINCE THE GINGER AND GARLIC
Mince ginger and garlic and place in a small bowl mixing bowl or put right into a measuring cup.
STEP 2: MIX TOGETHER THE LIQUID AMINOS, BROTH, SESAME OIL, AND RICE VINEGAR
Add liquid aminos, broth, sesame oil, and rice vinegar to the ginger and garlic. Whisk all ingredients together.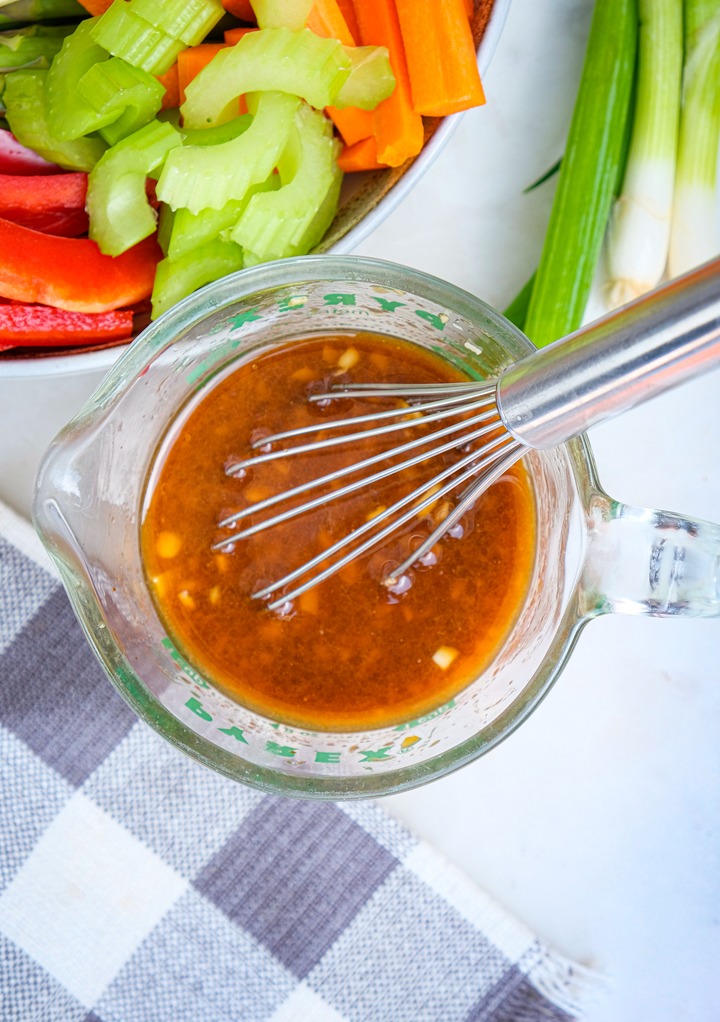 STEP 3: MAKE A CORNSTARCH SLURRY
In a separate small bowl mix together cornstarch and water until smooth.
STEP 4: ADD THE CORNSTARCH MIXTURE TO THE STIR FRY SAUCE
Add to the prepared stir fry sauce and mix until incorporated.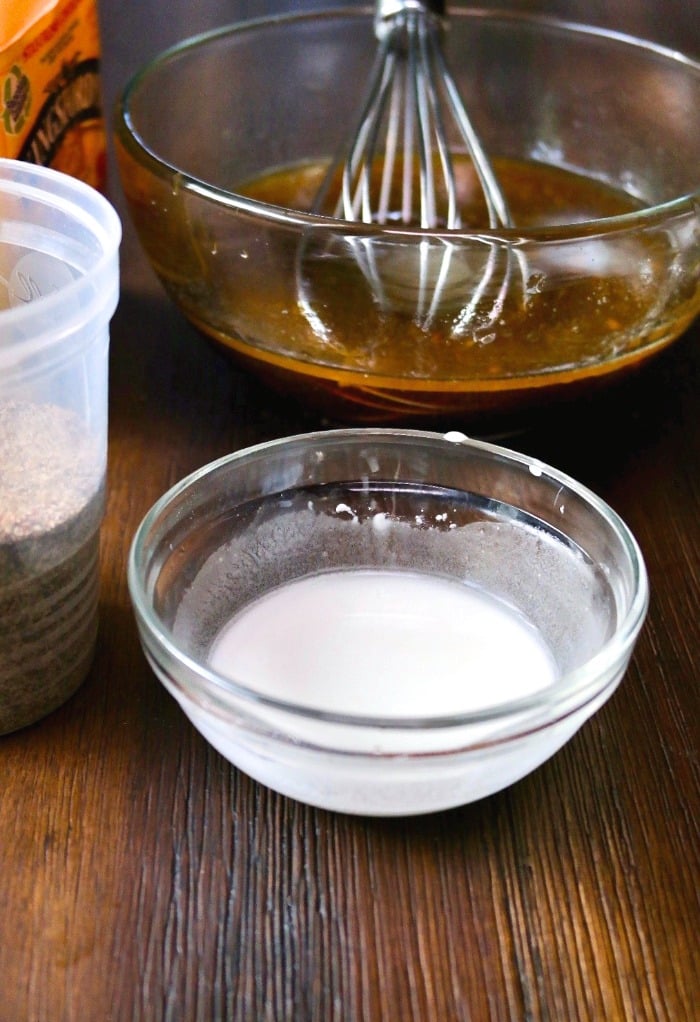 STEP 5: HEAT OIL IN A LARGE SKILLET
Add oil to a large 12″ skillet and heat until the oil begins to simmer (medium-high heat).
STEP 6: COOK THE MUSHROOMS
If you are using hearty mushrooms like portobellos, place clean mushrooms in the skillet. Cook until lightly browned and tender turning once. This will take 5-7 minutes.
STEP 7: REMOVE THE MUSHROOMS AND CLEAN THE SKILLET
Set the mushrooms aside and wipe the skillet clean.
STEP 8: STIR FRY CRUCIFEROUS VEGETABLES
Cruciferous vegetables like broccoli and cauliflower will require a longer cooking time, so it's best to cook those vegetables in batches separate from the vegetables that will cook faster like bell peppers and onions.
Stir fry broccoli and cauliflower (if using) in oil for one minute, then add 1/4 cup of water, cover the skillet with the lid and steam for 4 minutes. Remove from pan.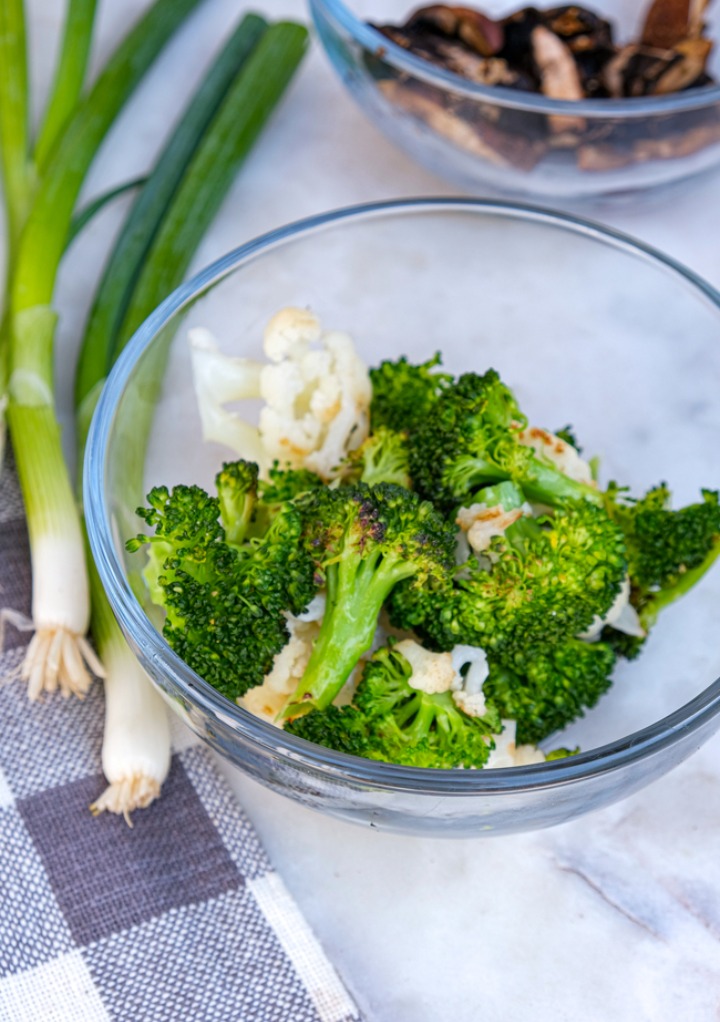 STEP 9: ADD MORE OIL TO THE SKILLET
Add 1 tablespoon of oil to the skillet and heat until the oil shimmers.
STEP 10: ADD THE REMAINING VEGGIES
Add remaining prepared vegetables to the skillet and stir fry for about 2 minutes or until vegetables are tender.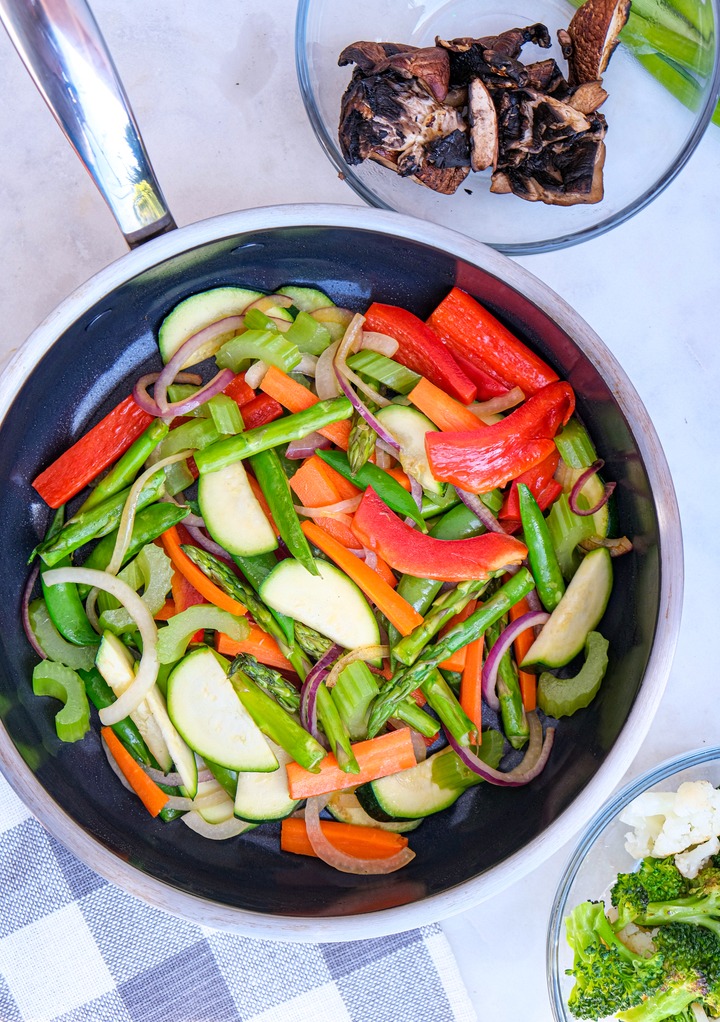 STEP 11: ADD THE SAUCE TO THE SKILLET
When all vegetables are cooked place them in the skillet and pour the prepared sauce over the vegetables. Cook until the sauce thickens slightly.
Thickening Options: There are a variety of thickeners you can use in this recipe in place of cornstarch like arrowroot, ground psyllium husk, or ground chia seeds. Cornstarch and arrowroot will add a small amount of carbs.
WHAT TO SERVE WITH VEGETABLE STIR FRY
This recipe is delicious and versatile. And, it's great on its own. But, if you are looking for a dish to pair with this recipe, here are a few of my favorites to go alongside this stir fry.
steamed brown rice
white rice – the sticky kind that is easy to grab with other foods.
cauliflower rice – keep the dish low carb.
fried rice – make it pain to keep the dish vegetarian.
noodles
bed of greens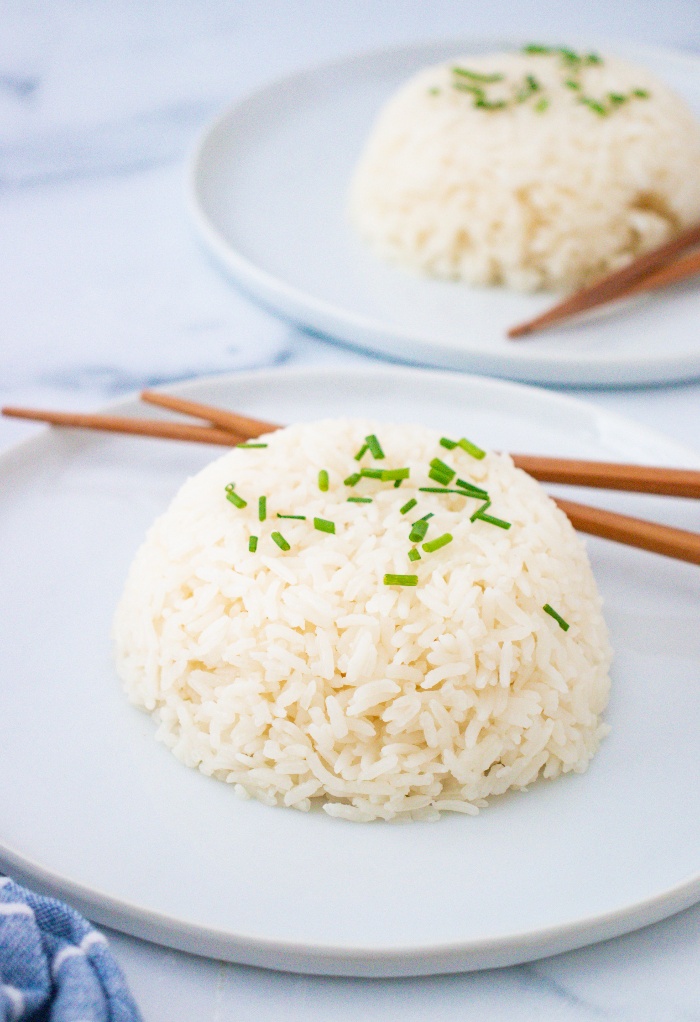 OPTIONAL ADD-INS
Looking to add more vegetables to your stir-fry? Here are some of my favorite additions to this vegetable stir fry recipe.
green beans
bok choy
cabbage
water chestnuts
sesame seeds
green onions
baby corn
brussels sprouts
bean sprouts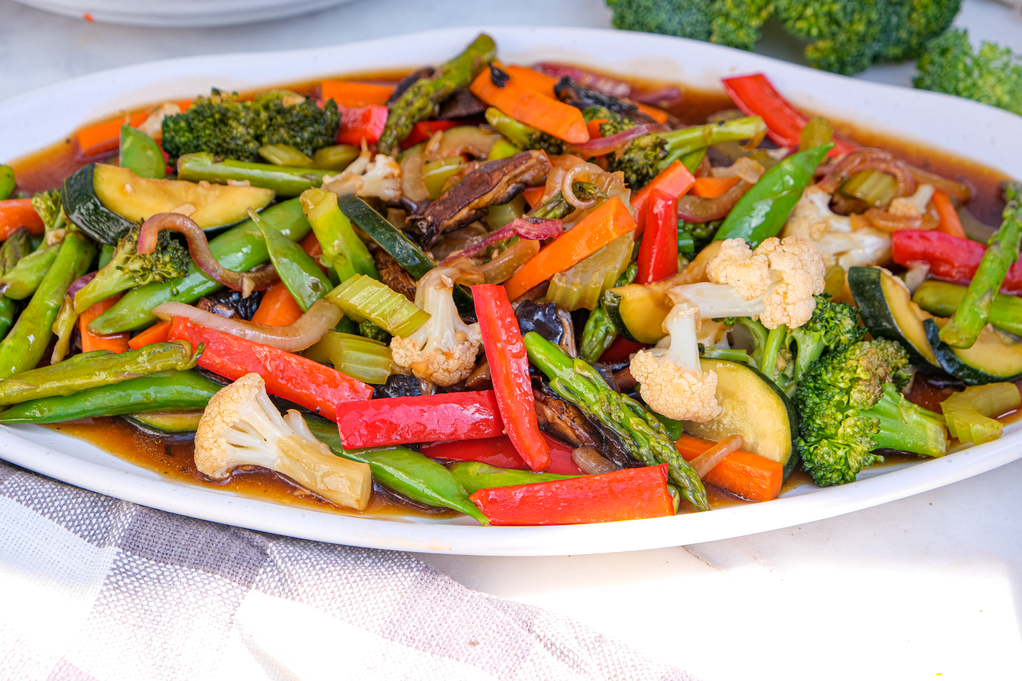 SUBSTITUTIONS AND ADDITIONS
This is such a great recipe because you can easily make substitutions to suit your needs. Here are some ideas for swaps and additions for this healthy veggie stir fry recipe.
Sauce: You could use a different sauce like teriyaki, general tso's, oyster sauce, or sweet and sour sauce. Just be sure to check the carbs on the sauce if you are keto or low carb.
Thickeners: arrowroot, ground psyllium husk, and ground chia seeds are all great substitutes for cornstarch.
Protein: This recipe is great on its own, but if you want to add some protein, grilled chicken, shrimp, or tofu would be delicious additions. Cook the protein before adding to the vegetable stir fry.
Noodles and Rice: You could add noodles or rice to this recipe to make it a complete meal. Alternatively, serve this recipe on top of a bed of rice or noodles.
Veggies: The sky is the limit when it comes to veggies. Just about any vegetable would be delicious in this dish. So, use what you have on hand or what your family enjoys.
Low Carb Sweetener: If you are low carb use a sugar substitute of your choice. Either golden or granulated variety like monk fruit.
Sugar: you can use brown sugar instead of granulated sugar.
Heat: Add some spice to this simple recipe by adding crushed red pepper flakes or add a chili sauce over the vegetables like Sriracha.
HOW TO STORE
Simply place leftovers in an airtight container and store them in the fridge for 3-4 days.
When ready to reheat, add a splash of broth or water to the pan and heat over medium heat until warmed through. You could also reheat this dish in the microwave for one to two minutes or until it is warm all the way through.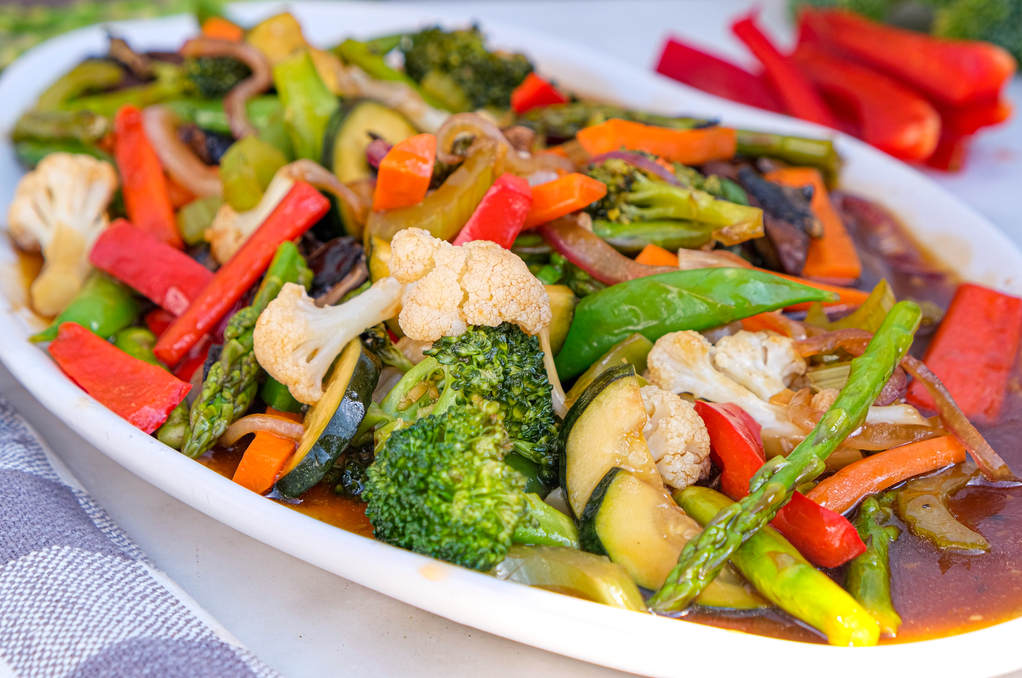 FAQS
Do you have questions about this easy stir fry recipe? Here are the answers to the most commonly asked questions.
Are stir-fry veggies healthy?
Stir fry veggies are a great way to get in a serving of vegetables. And, they can be a healthy option depending on how they are prepared. This recipe uses fresh vegetables and is cooked in sesame oil which is a healthy oil choice.
What oil should you use for stir-fry?
There are a variety of oils you could use for stir fry. Oils like avocado oil or vegetable oil work well in this dish, but you could also use sesame oil, peanut oil, or even canola oil.
What order do you put vegetables in a stir-fry?
The order in which you add the vegetables to the pan can make a difference in how well they cook. In general, harder vegetables like broccoli and cauliflower should be added first. And, softer vegetables like onions and bell peppers should be added last.
OTHER DELICIOUS VEGETABLE RECIPES YOU MAY ENJOY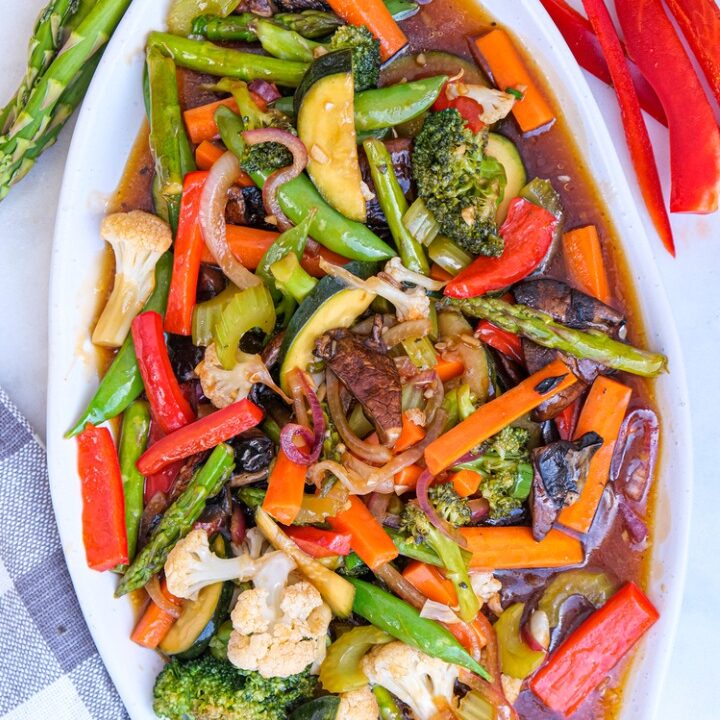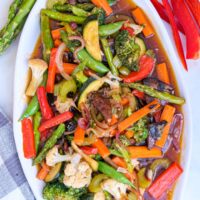 Vegetable Stir Fry Recipe (Easy)
A melody of vegetables in a homemade tangy sauce. This stir fry recipe can be made in under 30 minutes.
Print
Pin
Rate
Ingredients
STIR FRY SAUCE

1/4

cup

Liquid Aminos

1/4

cup

Chicken Broth

low sodium

2

tablespoons

Sesame Oil

2

Tablespoons

Rice Vinegar

sugar-free

1

teaspoon

Ginger

fresh minced

1

Garlic Clove

minced

1

teaspoon

sugar substitute

1

Tablespoon

Cornstarch

see options for lower carb mixed with

1

Tablespoon

Water

VEGETABLES

Vegetables 1-1 1/2 pounds of vegetables

about 4-6 cups

STIR FRY

2

Tablespoons

neutral tasting oil: canola

vegetable, avocado
Instructions
Stir Fry Sauce

Mince garlic and ginger root. Set in a small mixing bowl or measuring cup.

Add Liquid Aminos, vegetable broth, sesame oil, rice vinegar, and sweetener. Whisk until thoroughly incorporated.

In a separate bowl whisk together cornstarch and water.

Add to prepared sauce, and mix well.

Vegetables

Clean and slice or dice vegetables in similar sizes.

If adding Portobello mushrooms, cook first.

PORTOBELLO MUSHROOMS – Add clean and diced mushrooms in a single layer to a large skillet with 1/2 tablespoon of oil over medium-high heat. Cook for 5-7 minutes flipping the mushrooms over once. Remove from skillet and set aside.

If adding Cruciferous vegetables, cook second.

CRUCIFEROUS VEGETABLES – Add 1/2 tablespoon of oil to a large skillet over medium-high heat. Stir fry the vegetables for one minute. Add 1/4 cup of water and lower heat to a simmer. Cover the skillet with the lid and simmer for 10 minutes or until the vegetables are tender. Remove from skillet.

STIR FRY VEGETABLES – Add 1-2 tablespoon of oil to a 12" large skillet. Heat over medium-high. When the oil shimmers, add vegetables (1 – 1 1/2 pounds) – see list below in notes. Stir fry for 2 minutes.

Add the pre-cooked vegetables if using (mushrooms broccoli) to the skilled and top with prepared sauce to the vegetables.

Cook to warm and sauce begins to thicken.

Notes
Low sodium soy sauce can be used in replace the liquid aminos.
This will serve 6 servings for a side dish or 4 servings as a main dish.
portobellos, cut in 2" wedges or baby creminis sliced – these are heartier mushrooms.
asparagus, cut in 2" pieces
bell peppers, sliced – red, green, yellow or orange.
carrots, 1/4" slices
celery, 1/2" slices
onions, 1/2" sliced
snow peas or snap peas
zucchini, 1/4" slices
Broccoli, 3/4" pieces
cauliflower 3/4" pieces
Nutrition
Serving:
1
g
|
Calories:
270
kcal
|
Carbohydrates:
26
g
|
Protein:
11
g
|
Fat:
14
g
|
Saturated Fat:
3
g
|
Polyunsaturated Fat:
10
g
|
Cholesterol:
16
mg
|
Sodium:
772
mg
|
Fiber:
9
g
|
Sugar:
7
g
Disclaimer
Please note that the nutritional information provided are guidelines and may vary based on the brand of products used. For your specific nutritional goals use My Fitness Pal or Verywell Fit recipe calculators. All content within this site is not intended as medical diagnosis or treatment and should not be considered a substitute for professional medical expertise.