This easy Pumpkin Cake Roll packed with Fall flavors, and gently rolled with a cream cheese filling will be the star of your holiday dessert menu!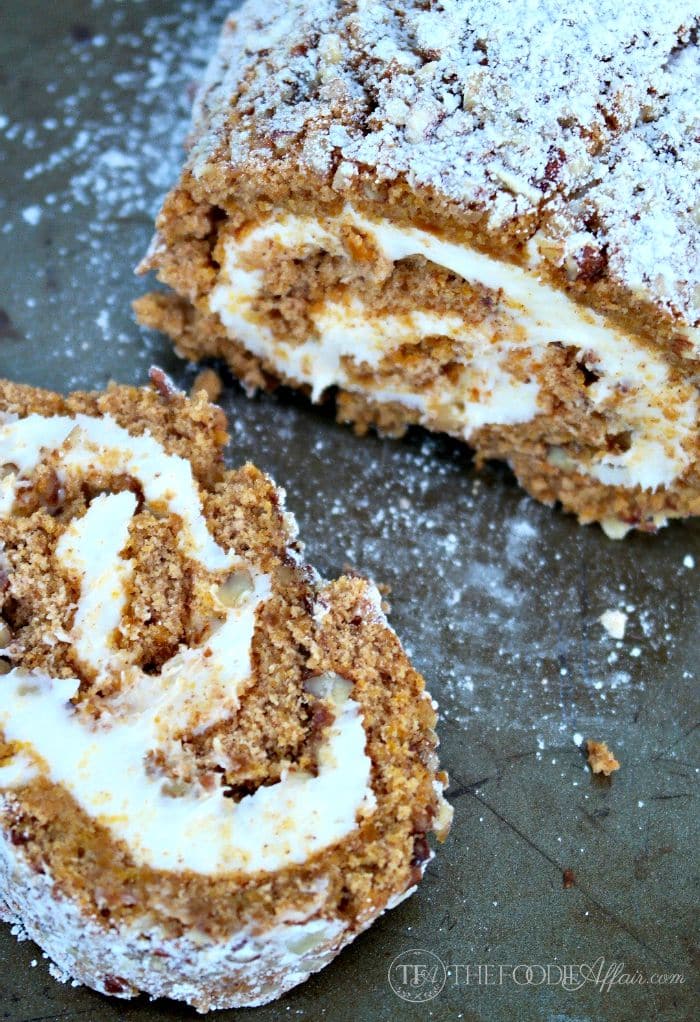 Pumpkin Roll
This cake roll has been on my "must try" list for such a long time. Just like this Boston cream pie, which is another simple recipe.
I was convinced this would be a difficult dessert to tackle.
Well, I finally took the time to learn how to get that layered spiral look that makes this cake look so elegant!
Guess what?? This is such an easy cake to make, so don't wait any longer to give this rolled cake technique a try!
The key to making this cake roll is to use a clean dish cloth and powdered sugar to get the cake to spiral so beautifully!
Easy pumpkin roll with cream cheese filling
Another helpful tip is to immediately loosen edges of cake from pan after it's baked and still warm.
Then turn cake onto prepared kitchen towel (a second set of hands are helpful at this point).
Gently remove the waxed paper, and then roll towel and cake together into a spiral starting from the short side.
Let the cake completely cool on a wire baking rack before gently unrolling and adding the cream cheese filling. Re-roll for a beautiful pumpkin cake!
Pumpkin desserts to try!
This Pumpkin Cake Roll is officially my first pumpkin sweet treat for the year! Are you a pumpkin pie fan?
Pumpkin pie makes an appearance on our table for the holidays, but there will be some dessert competition this year!
Here are some of my favorite treats!
[mv_create key="654″ type="list" title="Pumpkin Recipes" thumbnail="https://www.thefoodieaffair.com/wp-content/uploads/2015/11/Pumpkin-Delight-Hero.jpg" layout="circles"]
Make your fall dessert recipes with real pumpkin puree!
Real pumpkin puree is the common ingredients in each dessert.
Natural pumpkin wrapped up with all the warm flavorful Fall spices like ginger, nutmeg is what everyone seems to love about pumpkin recipes.
Do you know that it's very easy to make your own pumpkin puree using a pressure cooker?
In six minutes you can have fresh pumpkin for all your favorite recipes! Make a batch and portion out 1/2 cup, freeze and use all year long!
If you are looking for an alternative to the traditional pie then add this festive cake roll to your menu!