Parties, Parties…and not enough time in the day!
Goodness! I had to look up my login AND password for my blog account! It has been just about a month since my last post. What the heck? I've been trying to keep up with EVERYTHING; family, fitness, work, fun, but The Foodie Affair postings and my blog viewings have been neglected! There is just not enough time in my day, even though sometimes I think I am…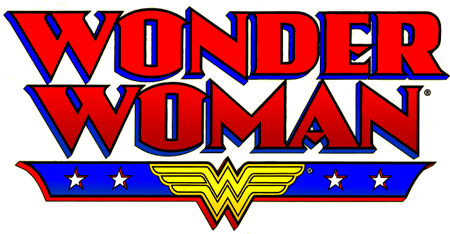 I guess I needed some recuperation time and I could use a few more hours in my day.
Both of my kids graduated! My daughter from college and my son from high school. Two special celebrations mean't there was one busy mom! I had two menus to plan and shop for, two cakes to make, and whenever I entertain, I always find home improvement tasks to tackle. This time I had to paint the baseboards that were left undone from our recent kitchen renovation. I am absolutely certain no one would have noticed had we not painted, but we seem to need extra stress motivation to cross off a chore from the endless "honey do" list. Even if we didn't add the extra work, it takes mad-skills to coordinate a party, especially if you want it to look effortless, and enjoy it as well!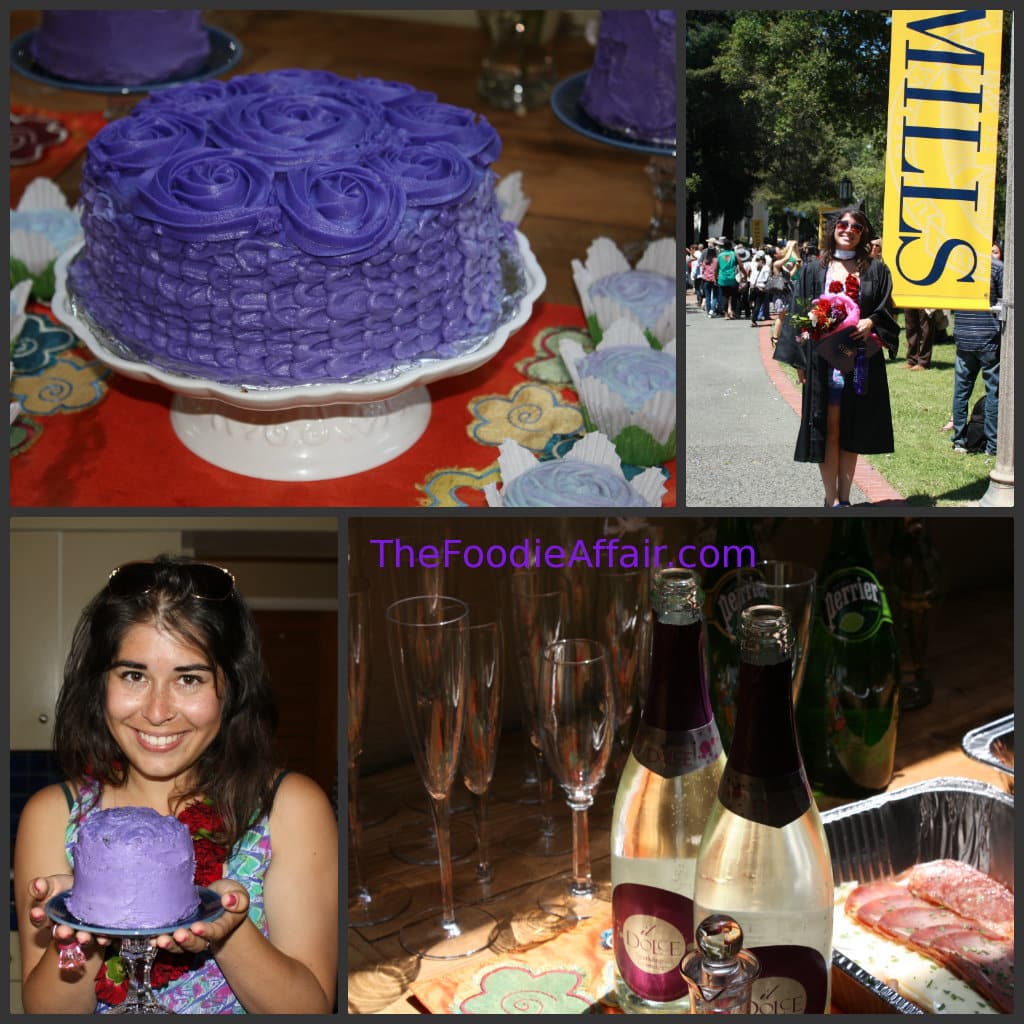 Our daughter's graduation ceremony was a two hour trip from where we live. Our awesome cousin offered to open her house for the get-together since she lives near the college. There was no way I could prepare the food, so we catered an Italian themed meal from a restaurant I never set foot in! The internet is a wonderful thing I tell you! I looked at reviews, websites, and an overwhelming amount of menus, but I finally made my decision on gut feeling after talking with a gent with a thick Italian accent at Luca Cucina Italiana. The food did not disappoint!
I brought a home-made cake, cupcakes, and mini personalized cake all decorated with frosting in the shape of roses. I wanted the cakes to taste delicious, so I took a lot of time (2 days!) preparing a chocolate (my daughter's favorite) cake with buttercream frosting made from scratch. Graduation day happened to be one of the warmest days thus far, which I don't often take into consideration because where we live it's always cool. By the end of the ceremony and before we would get the cake inside the house, the decorated roses all along the side of the mini cakes puddled to the bottom! Whoops, the frosting melted! I wish I would have taken a picture of the disaster. It looked pretty pathetic, haha! The main cake took the heat and I'm sure it is because in that batch, I used part butter and part shortening for the frosting. Without any of my baking supplies on hand, I just took that pile of frosting and put it right back on the sides of those little cakes!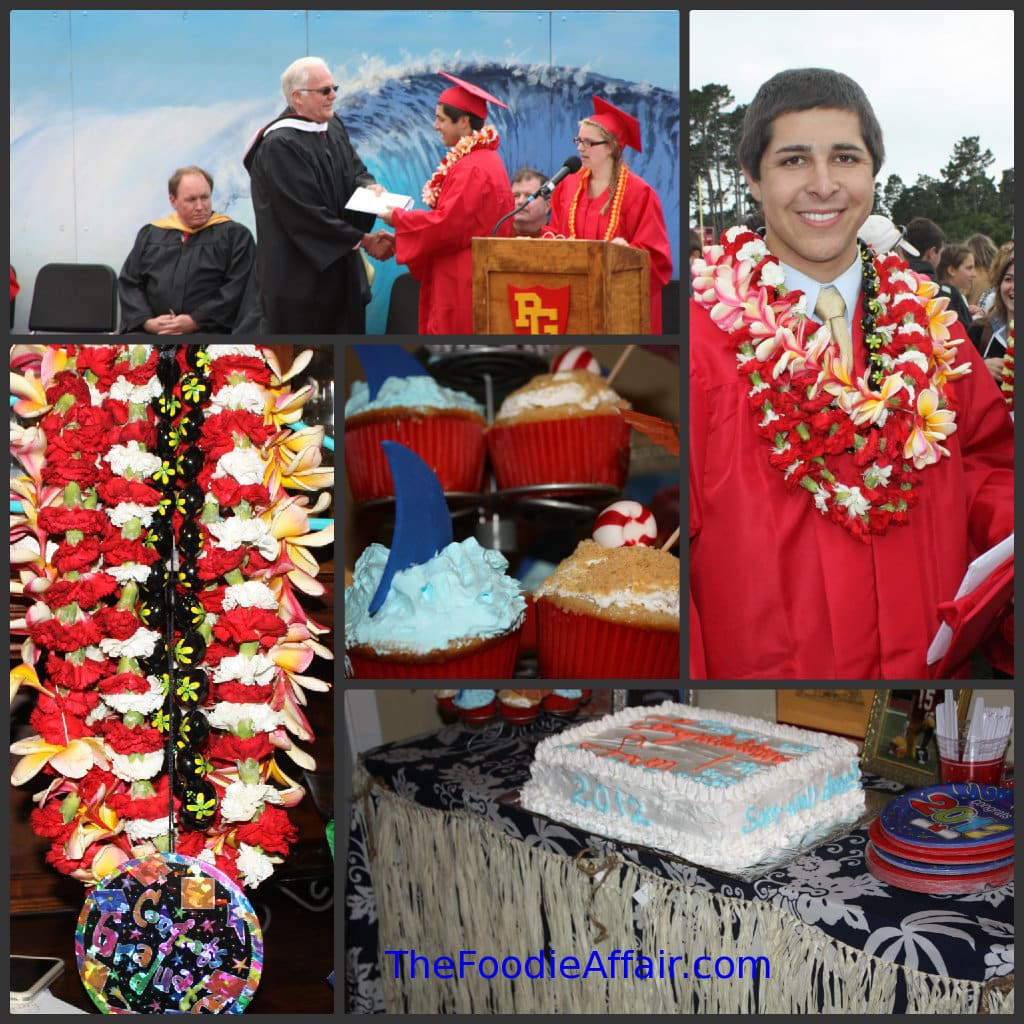 Hawaiian Themed Graduation Celebration
Two weeks later, my son graduated! With a lot of family in town, we hosted his celebration at our house. He is going off to the University of Hawaii, so we had a Luau themed meal of Kalua pork, chicken adobo, coconut rice, macaroni salad, green salad all of which I took NO pictures of! The photos that I did take were of the cake and beach themed cupcakes inspired by Martha Stewart's team . I had my daughter's help with the cake decorating. We had a good laugh putting silly comments on Sam (Samuel's) cake, like "Sam-well done!" and " 'uel go far!" We added a gel food coloring to the frosting for the final touch, but couldn't quite get the deep color of red that we were hoping for, so we added more coloring, mixing non-stop, and more vanilla to mask the red chemical taste that the color red can have. Then we realized the color we were kept adding was actually PINK! No wonder the color had a pinkish hue! We ended up with an orangish color for the lettering. Perfectly acceptable 🙂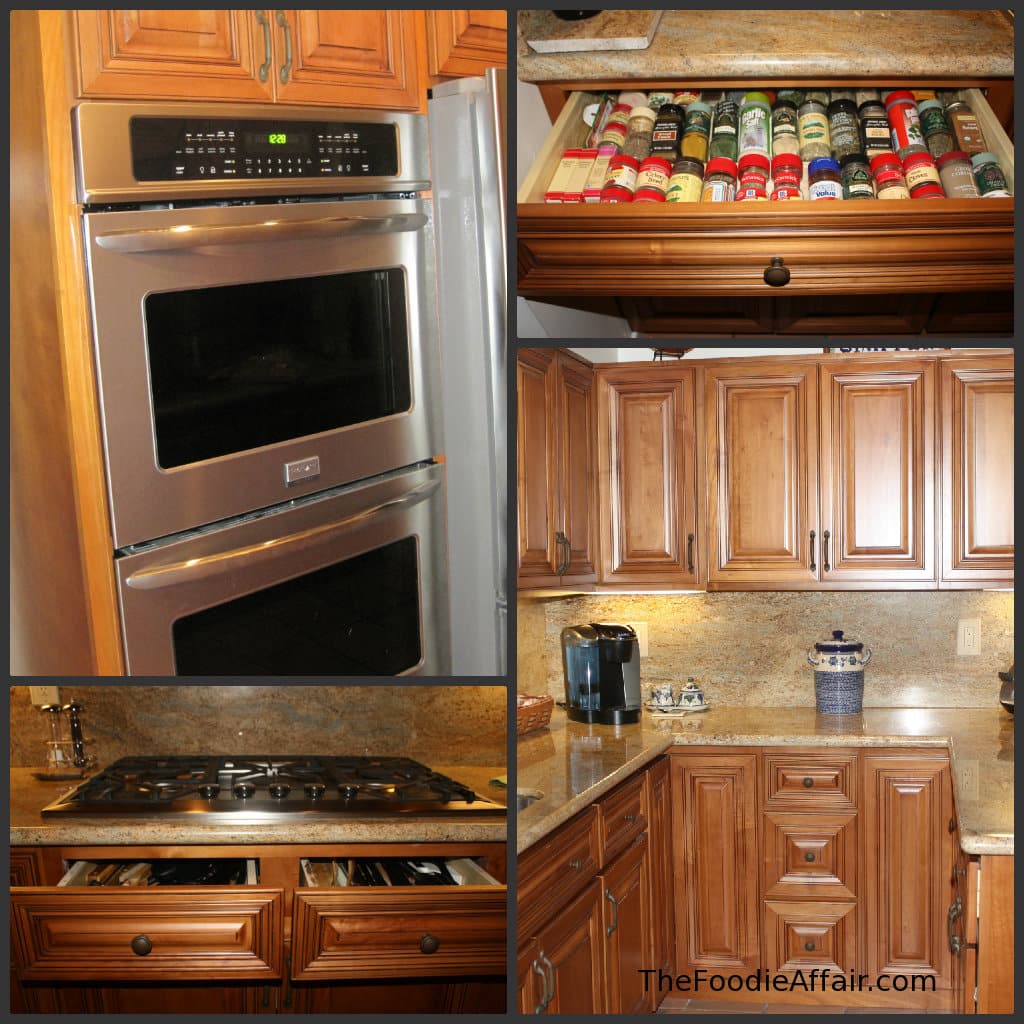 All the baking and luau food preparation was make from my newly renovated kitchen, the heart of our house. After several months of being back in my kitchen, there is not one thing I would have done different with the design and placement of the appliances. All the drawers are usable and every nook and cranny is used.
The double oven for a small kitchen may be a bit overkill, but I absolutely love them and I'm so glad we decided against the microwave/oven combo that we almost put in instead of the oven duo. My other favorite part of the kitchen is my spice drawer. All those jars of flavor are easily accessible and right at my fingertips. My spices are now screaming at me when I open up the drawer "pick me, pick me!" I put them in alphabetical order. Love that!
I know your kitchen has been busy as ever too. I see so many new recipes from my blogging friends. I will be catching up! I may not be wonder woman, but I am perfectly satisfied being super woman 🙂
~Sandra