Delicious Buttermilk Cupcakes with Caramel Icing topped with a mini candied apple!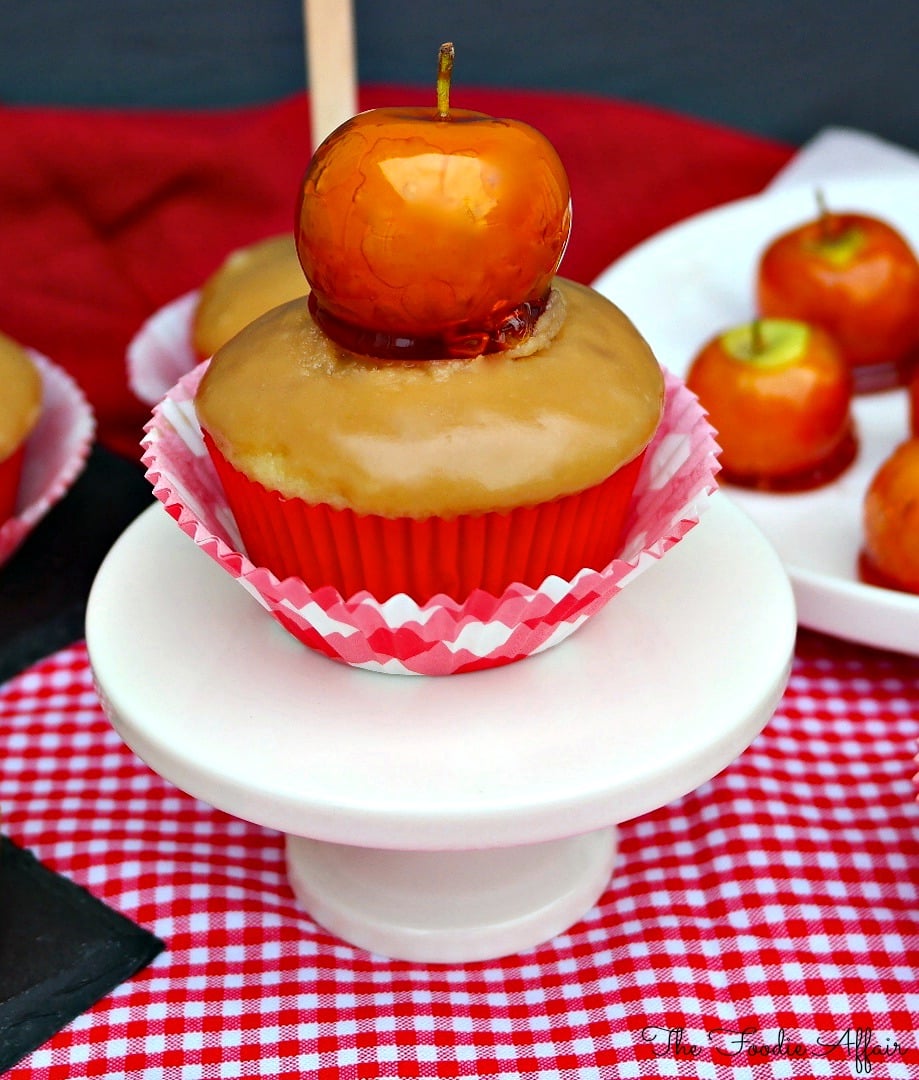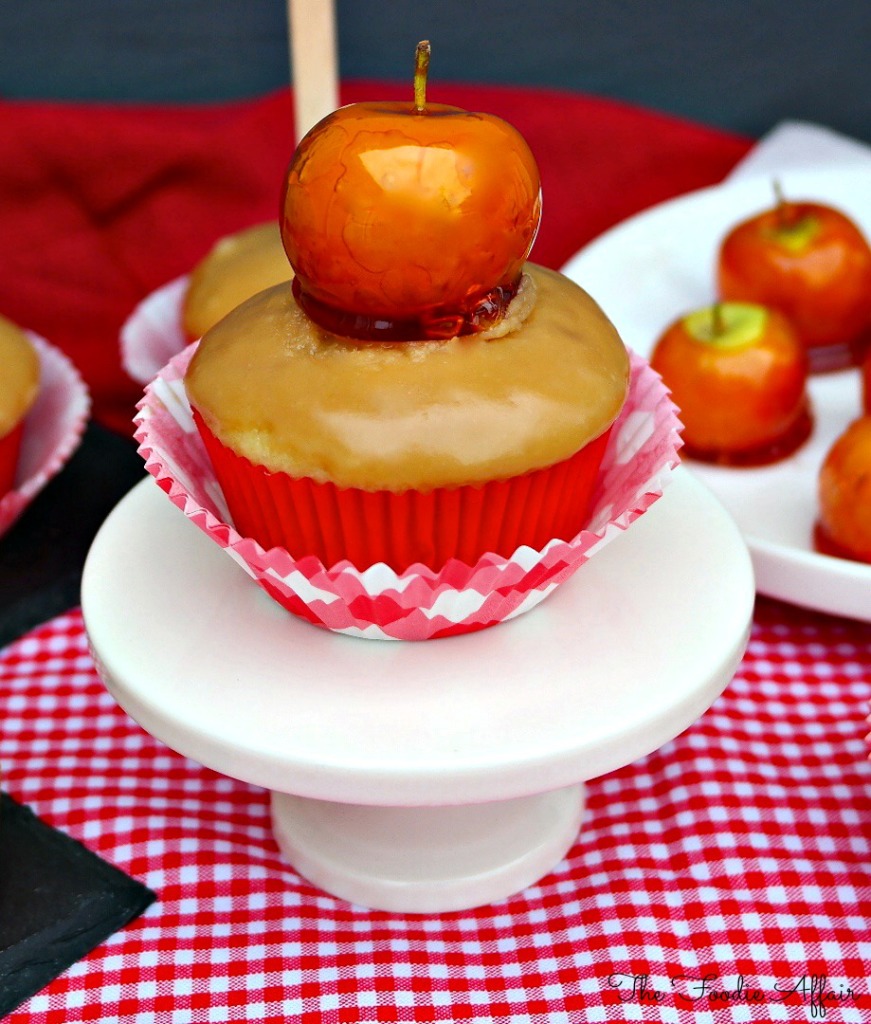 I haven't hit my cookie baking craze for the holidays quite yet. It will come in another week or so, but for now I'm baking scrumptious Fall cupcakes, which just might put me behind the blogging holiday schedule according to what I see on Pinterest! Christmas cookies are in full pinning force, and boy there are some scrumptious looking treats!
Fall is my favorite time of year, and I'm determined not the rush the season along by baking Christmas cookies just yet. Let's enjoy Thanksgiving and these cupcakes first!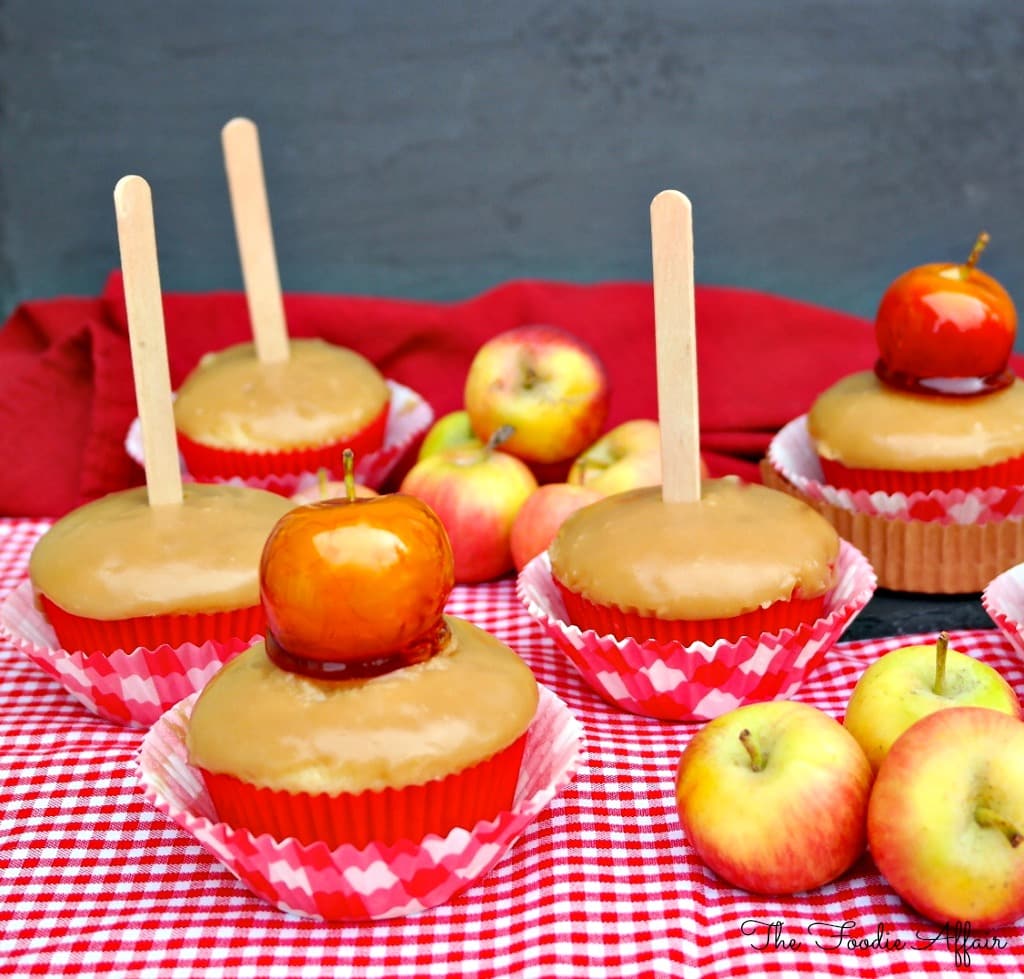 I made a mini birthday cake for my good friend, Michele and these cupcakes! The buttermilk cake is tender and tasty, but what really brings the flavors together is the earthy caramel icing!
Plus, I added an extra special decoration. What looks like a cherry on top of the cupcake is actually a mini candy apple! These crispy adorable Crimson Gold apples were at my grocery store and I had to have them. I bought two bags full!  Aren't they the cutest little apples you've ever seen? They're a perfect little sweet and flavorful snack! They are also the perfect candy apple topper for these cupcakes!
If you're interested in learning more about these little gems, I found this great article Crimson Gold Apples – A Tiny Tasty Treat! over at Shockingly Delicious!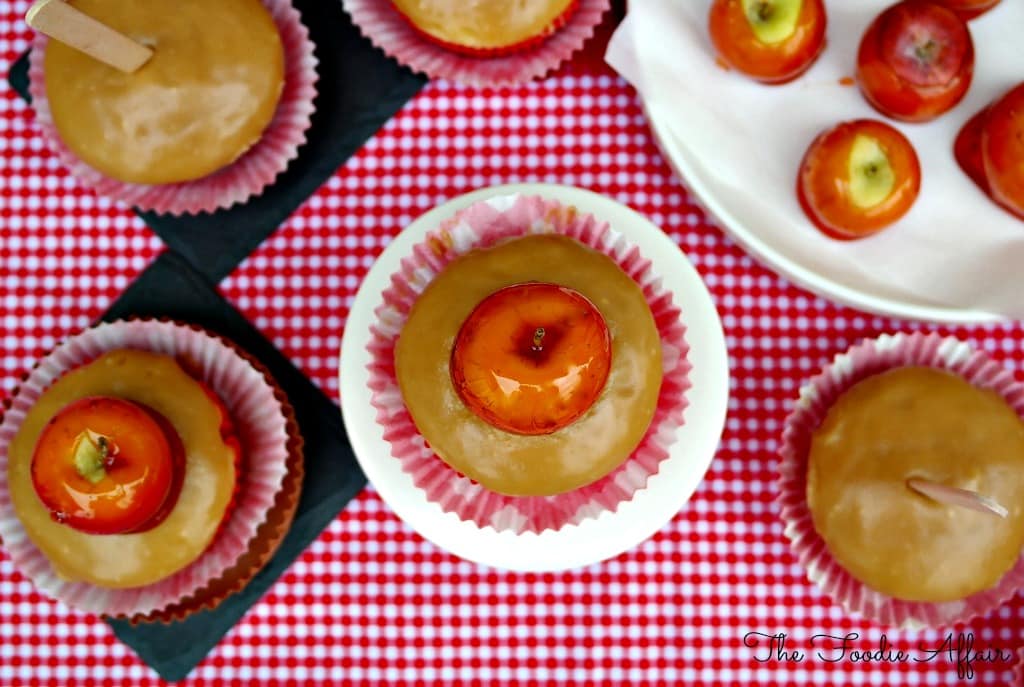 Yield: 24
Buttermilk Cupcakes with Caramel Icing
Total Time
1 hour
15 minutes
Ingredients
1 cup butter, unsalted and at room temperture
2 cups granulated sugar
3 eggs
2 teaspoons vanilla extract
3 cups all-purpose flour
1 teaspoon baking powder
1/2 teaspoon baking soda
1 cup buttermilk
Caramel Icing
1/2 stick (4 ounce) butter, unsalted
1 cup brown sugar, packed
2/3 cup heavy whipping cream
2 cups powdered sugar, sifted
Candy Apple
12 Crimson Apples
1 cup granulated sugar
1/2 cup light corn syrup
3/4 cup water
4-6 drops red food coloring
Instructions
Pre-heat oven at 350 degrees. Line 2 muffin pans with cupcake liners and set aside.
In a large bowl, cream butter and sugar together until fluffy. Add eggs one a a time beating well after each addition. Mix in vanilla.
In a separate medium bowl whisk together flour, baking powder, and baking soda. Add a third of the flour to the butter mixture alternate with buttermilk. Mix well after each addition. Pour into prepared cupcake pan and bake for 20-25 minutes or until a toothpick inserted in the middle comes out clean. Cool on a wire baking rack.
CARAMEL ICING
Combine butter, brown sugar and cream in a small saucepan. Over medium heat bring to a boil, stirring constantly ensuring the sugar melts and none is on the bottom of the saucepan. Remove from heat and cool for 10 minutes. On low speed beat in sifted powdered sugar until smooth. Dip each cupcake into the batter and let set.
CANDY APPLES
Line a baking sheet with parchment paper and place clean mini apple on top and set aside.
In a small saucepan add sugar, corn syrup and water and cook over medium heat (watch so it closely so it doesn't boil over pan) until a candy thermometer reaches 300 degrees (not more than 310). Remove from heat and stir in food coloring. Using a spear or small pliers (protect your fingers and hands!) dip each apple into the hot candy. Place back on baking sheet and let harden. Place on cupcake or eat plain.
Notes
Insert popsicle sticks (12) into half of the cupcakes for a caramel apple look!