Finger lickin good barbecue sauce for all our summer grilling foods! 
This sauce is a little sweet with a pinch of heat.  Delicious on chicken or any of your favorite grilled meats.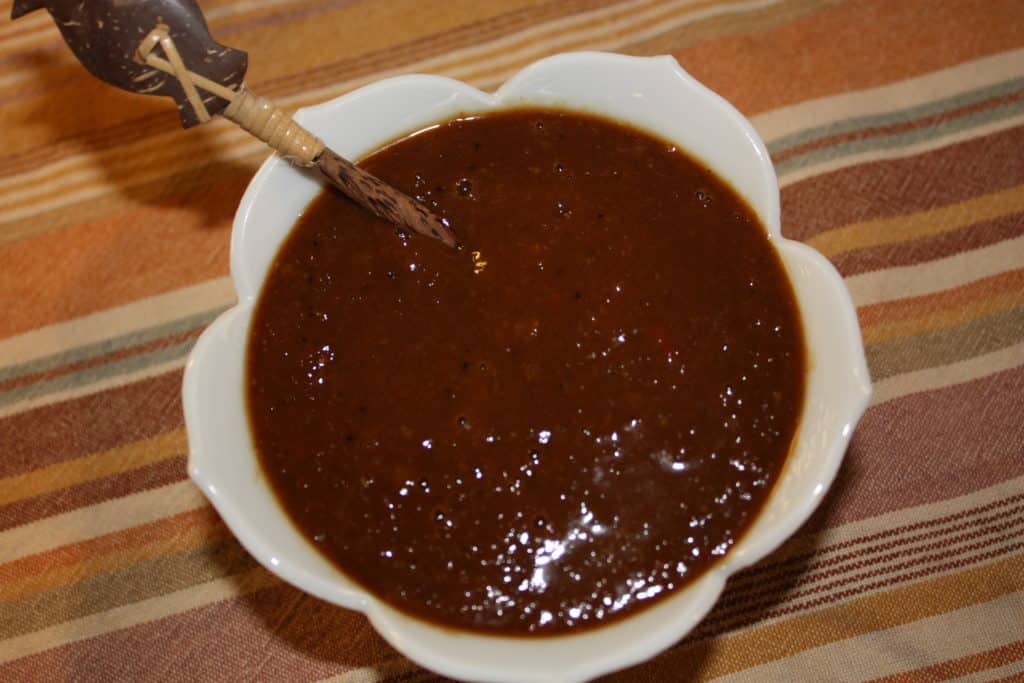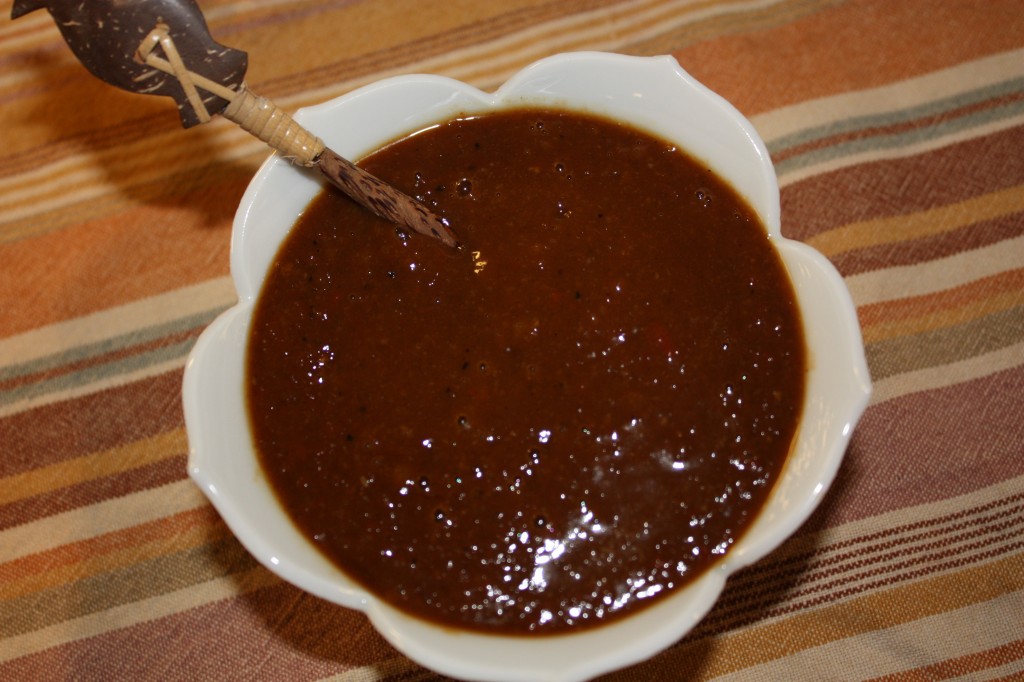 I love summer barbecues.  The open fire with Alan prepping the grill while drinking a beer, it's my favorite way to spend our summer evenings.
I especially like that Alan enjoys being the cook when we barbecue. It's his domaine and through trial and error he has become quite the grill master!
Thank goodness, because open flame cooking is not my territory.  In fact, I don't think I have ever grilled anything, ever!
I'm good.
I do have a couple of favorite store bought barbecue sauces that I go to when I want to add some super quick and easy flavor when grilling.
While poking through the refrigerator looking to see what I had on hand, I noticed that the first ingredient on one of my favorite sauces is high fructose corn syrup.
No wonder the meat quickly chars!  The heat has to sizzle through the sugar before getting to the meat!
Homemade is best, always!  This finger lickin good sauce recipe was printed in our Sunday paper, the USA Weekend, and it's delicious just as they promised.
With only three tablespoons of molasses, it's low in sugar.  Easy to make too.
Molasses and mango adds the sweetness you might be used to in your barbecue sauces, and jalapeño peppers adds a little spicy kick. Nice combination.
Yield: 8
Finger Lickin Good Barbecue Sauce
Ingredients
2 Tablespoons olive oil
1 small onion, diced (about 1 cup)
1 medium red bell pepper, seeded and diced (about 1 cup)
3 garlic cloves, chopped (about 1 Tablespoon)
1/4 Teaspoon black pepper
1/2 Teaspoon ground allspice
1/3 cup red wine vinegar (I only had white to add)
3 Tablespoons unsulfured molasses
2 Tablespoons Worcestershire sauce
Juice from one lime
1/4 cup tomato sauce
1 medium ripe mango, peeled, pitted and diced (about 1 1/2 cups)
2-3 jalapeño peppers, seeded and minced
8 boneless, skinless chicken breast halves (about 2 1/2 pounds), pounded between 2 sheets of waxed paper to 1/2-inch thickness
Instructions
Heat the oil in a medium sauce pan over medium-high heat. Add the onion and cook, stirring a few times, until translucent, about 3 minutes. Add the bell pepper, garlic, black pepper and allspice and cook, stirring for 2 minutes more. Stir in the vinegar, molasses, Worcestershire, lime juice and tomato sauce. Mix the ingredients and cook for 1 minute more. Transfer the mixture to a blender and add the mango and jalapeños. Blend until smooth. Put 2 cups of the barbecue sauce in a large, sealable plastic bag with the chicken and marinate for 1 hour in the refrigerator. Reserve remaining sauce for serving.
For the chicken, Prep the grill by spraying with cooking spray and heat over medium- high heat. Remove the chicken from the sauce, discarding the sauce in the bag. Grill the chicken for about 4 minutes per side. Serve the chicken with the reserved sauce on the side.



You can make the sauce up to three days in advance.
Try the sauce on pork chops, grilled shrimp skewers or drizzle it over grilled vegetables. The recipe makes about 3 cups.
Another favorite sauce your might enjoy is Wild Garlic Hazelnut Pesto from Vohn's Vittles or Grilled Chicken Fajita Marinade from Aunt Bee's Recipes.
Looking for more BBQ recipes? Visit Nosh My Way's Foodie Friends Friday for a collection of recipes!! My Finger-Lickin' Good Barbecue Sauce was picked as the Host's Favorite!