Open Faced Cauliflower Cheddar Melt with slices of pears and honey mustard! Thick slices of cauliflower are roasted with smoky paprika and mustard spices adding delicious flavor to this hearty and satisfy vegetarian sandwich!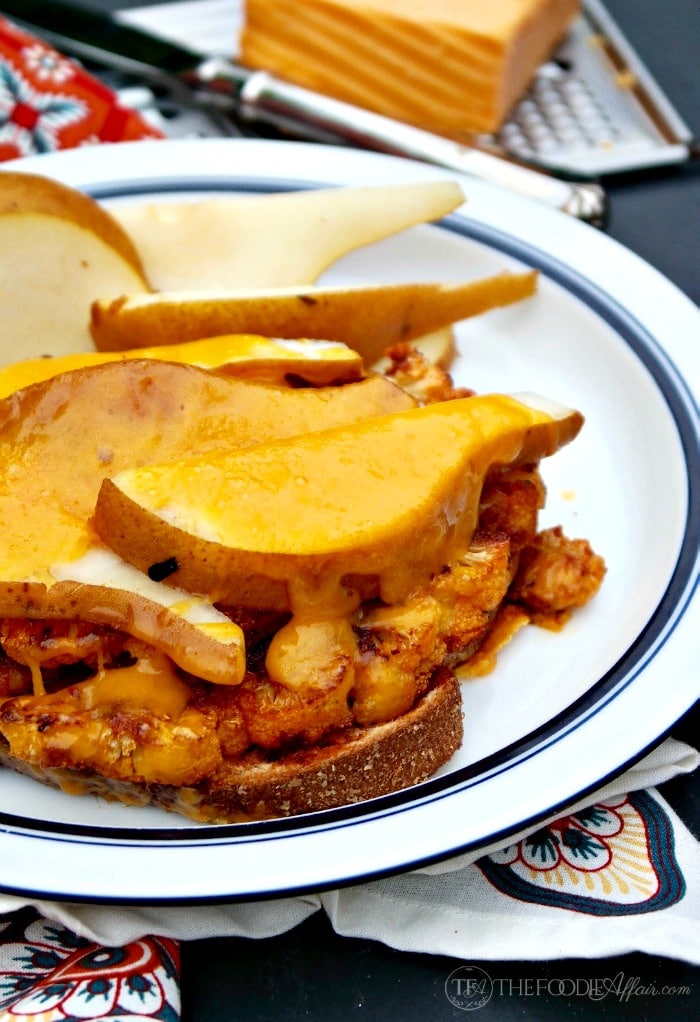 This sandwich tastes so much better than I expected, so of course I had to share it with you! I have to tell you right away that although this may not be the prettiest looking sammy it sure does make up for it's looks in flavor!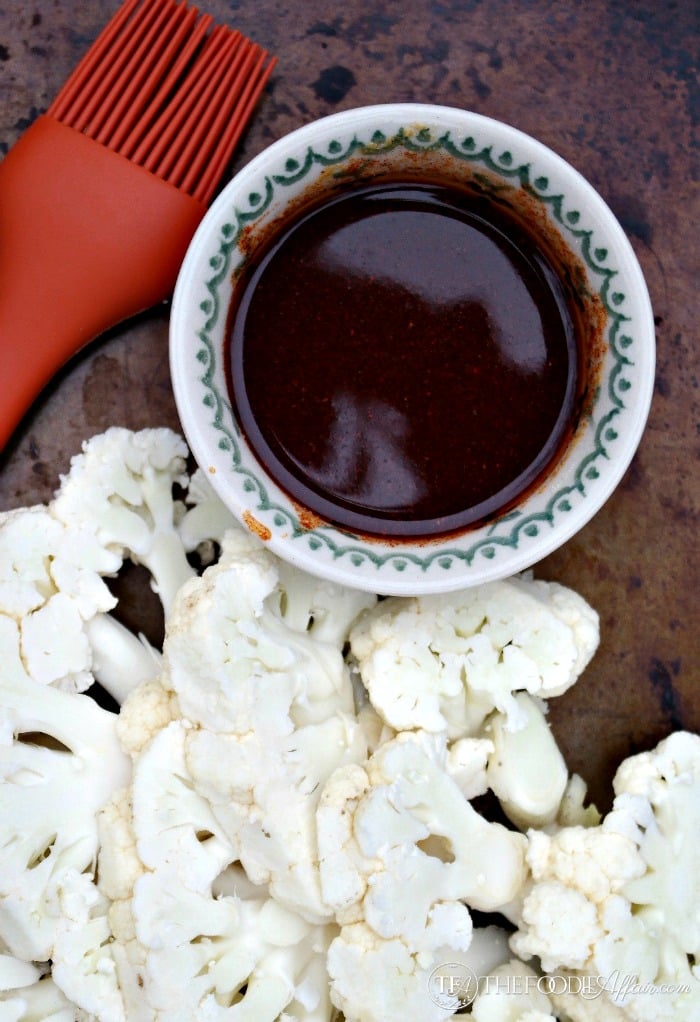 I needed to use up a head of cauliflower that has been hogging all the space in my vegetable drawer, so while looking for some inspiration I came across this Roasted Cauliflower Melt. The flavors sounded so interesting and something I would see at a fancy-dancy vegetarian restaurants in town. It's excellent!
The recipe says that it is enough for four servings, but I made two open face sandwiches, riced the florets that didn't fit on one baking sheet, and Sam ate the rest of the roasted cauliflower!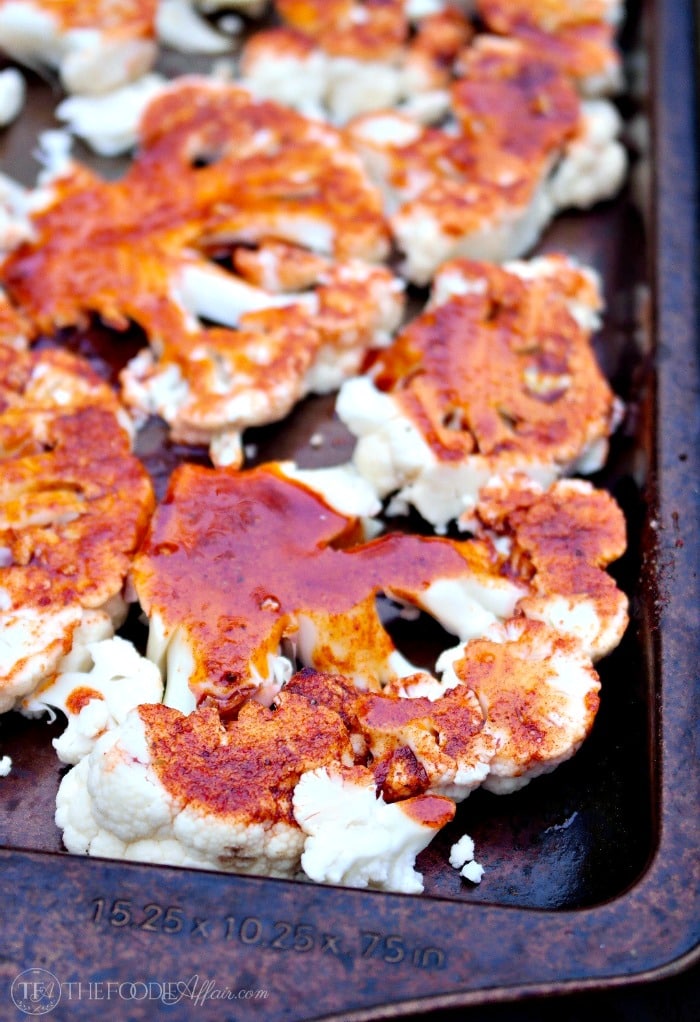 That kid is alway hungry – always! Alan and I just ate our cauliflower cheddar melts when Sam came into the kitchen starving! Since there was plenty of cauliflower I suggested a melt, but he looked at the veggies and said, "nawh, I'll pass"
Not a second later I suggested tossing an egg on top with the cheese and he immediately perked up! "Yeah, I'm down!" He devoured the rest of the veggies and now I wish I would have not said a word so I would have leftovers – haha!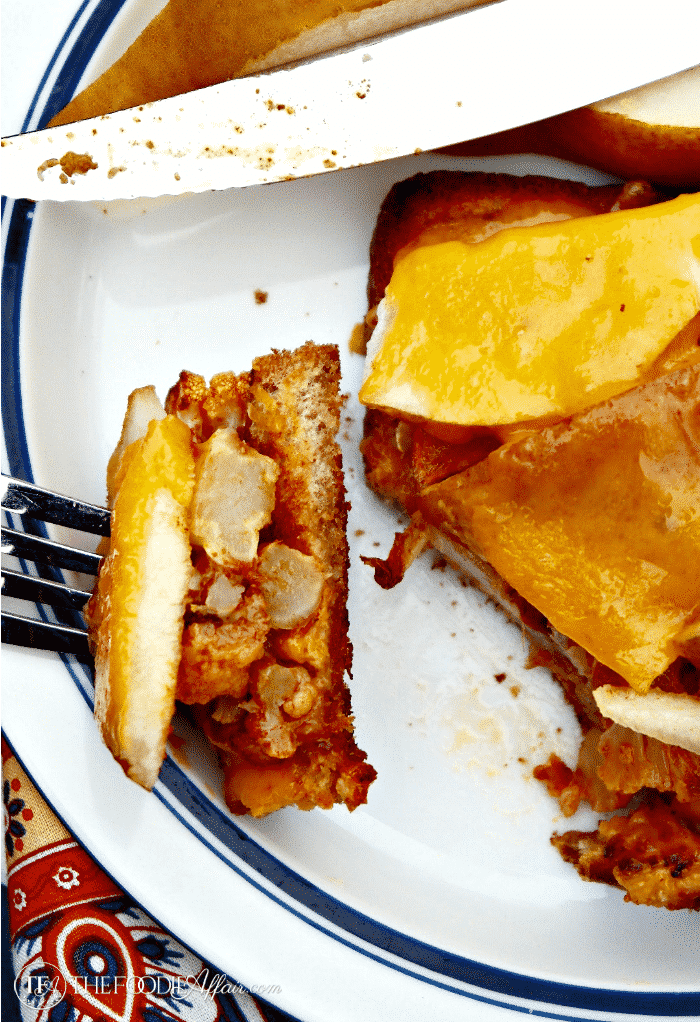 Yield: 3
Open Faced Cauliflower Cheddar Melt
Prep Time 10 minutes

Cook Time 20 minutes

Total Time 30 minutes
Ingredients
1 head cauliflower, core cute and sliced into 1/2 inch thick pieces.
1/4 cup olive oil
2 teaspoons smoky paprika
2 teaspoons mustard (dry)
1/4 teaspoon salt
1/8 teaspoon pepper
2-4 slices bread
1 cup cheddar cheese, shredded
2 pears, sliced
Instructions
Preheat the oven to 450 degrees.
In a small bowl whisk together olive oil. paprika, mustard, salt and pepper.
Place cauliflower on a baking sheet and brush oil mix over the slices. Roast for 10 minutes. Flip over and coat with remaining oil and continue to roast for an additional 10 minutes. Remove from oven and cool.
Butter one side of the bread and place it on a skillet, medium heat. Add honey mustard
cheddar cheese (2-3 tablespoons) cauliflower slices, sliced pears until cheese has melted and the bottom slice of bread is toasted. Remove from skilled and put on a baking sheet. Top with additional cheese and broil in the oven until melted. Serve immediately.