Hot Chocolate Bomb Recipe
Hot Chocolate Bomb Recipe is the hottest food trend going around this fall. What's a hot cocoa bomb? It's a chocolate ball that you add to warm milk!
My version is a sugar free hot chocolate bomb recipe using an Instant Pot egg bite mold. Pop these chocolate filled bombs in warm almond milk and watch the chocolate sphere explode into a rich cup of hot chocolate!
You will love this fun way to enjoy a cup of hot chocolate!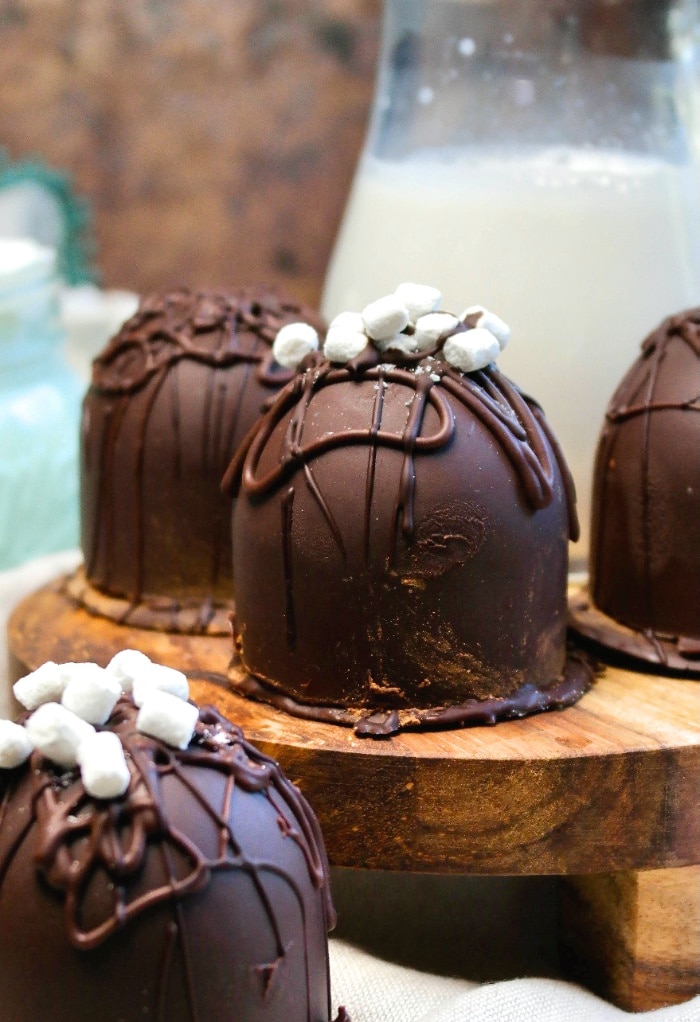 Hot Chocolate Bomb Recipe
Not only is this a delicious cup of chocolate that both kids and adults are enjoying, but this particular recipe is made without granulated sugar keeping this a low carb and keto friendly recipe.
What? Keto hot chocolate beverage! Yes, rich and delicious cocoa bombs can also be made without granulated sugar. It's possible and it happened.
Cocoa bomb trend
Cocoa bombs have exploded on the internet. They're running pretty wild on Pinterest where you will find with tons of different variations.
Although, I'm not usually this hip or timely with food trends or any trend for that matter, I really wanted to give this one a try.
However, you know me, a slightly healthier version is my preference. Mission accomplished! I hope this version will intrigue you to try this hot chocolate bomb recipe too!
Not only are these hot chocolate bombs delicious, but they're also fun to make.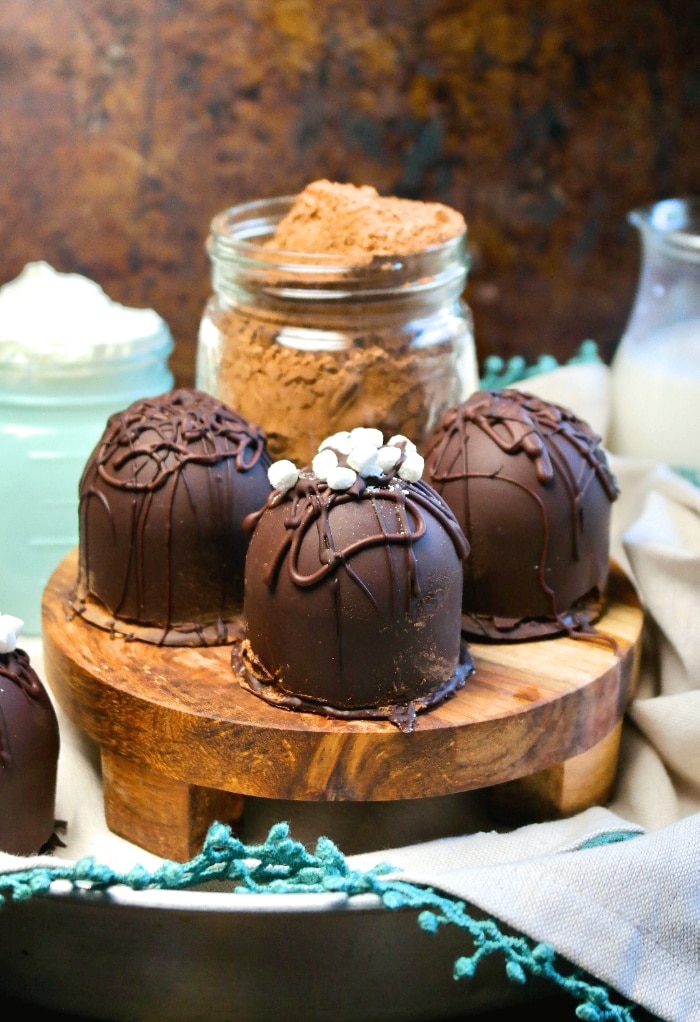 Where did cocoa bombs originate?
You know I am a stickler for giving credit where credit it due.
The last time I made a trending recipe (fat head pizza) I searched and searched the internet until I found the original creator.
This time I found multiple sources claiming the origination of the cocoa bomb, but the one name that keeps popping up is Eric Torres Garcia.
Apparently the trend was discovered in a Tic Tok video that went viral last year.
Now Eric (I think he's a kid – 20's college student!) has an online site called Cocoa Bombs where you can buy these beauties.
The original hot chocolate bomb recipe is made of several layers of chocolate.
Inside each sphere you will find mini marshmallows that pop out when the chocolate melts.
Fun huh?
The homemade version has been adapted to add cocoa powder adding to the richness of a cup of hot chocolate.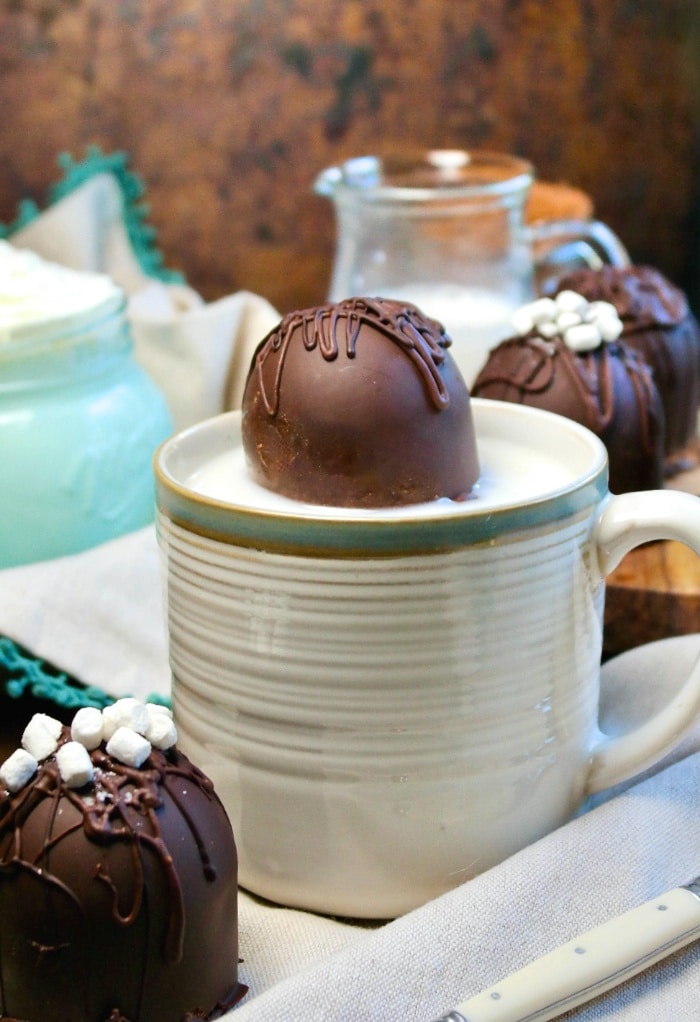 Ingredients needed for homemade hot cocoa bombs
To make these cocoa bombs at home you will need a silicone mold. I didn't buy the round silicone spheres you might see on the internet.
However, I have an easy hack! Use an Instant Pot Egg Bites mold, and although shaped a little differently, they turned out great!
Gather the ingredients:
Sugar free chocolate chips – I use Lakanto (affiliate).
Cocoa mix – make your own sugar-free version. Check out my hot cocoa mix recipe. Alternatively, double up the chocolate chips and add multiple layers like the original cocoa bomb version.
Kitchen tools needed:
Silicone sphere shaped mold – as mentioned, I used my Instant Pot Egg Bite mold.
Double boiler to melt the chocolate.
Measuring spoon – you will need 1 tablespoon
Baking sheet covered with parchment paper.
2″ round circle to use as a template. I used the rim of a shot glass.
Parchment paper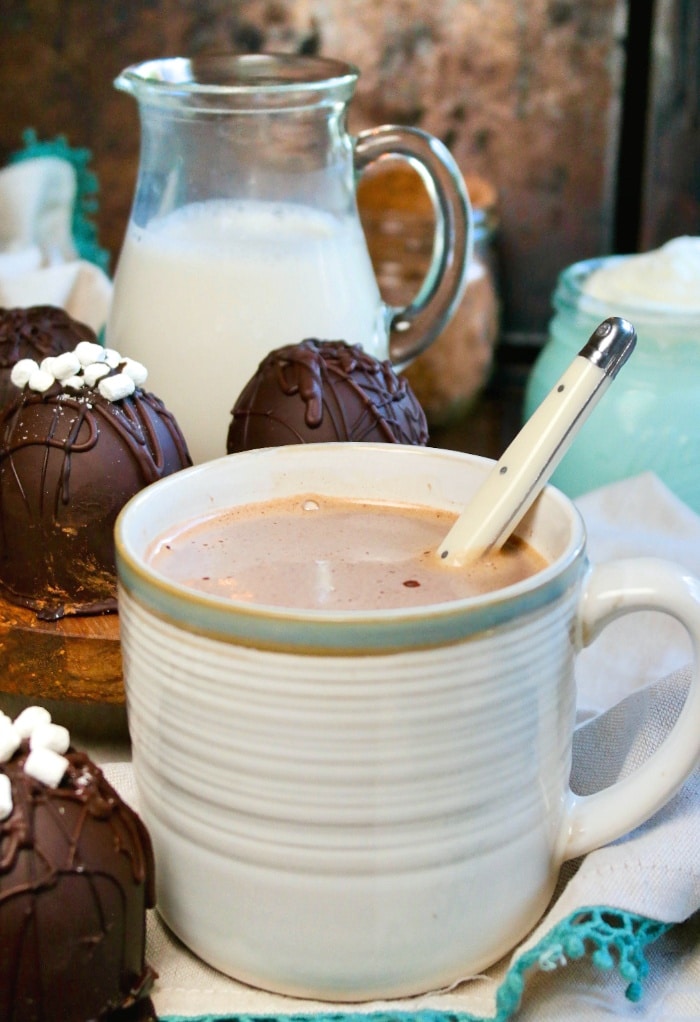 How to make hot chocolate bombs
Ready to make some hot chocolate bombs? First, I recommend clearing an area that can fit a baking sheet in your refrigerator or freezer.
Melt the chocolate chips over a double boiler. Technically you can use a microwave, but I personally like having control and instant view of the chocolate melting. The picture below shows the chocolate about half way through the melting process.
Add one tablespoon of melted chocolate to the mold and with the back of the spoon spread it covering the mold. Cover each mold as evenly as possible.
Place chocolate filled mold in the refrigerator or freezer to speed up hardening process.
In the meantime, place a small circular template (I used a shot glass) on a piece of parchment paper and trace around it with a pen or pencil. Put the parchment paper on a baking sheet. Place 1/2 tablespoon of chocolate in the middle of the circle, and with the back of the spoon spread the chocolate in the center of each circle. Place in the refrigerator or freezer until it hardens (5-10 minutes).These disks will be used to cover the sphere.
Sugar free hot chocolate from scratch
You will repeat the above steps one more time. In the meantime, whisk up the hot cocoa mix.
Gather the cocoa mix ingredients; sugar free sweetener, unsweetened cocoa, and sugar free chocolate bar.
Place the all ingredients in a food processor or blender. Pulse until chocolate bar is well blended with the cocoa and sweetener.
Putting the cocoa bombs together
Now the fun part of this recipe is to put the hot chocolate bombs together.
Gently remove each chocolate out of the silicone mold by pushing the chocolate with your fingers out of the mold. Place in a safe spot.
Turn the mold over and add two tablespoons of the cocoa mix into the sphere. Add mini marshmallows if you want!
Put a small amount of the melted chocolate on the rim of the chocolate disk and "glue" it to the bottom of the sphere. Place in the refrigerator or freezer until the chocolate hardens.
Add additional chocolate to the top of the chocolate bombs and any other sprinkles to decorate the cocoa bombs.
Now these are ready to enjoy! Place in a mug with warm unsweetened almond or coconut milk. Watch the chocolate bomb explode, stir and enjoy!
Get creative add some fun toppings – seasonal idea? How about wrapping in cellophane and share with someone special!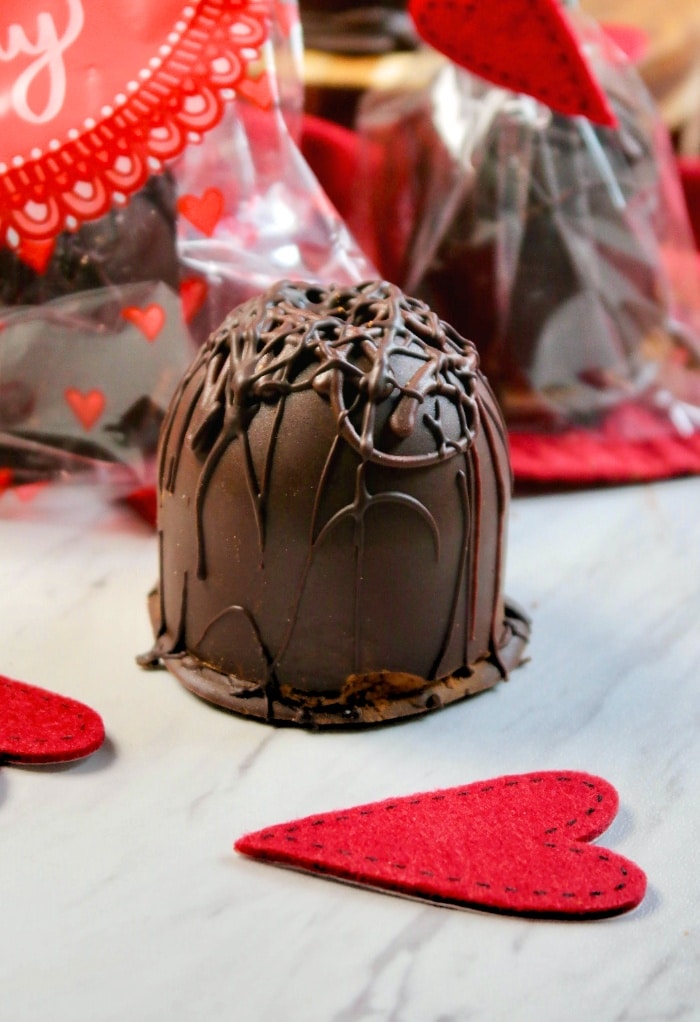 How to store hot chocolate bombs
Keep these chocolate bombs in the refrigerator or cool dry spot in the house until ready to use.
Why did my chocolate shell fall apart?
To make a sturdy chocolate shells be sure to be generous with the chocolate when coating the inside of the silicone mold.
Look to see if there is any thin spots. If you can see through to the colorful mold, then you need to add more chocolate.
If the chocolate breaks, don't worry! Break it up and add it back to the saucepan and melt it again to make another mold.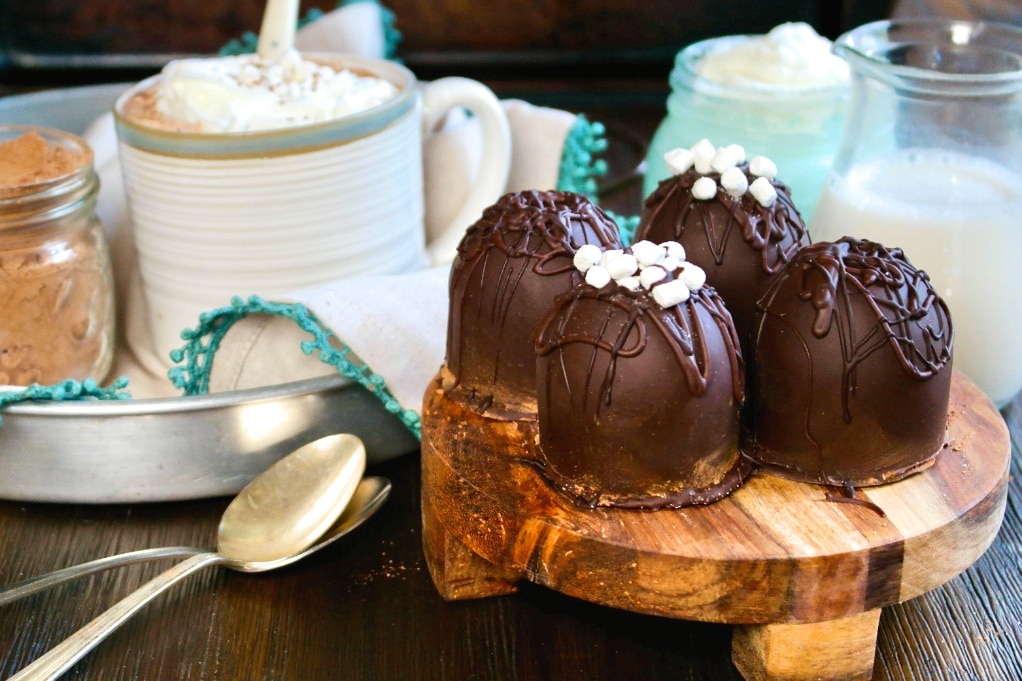 Did you try making these hot chocolate bombs? Do you have any tips? Let me know!
Also, pop these in a warm cup of coffee for a sugar free mocha coffee!
[mv_create key="751″ type="list" title="Warm Drinks" thumbnail="" layout="hero"]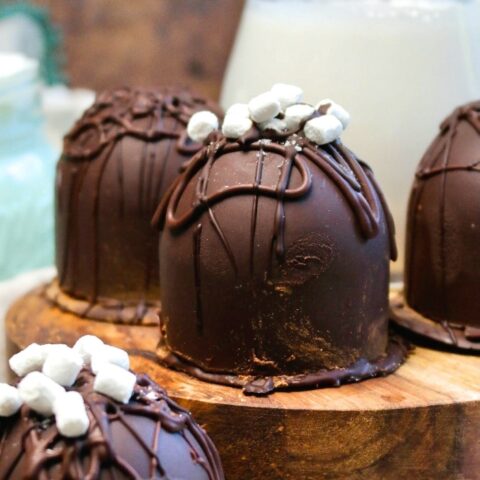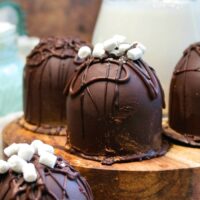 Hot Chocolate Bomb Recipe (Sugar Free)
Hot cocoa bombs made with sugar free ingredients for a low carb – keto hot chocolate beverage. This DIY recipe incorporates an Instant Pot mold to make the spheres. Fun to make with delicious results.
Print
Pin
Rate
Ingredients
8

ounce

Chocolate chips

sugar free (Lakanto)

1 1/4

cup

cocoa powder

unsweetened

1/2

cup

sweetener

sugar free

3

ounce

chocolate bar

sugar free
Milk
6-8

ounce

unsweetened almond or coconut milk
Instructions
Chocolate Spheres
Place chocolate chips over a double boiler and bring water to a simmer. Stir until chocolate is melted and uniform in texture.

Remove chocolate from heat.

Add a tablespoon of the chocolate in the center of the mold. Spread the chocolate with the back of the spoon covering the inside of the mold. Repeat until each mold is layered with chocolate.

Place mold in the refrigerator or freezer until chocolate hardens (about 5-10 minutes).

Repeat chocolate coating process.
Chocolate Disks
Place a sheet of parchment on a baking sheet.

Outline a small 2-inch circle (I used a shot glass as a template).

Place 1/2 tablespoon of melted chocolate in the center of the circle and spread in the center evenly covering the circle.

Place baking sheet with disks into the refrigerator or freezer until the chocolate hardens (about 5 minutes).

Repeat the chocolate coating process.
Sugar Free Hot Cocoa Mix
While the chocolate hardens place cocoa, sweetener and chocolate bar in a food processor or blender. Pulse until the chocolate bar breaks down and is well incorporated into the cocoa and sweetener.
Assemble Cocoa Bombs
Once the chocolate spheres and disks have hardened, gently remove them from the mold and parchment paper.

Turn the sphere upside down and add 2 tablespoons of the prepared hot cocoa mix in the center of the chocolate mold.

Take a disk and outline the perimeter with melted chocolate. Place the disk on top of the open chocolate sphere to "glue" to the bomb. Place in the refrigerator or freezer until chocolate seals.

Repeat the process for the remaining chocolate bombs.

Once hardened, add additional chocolate on top or any other decor you prefer.
Hot Chocolate
Simmer almond or coconut milk in a small saucepan until warm.

Place prepared cocoa bomb in a mug.

Pour warm milk over the cocoa bomb.

Stir the hot chocolate with a spoon.

Add fresh whipped cream, cinnamon or any other toppings you would like.
Notes
I used Lakanto chocolate chips (affiliate) for the mold, and Simply Life dark chocolate bar for the cocoa mix.
Note that you will have extra cocoa mix. Not all of the mix was used in the chocolate bombs. Add extra to individual cups or separately add 4 tablespoons to an 8 ounce cup of milk of your choice.
The macronutrients are for the chocolate shells only.
Nutrition
Serving:
1
g
|
Calories:
125
kcal
|
Sodium:
13
mg
Disclaimer
Please note that the nutritional information provided are guidelines and may vary based on the brand of products used. For your specific nutritional goals use My Fitness Pal or Verywell Fit recipe calculators. All content within this site is not intended as medical diagnosis or treatment and should not be considered a substitute for professional medical expertise.
PIN TO YOUR DIY, LOW CARB, SUGAR FREE, AND KETO BEVERAGE BOARDS