Chicken Divan Stuffed Shells in Dijon Sauce is made without any canned soups, mayonnaise or sour cream. This mouthwatering dish has all the comforts of the traditional dish without all the calories.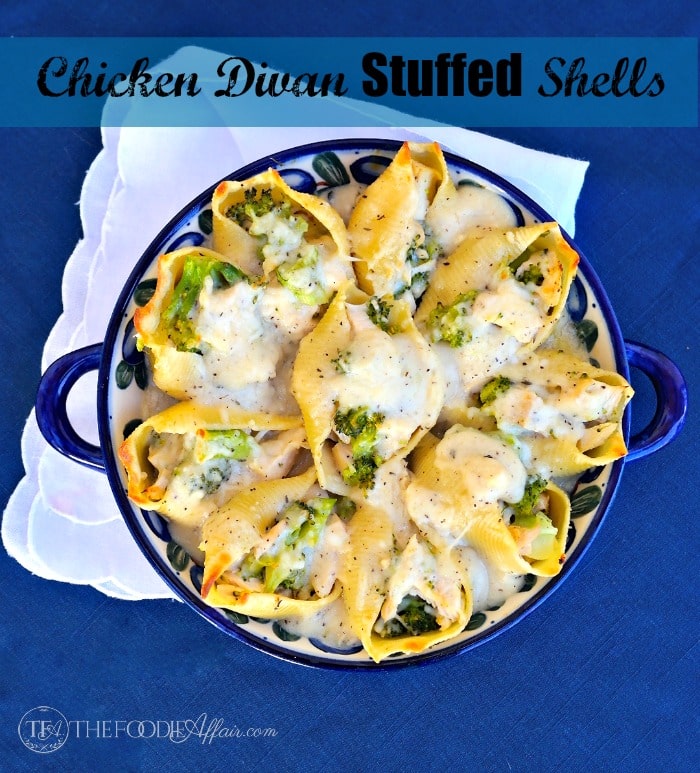 By coincidence I'm sharing a version of another classic French recipe created during the same time-frame as the French 75 cocktail. I think this must be a sign that I should be planning a trip to Paris!
Chicken Divan was created by a chef that worked at the Divan Parisien Restaurant in the New York Chatham Hotel (wikipedia). The traditional dish is made with a rich French Mornay sauce that covers filets of chicken and a vegetable like broccoli. If you've eaten French food before, then you know that sauces are the foundation for the cuisine, so the rich and creamy sauce is what you would expect to find in a dish like this.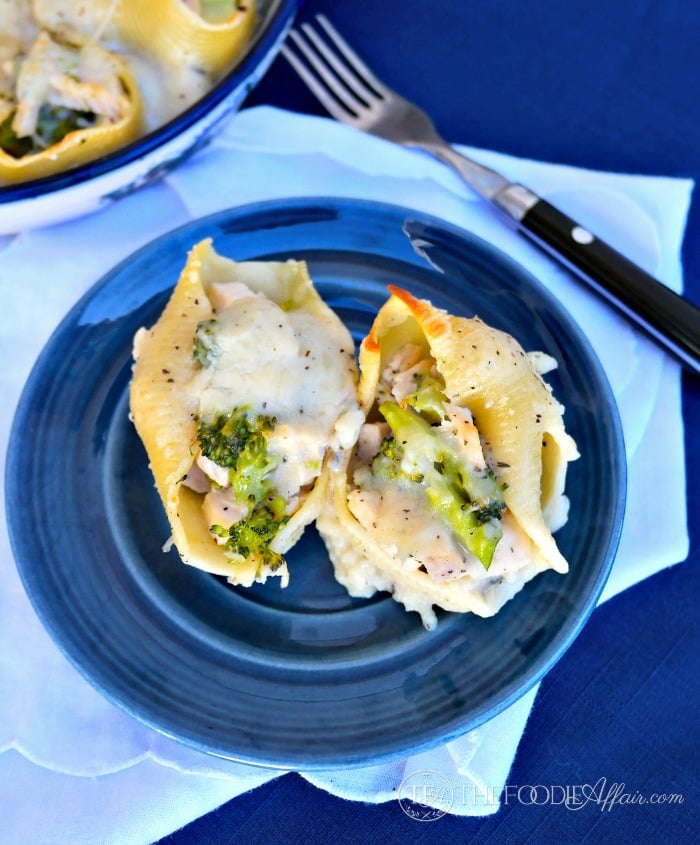 What you don't expect is to find the same ingredients in the classic dish to be served in pasta shells or the sauce to be lightened up! Without sacrificing the flavor, I made a homemade sauce using low-fat milk and chicken broth in place of the half & half that is commonly used in creamy sauces, and then I whisked in a roux to thicken it up. Only a half of cup of parmesan cheese is folded into the sauce giving it a sharp nutty flavor.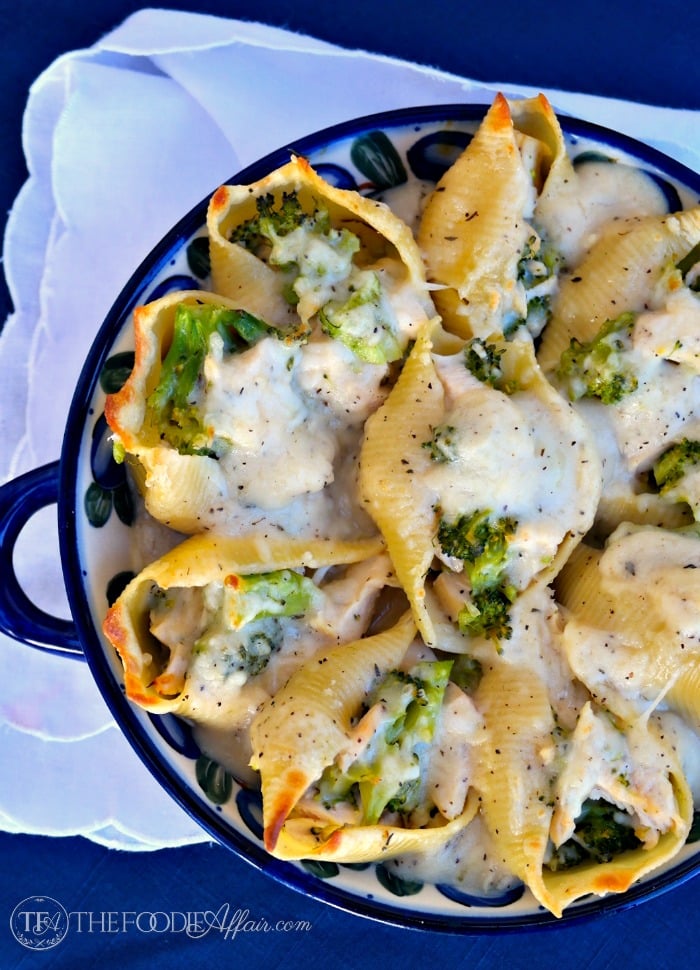 These Chicken Divan Stuffed Shells are savory and rich, the two flavors that we love to taste together, and you can cut the cooking time down by using leftover chicken or purchase a cooked roasted chicken. You won't miss the calories in this lightened up Mornay sauce, I promise, but if you have an opportunity to taste the authentic dish in Paris, then please lick the plate and sent me a photo! 🙂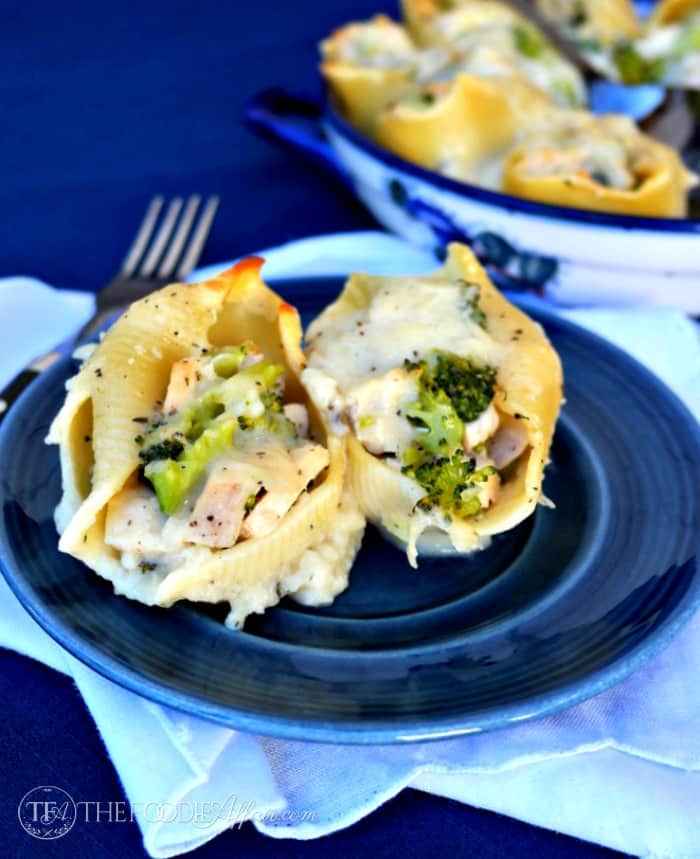 Yield: 4-6
Chicken Divan Stuffed Shells In Dijon Sauce
Prep Time 20 minutes

Cook Time 30 minutes

Total Time 50 minutes
Ingredients
1 12 ounce jumbo pasta shells
4 chicken breasts cooked and diced (about 1 1/2 lbs if using leftovers)
2 bunches broccoli, steamed for 5 minutes until crisp-tender and diced
4 tablespoons butter, unsalted
4 tablespoons flour
1 1/2 cups chicken broth (I used Better Than Bouillon)
1 cup low-fat milk (you can use cream, full fat or half & half for a richer sauce)
1/3 cup sherry wine
1/2 teaspoon thyme
1/2 teaspoon salt
1/2 teaspoon ground pepper
1 cup Parmesan Reggiano blend of cheese, shredded (divided)
1/4 cup Greek yogurt
2 1/2 teaspoons Dijon mustard
Instructions
Preheat oven to 350 degrees F. Coat a baking dish with cooking spray.
Cook Pasta shells according to package directions. Drain and cool.
In a medium saucepan melt butter over medium heat. Whisk in flour and cook for 1-2 minutes. Gradually whisk in chicken broth, milk, sherry, thyme, salt and pepper stirring constantly. Bring to a boil and then reduce to a simmer until the sauce is thickened. Remove from heat and stir in 1/2 cup parmesan cheese, yogurt and Dijon mustard.
In a large bowl, combine chicken, broccoli and half of the prepared sauce. Put 1/2 cup of the sauce on the bottom of the baking dish.
Spoon chicken/broccoli mixture into prepared shells and place on baking dish. Spoon the remaining sauce over the shells and sprinkle top with 1/2 cup parmesan cheese. Cover with foil and bake for 20-25 minutes. Uncover and bake until cheese is melted. Let cool for 10 minutes before serving
Notes
Leftover chicken can be used for this dish. Dark and white meat are both delicious in this recipe.