Curried Chicken Pita Sandwich on whole wheat pita breads: a tasty and healthy protein packed sandwich! Wonderful melody of flavors of curry spice complemented by the tart cranberries and sweet chunks of pears in this sandwich. 
Time for a menu re-set around here! We've been partying non-stop for a few weeks now. First it was Sam's 20th, and last weekend was my 50th birthday! You know the saying, you ARE what you eat?! Right now I'm a chocolate cake because when you have homemade cake for weeks in the house, it's only natural to grab a fork and enjoy bites for breakfast, lunch and dinner!!
My husband and our kids planned a surprise party for me, and wow they sure did a great job! The theme was Oktoberfest since we are right in the heels of the event (Germany celebrates in September). They told me after the celebration that no birthday party for the person behind The Foodie Affair could happen without a theme! I'll have to share photos in another post. 
I'm so glad they didn't choose the black theme of death or "over the hill" theme to celebrate my birthday! Lol I feel blessed and happy to be fifty. Maybe I'm still in shock. I'm not sure, but I do know that I have so much love in my life and lots to be grateful for, so I choose to keep my glass half full!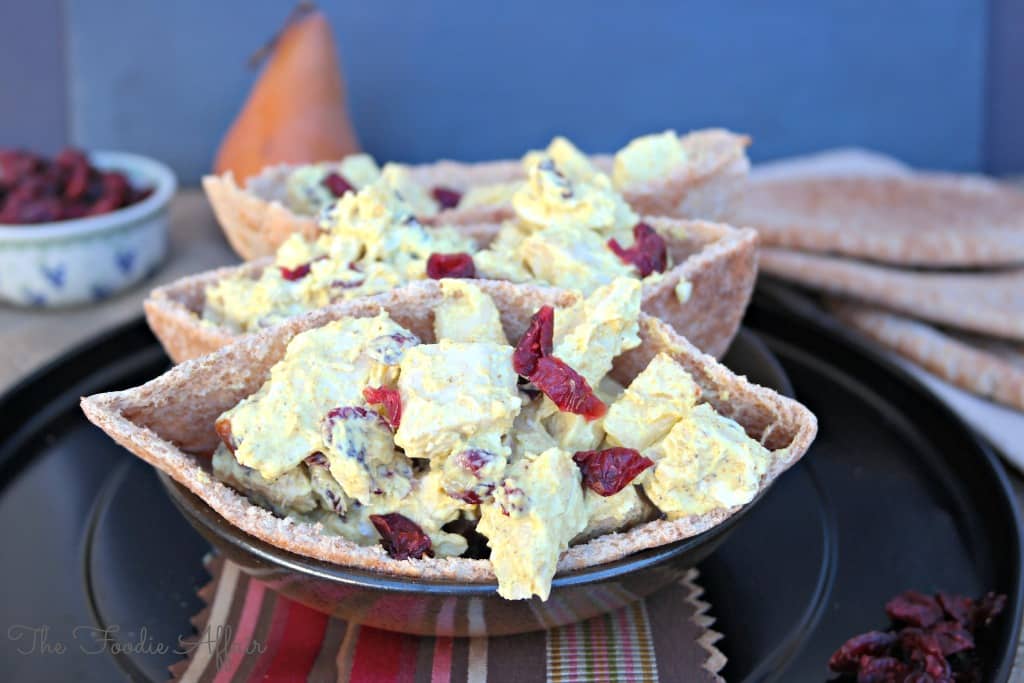 My family spruced up Ashley's house where the party was at with bright blue and white Oktoberfest décor, and then catered a full German menu from the one authentic restaurant we have in town. Schnitzel, brats, spätzle…the works, plus a variety of beverages, including a keg of beer, which hasn't been our way of buying or serving beer since college!  AND don't let me forget to tell you about the cake! My mom made a giant chocolate cake rimed with toasted coconut and pecans. NOW you really understand my need to get my diet back on track!
This pita sandwich is the perfect step in the right direction to eating healthier. The creamy base of this chicken salad is Greek yogurt, which adds another dose of delicious protein with the chicken.  The cranberries and pears really taste scrumptious with the spice of the curry. You could add some toasted almonds for another layer of flavor. I decided to keep the extra calories out of this meal.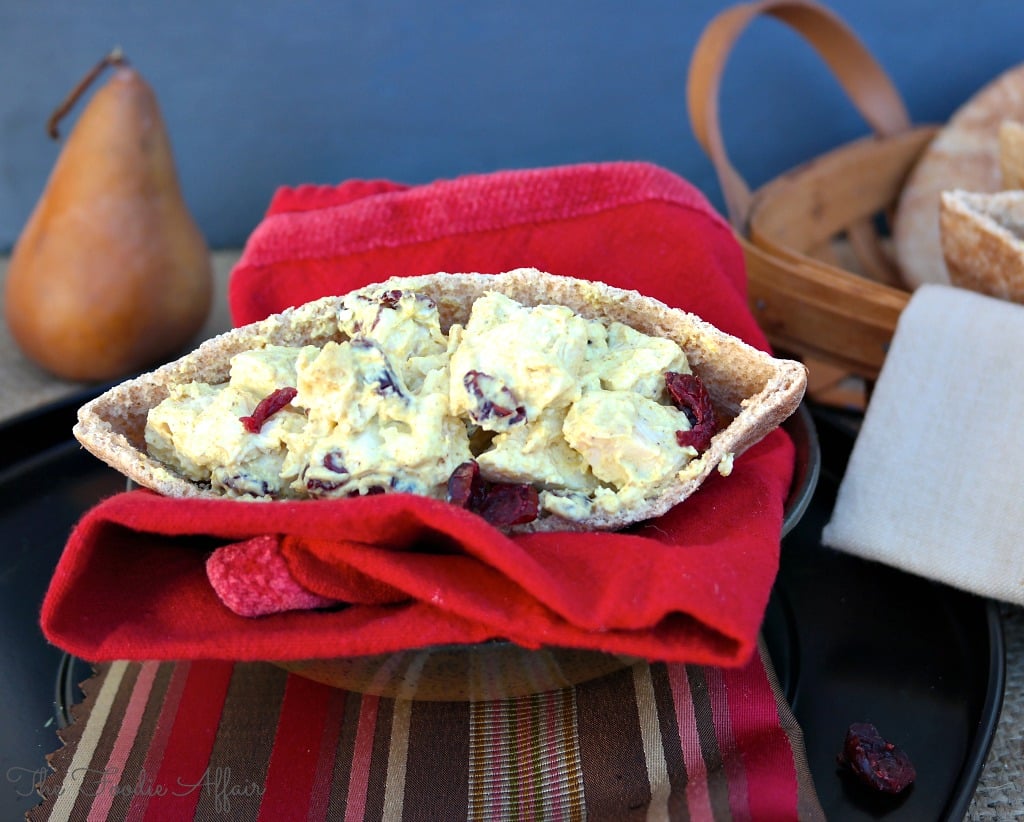 Yield: 4-6
Curried Chicken Pita Sandwich
Prep Time 10 minutes

Cook Time 10 minutes

Total Time 20 minutes
Ingredients
3 chicken breasts, cooked and diced
1 cup Greek yogurt
3 teaspoons honey mustard
1 1/2 teaspoon curry
1/2 cup dried cranberries
1 large pear, diced
4-5 Whole wheat pita breads, cut in half
Instructions
Combine yogurt, honey mustard, and curry powder in a large bowl. Add diced chicken, pear, and cranberries; toss to combine.
Fill each pita half with chicken mixture.