This hearty one dish-meal can be whipped up in less than an hour. Lamb or beef is often used as the main protein for this dish, but I used turkey for this recipe. I also cut my preparation time down by using pre-made mashed potatoes that I get from Trader Joe's. Have you tried them? They're packaged in frozen tablespoon sized disks that you warm up, then mix up for a quick side dish. Super convenient to have on hand, and helps shorten my mad rush to get a meal on the table in the evenings. If your schedule allows, homemade mashed potatoes can be made in about 20 minutes once the water gets boiling.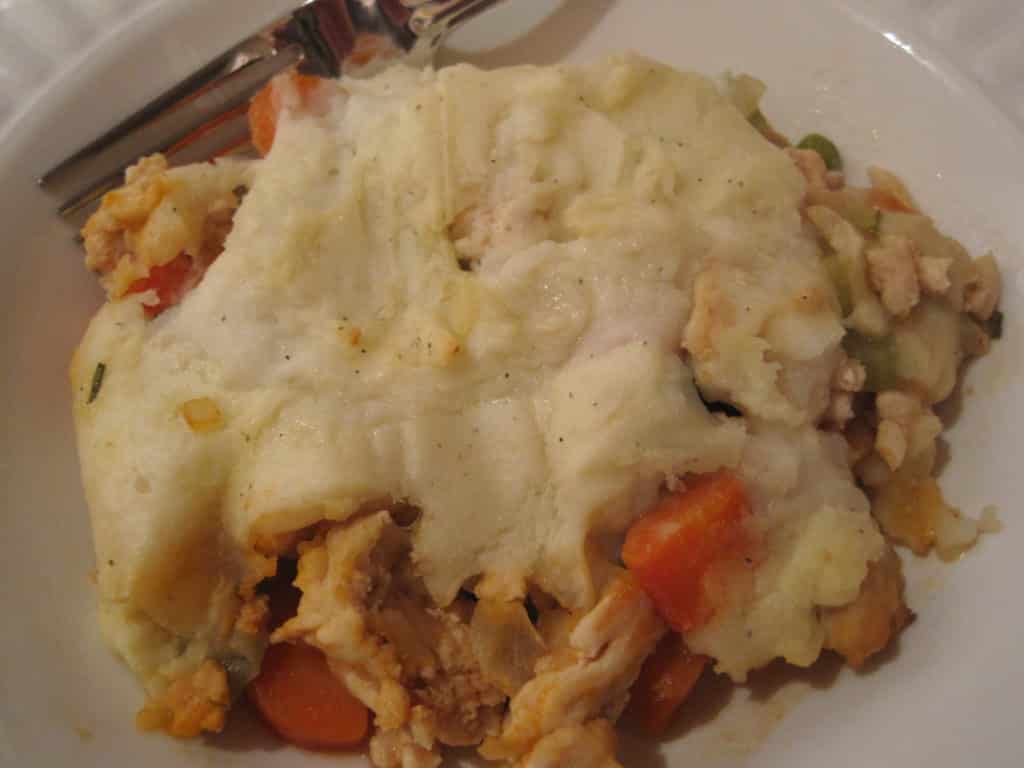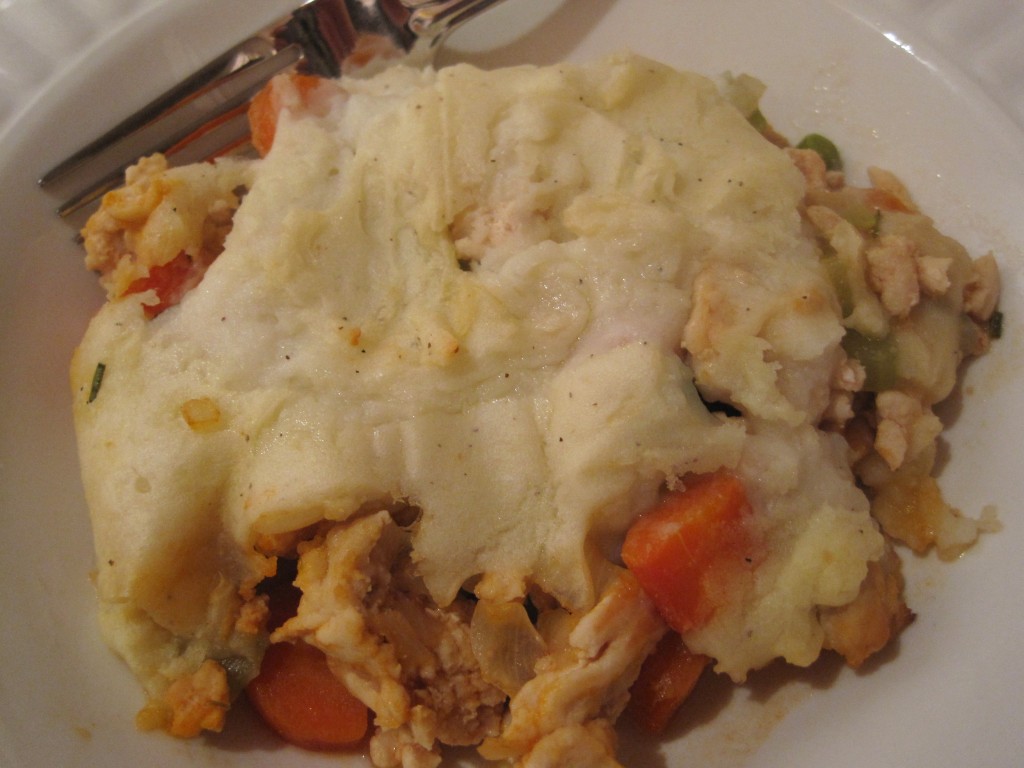 Shepherds Pie (serves 4-6) adapted from Spark Recipes
Preheat oven to 375 degrees
1 lb. potatoes, peeled and quartered
2/3 cups milk
salt and pepper to taste
OR
Pre-made frozen potatoes (I used approximately half of the bag)
Boil potatoes over high heat until tender (about 20 minutes), drain, mash, add milk, then season with salt & pepper OR follow directions on pre-made potatoes bag.
1 lb. ground turkey meat
4 Tablespoons olive oil
1 cup carrots, diced
1/3 cup celery, diced
1 cup onion, diced
1/2 cup petite peas
1 teaspoon fresh rosemary, chopped
1 cup chicken broth
1 Tablespoon tomato paste
Over medium-high heat warm 1-2 tablespoon of oil in a large skillet. Add turkey meat, stir to break up meat in small pieces and cook until no pink is visible. Remove turkey and set aside.
Heat 1-2 tablespoons of oil in the same skillet. Add carrots, onion, celery, and rosemary until vegetables are tender (about 8 minutes). Return turkey to pan, add broth and tomato paste, incorporate all ingredients and cook for about 5 minutes. Fold in peas. Put all ingredients in a shallow dish top with mashed potatoes. Cook for 30 minutes. Let sit for 5 minutes before serving.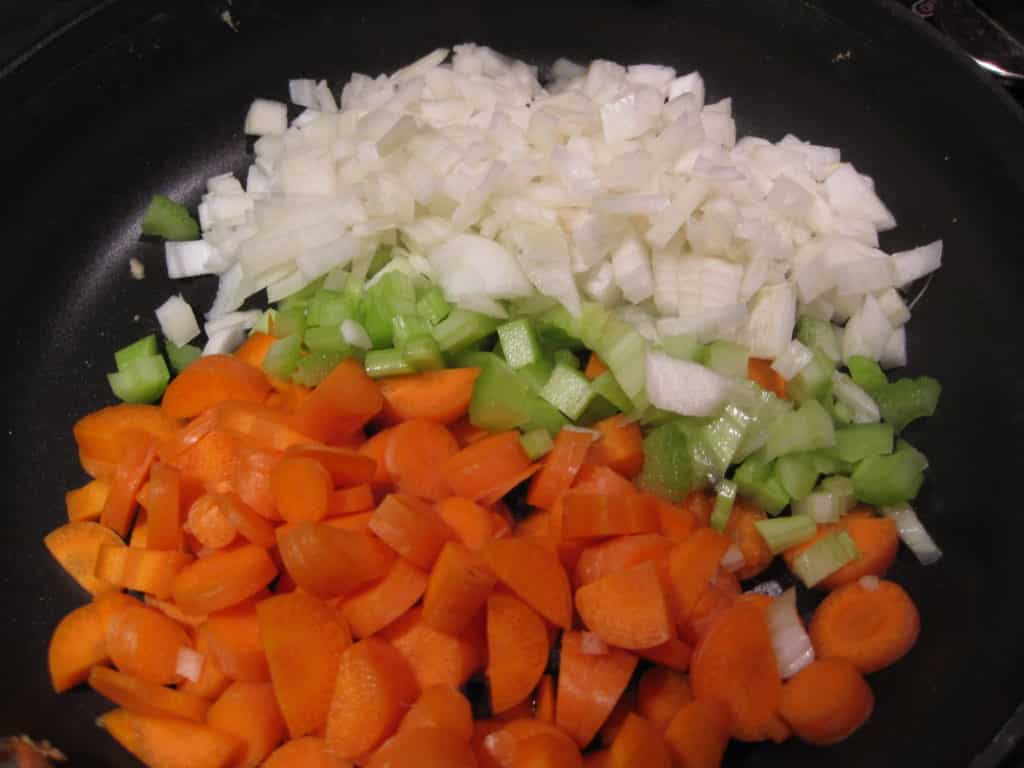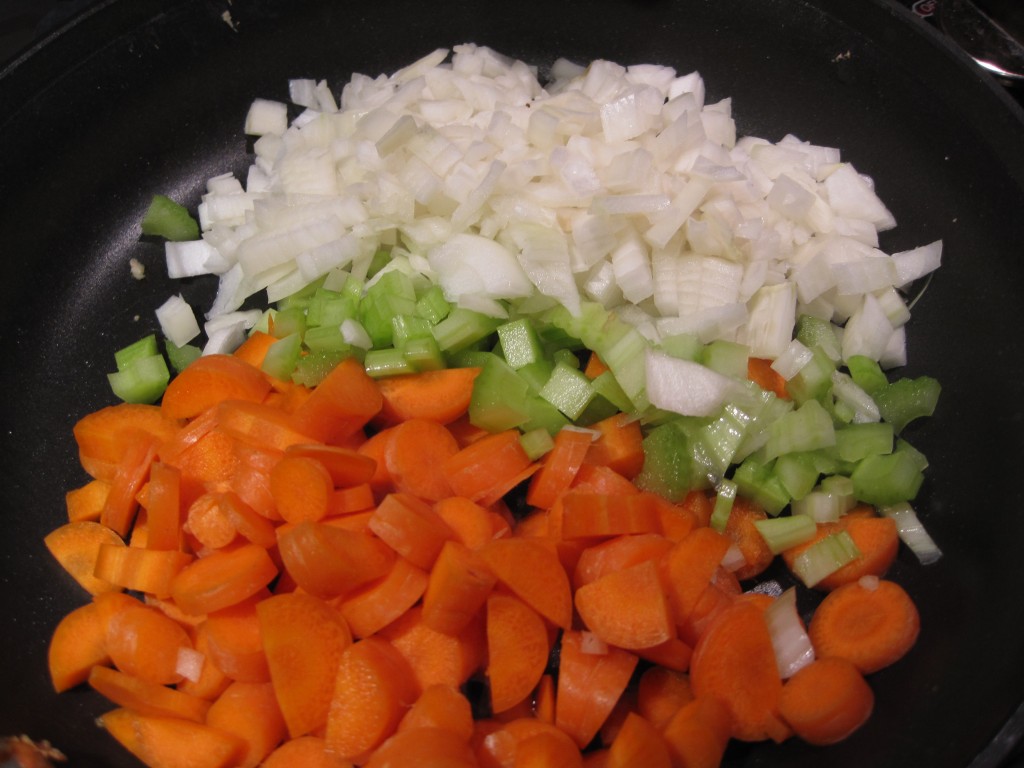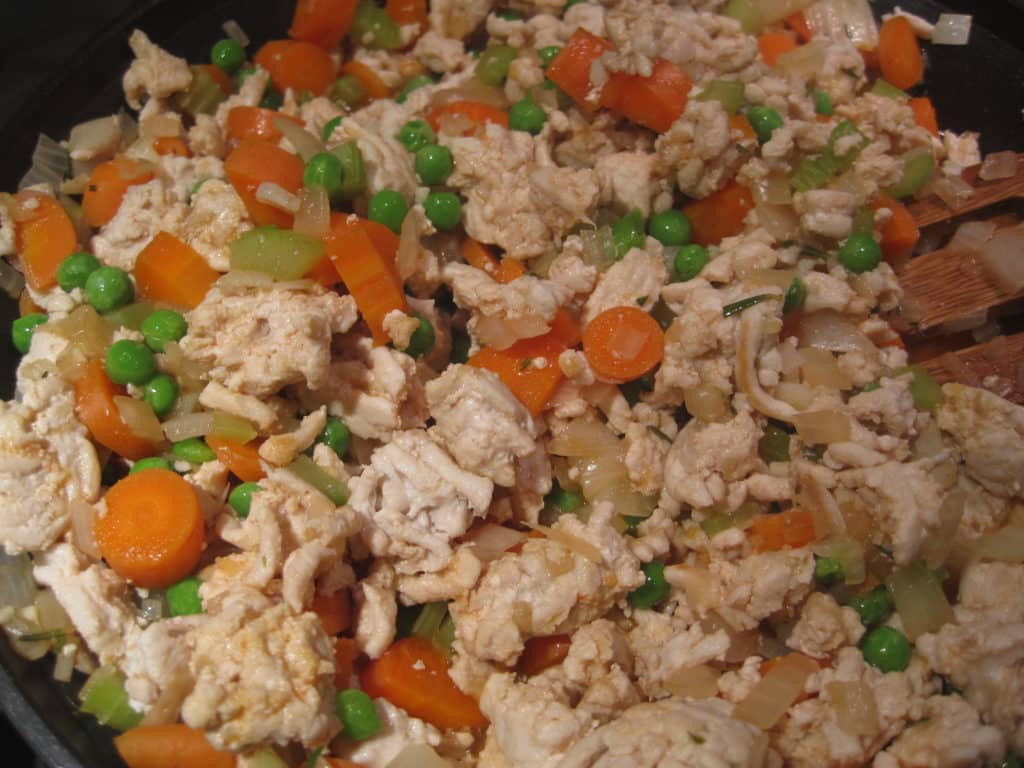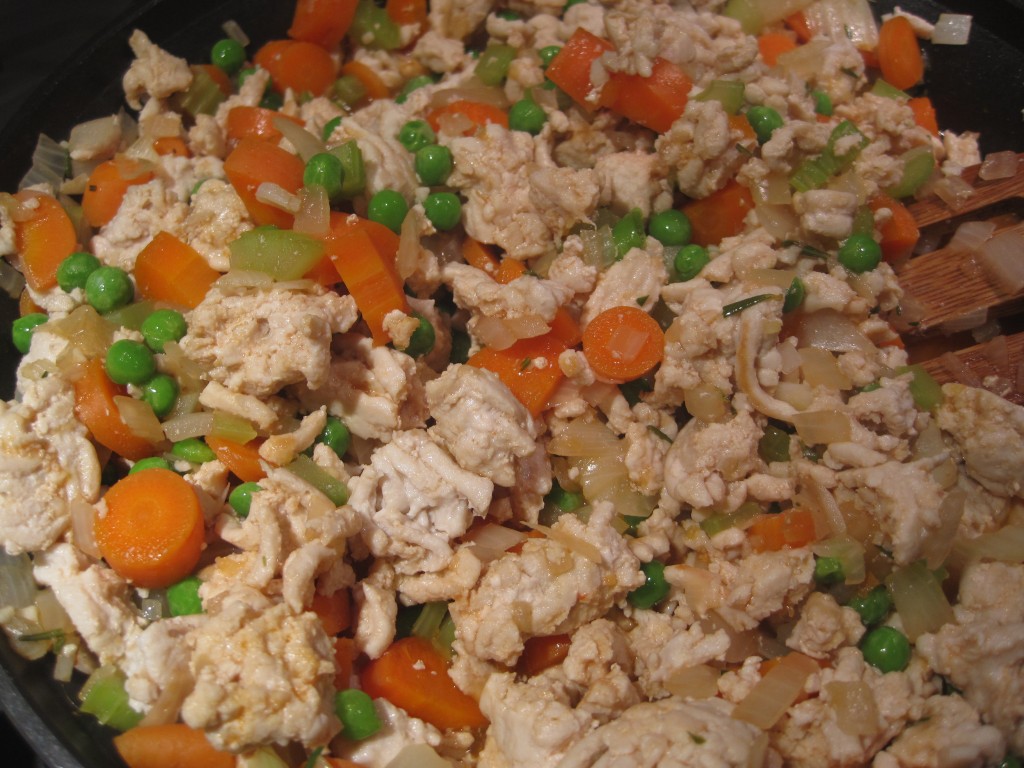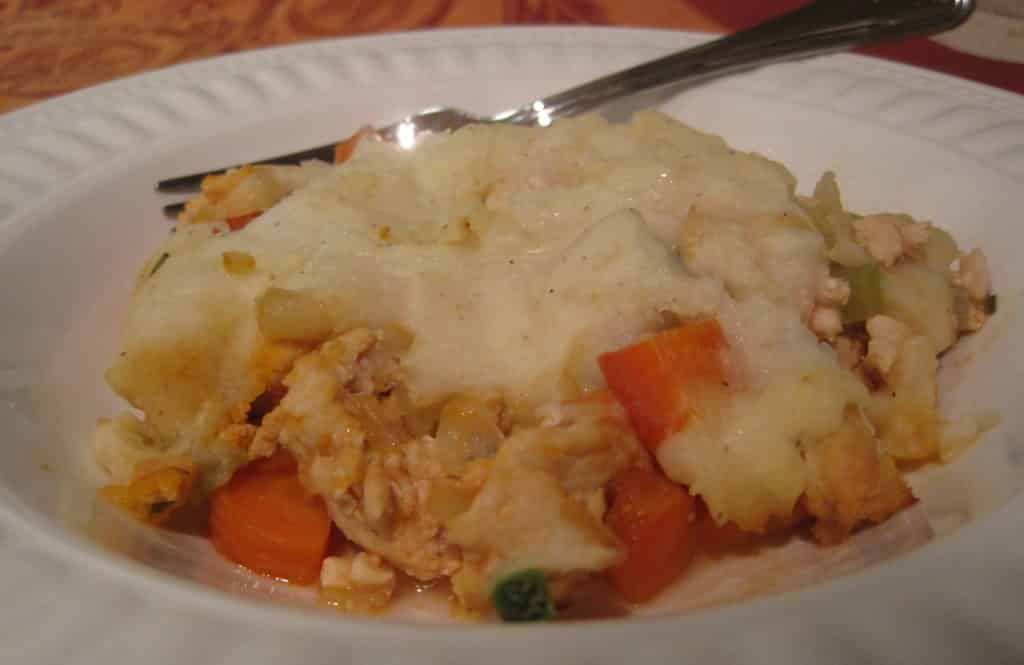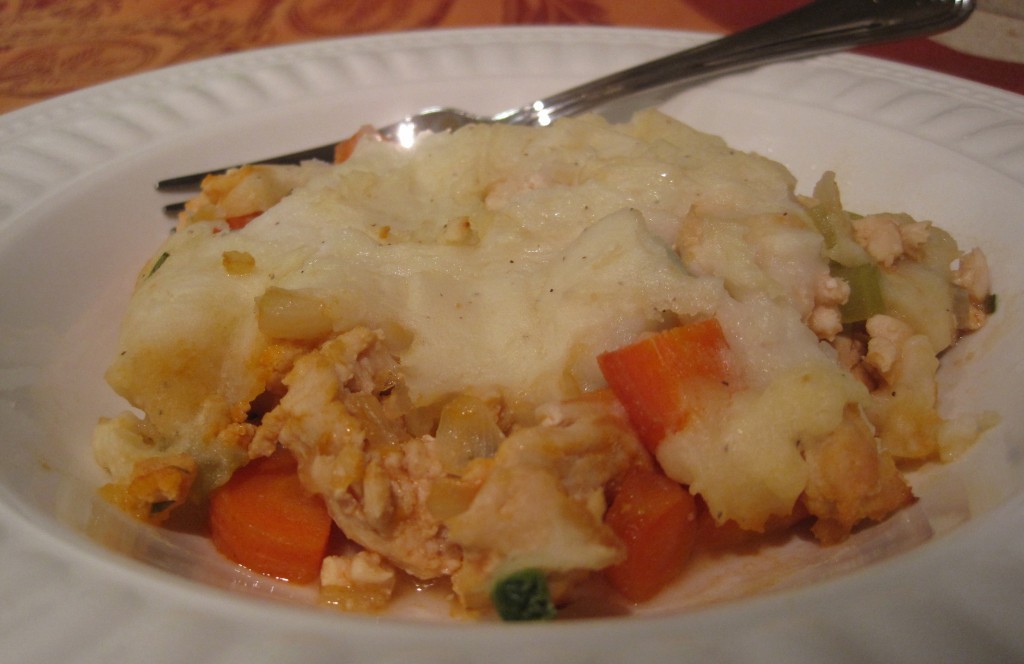 Yummy for your tummy 🙂
Bon Appétit!