Chicken Tacos with Mango Salsa
We are officially empty nesters! How could we possible get to this point in our lives, and how did we manage to lead both of our kids to college, a future of not always interesting books, tests, and deadlines????
I think we did a good job of WINGING-IT!
Dictionary.com. Wing it, Informal . to accomplish or execute something without sufficient preparation or experience; improvise: He had no time to study, so he had to wing it.
Ok, we did read word for word, "What to Expect When You're Expecting, " Ummm, that would have been the 1st edition. There was also a follow-on book, "What to Expect the First Year" We read that too. Referring to it often to see if our kids were on target for their young twelve months of life. After that, all formal instructions ended, and the next seventeen years were all about winging-it!
We had high aspirations for our young ones, and we decided our kids would go to college and we would help them as much as possible, so for the past eighteen years we contributed to college funds for each of them. There were many times when a financial crisis would come up and we thought about stopping those investments, but somehow we managed to keep them going, and now those planted seeds are producing the fruit from our somewhat dubious plan; our daughter is a college graduate and our son is college bound!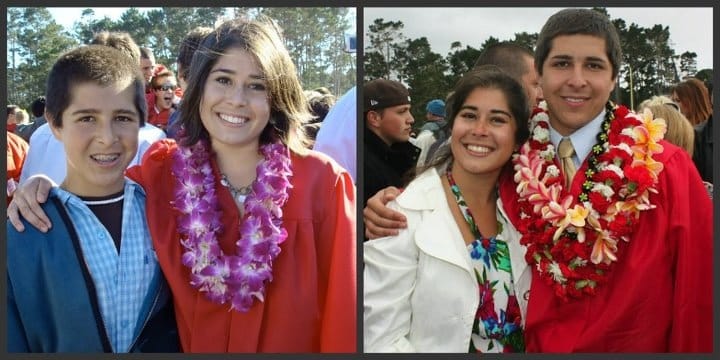 Everyday life is back to being about me and my hubby, just the two of us. The main bathroom, once referred to the kids' disaster area is left guest worthy. There are no dirty dishes on the counter, in the sink or left in the kids' bedrooms, and no late night rummaging through the kitchen. Well, that's not entirely true, our two cats occasionally try to sneak midnight snacks ;).
What has been our has been our biggest adjustment? Cooking for two!
So we've been having some WING-IT! meals, haha!
Here's a quick 20 minute wing-it recipe for two.
CHICKEN TACOS WITH MANGO SALSA
2 chicken breasts, sliced
Garlic powder
Cumin powder
Cayenne powder
Salt and pepper to taste
Generously season the chicken. Over medium-high heat in a non-stick pan sauté the chicken until the it no longer is pink. Approximately 3-5 minutes. Put aside once cooked.
WING-IT MANGO SALSA
½ large mango, peeled and diced
½ lime, juiced
1 jalapeño, diced and seeded
Red onion, diced
Cilantro, chopped
Salt and pepper to taste
Combine all the ingredients and adjust to your preference. I add more cilantro than onion. Warm tortillas; assemble tacos by adding chicken, mango salsa, and slices of avocado.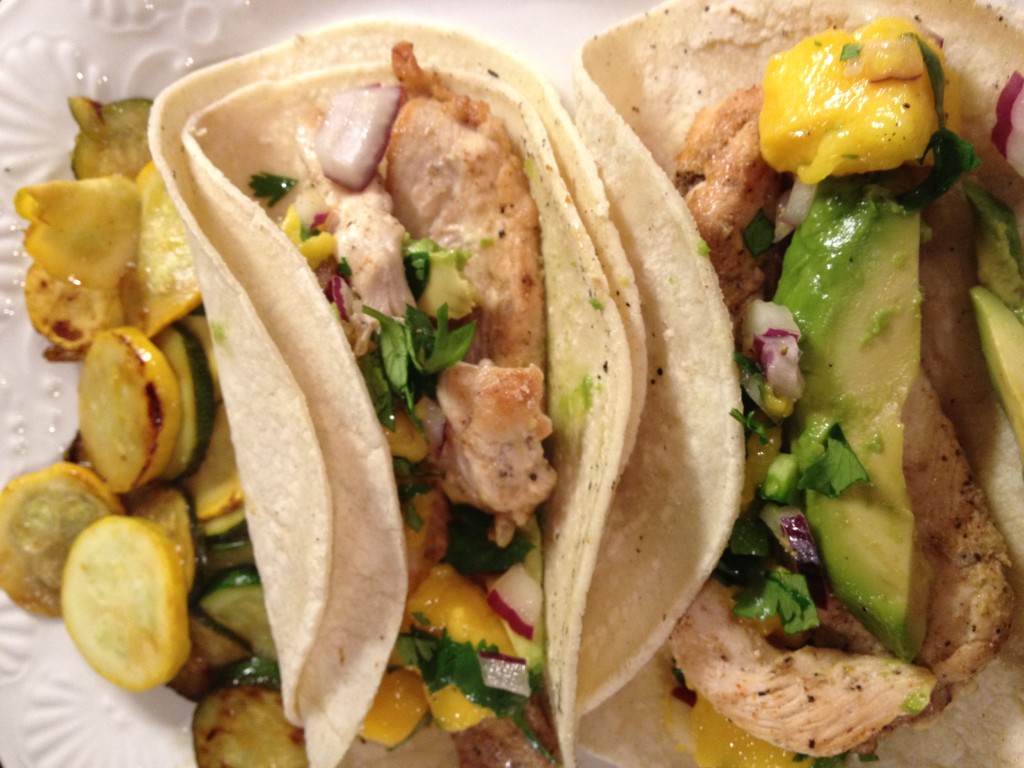 How about adding a side dish of vegetables?
While cooking the chicken, slice two zucchinis and in a medium-high non-stick sauté pan, add a teaspoon of coconut oil, stir-fry the zucchinis adding salt to your preference. Top the vegetables with any of the mango juice left from cutting the mango for the salsa, and continue cooking until the juice is incorporated into the vegetables. It's a delicious addition.
Go ahead wing-it!
If you love tacos you will also enjoy this Pork Tacos with Cilantro-Avocado Cream Sauce recipe from Renee's Kitchen Adventures!