Quinoa with Fire Roasted Tomatoes is a quick and flavorful gluten-free source of protein, iron, and fiber.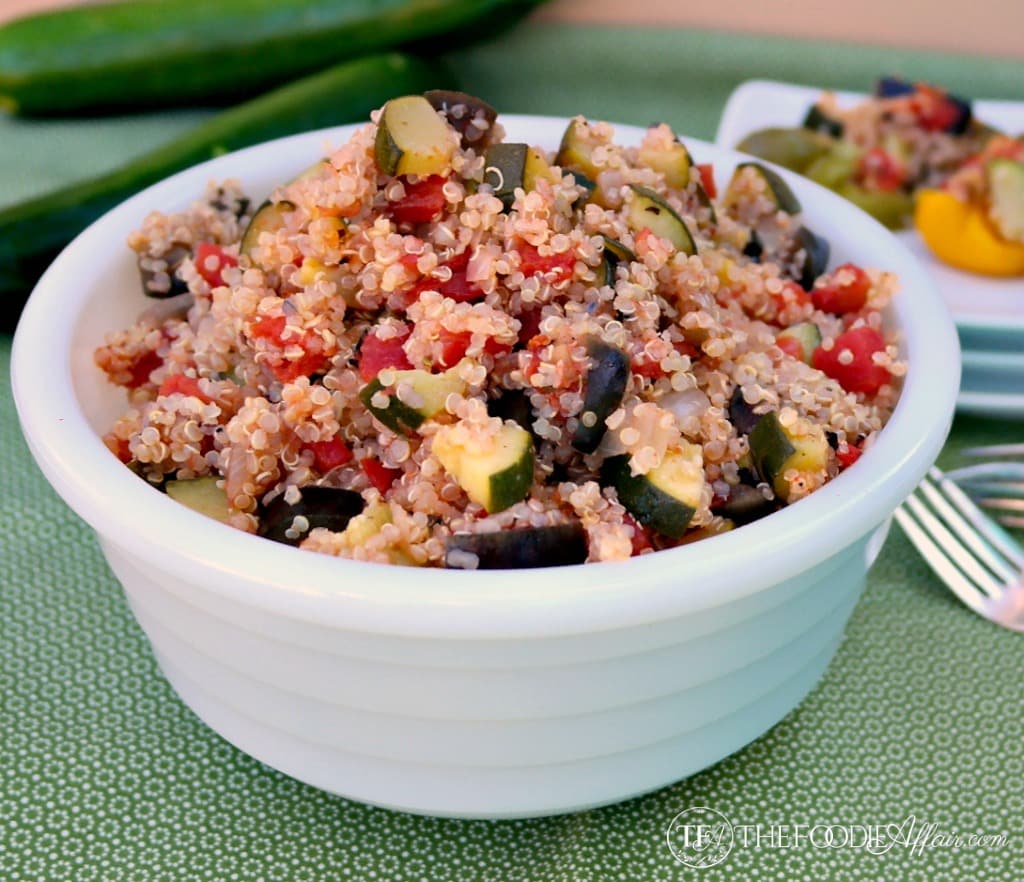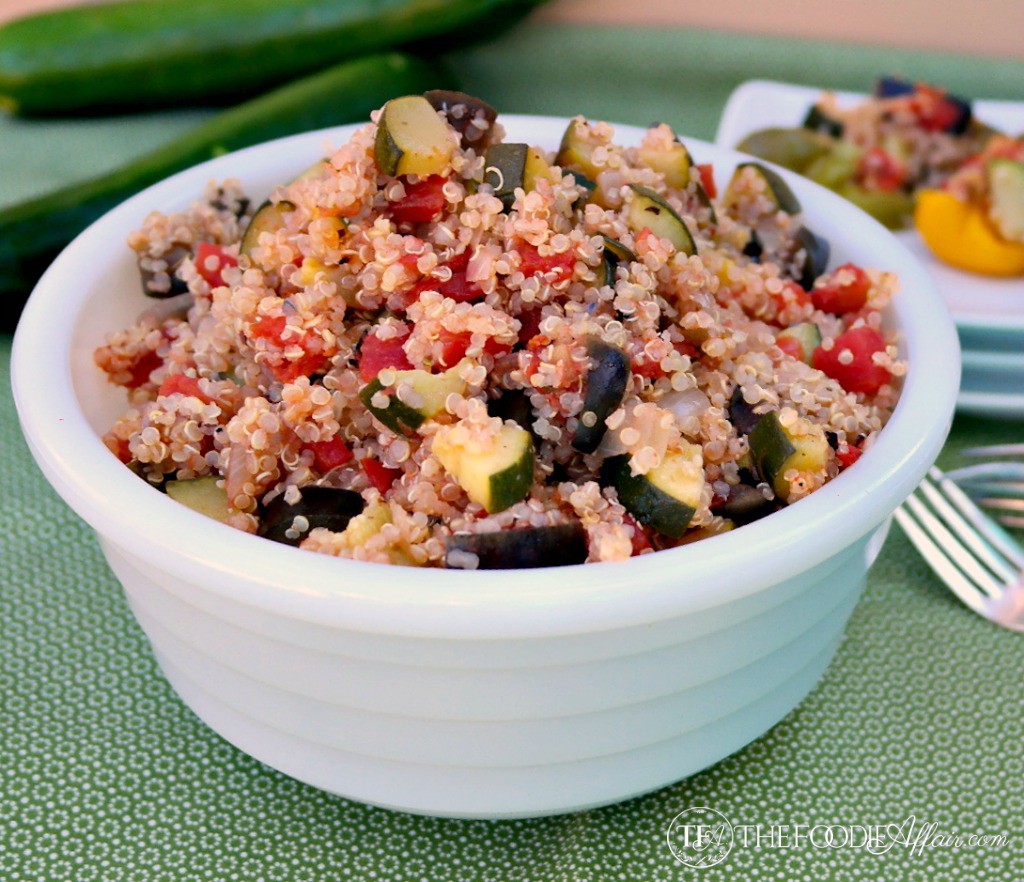 Quinoa is a perfect companion to any meat or fish main dish, and when you start layering it with a variety of flavors, this dish transforms into a satisfying meal that can stand on its own.
As well as being a super-duper healthy whole grain, quinoa is extremely versatile and can be made with the same concept of fried-rice; toss in whatever ingredients you happen to have on hand and you'll have one tasty meal!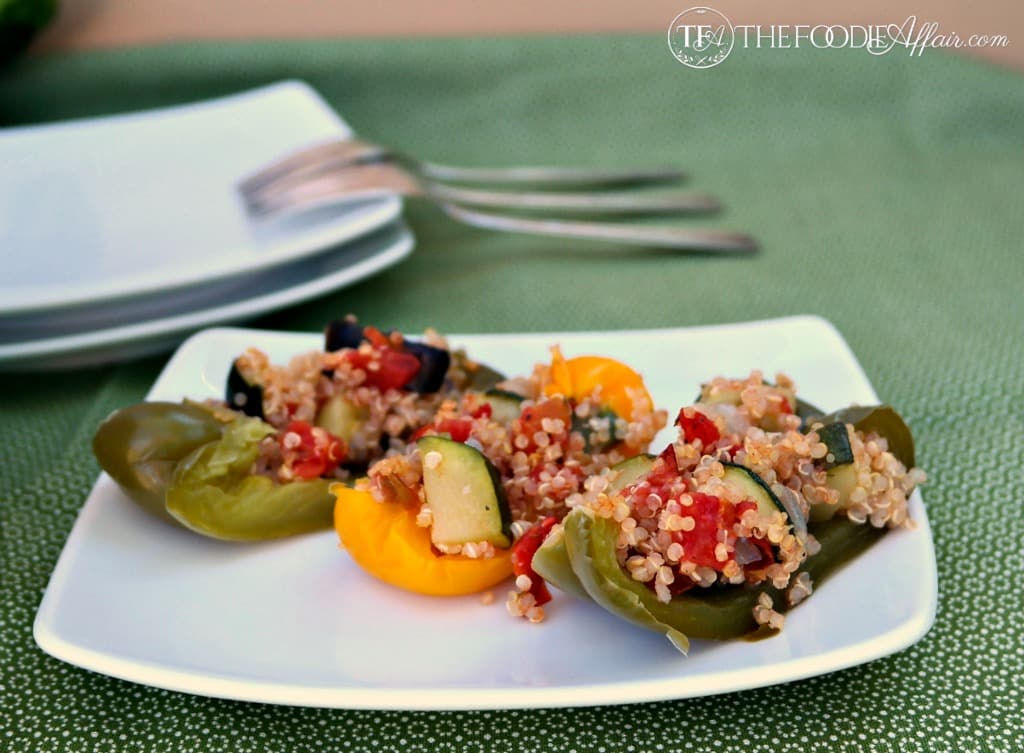 I made this for a couple of my girlfriends as an appetizer. We got together after the New Year instead of during the holidays, and instead of swapping cookies like we've done in the past, we went to a champagne tasting bar for a toast and then relaxed at my house with some hors d'oeuvres.
I sautéed zucchini and eggplant and spiced it up with a can of fire roasted tomatoes. Once mixed with the quinoa, I topped it on steamed pepper slices. I also served it with Trader Joe's Spicy Soy and Flax Seed Tortilla Chips, which was my favorite way to eat this!
This can be made in advance and served warm or cold and makes a healthy lunch too!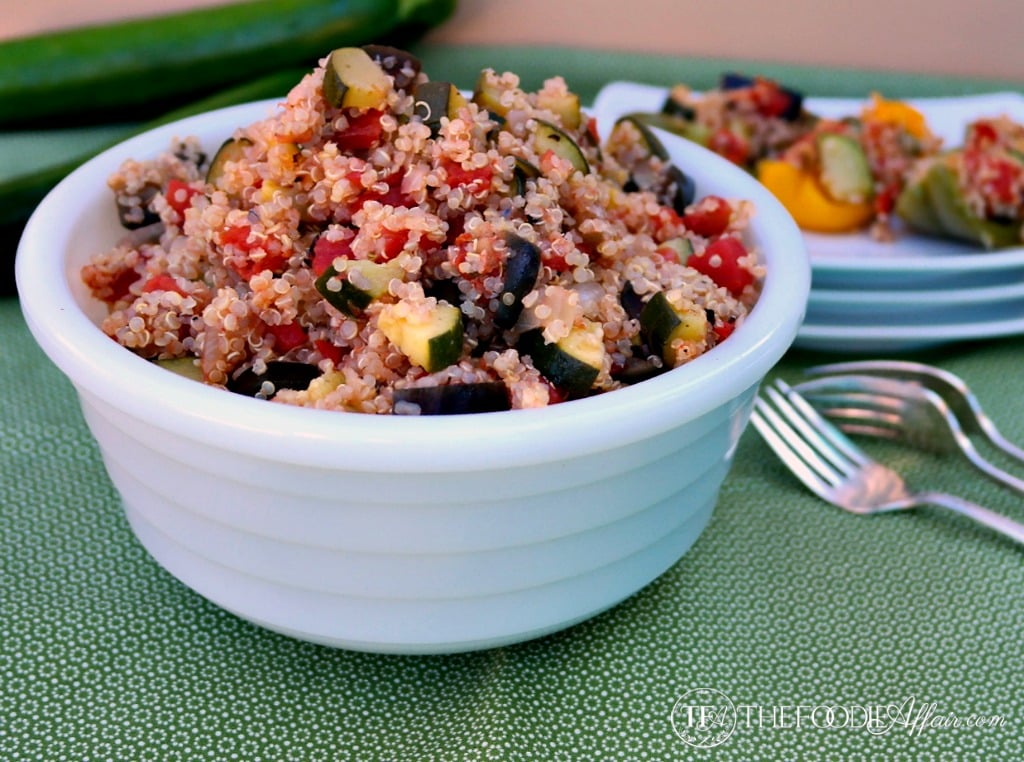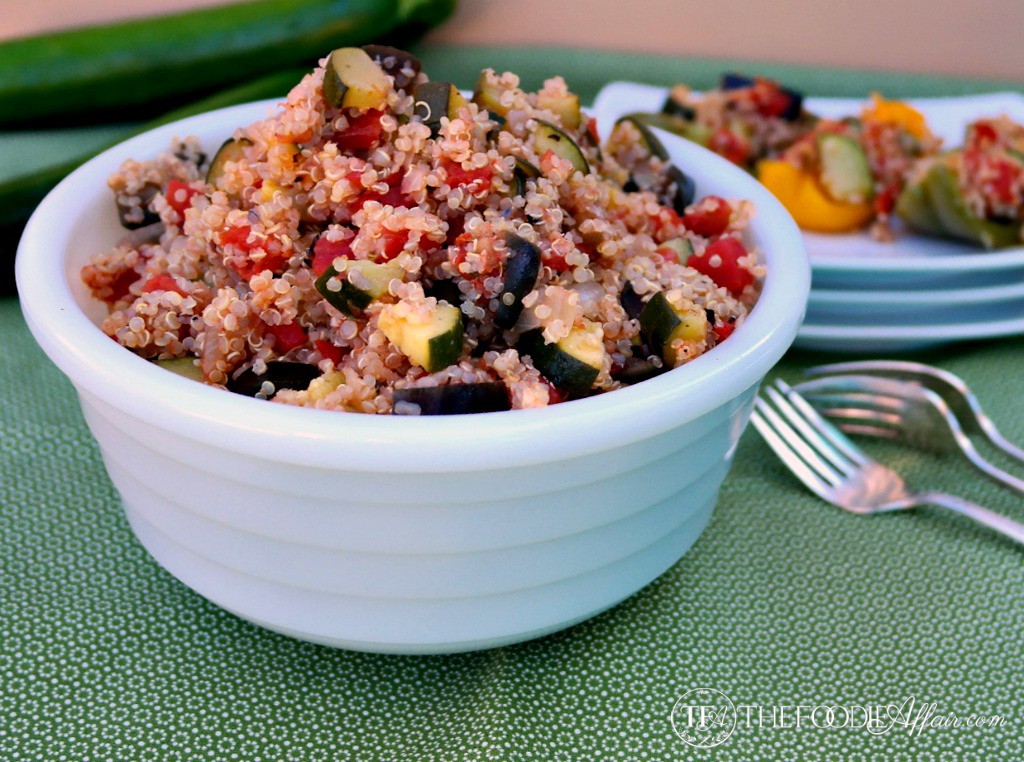 Yield: 4-6
Quinoa with Fire Roasted Tomatoes
Prep Time 10 minutes

Cook Time 30 minutes

Total Time 40 minutes
Ingredients
1/2 cup dry quinoa
1 1/2 Tablespoons olive oil
3 cloves garlic, minced
1 medium onion, minced
1 medium eggplant, diced
1 medium zucchini, diced
14 1/2 ounce can fire roasted tomatoes, diced
1 teaspoon Italian seasoning
2 tablespoons fresh basil
Optional
3 large bell peppers, cut in half lengthwise, seeds removed and steamed
Tortilla Chips of your choice
Instructions
Under cold water rinse quinoa and drain (use a fine meshed sieve or cheesecloth)
In a saucepan, bring 1 cup water to a boil, add quinoa, turn down the heat to low, cover and simmer gently until all the liquid is absorbed, about 15 minutes. Set aside.
If serving with bell peppers, steam cut side down over boiling water for about 8-10 minutes.
In a large skillet heat on medium and add 1 1/2 tablespoon of oil and saute the garlic and onion. Add the eggplant, zucchini and cook until soft. Add the cooked quinoa, tomatoes, and Italian seasoning. Enjoy as a side dish or if serving as an appetizer slice each pepper into thirds. Spoon vegetable-quinoa mixture into peppers or serve with tortilla chips