I have been nominated for the Versatile Blogger Award and I think it's quite appropriate that I accept the award with these bacon roses that I found from Bacon Today (photo credit to them as well). Aren't they fabulous?! Check out the website for everything bacon related (the bacon scented cat litter has to be a clever joke -haha)!! But the roses are no joke! Step by step instructions on how to make this bacon bouquet (yes, they're eatable!) are on Instructables.
Now all bacon drooling and kidding aside, back to my award.
My acknowledgment and acceptance of this award is several weeks overdue!
Thank you, Deanna from Yearofhealthierliving for selecting The Foodie Affair for the Versatile Blogger Award!
Deanna's blog is inspiring! Her blog is about her family's quest to live a healthier life. She blogs about being more sustainable by reducing toxins with easy homemade solutions, and shares hers success with shopping at her local farmer's market. She also offers gardening tips, recipes, and restaurant reviews. My favorite posts are the weekly meal plans and budget!
But that's not all!  I also received my second Versatile Blogger Award from Donna, the creator of The Sugared Pecan. Wow, I'm honored! Thank you Donna for including The Foodie Affair in your nomination list. Be sure to check out Donna's blog. She just posted a mini tour and fabulous photo display of some of the restaurants, bistros, brewhouse, and bars she visited in New Orleans!
Being acknowledged by your peers is the best sunshiny, up in the clouds feeling for this very part-time fairly new blogger!! I love how the blogging community is so encouraging of each other. I look forward to seeing what everyone is up to, and enjoy getting to know you through your interests. It's a big, big blog world! I'm completely in awe with the creative, humorous, thought provoking, and inspiring posts of bloggers.
Without further adieu, I humbly accept the Versatile Blogger Award!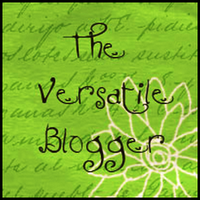 Accepting the Versatile Blogger Award requires that
I thank Deanna and Donna for passing on the award (see above)
share 7 random things about myself
forward the award on to 5, 7, or 15 bloggers (I've seen a variation on how many to forward). Several of my peers have received awards, and I don't want them to be overwhelmed with accolades, so I say, forward the award to your liking!
let the bloggers know that they have been nominated for the Versatile Blogger Award by posting a comment on each of their blogs!
Seven Things About Me
At age 5 my parents signed me up for dance class to help me overcome shyness, and it became a lifelong hobby.
I'm an empathetic eye waterer; love stories, wandering lost pets, children stubbing their toes (tugs my heart), get the idea?
for my first job, I was hired to be a tour guide of a wacky house (water flowed against gravity) at an amusement park.
I believe that Food Network is nothing more than 24 hour food porn. Don't be fooled.
Bacon roses are happy food dance worthy — omg, who wouldn't want those??! (even my vegetarian friends are tempted!).
With over 20 years as a military dependent (could they give me a different title 😉 ?!) life taught me to bloom wherever you are planted!
I ran my second half marathon for 2012 yesterday!!
Forwarding the Blog Love
Share the joy won't you? If you swing by my nominees site, please let them know! We all appreciate comments and our readers (stats say I have a few, yeah :))!
Thank you!!
Sandra