Chocolate Truffles with fresh berries for Valentine's Day!
These chocolate truffles are made from a creamy ganache and coated with seasonal sprinkles, nuts or cocoa powder.  Enjoy these with your favorite flavor combination or make little kabobs spearing the truffles between fresh fruit!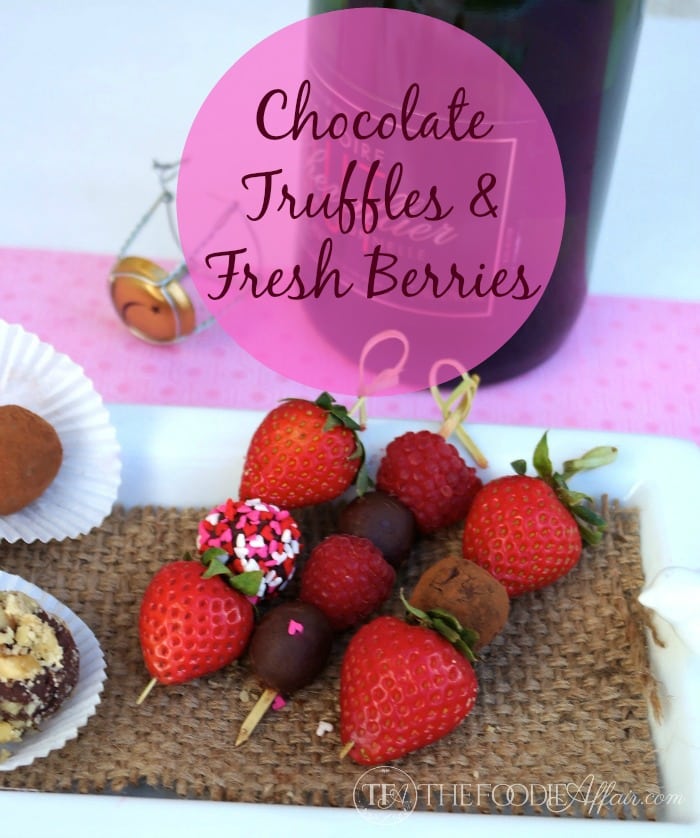 Did you know that $345 million in chocolate candy is sold during Valentine's week? Yep. It's true! I was curious so I goggled for that stat. I'm not surprised though. The last few years the line at my local See's Candy Store was out the door and wrapped around the building.
Waiting for a concert, new movie release, or renewing your vehicle license? No. Nope. Not a chance! The lengthy line was to purchase those delicious chocolate morsels! Crazy, right?!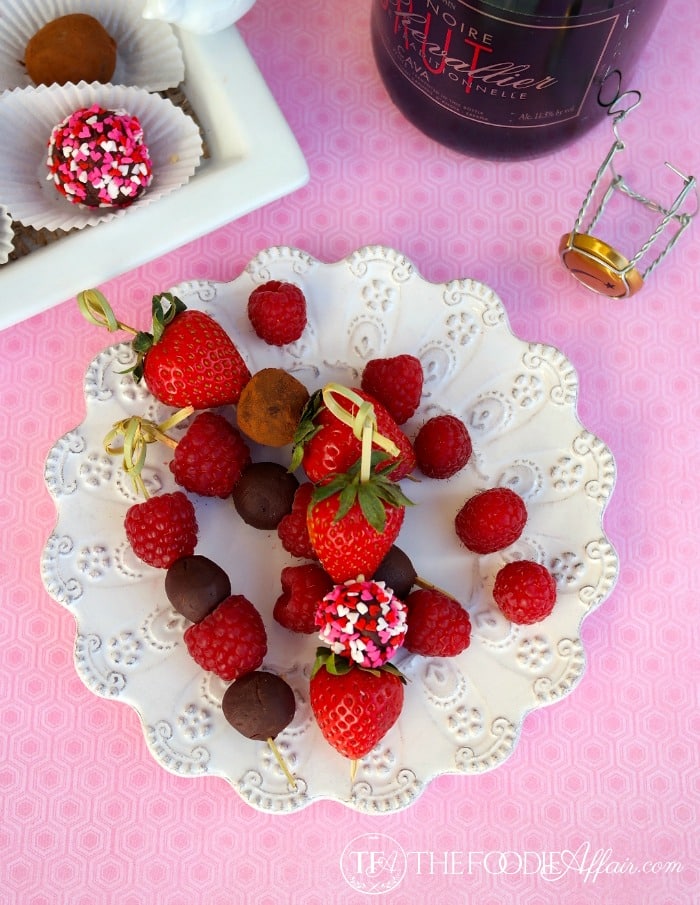 That wasn't YOU I saw in line was it? Kidding.
This year I challenge you to show your appreciation for your loved ones by writing a note the old-fashioned way with a pen and paper, cook in or make your own sweet treats for your Valentine!
Truffles sound fancy and difficult to make and that's not a bad misconception! These tasty pieces of chocolate are a cinch to whip up, and look like they require some pro kitchen skills!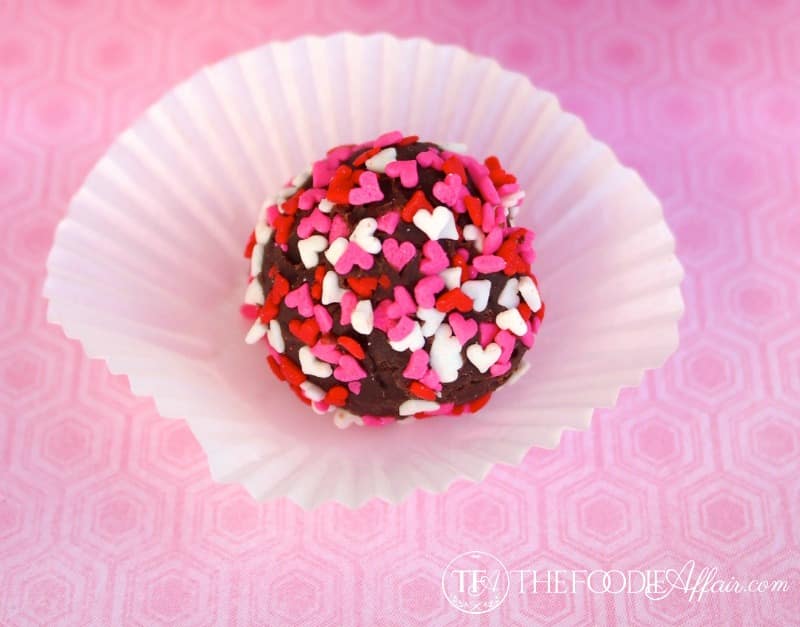 I can't think of anything more thoughtful than a gift that is homemade and edible. These bite size little confectioneries are sure to steal the heart of "Your Valentine." Serve with bubbly and be sure to write in your note, "made with love."
Want to "wow" your loves?  Make this edible Chocolate Bag for these sweets!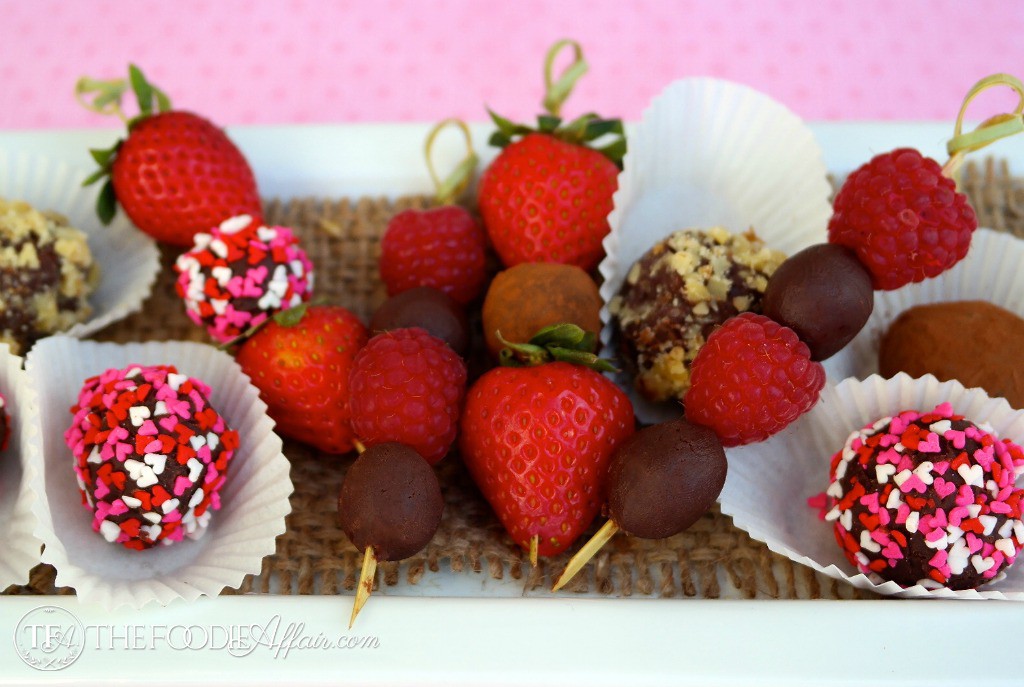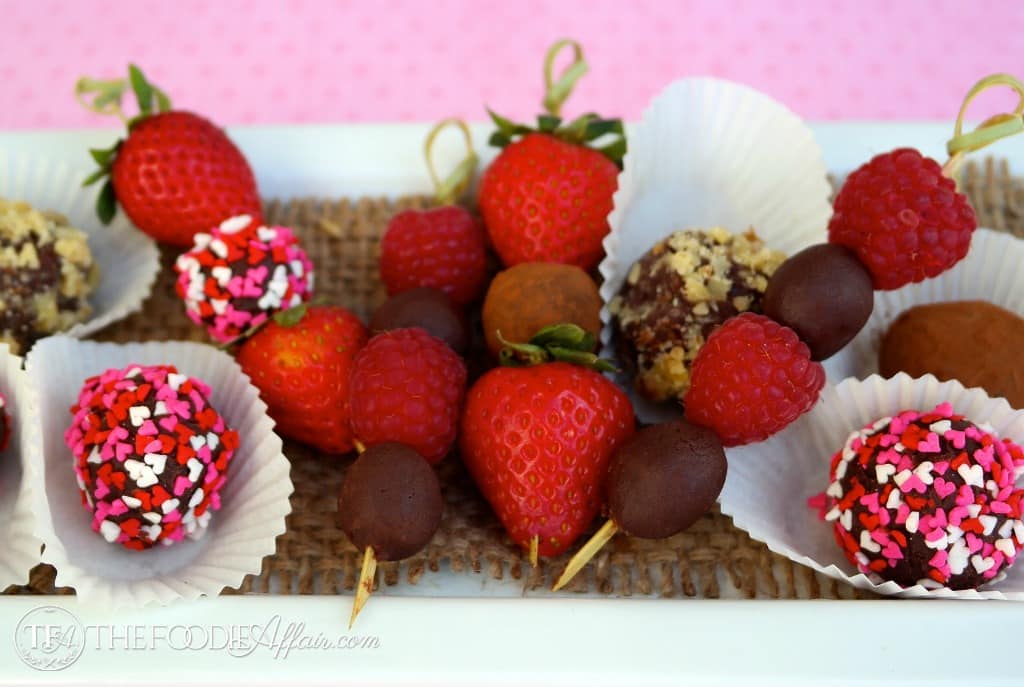 Yield: 12
Chocolate Truffles for Valentine's Day
Prep Time 10 minutes

Cook Time 1 hour

Total Time 1 hour 10 minutes
Ingredients
1 cup chocolate chips (milk or semi-sweet)
1/4 cup whipping cream
1 Tablespoon butter or coconut oil
1/2 teaspoon vanilla extract
cocoa powder, chopped nuts, sprinkles or any other coatings of your choice
Fresh berries (optional)
Instructions
In a small saucepan combine chocolate, whipping cream and 1 tablespoon butter or coconut oil. Stir over low heat until chocolate is melted and ingredients are mixed well. Remove from heat and stir in vanilla. Transfer to a small bowl and cool, stirring occasionally. Cover and freeze for about an hour. Remove from freezer and roll 12 portions into a ball. Roll each into sprinkles, chopped nuts or cocoa powder.